A finished basement is one of the best home features that you can have. However, it's also important to make sure that your basement has the right design so that you can enjoy it fully. A lot of people have finished basements but don't know how to use them.
Some create home offices or even gyms in their unfinished space. Instead of settling on one idea, why not combine all these ideas with our finished basement design?
Here are some of the modern basement ideas to get you started:
1. Consider Studio Apartment
If you don't need a lot of extra living space, consider turning your basement into a studio apartment. This can be great for guests or older kids who want their own space. You can add a Murphy bed or sofa bed to the design so that you can use the space as both a bedroom and family room.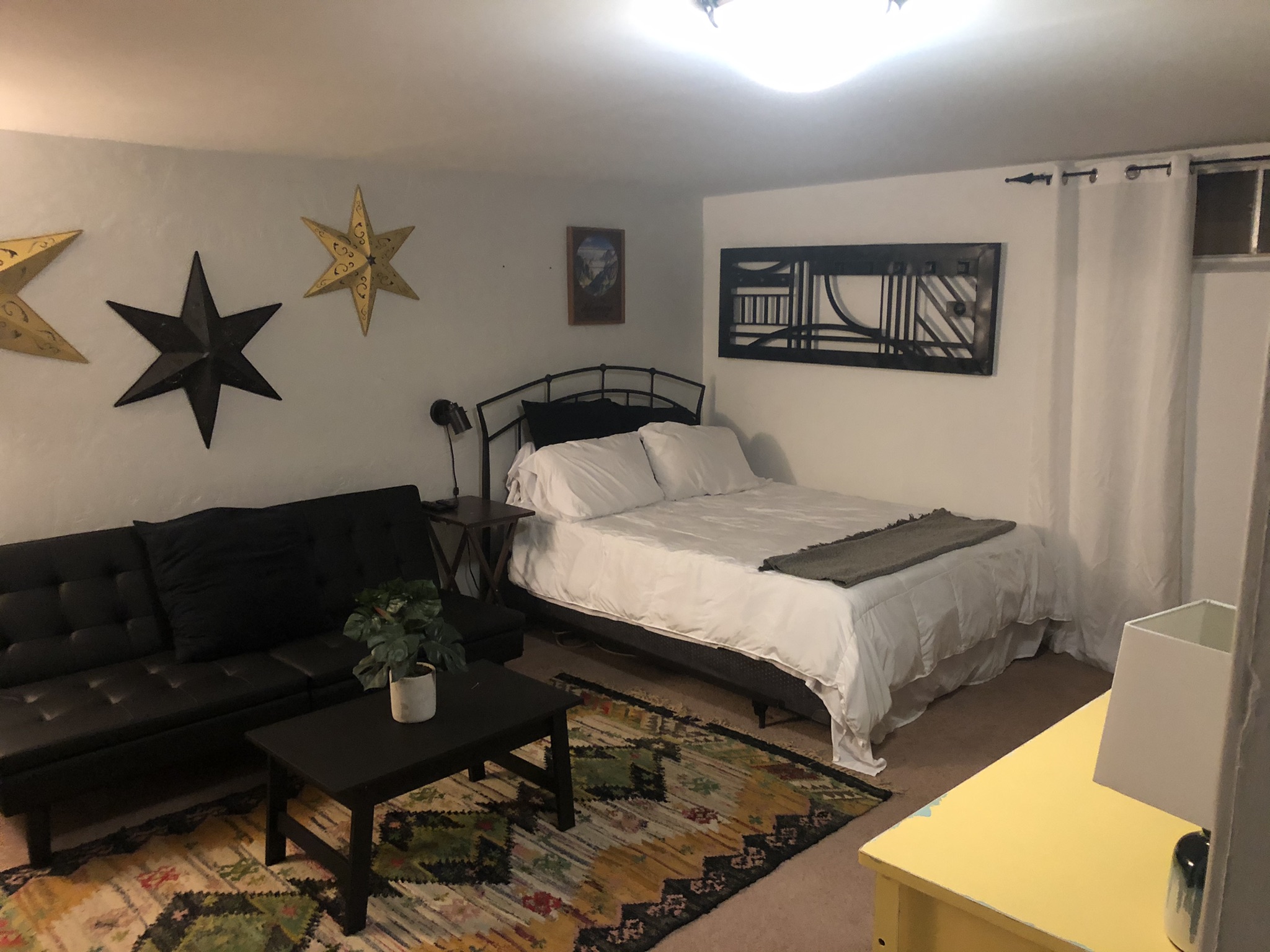 A finished basement has many potential, so don't be hindered by only leaving it unused. From a bedroom to a studio apartment to a coveted man cave, finishing your basement not only adds value to your home but also has a lot of square footage for your entire family.
2. Design a Modern Basement Bar
The sky's the limit when finishing your basement when it comes to design. Why not consider a modern basement bar? This can be a great place to entertain guests or relax after a long day. You can add a bar area with stools, as well as a small refrigerator and sink.
If you have the space, consider adding a small wet bar. If you're looking for an even more adult design, perhaps consider adding a pool table, dartboard, or television. Another fun idea is to add pinball machines and other arcade games that can be played with your family and friends.
You could also create an intimate area by having sofas and armchairs in your design. Whether you're just hoping to entertain or building an ultimate man cave, adding a home bar is a great addition to any basement. You can also look for small basement kitchenette ideas.
3. Create Another Living Room in Your Basement Space
Why have one family room when you can have two? Adding another living area in your basement is a great way to expand if you have the space. This can be done by adding furniture for lounging or designated sitting areas. This design will be perfect if your family spends time watching television together or playing games.
A basement living room is also the perfect place to get together with the family, watch movies and unwind. Creating a cozy basement living room is a great way of creating a fun space at home without sacrificing much. There are examples in man cave industrial basement on our blog too!
4. Sweat it Out in a Home Gym
If you are one of those people who love to engage in your favorite outdoor activities during the weekend, the chances are that you build up a lot of sweat. After an exhilarating workout, a home gym might be just what you need to relax. Many homeowners choose to convert part of their basements into home gyms.
You can also create a home office in your basement. This is a great idea if you need a home office but don't want to take up too much space in your house. A basement home office can also be great for people who work from home.
5. Increase Natural Light
One of the most important basement ideas you can incorporate in your basement early is to welcome more natural light. You can do this by either keeping the basement windowless or including large, well-placed windows. If you have a finished basement, adding a few windows can drastically improve the look and feel of the space.
Not only will it make the space feel brighter and more open, but it will also help to improve air circulation. Choosing light paint colors can also help to brighten up the space.
6. Enjoy a Theater Experience at Basement
What is the better feature to include in your basement than adding a home theater? Basements often have little to no windows, making this dark space ideal for a movie theater vibe. Raise the floor to at least the standard eight-foot ceiling height for comfort.
If you have enough space, go higher to provide better viewing angles for your guests and family members. Invest in recessed fixtures with soft lightning; you can dim and swap your TV set with a projector and screen.
7. Customize Your Staircase
Your stairs are what your guest will see when they walk down into your finished basement. Give your guests something to talk about by adding a unique and interesting staircase. Create suspended steps, light-up steps, and glass side panels to add style to your basement stairs.
There are many unique staircase designs to choose from that can fit any style. If you want something sleek and modern, go for a metal or glass staircase. Try a wooden staircase with intricate carvings if you want something more traditional.
8. Consider Your Kids Playroom
Modern basement ideas don't just have to be for adults. Consider doing something fun for your little ones by turning the basement into a playroom. Like most people turn their basement into a kids play room or an extra bedroom for guests. What better place for kids to play than in their very own space? You can turn this room into anything that you want. It's your basement, after all.
Have fun with paint and toy storage options by painting one of the walls with chalkboard paint. This way, your kids can use it as a blackboard as well. You can also install a foosball table or a pinball machine to make it all the more entertaining in the same area. Consider some of the best kids' playroom ideas for some inspiration.
Keep in mind that if you decide to do this, your children's game room must be properly ventilated and have proper lighting at all times. Having exposed wires hanging from the ceiling and light fixtures that don't work will only cause accidents and injuries. Besides, it isn't safe to play in a room with poor lighting, among other things.
9. Turn Your Basement Space into a Bedroom
You can easily turn it into a bedroom if you have extra basement space by adding in a few basic amenities. For instance, you will need a bed, dresser, nightstands, and lamps. You might also want to consider adding in a television or gaming console if that is something you think you or your partner would enjoy.
Also, if you have a teen that's tired of sharing a bedroom with a younger sibling, create a basement bedroom to give your teen the space, privacy, and comfort they need for a good night's rest. If you want that spare sleeping area but don't have the space, you can create an alcove with a built-in bed and shelves for your smaller basement. Make sure your design ideas also include enough space for bathroom renovations.
10. Get Creative with Flooring
Flooring should be at the top of your basement renovation list. This unfinished basement idea will only look decent if the chosen flooring is attractive. Concrete floors are a popular basement choice because they're durable and easy to maintain, but this doesn't mean you have to settle for a boring concrete floor.
You can cover unattractive concrete floors with inexpensive rugs or add a carpet in your favorite color or pattern. Laminate, hardwood, and tile are all attractive flooring choices that are easy to maintain. Create a cozy basement space with wall-to-wall carpeting to make your basement look stylish. There are many good carpets for basement flooring to consider for this project, you just have to be creative enough.
11. Opt for Drop Ceilings
Unfinished basements often look unfinished. An easy way to add color and style to your basement is by installing a drywall ceiling. A drop ceiling with tiles in your preferred color will add visual interest and style to any basement room.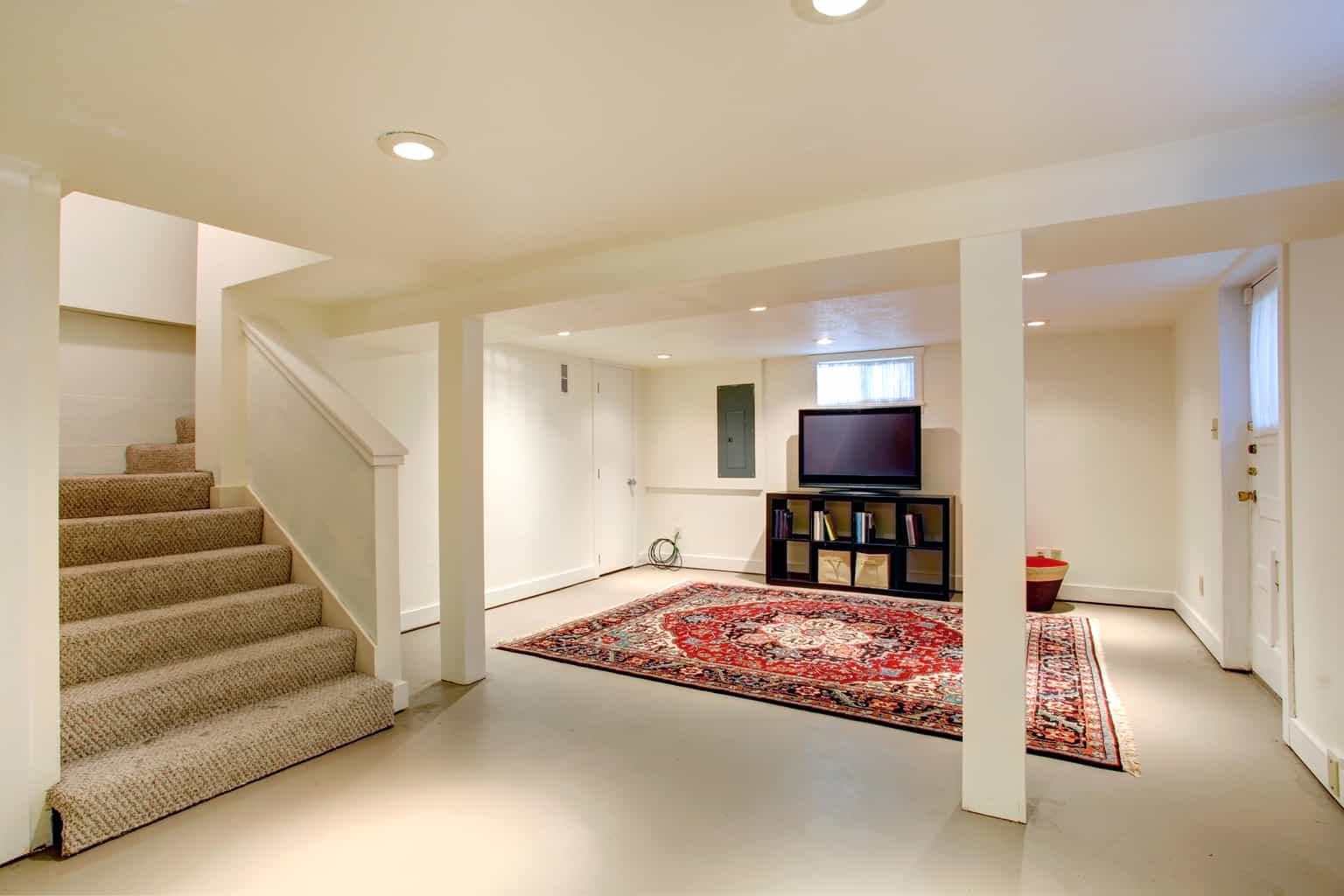 Drop ceilings not only help keep your basement at a comfortable temperature, but they're also good for soundproofing the space. Also, if you plan to build a spare bathroom and a home theater in your basement, drop ceilings will help to hide the unsightly plumbing pipes and wires.
12. Give Laundry a Designated Area in Your Basement
If you're like most people, your laundry room is one of the most cluttered and busiest spaces in your home. Why not create a designated area for your laundry in your basement? This will help to keep the space clean and organized. You can either install a washer and dryer in your basement or use a nearby closet to act as storage for your laundry supplies or try hiding washer and dryer in kitchen island.
If you choose to install a washer and dryer in your basement, be sure to select an Energy Star rated model. This will help you save money on your energy bills. Add tall storage cabinets to store your ironing boards and detergents.
13. Brighten Up the Basement
Take advantage of this basement remodel idea that will make it a light and airy part of your home. The goal is to maximize ventilation, natural light, and a sense of connection with the outdoors. Cut back the floor above by introducing light through the house. You can also install a glass ceiling to borrow light from the windows above.
However, don't worry if your basement design lacks these strategies or your budget doesn't stretch. Instead, opt for decor that will make it feel bright and open. On home decor, you can choose a bright white finish for the walls while exposing the ceiling joints and lumber and finish with matte black to increase the feeling of the height.
FAQs about Finished Basement Design Ideas
Is finishing the basement worth it?
You'll find that you can save money if you finish the basement yourself instead of hiring professionals. While the basement doesn't add the overall square footage of the house, it can function as a family space, office, home classroom space, and guest room. Remodeling the basement into a modern style also improves the resale value of your home.
Final Thought about Finished Basement Design Ideas
When it comes to designing a finished basement, there are endless possibilities. You can create a space that's perfect for your needs and lifestyle, whether you use it as a living room, office, home classroom space, or guest room. Remodeling the basement into a modern style also improves the resale value of your home.
With so many different design options to choose from, there's sure to be one that's perfect for your needs and budget. So don't wait any longer; start planning your dream basement today.