Do you want to add color and life to your garden, but you don't know where to start? With so many plants to choose from, it can be hard to know which ones will work best in your landscape. Not all plants are created equal. Some require a lot of maintenance, while others can take care of themselves.
Shrubs with blue or lavender flowers are among the most treasured bushes in the landscape. Blue and lavender, and similar shades associated with purple are not easy colors to find among flowers. Many plants with blue or lavender flowers are annual or tender perennials.
This means they may need extra care and protection in winter. But the magical colors of these plants are well worth the effort.
1. Blue Butterfly Bush
You can identify the butterfly bush by its stunning cone-shaped clusters of purple flowers. Although the rarest of floral colors is blue, there are a few shrubs with flowers that can be called true blue. A few cultivars of butterfly bush have true blue flowers, such as Adonis Blue. Some butterfly bushes are too dark to approach the status of black flowers.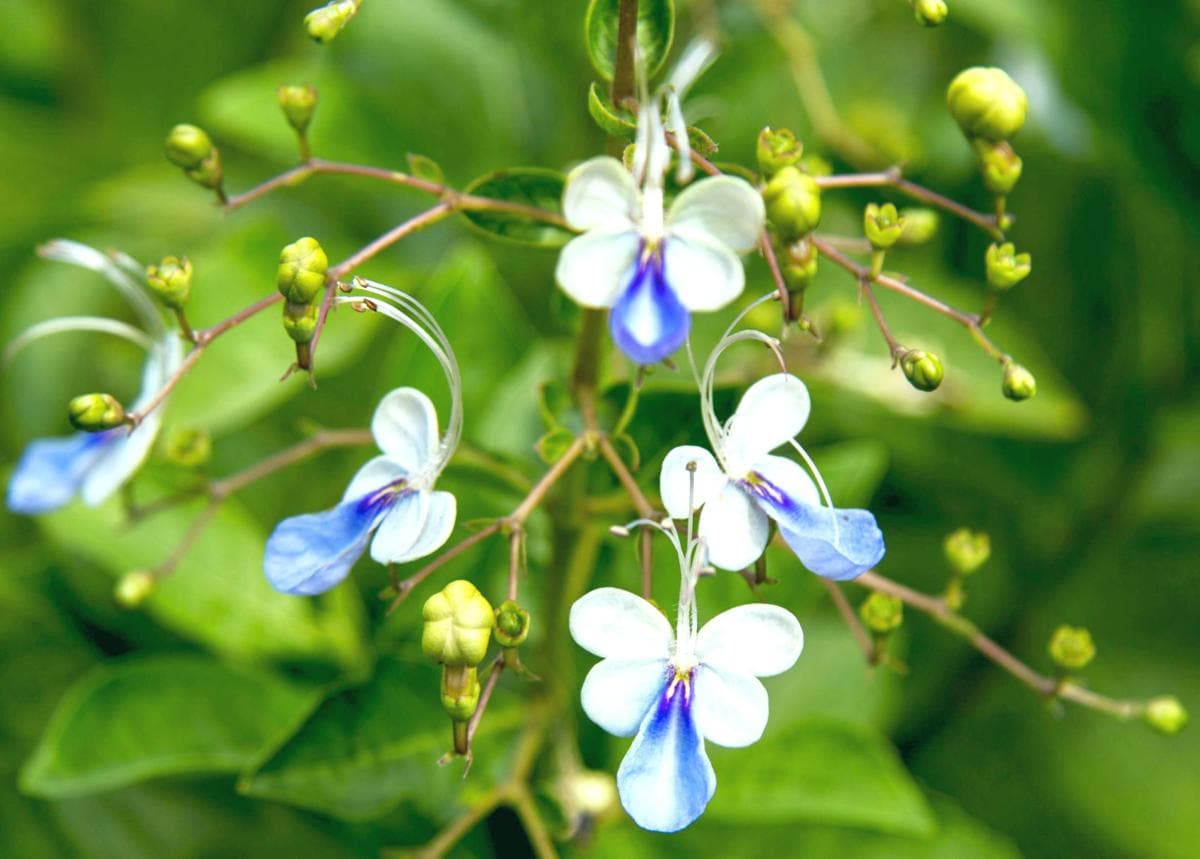 Buddleia davidii Black knight is one particular example. This plant is a hybrid of the white-flowered Buddleia davidii and the dark purple B. alternifolia. It blooms in late summer and early fall, providing a long season of color in the garden. All types of butterfly bush are ideal for foundation planting, container growing, cottage gardens, or perennial borders.
2. Lilac or Syringa vulgaris
One of the most popular flowering shrubs, lilacs come in blue and lavender varieties. Lilac also comes in white, burgundy, and deep purple. The blue varieties typically have a lighter fragrance than the lavender types.
Both blue and lavender lilacs make beautiful additions to any garden, and they are especially nice in cottage-style gardens or informal landscapes. They can be used as hedges or stand-alone plants, and they also look great when planted in groups. Lilac flowers bloom for up to four weeks in late spring.
3. California Lilac
California lilac isn't very cold hardy, as it's only suitable in zones 7 through 10. It's a broadleaf evergreen that grows 4 to 8 feet tall and wide. It can bear either purple or blue flowers, and the flowers are quite fragrant. This June bloomer loves full sun and well drained soil.
Deer resistant and drought tolerant, California lilac will draw hummingbirds and butterflies to your yard. California lilac sends down deep roots, giving it good resistance to drought.
4. Blue Rose of Sharon or Hibiscus
Some types of Rose of Sharon sport genuinely blue flowers under the right growing conditions, including the blue bird cultivar. There are some types with showy trumpet-shaped pale purple flowers and a deep purple throat. The five-petaled flowers have a ruffled and large protruding stamen and a sweet fragrance.
Despite its name, the Blue Chiffon rose of Sharon is not reliably true blue. However, there are more choices that are reliably lavender with this late summer flowering shrub, such as lavender chiffon. Hibiscus syriacus grows 8 to 12 feet in height and is hardy in USDA zones 5 to 8. It blooms from summer to fall in most regions.
5. Bluebeard or Caryopteris x clandonensis
Bluebeard shrubs are covered in blue flowers in late summer. The flowers of Caryopteris x clandonensis 'Worcester Gold' are golden yellow, not blue or lavender. This bushy shrub grows to about 4 feet in height with a similar spread, and the roots are hardy in USDA zone 5, but the top growth will die back in climates colder than 7.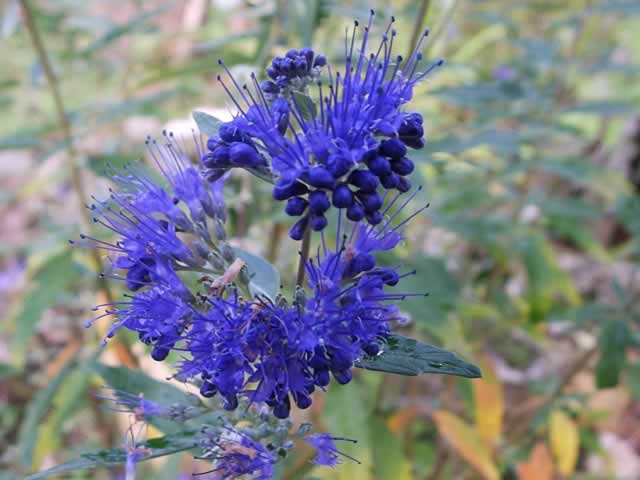 A number of named cultivars include Blue Mist, Arthur Simmonds, Dark Knight, and Heavenly Blue. These are nicely compact shrubs, most remaining under 3 feet in height. They normally bloom from July to September.
6. Azalea
Azalea shrubs belong to the rhododendron genus, and they are some of the shrubs with purple flowers. Some types of evergreen azaleas have deep purple flowers that last summer. Depending on the species, azaleas perform best in full sun to partial shade and grow between 3 to 8 feet.
Varieties of purple flowering azaleas include the Formosa azalea, Autumn Lilac, April Rose and Satsuki evergreen azaleas. The lavender choices include Conlee, Purple Gem, Robles, and Bloom A Thon lavender. All these have purple flowers except Bloom A Thon, which has lavender flowers that may rebloom in fall.
7. Hydrangea Macrophylla
Hydrangea Macrophylla, also known as the bigleaf hydrangea, is a large shrub that can grow up to 10 feet tall. It produces panicles of mauve-pink flowers in late spring and early summer. Hydrangeas are deciduous shrubs with showy flowers, including spectacular purple blooms.
Purple hydrangea shrubs can be identified by their large globe like bluish-purple blooms of small five-petaled flowers. The various flowering hydrangea bushes are bigleaf hydrangeas, smooth hydrangeas, panicle hydrangeas and oakleaf hydrangeas. Most varieties of purple hydrangea bushes are the bigleaf hydrangea macrophylla variety. Hydrangeas grow best in a position with morning sun and afternoon shade.
8. Russian Sage
Russian Sage is a perennial herb with lavender-blue flowers. The leaves are deeply cut, and the plant has an upright growth habit, growing to a height of 3-4 feet. Russian sage blooms in mid summer to late fall and is drought tolerant.
This perennial shrub gives you an airy look in a flower border because its lavender colored flowers are tiny, and its small leaves have a silvery color. This airy quality makes it a good filler plant. Russian sage is ideal for growing as a deciduous perennial in shrub borders, along driveways, and in containers.
9. Heather
Heather is an evergreen shrub that blooms in late summer to early fall. The lavender flowers of this plant are borne on 6-8 inch spikes. Heather prefers full sun and well drained soil. This shrub grows to a height of 2-3 feet and has a spreading growth habit.
Heather and winter heather are similar looking plants. Both are shrubby ground covers that produce masses of small flowers. Winter heather is one of the best choices of light purple flowers.
10. Wisteria
Wisteria is a twining vine that produces clusters of blue, purple, or white flowers in the spring. This plant prefers full sun and well drained soil. Wisteria will grow in most soil types but does not tolerate wet conditions. This plant can reach 30 feet and has a moderate growth rate.
To enjoy purple wisteria flowers, you can grow the woody vining plant as a small shrub-like tree. Alternatively, you can also grow wisteria as a container shrub to enjoy the lavender or purple flower clusters.
11. Lavender or Lavandula spp.
If you are looking for a shrub that produces blue or purple flowers, consider lavender. This plant is a member of the mint family and is known for its sweet-smelling flowers. Lavender prefers full sun and well drained soil. This shrub can reach 3 feet and has a moderate growth rate. It's best known for fragrant leaves and blossoms.
12. Rhododendrons
If you are looking for a shrub that produces blue or purple flowers, consider Rhododendrons. These shrubs are a part of the heather family and come in various colors, including pink, white, red, and purple. They prefer acidic soil and partial shade. These plants can reach 6 feet and have a slow growth rate. Part of the same genus as azaleas, rhododendrons differ in that they tend to be larger shrubs with larger leaves. Rhododendrons are the best evergreen flowering plants to grow in your yard.
13. Golden Dewdrops
Golden dewdrops come in various flower colors. The Sweet Memory cultivar is one of the best purple types. This poisonous plant is tropical and is suited only to zones 10 and 11. In these zones, it grows a broadleaf evergreen that can become 18 feet tall, with a spread of 8 feet. When you grow it as an annual in cold climates, it reaches 4 feet in height, with a spread of up to 2 feet.
FAQs on 13 Great Shrubs With Blue or Lavender Flowers
What bush has purple flowers?
The flower clusters of lilac shrubs or Syringa vulgaris come in many shades of purple, from deep wine-red to lavender and pale lilac.
Are shrubs easy to care for?
Yes, shrubs are easy to care for. Many varieties require little pruning and maintenance once they are established.
Do all shrubs have flowers?
No, not all shrubs have flowers. Some shrubs are grown purely for their foliage or other ornamental features.
Final Thought on 13 Great Shrubs With Blue or Lavender Shrubs
As you can see, there are many shrubs that produce stunning blue and lavender flowers. Whether you are looking for a shrub to add color to your garden or need a low-maintenance plant, these options are sure to please. What are you waiting for? Beautify your yard with one of these lovely shrubs today.