Decorating a French country style kitchen can be quite challenging. The problem is that many people don't know where to start when it comes to decorating their kitchen in this particular style.
This guide is a step-by-step plan that will help you design your own modern French country kitchen by showing you how to choose the right french country color schemes, furniture pieces and accessories for each room in your house. Keep reading.
1. French Style Range Hood for a Chic Statement
A French country kitchen will need to reflect its owner's passions and dreams. This is why each modern French country style should be customized to ensure that it represents the people living inside these rooms.
Adding a contrasting color scheme will avoid the monotony of a single hued kitchen by pairing crisp white cabinetry with a sage kitchen island and coordinating tile backlash. There's also a classic French-inspired range hood, a stunning architectural feature that makes a chic statement. The vintage wood box planter with herbs is a delightful rustic accent that serves a purpose.
2. Taupe Kitchen Cabinets with an Antique Finish
Light taupe cabinets with an antique finish set the tone, making the French country kitchen feel cozy. A practical white subway tile backlash offsets the luxurious marble countertop. The skirted apron front sink is a traditional farmhouse touch that brings the French country feeling.
Covering the upper half portion of the window is a canvas roman shade that is more shabby chic than rustic. Countertop topiaries are an elegant touch. This taupe French Country Kitchen shows a farmhouse twist on the sleek modern kitchen.
A limestone countertop, black quartzite backsplash, tiled flooring and shabby chic accents are just some of the glamorous details. And because comfort is another hallmark of French country style, the stool is topped with a padded seat cushion.
3. Consider Exposed Beams
Though they do require a little more maintenance, exposed beams are a beautiful way to warm up a space and bring the French country style inside your home. Beams allows for a sense of cohesion between different living spaces in an open floor plan. They add definition without feeling heavy or bulky.
4. Copper Kitchen Appliances and Hardware
If you're looking to go big or go home on your French country remodel, then try this out. Adding copper or brass pots, plates, cabinet hardware, or sinks can give your kitchen that elegant French country charm without emptying your wallet. Copper accents and retro appliances are highly recommended to give your kitchen that French country charm.
5. Colorful French Country Kitchen
Colorful accents help to enliven these French country kitchen cabinets, especially if it's colored white. The hammered copper apron sink, wood flooring, and vintage farmhouse table add cozy warmth to the cooking space. Shabby chic wrought iron chairs with a chippy paint finish have a distinctive French country vibe.
The Fiestaware in vibrant colors on display in the dish rack turns everyday dishware into a feast for the eyes. Displaying a beautiful collection of platters, trays and trivets on open shelving brings that classic French country patterns.
6. Checkered Floor Tile
The checkered floor tile brings a French touch to the otherwise modern kitchen. An interesting tip about this space is that the owner's husband installed the shelves and backsplash, which she appreciated.
Kitchen cabinets in natural wood give an earthy look to the cooking area, while white marble countertops add a contemporary contrast.
7. Apron Front Sink
A large apron front sink brings an antique element to the space. A pretty container filled with fresh peonies and daisies sits on the window sill, which ties in perfectly with the French country theme of this room. The countertop is decorated with white and blue vases, giving it that 'at at home' look. If you're looking for a farmhouse style, this is a great choice.
8. Kitchen Inspired by a French Country Cottage Styled by Amber Interiors
The kitchen island with bar stools adds seating for four people, perfect for quick meals or snacks. A large window provides plenty of natural lighting to the room, and French doors lead out into the backyard.
A mix of colors and materials create a layered European look. Yellow stone tiles on the wall are suggestive of a rural French country cottage. Decorative molding introduces a layer of elegance to the traditional kitchen cabinets. French country color schemes offer a variety of variation for your kitchen.
The furniture like detailing on the muted green kitchen island adds warmth and comfort. French scroll lighting is wrought iron, and dark metal with a slightly rustic finish makes this French cuisine style a French delight.
9. Delicious French Country Kitchen with a Modern Tile Backsplash
Alison Kandler, an interior design in California, created this delectable French country kitchen. Bistro-inspired counter stools and brass scroll lighting are both comfortable and elegant features that pose a dash of rustic appeal.
The gorgeous backlash is a modern take on the classic French country look, featuring decorative tiles with delicate patterns. You can top up the cooking space with a shiplap range hood with crown molding.
10. Classic French Country Kitchen Color Scheme
One of the easiest ways to achieve the French look is to stick to classic blue and white color scheme. To add a bit of modern touch, exchange the classic blue for petal pink, much softer and less severe. Adding traditional kitchen cabinets and a chic oven hood is reminiscent of European furnishings. The counter stools and pendant lights also have a distinctive French appearance.
11. Consider a Shabby Chic Chandelier With Wrought Iron Frame
Opt for a delicate chandelier with a wrought iron frame to give your French country kitchen a hint of shabby chic. The mix of different metal finishes will inspire you to create the overall feel of your dream kitchen. You can also get inspired by gorgeous marble floors and a white tile backsplash with rosettes.
The trend of French country kitchen is not only limited to the traditional colors and styles. You can just add a few elements, such as cute chairs or woven rugs, and you will get your dream house soon.
12. French Country Meets Modern Farmhouse
Grace Hill, interior design from Minnesota, reinvents French country kitchen using neutral colors, natural textures and decorative accents that resemble a modern farmhouse look. Over the kitchen island, there are three pendant lights and covering the marble-topped kitchen island are white shiplap boards. In the cooking space, the piece de resistance is the ceiling, where French-style moldings embrace modern frosted glass pendants. You can also read more on blue cabinets black appliances that is already covered on our blog!
13. Consider Open Shelving
Keep the room airy and fresh by opening up the storage space. The kitchen is fitted with open shelving, which provides a striking contrast to its dark stained cabinetry and conveys an impression of an inviting French farmhouse kitchen.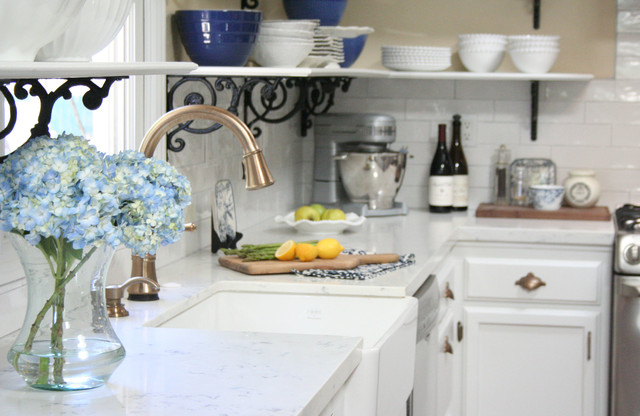 FAQs on Modern French Country Kitchen Ideas
What is a French country style kitchen?
This is a beautifully decorated cooking space that feels both homey and elegant. Think of kitchen cabinetry that resembles traditional furniture, fancy oven hoods with crown molding or scalloped edges, and charming rustic accents that feel more Parisian shabby chic than rural.
Is there enough storage space in the French country kitchen?
Yes, there are French country cabinets that you can use as storage space. Some cabinets have drawers and shelves that can store your kitchen supplies.
French country kitchens often display a collection of plates, mugs, or baskets on the wall, which can function as decoration if it cannot provide enough space for storing kitchenware.
What would you put in my new French country kitchen?
French country furniture can be quite expensive. If you cannot afford to buy all the needed items, try buying only the essential ones. Your French country kitchen should have a table and chairs, plus an island or peninsula countertop where you can put appliances or cookware.
Final Thought on Modern French Country Kitchen Ideas
As you can see, French country kitchen decorating is about adding elements of French country style to the kitchen while keeping it functional. That, of course, includes choosing the right French country decorating ideas for your needs and ensuring that they fit in the overall design you want to create.