Bathrooms are one of the most important rooms at home. It is where we get ready in the morning and clean up before bedtime, so why not make it as comfortable as possible?
You don't have to spend too much money on remodeling because that will mean spending a lot. If you're looking for bathroom design ideas that will help you beautify your room, here they are.
1. Consider Colonial Bathroom Design Ideas
The colonial style is becoming more and more popular in home design, and bathrooms are no exception. The ever-popular browns and red tones that give this style its warmth and depth can easily be incorporated into any bathroom design. Wood paneling also adds a touch of the traditional to your bathroom without making it look stuffy or old-fashioned.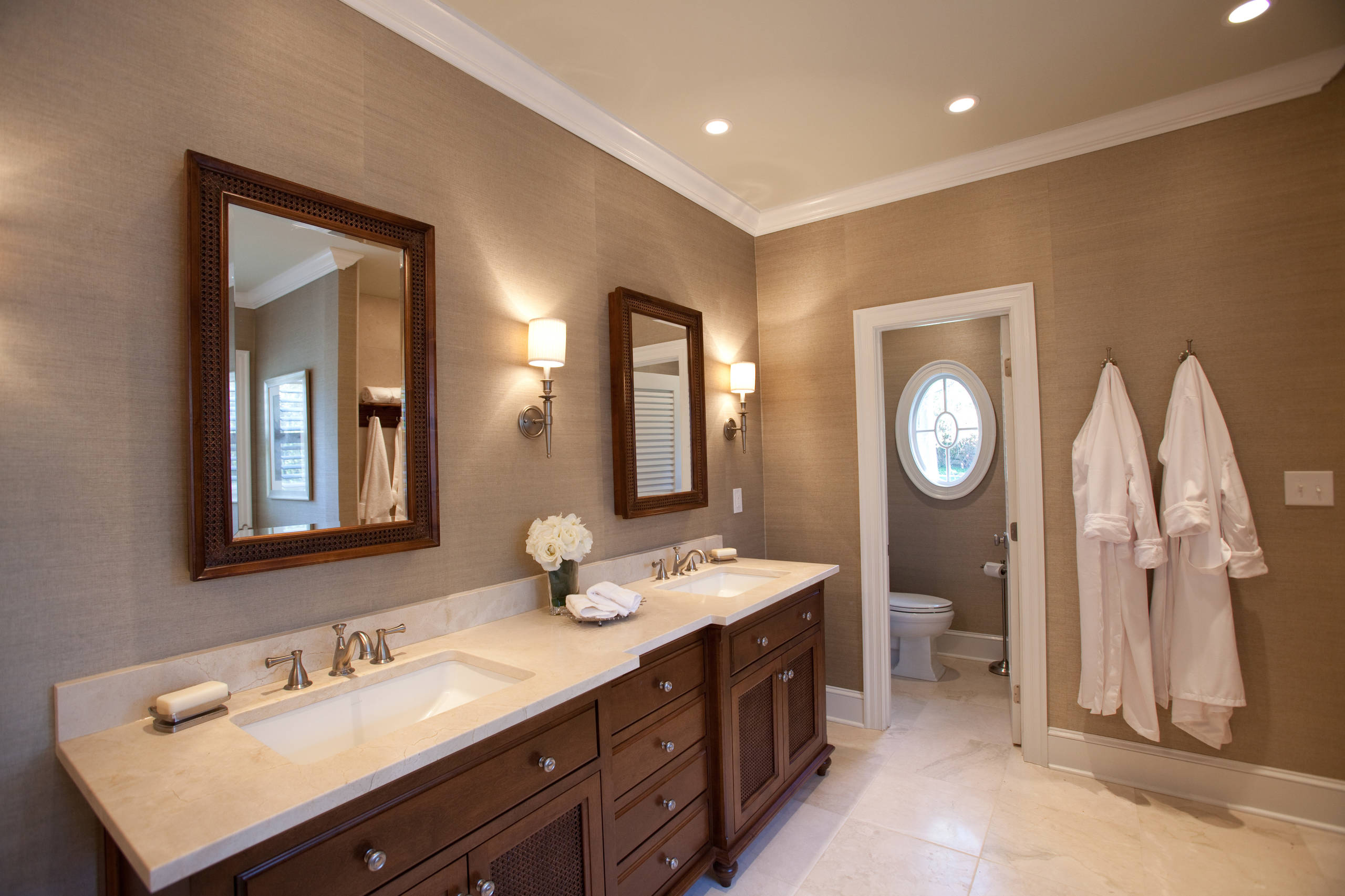 2. Beautiful Beige Bathroom
Beige doesn't have to be boring. Adding a freestanding tub set on smooth tones of the beige tile creates a backdrop for brighter accent colors. A beautifully patterned glass shower enclosure and glass sink bring some life to this new bathroom design idea.
3. Don't Be Afraid of Wallpaper.
Wallpaper is making a comeback. Covering your walls in the powder room with bold patterns and unique designs makes for beautiful bathroom ideas like this one. While it looks like it would be difficult to match because of the detail in the design, the wallpaper coordinates nicely with other warm colors used in this room; reds, browns, oranges, and yellows. You can even play around with some kitchen wallpaper ideas and creatively incorporate them into your bathroom.
4. Subway Tile Bathroom Design Ideas
Subway tile is one of the most popular choices for bathrooms, kitchens, and other rooms. The simple design draws attention to the room's focal point, which tends to be pretty no matter what you do with the rest of the space. Subway tiled bathrooms are classic bathrooms with simple decor, clean, practical, and welcoming. It's the perfect style for a guest bathroom or bathroom used by the whole family.
5. Opt for Local Accents
Another thing to do when designing a subway tile bathroom is to opt for local accents. This means using the same brand of floor and wall tiles that you choose for your design and picking accessories, like towels, that utilize local materials.
Having a vintage bathtub next to a vivid rug makes your room feel local. This not only makes the space feel more practical, but it's also an opportunity to showcase some of your personality.
6. Stick to One Color
If you have a favorite color, don't shy away from it. Sticking to one tone color scheme will things a lot easier during the design process. You can also magnify the space and make that awkward corner into something awesome with custom vanity and mirror.
7. Bring the Outdoors In
Just because you can't invest in an outdoor shower doesn't mean you can't make your bathroom feel like it's outside. Play up garden views with modern glass doors and windows let the light pour in, and introduce some greenery in the shower. Plants help rid the air of chemicals left behind by cleaning and beauty products. Plus, they instantly add life to the bathroom.
8. Give Classic Design New Twist
Try to design your bathroom with strong art deco roots from the floor tiles to sconces, marble vanity, and even the romantic bathrobe. You can go for a more contemporary design or an ultra-modern one. Just remember to always be true to your home and family-style.
9. Forgo the Mirror
Instead of hanging a mirror above the sink, consider displaying the artwork. After that, put your bathroom products, including hand soap and lotion on a small elevated shelf above the sink and hang a single slim pendant light instead of going the typical symmetrical route and flanking a sink area with sconces.
10. Rustic Stone and Wood Bathroom
An incredible rustic stone and wood bathroom design is the best example of efficient small space use in your bathroom.
A subtle but perfect combination of lighting fixtures, bold patterned wallpaper with a soft color palette. The brown tones in the floor tiles create an amazing contrast with white walls, grey counters, and even with pale blue tub. A simple mirror over the sink is a perfect addition to round up the rustic-modern look.
11. Lay Tiles Creatively
Add visual interest by infusing a non-repeating tile pattern to bring creativity to your bathroom. The colors and shapes will ensure enough consistency without looking matchy-matchy or predictable. You can add interest with a random tile arrangement to the floor, use multiple shapes in just one shower, or place tiles in an unexpected pattern on walls.
12. Layers of Lighting
Lighting is easy to underrate when it comes to your bathroom design. However, strategically placed lighting will make a big difference and turn your small space into an illusion of a larger space. Lighting is especially essential for hanging mirrors, but it is also just as important for task lighting. You can light up otherwise shadows areas, including the shower area and under cabinets/shelves.
13. Cool Farmhouse Bathroom
Fresh and rustic, the farmhouse-style bathroom is great if you like a rougher, cooler style. The ruffled shower curtain, the women's shelves, and the tin water can are the right accessories for this bathroom.
14. Small Bathroom with Walk In Shower
Make your bathroom space more functional by incorporating a walk-in shower. For example, an alcove walk-in shower sits behind the sink for maximum space usage, and the notes of wicker and wood make the whole warm and welcoming. The sideways placement of the tub, good use of wall space, good use of wall space, and bath caddy all help to provide all the space that's needed to take a shower without feeling cramped.
15. Add a Plant
An easy way to brighten your bathroom is by adding a plant. It will immediately bring more life into the room by combining with natural light and also provide some privacy if you are using it as a changing area.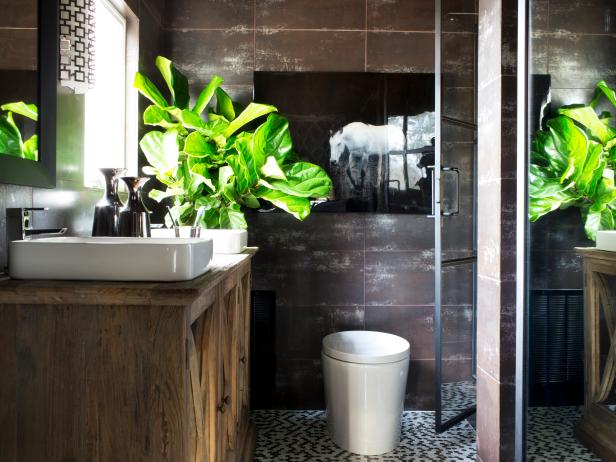 16. Paint the Floors
Instead of laying new tiles, which can be expensive and time-consuming, consider using paint instead. Hand-painted details add a personal touch to a plain ceramic floor tile, and a splash of color can make a bathroom feel more modern. Make sure you know how to paint a bathroom to bring out the best.
17. Animate the Corner
A bathroom corner is perfect for a bookshelf and comfortable armchair and adds some cute decor, such as this colorful rock collection. Add a tree in the corner for a lift update that has a tone of transformative power.
18. Go Big in a Tiny Space
Don't let tiny rooms deter you from going big. Interior designer Shaun Smith's New Orleans home is a treasure trove of beautiful and clever design solutions. If you have a small bathroom, add extra storage by placing a tray over the hamper. Keep your hand towels and florals there to brighten up the room. And most importantly, have fun with color.
19. Paint the Ceiling
Painting the ceiling is a quick and inexpensive way to add character. Take your standard bathroom and turn it into a stress-free spa retreat by adding color with paint. Adding a high gloss ceiling feels both contemporary and fresh, while the timeless neutral color keeps the space classic. The higher the paint sheen, the easier it is to clean and maintain, especially in high moisture areas like the bathroom. If you are looking for the right accessories for your bathroom, check out our article on the best quiet bathroom fan.
20. Bridge Inside and Out
When you have a home that overlooks the Pacific Coast, you want to make the most out of it, even in the bathroom. You can add a glass door to lead you to the outdoor shower, and the inside bathtub area is made of beautiful grey-blue tiles and has a skylight to provide natural light.
21. Add a Partition
What is a great way to add more privacy to a shared bathroom? Separate the toilet area from the tub and sink zones by using a partition. The shower curtain can be opaque or semi-opaque, depending on your preference.
22. Wall Sconces are Great for Modern Bathrooms
The mirror in this bathroom is aesthetically pleasing and practical because the wall sconces serve as lighting at night. If you prefer to save space with floor lamps, make sure that they are task lighting for applying makeup or shaving.
23. Save Space with Pocket Doors
Bring some elegance to your powder room by using pocket doors instead of traditional doors. The ambient lighting radiates a soft glow, the wood finishes emit warmth, and the green floral wallpaper brings the entire room to life. Whether it's the entrance or closet enclosure, replacing hinges and installing pocket doors will end up saving you a lot of usable space in a small bathroom.
FAQs on Beautiful Bathroom Ideas
What colors go with gray walls in your Bathroom?
Gary is a neutral color that you can pair with other neutrals, such as a white bathroom, or go bolder if you prefer. A gray and white bathroom is a great way to introduce color into your bathroom design.
How do you decorate a guest Bathroom with the theme of Under the Sea?
Paint sea creatures and underwater motifs on the walls, and add blue towels for bath and shower. Even though it is only a guest bathroom, guests will appreciate your creativity if they like the ocean. Add some coral to your design; it can be real or made out of something else like dried flowers.
Final Thought on Beautiful Bathroom Ideas
As you can see, bathroom design ideas are endless. Sink designs can include storage, splash guards, and grab bars for safety. So design your dream bathroom with all that you desire.