Painting a room is one of the more common projects you can tackle on your own. However, tape, prime and repaint for a new look can be tiring.
One coat paint is up to 20 percent viscious, which allows it to be more effective at covering up old coats of paint so that you don't have to spend time on a primer or second coat. One coat paint and primer in one is also available, which only allows you to use two cans of paint for a large wall or room.
Before you embark on using one coat paint, make sure you choose your ideal one carefully. For instance, the best coat paint for the bathroom isn't the best for your living room, bedroom and ceiling. Below is how to go about it.
How to Choose the Best One Coat Paint
Whether you're picking out a one coat paint product to redo the living room or to add a pop of color to the bathroom, there are several factors to consider when choosing paint colors. These factors include:
Type of Surface
The surface you're choosing to paint will dictate the type of one coat paint you should use. If it's a very complex surface, you should opt for an oil-based enamel. This is because oil-based enamels are known for being durable and lasting longer than water-based paints. However, oil-based paints take longer to dry and contain a higher percentage of VOCs, but the durable finish is a better choice for impact prone locations like baseboards and door trim.
Water-based paints are also known as latex or acrylic paints. They have a low VOC concentration, and they dry quickly, making them a great option for hallways, ceilings, bedrooms and living rooms. One coat paint isn't usually water-based because it's difficult to manufacture thick water-based latex paint or acrylic paint that will reliably cover in just one coat.
Intended Use
The area where the one coat paint will be used is a great indicator of the appropriate paint product for the job. This is because certain areas around the home require water-resistant paint while other locations can get by with a paint that offers some protection but is more for aesthetic appeal.
You should know that one coat paint isn't always the best choice for a home improvement project. A wall that has never been painted may not also have the best results with only one coat of paint. Generally, wood, new drywall or any new surface isn't well suited for one coat paint products.
Low traffic surfaces like the interior walls in the living room, den, dining room, bedrooms and halls are suitable for one coat paint designed to provide a small amount of protection to the drywall while looking great. High traffic areas such as bathrooms and kitchens will require a different type of one coat paint, a variety resistant to water.
Volatile Organic Compounds (VOCs)
VOCs in paint are the leading factor in determining the difference between one coat and two coat paints. The paint industry is moving towards water-based, low VOC paints that offer much less harsh fumes when painting. Lower VOC paints make them a good choice for areas where there is little ventilation or limited access to open windows for proper ventilation.
Color and Finish
Color is the most important factor when deciding on a one coat paint product. A quick and easy color selection makes your job easier when it comes to painting, but maybe you want a specific shade of white or gray. If the color is not an issue for you, one coat paints are available in many types of finishes such as flat, matte and eggshell.
Flat and matte finishes are at the lowest level of glossiness. This type of one coat paint finish is nonreflective, hiding surface inconsistencies and appearing smooth and velvety. Eggshell and satin finishes have more reflectivity and sheen than flat or matte, but they don't shine nearly as bright as semi and high gloss.
This middle ground makes them ideal for bathrooms, kitchens and bedrooms where natural light may be scarce. Semi gloss and high gloss finishes are designed to reflect light, making them ideal for rooms with ample natural light.
How Much Paint, Coverage and Drying Time
One coat of paints come in a range of sheens, from flat to high gloss. This range is directly related to the paint's coverage and drying time. One coat paints with low sheens such as matte offer very little coverage and dry slowly.
This means more finishing work after the paint is applied and more prep before the painting starts. Ask yourself how much paint do you need for specific painting work before buying one coat paint.
While one coat paint is enough to provide ample coverage, the color of the surface to be painted and the selected color of the new paint can be a concern. For instance, trying to paint a bright red wall with white paint will likely require more than one coat paint.
7 Best One Coat Paint to Use
1. Behr Marquee Ultra Pure White Matte Interior Paint and Primer
It has a low VOC percentage that doesn't pose the same risk as a standard paint product. This one coat acrylic paint product is a great option for hallways, bedrooms, dens and other areas around the home that are difficult to ventilate.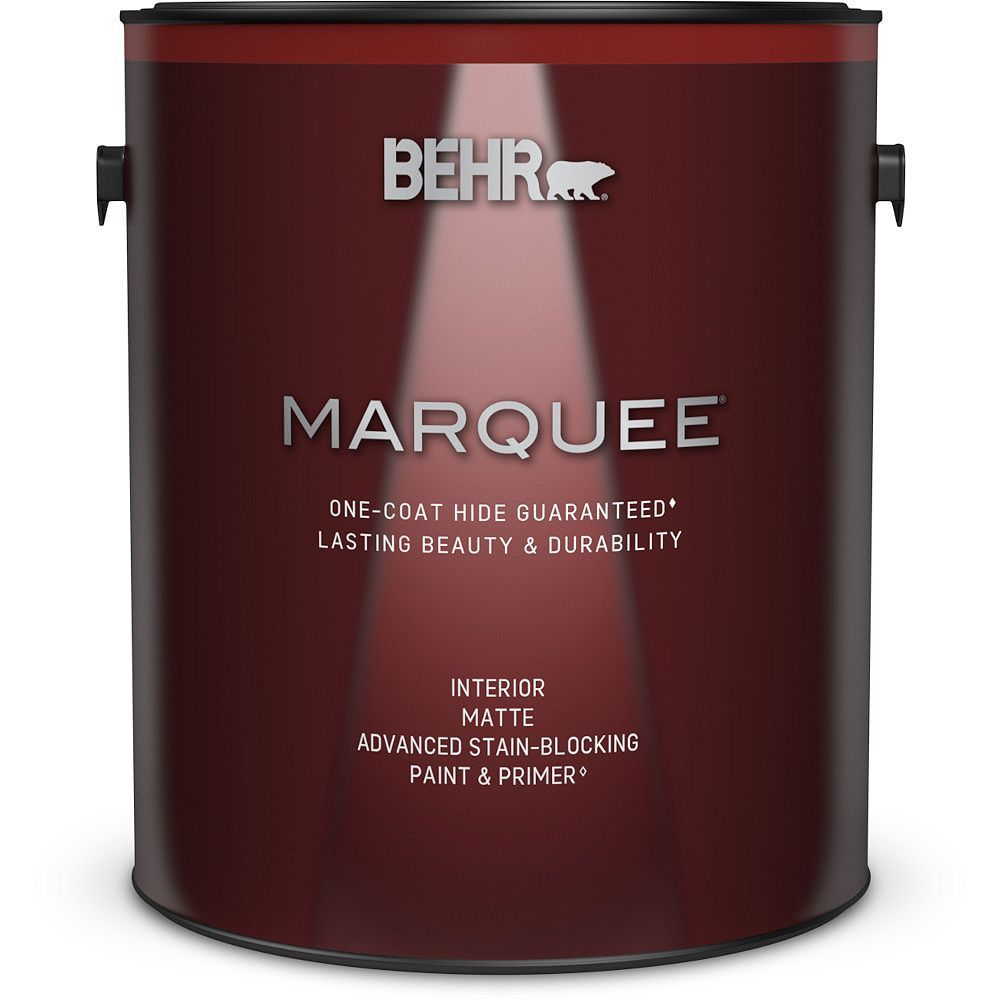 The paint comes in an 8-ounce bottle, 1-quart can, 1-gallon can, or a 5-gallon bucket with five finish options, including flat, matte, eggshell, semi gloss and high gloss. The ultra-pure white color cannot cover in just one coat unless you're using it on a white wall. The paint requires 24 hours to properly cure, at which it becomes durable and resistant to mold and mildew, allowing it to be cleaned with soap and water without ill effect.
2. Kilz Tribute Interior Paint and Primer in One
The Kilz one coat paint is water-based and has a low number of VOCs, making it a great option for painting small bedrooms or basements where ventilation may be poor. This one coat paint also comes in more than 20 colors and shades as well as four finishes, including flat, matte, eggshell and semi gloss.
The paint has a quick drying time of three hours but requires 24 hours to fully cure. Once cured, the paint is scrubbable and resistant to mildew, mold and stains.
3. Glidden Premium Base Semi-Gloss Interior Paint
This is an inexpensive one coat paint product suitable for high traffic areas such as trim, baseboards, kitchens and bathrooms. This is because it has a high level of durability that isn't susceptible to wrinkling, bunching, cracking and peeling while being cleaned.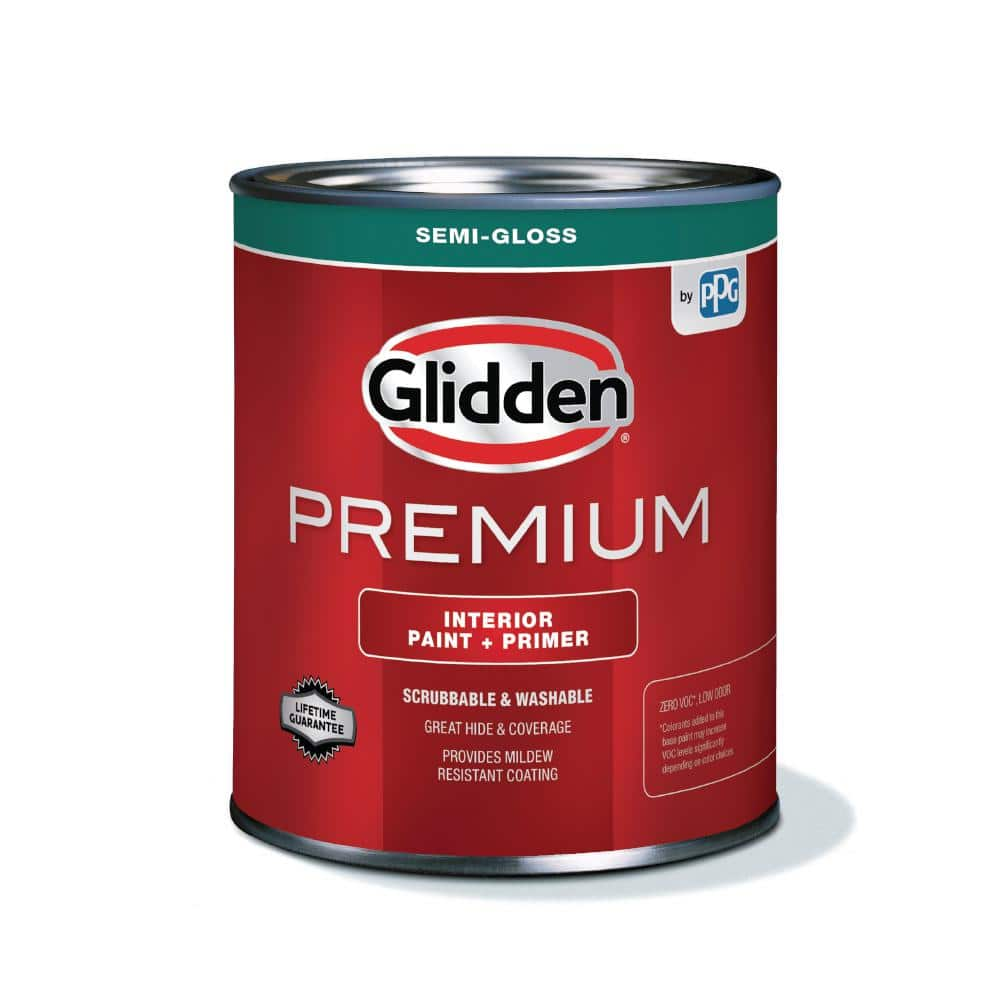 The later interior paint and primer combination is also resistant to moisture, mold and mildew, helping to protect porous materials like drywall from microbial growth and water damage. It comes in a 1-quart, 1-gallon or 5-gallon can with 1 gallon of paint, providing 300 and 400 square feet of coverage. This paint also has a low odor and zero VOC formula, making it6 a good choice for rooms that are difficult to ventilate.
4. HGTV Home Sherwin Williams Tintable Interior Paint
This paint from Sherwin Williams is tintable with any color of latex paint you already have on hand. It creates a flat surface ideal for painting over glossy surfaces, which tend to be difficult to cover, or high-gloss finishes that give walls a tacky feel.
The combination of paint and primer has an advanced stain resistant formula that can be cleaned and scrubbed without damage or staining. While the acrylic one coat paint comes in an ultra white color, it can be tinted to provide a number of color options.
5. Valspar Ultra White Satin Tintable Interior Paint
This high-performance paint from Valspar can be tinted to a number of desired colors and provides a durable surface. While it's ideal for painting wide open areas, so you don't have to use as many coats, the paint works well on surfaces like cabinets or trims that require touching up between applications.
With an easy clean up system and premium quality, this paint is ideal indoors. The interior paint is also available in flat, eggshell, satin, and semi gloss finishes so that the best level of reflectivity can be selected without having to find a different product.
6. Prestige Interior Paint and Primer in One
This one coat paint is a top pick because it comes in several neutral shades that will resist fading over time. The prestige paint and primer combo is an excellent choice if you're looking for a low odor, acrylic paint.
This paint primer combo is also great for painting interior rooms like family rooms, bedrooms and dining rooms. If you're looking for a super versatile paint primer combo, then this is the best brand.
7. The One Paint and Primer
The one paint and primer is a versatile product that can be used on many surfaces. It also comes in neutral tones that are made to resist fading, and it's available in several sizes for any sized project.
This paint will last longer if applied to small projects with a primer coat first, making this one of the best exterior paint products on the market. The One paint can be applied directly to metal or plastic, and it comes in low VOC formulas perfect for the environment.
FAQs on One Coat Paint and Primer
Can you apply one coat paint over the other paint?
Yes, one coat paint can be applied over another type of paint, but to ensure the old paint doesn't show through, one coat paint should have a similar or darker color. After all, even one coat paint will require more than one coat if you're trying to paint a black wall with white paint.
Can you paint without a primer?
You can paint without a primer using one coat paint when repainting a wall or ceiling. If the intended surface is a new wall or ceiling, use a drywall primer and one or two coats of paint for proper wall protection.
Final Thought on Selecting a One Coat Paint
As you can see, there are many one coat paint products available. So, make sure you consider your budget and the color and texture of your surface. If you don't know, go try a test patch on the wall or ceiling first to see what it looks like.