The choice between bamboo and hardwood flooring can be a difficult one since both types of flooring have their pros and cons. However, the right type of flooring for your home depends on how you want it to look as well as what kind of surface is best for your needs.
In this article, we will explore the differences between these two popular types of floors so that you can make an informed decision about which would work best in your home or office space. Keep reading to learn more.
Image Credit: http://flooringclarity.com
Bamboo versus hardwood – the differences
Bamboo flooring is usually made of 100% bamboo, while hardwood floors are typically made of a combination of solid wood and other materials. One difference between the two surfaces is that bamboo can vary in its color. The fibers in bamboo plants grow differently depending on the conditions they're grown in, so when harvested, they may take different colors when dried into flooring. This means that an installation of bamboo flooring could yield floors with varying shades across the board – although this does not happen often.
Another difference between these two types of floors is that bamboo has more "give" which makes it better for insulating against noise and vibration, but also limits how much weight each piece can. Hardwoods are harder, making them better when you need to carry heavier equipment across the floor.
Ranging from $1-$2 per square foot, installing hardwood floors is less expensive than bamboo. On top of installation costs, it will cost about On top of installation costs, it will cost about $0.. 30 to $0.75 per square foot for finishes and sealants for your new flooring respectively, while bamboo can cost upwards of $2/square feet depending on which finish and protection you choose. The price difference between these two surfaces also depends on their quality. Both hardwoods and bamboo can be manufactured at different qualities – ensuring that you get what you pay for.
Bamboo has the same practical applications as standard hardwood floors such as installing them in homes or businesses to give them a place in a hallway, bedroom, or kitchen. Both surfaces are water-resistant and durable.
As mentioned, bamboo flooring tends to be better at insulating against noise and vibrations than hardwood floors – making it perfect for homes with small children who may run around slamming doors. Bamboo does not absorb moisture like hardwood, so if you're looking for an eco-friendly surface that's easy to clean this might be the way to go. You can always purchase polyurethane or other coatings for your bamboo if you'd like it to appear darker (which hides most stains), but this isn't necessary.
Factors to consider before making a decision
It's important to consider your home and what it needs before deciding on which type of flooring would be best for you. Ask yourself:
Is my house or office located in a high noise area (such as near an airport)?

How much weight can the floor support? (weight such as furniture, workout equipment, etc.)

Will I need low-maintenance flooring that is easy to clean and care for regularly?

Do I want floors that will add value to my property?
If you said yes to any of these questions then bamboo might be a better choice considering it's water-resistant and easier to maintain than standard hardwood floors. If your home or office requires heavy weights placed across them frequently, bamboo isn't the best surface for this type of traffic. Consider hardwood if you're looking to install heavy exercise equipment like free weights in your home or office. Bamboo flooring is generally more expensive than standard hardwood floors but it can be a great investment that adds value to your property.
If you answered no to the questions above, standard hardwood might be the ideal choice for you and your family.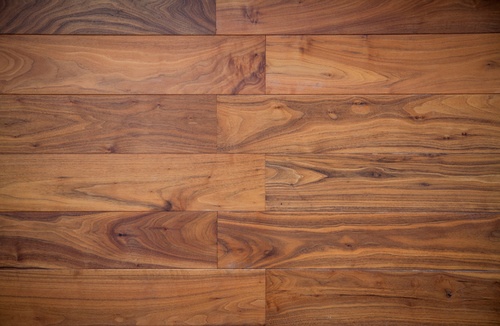 Image Credit: http://fixr.com
Laminate Vs Hardwood Flooring
You can also consider laminate flooring for your flooring needs. These floors can mimic the appearance of both bamboo and hardwood, while still providing the practicality needed in a busy household or office. There are different grades of laminates to consider depending on how much you want to spend, but make sure to read reviews before purchasing laminate flooring online or at a retailer.
It's important to consider both the functional and aesthetic aspects of any surface before making a final decision – no matter if it is bamboo, standard hardwood, or laminate. The most important thing is that you're happy with your flooring choice and confident that it will serve its purpose in your home or office for years to come.
When it comes to laminate vs hardwood flooring, laminate is the cheapest of the two. At the same time, they are often made from recycled products, which makes them a greener choice.
Laminate is not as durable as hardwood flooring because they are usually thinner than standard hardwoods so they do not have much to hold up against harsh wear and tear.
Cost To Refinish Hardwood vs Bamboo Floors
When it comes to the cost to refinish hardwood vs bamboo floors, standard hardwood costs vary depending on a variety of factors.
he good news is that even if you don't want to invest in new flooring at any particular time, it's not necessarily a problem since most homeowners can go with other options when it comes to existing hardwood floors.
When it comes to the cost of refinishing your hardwood floors it also depends on how much work needs to be done and what quality of hardwoods you have installed. The type of experience the workers that you choose have also play an important role in the price of refinishing your hardwood floors since they will know exactly how to handle each type of wood.
Clients who have made the mistake of hiring a less experienced worker sometimes end up paying more money because their project wasn't done properly. You don't want to invest all that time and money into refinishing your hardwood floors only for them to look shabby later down the road so it's best to hire someone who is experienced with every type of wood you are considering.
Final thoughts on bamboo versus hardwood flooring
In conclusion, bamboo flooring has become quite popular in recent years, and with all the new advances made in manufacturing technology is becoming more cost-effective. It is an excellent alternative to traditional hardwood flooring and can be installed quickly with very little preparation or upkeep provided you choose the right product for your needs.
That is why if you decide to go with bamboo, it is important to buy the best flooring possible so you get value for your investment over time.
With that said, hardwood flooring is still prefered by lots of people because of the personality and beauty it can add to a home or business space.