Subway tile is a popular choice for bathroom floors because it is easy to clean and maintain. A bathroom with subway tile floors can have a classic, clean look. You can find subway tiles in many colors and patterns. which can give your bathroom a unique look.
In this article, we will discuss various aspects of installing a subway tile floor in your bathroom, including the cost, installation process, and aftercare. Keep reading to find out more.
What Is A Bathroom Subway Tile?
Subway tile is a rectangular ceramic tile that is typically used in kitchens and bathrooms. It gets its name from the subway tunnels in New York City, where it was first used.
This type of tile comes in a variety of colors and patterns, making it a versatile choice for your bathroom floor. It is also easy to clean and maintain, making it a low-maintenance option.
How Much Does Subway Tile Cost?
The price of subway tile typically ranges from $6-$8 per square foot. However, there are other affordable options available if you are on a tight budget.
Image Credit: http://hanseceramictile.com
How Do I Install Subway Tiles In My Bathroom?
Installing subway tile in your bathroom is a relatively easy process. Here are the steps involved:
Measure the area of your bathroom floor that you would like to tile.

Purchase enough subway tiles to cover the measured area.

Plan out your tile layout. You can use a tile calculator to help you with this.

Spread a layer of adhesive mortar on the floor, using a trowel.

Apply the tiles to the mortar, using a level as you go.

Allow the mortar to dry for 24 hours.

Seal the grout lines with grout sealant.
For more detailed instructions, please consult a professional tile installer.
What Should I Do After Installing Subway Tiles In My Bathroom?
After installing subway tile in your bathroom, it is important to keep it clean and sealed properly to ensure its longevity. Here are some tips:
Clean your tile regularly with warm water and a mild detergent.

Avoid using harsh chemicals or abrasive cleaners, as they can damage the tile.

Apply a grout sealant at least once a year to prevent stains and dirt from getting trapped in the grout lines.

If any tiles become cracked or damaged, replace them immediately to avoid further damage.
By following these tips, you can keep your subway tile floor looking new for years to come.
Creating A Beautiful Bathroom
Laying bathroom subway tiles is not the only way to achieve a beautiful bathroom look. You can also use large format tiles, which are becoming increasingly popular in bathrooms. These are laid in a similar way to subway tiles but are much larger, typically around 12″ x 24″.
If you want to create a more traditional bathroom, then using 3″ x 6″ tiles is the way to go. Laying them in a herringbone pattern is especially effective and gives the room a real wow factor.
For something a little different, try using mosaic tiles instead of subway tiles. This can create a unique look that will make your bathroom stand out from the rest.
Other beautiful bathroom ideas that you can consider for your bathroom include:
A tiled shower enclosure

A freestanding bathtub

Stone or marble flooring

Wainscoting or paneling on the walls
Whichever route you choose to go, make sure that you take your time and plan everything out properly. This is a room that you'll be spending a lot of time in, so you want to make sure it's perfect.
Installing a walk-in shower
While tiles are a great way to create a beautiful bathroom, they can also be used to create a walk-in shower. This is a great way to add value to your home and makes bathing much more convenient.
When creating a walk-in shower, it's important to remember that the space you have to work with may be limited. Make sure that you plan accordingly and choose the right tiles for the job.
The process of installing a walk-in shower is similar to that of a traditional bathroom renovation. You will need to:
Remove the existing shower enclosure

Install the new shower tray and tile it

Install the new shower enclosure

Connect the plumbing

Finished.
If you're not comfortable doing it yourself, then you can always hire a professional to do it for you. Just make sure that you get quotes from a few different companies so that you can find the best deal.
Walking into a beautiful, tiled shower is a luxury that everyone should enjoy.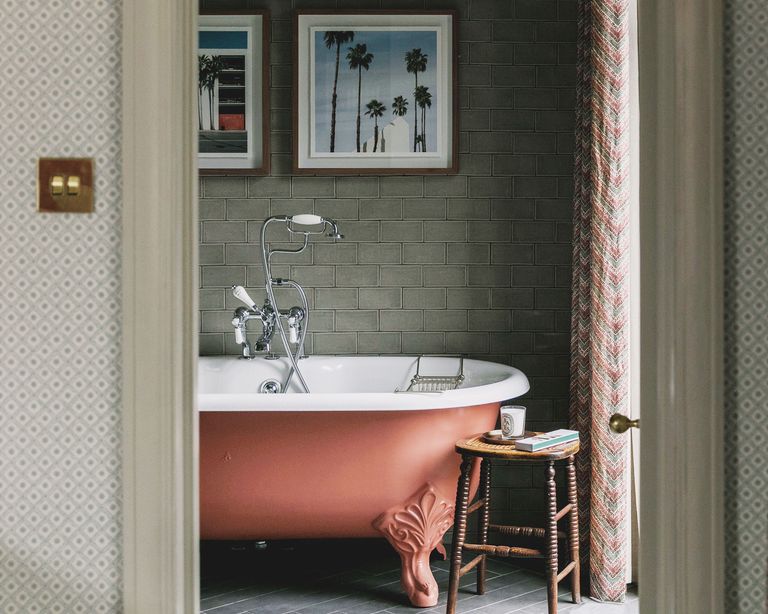 Image Credit: http://homesandgardens.com
Bathrooms With Subway Tile – FAQ
What Are Some Good Subway Tile Bathroom Ideas?
When it comes to subway tile bathrooms, there are a few things you can do to make your space stand out. First, consider using a contrasting grout color for your tile. This will help create a more unique look for your bathroom. You can also try using different sizes or shapes of subway tile to create interest. Finally, consider using accent tiles around the perimeter of your bathroom or in key areas like shower niches to add visual interest.
How Do I Choose The Right Size Subway Tile For My Bathroom?
The size of subway tile you use in your bathroom should be based on the overall size of the space. If you have a small bathroom, you may want to use smaller tiles to help make the space appear larger. Conversely, if you have a large bathroom, you can use larger tiles to make a bolder statement.
What Are Some Good Subway Tile Colors For Bathrooms?
When it comes to choosing colors for your subway tile bathroom, there are a few things to consider. First, think about the overall color scheme of your bathroom. If you want a more neutral look, opt for white or cream-colored subway tiles. If you want something more unique or bold, consider using colored subway tiles in shades of blue, green, or even pink. Just be sure to pair them with complementary colors and materials so they don't clash.
How Do I Install Subway Tiles In My Bathroom?
Installing subway tile in your bathroom is relatively easy and can be done DIY-style if you're feeling handy. First, start by measuring the area you want to tile and purchasing enough tiles to cover it. Next, apply mortar or adhesive to the back of each tile and press them into place on the wall or surface. Once all the tiles are in place, allow the adhesive to dry completely before grouting the joints between each tile. Finally, seal the grout to help protect it from stains and water damage.
Final Thoughts On Bathrooms With Subway Tile
In conclusion, tiling your bathroom with subway tile is a great way to add both style and function to your space. This classic look is easy to care for and can be customized to match any design aesthetic. With so many different ways to lay out subway tiles, the possibilities are endless. So, whether you're going for a traditional or more modern look, subway tile is a great option for your next bathroom project.