Kids grow up way too fast. Before you know it, they're teenagers and want nothing to do with the family room. But for now, there's still plenty of time to make memories in your kid's playroom. We all know that keeping kids entertained is important because if they are not engaged, their minds could be wandering elsewhere. And of all the rooms, the playroom is where all the activities happen.
And we also know that having a space where your children can play safely away from traffic is essential for families who live in small homes or apartments. With these ideas, you will create an environment that will keep your kids playing for hours without getting bored while giving them the freedom to explore and learn about the world around them through games and toys.
The best part? You'll save money because many of these projects require supplies already found around the house. From arts & crafts to reading nooks, this list has something fun for your young ones.
Why is a playroom important for your child's development?
When you're choosing between the best kids playroom ideas, you probably know that this room:
Encourages Creativity
A playroom may give kids the place and resources they need to explore their imaginations and creative sides. They can play imaginatively, which is beneficial for their cognitive, emotional, and social growth.
Builds Social Skills
Playing with siblings or friends in a playroom can assist kids in building vital social skills including cooperation, sharing, and communication.
Building Confidence
Giving kids their own space to play can give them a feeling of ownership and independence. They can feel safe taking risks and making errors there, which can help children gain confidence and self-esteem.
Encourages Movement
A playroom can promote movement and physical exercise, which is crucial for kids' physical growth and health. Also, it can aid in the growth of their fine and gross motor abilities.
Helps with Organization
Setting aside space for play can assist kids in developing the crucial life skill of organizing their toys and possessions.
Here is the list of kids' playroom ideas to consider.
1. Kids' Basement Playroom
Playrooms aren't just for the upper class. Here's a way to make a play space in your basement where kids can have fun and play safely while you save money on rent with an unfinished room. The interior experts at Eisner Design, an architectural firm based in New York City transformed a dreary basement into a spectacular play space that kids can enjoy irrespective of their age.
The combination of toys and board games brings out the joy of playtime with your kids. On top of the floor, there are soft, washable carpet tiles by Flor and the small table and chair set are adorable for the kids to enjoy. So while creating a kids' basement playroom and using our tips on creating a colorful playroom both offer a great space for kids to play, they differ in their style. The colorful playroom may appeal more to younger kids with its vibrant hues, while the basement playroom may be more suitable for older kids.
2. A Colorful Kids Playroom Using Bright Colors
Color is the key when it comes to kids' playroom ideas. Paint the walls with your kid's favorite colors. Add bright accessories such as pillows, wall decals, and posters to increase the playfulness of your child's bedroom. If you know how to decorate a bedroom then you can pull this out perfectly.
You can also paint the walls with an underwater theme and a hand-drawn design for an eye-catching accent wall. If you're looking for a modern playroom or you're ready to take some plunge with bold colors, then go for neutral colors. You can also supplement with wow colors by adding some flair with a bright rug and some pillows.
While making a colorful playroom is an idea we tested and tried that offers a visually stimulating environment, the attic room provides an unconventional play space that can spark children's imagination.
3. Attic Room
The space under the roof is a little-known and underrated one, and you can convert it into your kid's playroom. You can take advantage of that area under the roof to turn it into a comfy playtime pad. This type of multi-purpose room will also serve as a quiet reading nook for mom and dad during nap time. Both converting an attic room and installing easy-to-clean flooring are vastly different options, with the former being an unconventional play space and the latter focusing on practicality. However, both offer benefits for parents, with the attic room being a space-saving solution, and easy-to-clean flooring making playtime less stressful for parents.
4. Install Easy-to-Clean Floors
Choosing wood floors or linoleum floors is a smart idea for playrooms because these flooring options are resistant to stains. And if you're looking for playroom flooring that won't break the bank and requires less renovation, try foam flooring. It's easy to clean plus, it's a fun way of adding color and comfort to your room.
Installing an easy-to-clean floor and adding an indoor swing both offer practical features for a playroom. The flooring helps keep the play space clean, while the indoor swing adds an element of physical activity to playtime.

5. Add an Indoor Swing
What is a good look giving your kids that park feeling? Allow them to swing in their playroom whether it's raining or there is sunshine. If you have space, adding an indoor swing to your playroom will give it a bit more personality and take it to the next level. Compared to our previous idea, both installing an easy-to-clean floor and an indoor swing can be especially beneficial for younger children who may not yet have developed their coordination and balance skills.
6. Create a Chalkboard Wall
Instead of investing in a new chalkboard, simply turn your kid's blank wall into one. You can paint it or cover it with chalkboard contact paper to create an instant space for art and writing. With a playroom chalkboard wall, you won't be worried about your kids coloring it.
Both kids and parents love this kid's playroom organization because it allows your little ones to freely decorate the walls while giving parents the feeling that cleaning is easy and not permanent. Whether you choose chalkboard paint or peel-and-stick chalkboards, this idea will let your kid decorate their toy room.
7. Create a Nap Time-Space
One of the best kids playroom ideas is to create a room where your kids can take naps. You don't want them falling asleep on the couch, so it's best to provide them with their own space. If you have an extra bedroom in your house, this might be the perfect fit for your child.
Creating a designated nap space in a playroom will recharge and make them jump right back into their day of fun. Based on our evaluation, by placing twin beds and some fun decorating ideas such as cool sheets and large pillows, your kids will have a cozy space to relax after a long day of playtime.
8. Create an Art Space
There are so many amazing ways to display your child's artwork. You can take their art supplies such as paintings, drawings, and any other creative piece that they've made, and frame it for them invisibly. Of course, you don't want to ruin the art by making it seem like it's in a frame, but you can definitely make sure that when they're older, they have a great collection of their own artwork.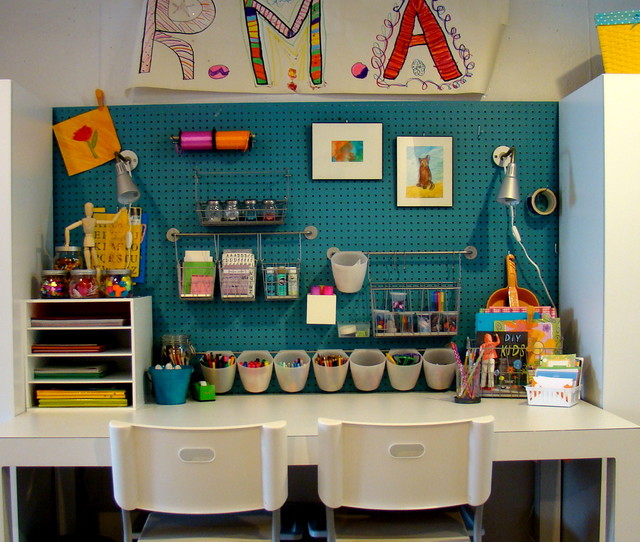 Whether you're creating a playhouse out of paint or working with your child to paint a beautiful mural of your children's favorite. Adding a bit of wall art is a great way to create a beautiful and kid-friendly space. We got ideas for teenage room colors for guys too!
9. Invest in Affordable Storage Containers
Children's toys will always creep up on you, but one of the best ways to keep them under control is by investing in affordable storage containers. There are so many different types of these available at most dollar stores that it can be hard to choose just one type to purchase.
Revamping your kid's playroom doesn't have to be an expensive overhaul, we know because we tried all of these out ourselves. You can also use wicker baskets and art supplies and add a few picture ledges to show your kid's favorite books.
10. Invest in Built-in Storage
If you're looking to create a one-stop kid's playroom, then consider investing in built-in storage. You can add several shelves and cubby holes that will help keep your child's things organized and off the floor. There are a number of ways that you can do this yourself or you can always hire a contractor to get it done.
11. Integrate Furniture with Storage
Whether you have built-in storage or wicker baskets, make them fun and functional when picking your kid's playroom furniture. When it comes to furniture, pick the ones like Ottomans with storage. You can also buy furniture with hollowed out-benches or benches with enough space underneath to keep your child's toys or other belongings.
Shelves are also a great way to keep the playroom organized. They come in all shapes, sizes, and designs so you would have plenty of options when it comes to adding them to your children's playroom ideas.
12. Set Up Cabinets and Cupboards
A place for everything and everything in its place. That's the rule to follow when picking your kid's playroom furniture and furnishing. Cabinets and cupboards can be functional, but it is important to avoid having them installed so close together that they create a dark cave-like space for your child. Instead, use them as a way to separate one functional area from another, such as creating a crafting corner and a dressing-up corner. If you want to add more beauty, you can go for the best furniture rentals to get the room of your dreams.
13. Consider Under the Stairs
For children, nothing is as fun as having a secret clubhouse. Building a crawl space under the stairs is a kid-friendly retreat that your kids will love beyond your expectation. So, when designing a basement playroom with your spare room, amp that space with a custom kids' indoor playhouse.
14. Toss in a Ball Pit
One of the most creative ideas you can go with is a ball pit. Besides, your kids will love it if they have a place to play out their endless energy in a safe way. To build a ball pit for your kid's room, amp around six to ten boxes of balls and let the kids dive right in.
15. Take Advantage of the Wall Space
Kids like to climb and they'll really love the idea of climbing up a wall. So, maximize that space by adding wall-climbing holds or brightly colored walls with cartoon characters. Use them as background for your kid's pieces of art and photos. Make a gallery wall and make each photo meaningful and personalized.
16. Create a Reading Nook
Reading nooks are not only for grown-ups. Kids like to read too. So, give them their own little space where they can spend time reading or let you read to them. Whichever thing they want to do in the reading nook, your kids will feel comfortable and intimate in their own room because it's all theirs.
17. Decorate with Wall Decals
Make your kids discover new things as they grow older by sticking walls. If you want to create a cool space without committing to specific wall colors and themes, then wall decals are the right choice. Temporary wallpaper also comes in many different colors and themes and can bring a lot of color to your kid's play space.
What to Consider When Choosing From the Best Kids Playroom Ideas

Age
Age For instance, a toddler's playroom theme might emphasize colors, shapes, and fundamental learning activities, but an older child's playroom theme might highlight the child's particular interests or hobbies.
Interests
While selecting a playroom theme, take your child's hobbies into account. For instance, if your child enjoys animals, a playroom with a jungle or safari theme could be ideal. A space-themed playroom might be a fun and interesting choice if your youngster enjoys science and space exploration.
Imagination
Imagination Your child can improve their creativity, social skills, and problem-solving abilities in a playroom that promotes imaginative play.
Safety
Make sure your youngster won't be put in danger by the playroom theme. If your child, for instance, enjoys climbing, make sure the playroom has a reliable and secure climbing structure.
Durability
Think about how long the playroom theme will last. If your child is young or prone to accidents, the playroom theme should be durable enough to survive everyday use, spills, and accidents.
| Playroom Idea | Age | Interests | Imagination | Safety | Durability |
| --- | --- | --- | --- | --- | --- |
| Kids Basement Playroom | 4/5 | 3/5 | 4/5 | 4/5 | 4/5 |
| A Colorful Kids Playroom | 4/5 | 4/5 | 4/5 | 4/5 | 3/5 |
| Attic Room | 3/5 | 3/5 | 4/5 | 3/5 | 3/5 |
| Install Easy-to-Clean Flooring | 5/5 | N/A | N/A | 5/5 | 5/5 |
| Add Some Indoor Swing | 4/5 | 4/5 | 4/5 | 3/5 | 3/5 |
| Create a Chalkboard Wall | 4/5 | 3/5 | 4/5 | 4/5 | 4/5 |
| Create a Nap Time-Space | 3/5 | 3/5 | 3/5 | 5/5 | 4/5 |
| Create an Art Space | 4/5 | 4/5 | 4/5 | 4/5 | 4/5 |
| Invest in Affordable Storage Containers | 4/5 | N/A | N/A | 5/5 | 4/5 |
| Invest in Built-in Storage | 4/5 | N/A | N/A | 5/5 | 4/5 |
| Integrate Furniture with Storage | 4/5 | N/A | N/A | 5/5 | 4/5 |
| Set Up Cabinets and Cupboards | 4/5 | N/A | N/A | 5/5 | 4/5 |
| Consider Under the Stairs | 3/5 | 3/5 | 3/5 | 4/5 | 4/5 |
| Toss in a Ball Pit | 4/5 | 4/5 | 4/5 | 3/5 | 3/5 |
| Take Advantage of the Wall Space | 4/5 | 3/5 | 3/5 | 4/5 | 4/5 |
| Create a Reading Nook | 4/5 | 3/5 | 4/5 | 4/5 | 4/5 |
| Decorate with Wall Decals | 3/5 | 3/5 | 3/5 | 4/5 | 3/5 |
FAQs on Best Kids Playroom Ideas
Can you set up a kid's playroom in the living room?
Yes, you can. If your living room is big enough to accommodate a kid's playroom, then you might as well do it. Putting up a kid's playroom in the living room will allow your children to have an area of their own for playing or reading while allowing them to be close to you at the same time if needed.
Can you paint kids' playroom furniture?
Yes, you can paint kids' playroom furniture, especially wooden ones. However, before getting it painted, make sure that the paint is of good quality and is safe for your child. You may like to get them painted in bright colors which will be very attractive for your children and help stimulate their imagination while playing.
Final Thought on Best Kids Playroom Ideas
It's not necessary to stick to a certain theme when coming up with kids' playroom ideas. You can let your children be as creative as they want. They can choose their own color or pattern to paint the walls. They can pick outplay items they want to display. Or, you can even let them rearrange their room every so often to keep things new and fresh all the time. Whether you have a room dedicated to toys or play, achieving a cool playroom is quite easy.