Blue Diamond is yet another non-stick cookware company entering the market with great pans that are easy and safe to cook with. While the name Blue Diamond makes sense and looks exotic and luxurious, is the quality truly as good as it suggests?
This Blue Diamond Cookware review will try to answer these questions and more when it comes to this non-teflon cookware product. Read on to find out more.
Blue Diamond Cookware
Blue Diamond nonstick coating is 5X more resistant, 4X faster and 10X longest than traditional nonstick coatings. Being a toxin-free cooking utensil, it doesn't contain any PFAS and PFE. The cookware is easy to clean and this makes it a great option to have in the kitchen. Blue Diamond is a nonstick pan that stands up to everyday life.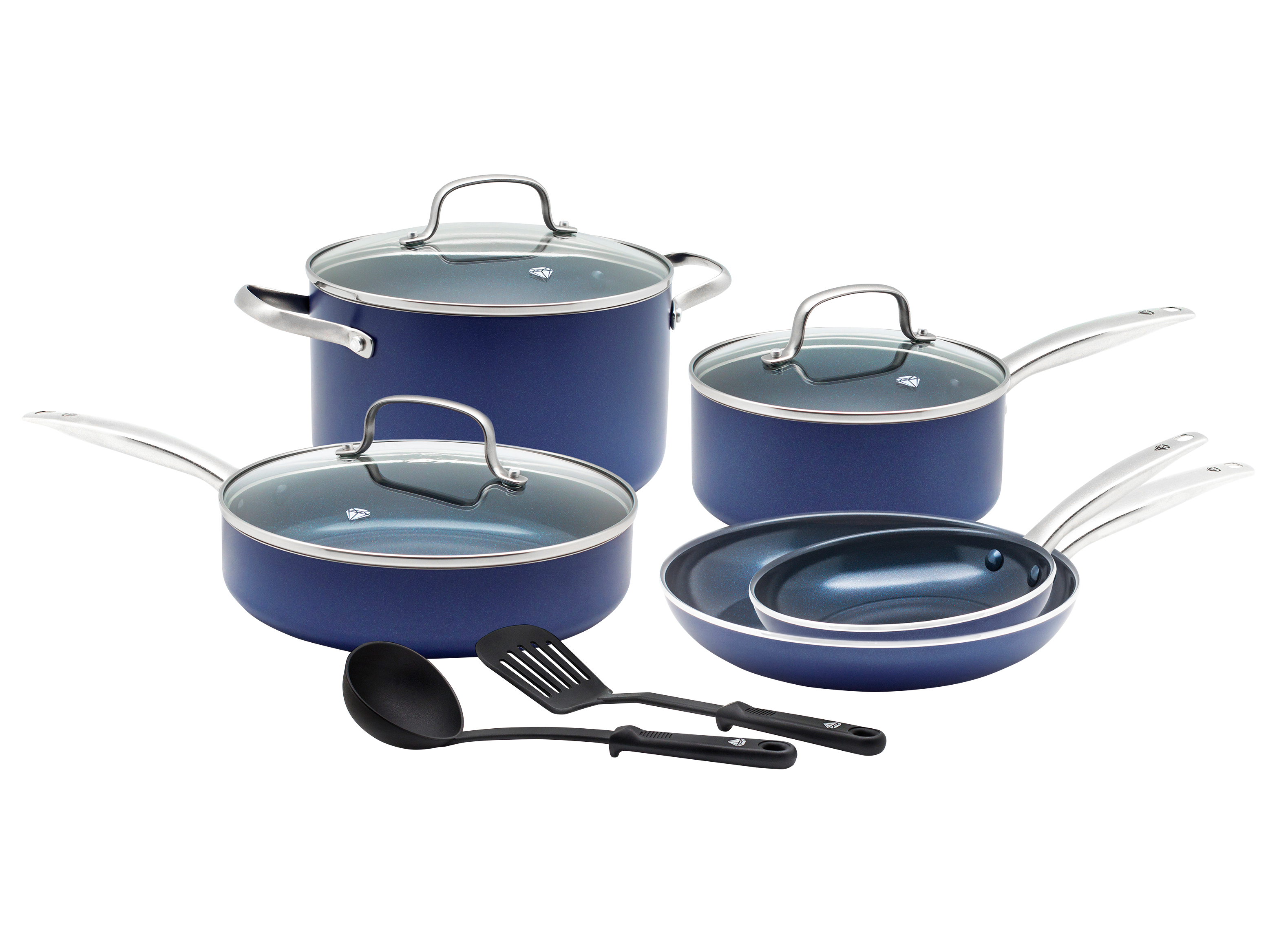 How good is the heat distribution?
The Blue Diamond base is constructed of a sturdy aluminum base. The company claims the diamond base conducts heat 4x more quickly than copper. While technically correct, these claims are still quite inaccurate. Most of the surface material and the weight comes from the solid aluminum foundation. If compared to copper it reacts less to temperature changes but does heat fairly evenly.
It does not mean your pot gets heated faster than the most reliable copper cookware. It may be a marginal benefit but it's not the main cause affecting how slowly/quickly the pan starts heating.
How good is the nonstick property?
Ceramic-coated pans like Blue Diamond have an interesting nonstick coating compared to other popular cooking substances – like stainless steel.
The majority of kitchens prefer to use ceramic alternatives citing health worries. The instructions for use on the pan tell you to use high-heat cooking oil to get maximum benefits. If you were hoping for eggs to fall out without oil each time then you'd probably be disappointed. These characteristics also fade with time and repeated usage.
Is Blue Diamond safe to cook with?
When it comes to the question of safe cookware, Blue Diamond uses thermolon ceramic to create a nonstick coating on its pane. Ceramic coatings are generally considered a healthy alternative to conventional nonstick PTFE coatings.
The brand allegedly says the pan is toxin-free for easy preparation. The coating is compliant with FDA guidelines and the Madrid Declaration where researchers highlighted chemicals with toxic environmental impacts. It is said that the coating contains no heavy metals nor environment disrupting chemicals.
Cleaning
The booklet that comes with the cookware indicates the duration of the item's warranty. On an induction kitchen top, it's safe to use oven-safe cooked food. Dishwasher-safe is based upon manufacturer information – however, many will recommend washing by hand.
This means that it is advisable to clean up your cookware immediately after use.
It should not be left in the sink overnight, since it can interfere with the bottom of the aluminum pots and pans – a part that is very sensitive to damage.
How durable is the Blue Diamond pan?
Blue Diamond claims their Thermolon non-stick coating will last 10 times longer than traditional nonstick products. Most home appliance owners said frying pans would last almost one year when regular use was present.
Ceramic pans typically last less than two years. Blue diamond pan has a better average surface area when compared with other nonstick ceramic choices. For the price, however, most consumers will simply accept the fact that sooner or later, the pans will have to be changed.
Features of the Blue Diamond Set
Blue Diamond 16 piece cookware set is packed for maximum durability and convenience. This cookware features diamonds coated making it five times more durable compared to all other models in the line.
There's a non-toxic non-stick device without lead or CFAS and it releases no toxic fumes at all. Its total capacity is 16kg with each part designed with lightweight steel. It features forged and extremely light bases for extreme strength and durability.
Blue Diamond Price
Blue Diamond pan is one of the cheapest ceramic non-stick pans available on the market. Blue Diamond products are marketed in China, where labor and regulation compliance costs are significantly less than in other parts of the world.
Unlike many cookware sold by retailers, the product is only available through the Blue Diamond website and Amazon. The removal of the middleman is important for Blue Diamond as they offer a significantly more affordable price to the competitive rival.
Of course, there's a downside to having not seen or felt the pan first. The customer is forced to rely on the pictures of the cookware and its reviews.
How To Buy The Perfect Pan
Look out for "Stick Resistance Coating" as your #1 requirement as this is one thing that most pans will not tell you about on the packaging. However, it's by far the most important aspect to look for.

Make sure you buy something with a Dupont stick resistance coating – This makes a huge difference and is what the best companies use.

If you are looking at getting some ceramic-coated cookware, you will notice that a few different manufacturers have ceramic options available. Be careful when evaluating this type of pan as the ceramic coating is often simply sprayed on top and you want to make sure you buy one with an actual "Ceramic Coating". You may also see some cookware saying it has a "PFOA Free" non-stick surface.
In summary, the most important thing to look out for in your pan is a "stick-resistant coating". A great general tip is not to buy anything until you have seen this on the packaging. The stick resistance coating helps prevent food from sticking as it cooks, meaning less oil or grease will be needed and your pans will last longer. The gold standard of non-stick is made by Dupont – they were the original creators of Teflon and use Dupont Teflon Classic on their ceramic cookware range. This is by far the best surface available today.
What about a 'green' coating?
Another tip is to look out for "PFOA Free". PFOA in particular has been shown to cause cancer in animals. Dupont has removed this problem by developing a new Teflon surface that does not contain PFOA. It is called Dupont Teflon Classic Non-Stick Surface. Not many companies will make the effort to find alternatives like this so it's worth shopping around.
What about pans that have a ceramic coating?
Ceramic cookware coating has recently been introduced to the market. The idea is that a "ceramic" coating will be many times harder than metal and so will stick less, plus it will not scratch or abrade like a Teflon surface can do – that is, if you're careless. This type of cookware material has only become available in recent years but there are already some great ceramic products on the market. Tefal (manufacturers of the Actifry) have a ceramic range called Celeron.
Our verdict
The Blue Diamond 14-piece Cookware set is a good-quality set that contains an array of features designed to transform your Kitchen experience. The glazed design of the enamel infuser is useful for heating retention thereby making it an ideal piece of cookware for quick food prep operations.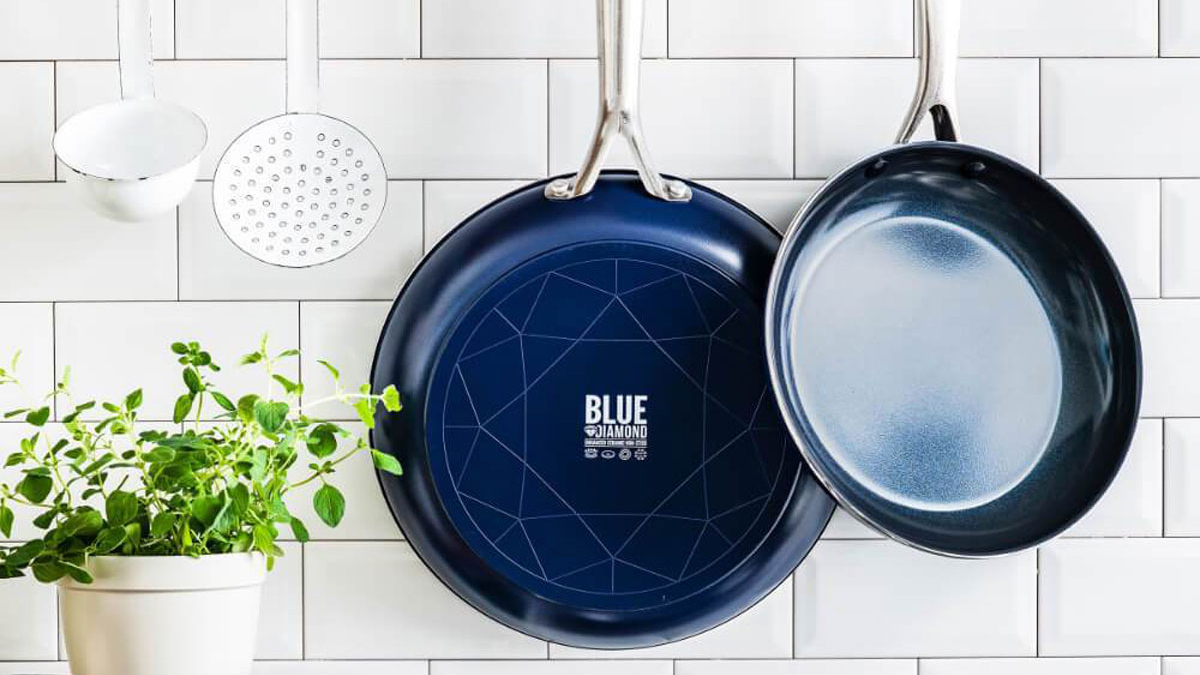 This non-sticking option requires you to add oil or butter to the mixture. Many customers dislike stainless steel grips because they become hot if exposed to heat for a prolonged time. For an extended lifespan, it is dishwasher safe but ideally, it is washed properly by hand. Food sets are always better to be washed by hand.
Final thoughts on blue diamond cookware
Blue Diamond is a ceramic nonstick frying pan created with a low to mid budget in mind. This product is not as impressive as many of its higher-priced competitors. With that said, it offers great value starting with the cheapest price if you're not super worried about durability. Despite this, users have had realistic expectations of the value and overall are satisfied with their purchase. We hope that this review was helpful in your search when it comes to Blue Diamond and its products.