Kitchen knives are a must-have for every home cook. With the right set of kitchen knives, you can make quick work of any meal prep. But with so many different sets on the market, it can be hard to know which one is right for you.
This article will pit two of the most popular kitchen knife brands against each other, Cuisinart vs Zwilling. Read on to see which set we think is the better option for your kitchen.
Cuisinart Kitchen Knives
When it comes to kitchen knives, Cuisinart is a name that is synonymous with quality. Cuisinart knives are made from high-quality stainless steel and feature a comfortable grip that makes them easy to handle. The blades on Cuisinart knives are also designed to resist corrosion, and they are able to retain their sharpness for a long time.
One of the best things about Cuisinart knives is that they come with a lifetime warranty, so you can be sure that you are getting a quality product that will last you for many years to come. Cuisinart knives are also made from plastic handles, but the Graphix range uses hollow handles from stainless steel, enhancing the knife's overall grip.
The majority of Cuisinart knives are made from forged blades, though Non-Stick Edge, Artisan, Advantaged colored, and Graphix use stamped blades. Cuisinart knives also have a variety of designs because there are multiple blade styles and colors available. You can also find knife sets that come with a wooden block, so you can have a complete set of kitchen knives to use.
Some knives also have ceramic-coated and colorful blades. For example, the Artisan series has hammered blades and also includes small air pockets to prevent the striking of food on the table. The Marble-style knife collection has natural stone handles and a full tang to give you better control while cutting.
Sets include:

Paring knife

Chef Knife

Santoku knife

Utility knife
Zwilling JA Henckels Knives
Henckels is also known as Henckels International, and the company is owned by Zwilling J.A Henckels started the company in 1731 in Germany. The company has a long tradition of creating quality knives, and kitchen knives are no different. The company also manufactures flatware, scissors, knives, and cookware.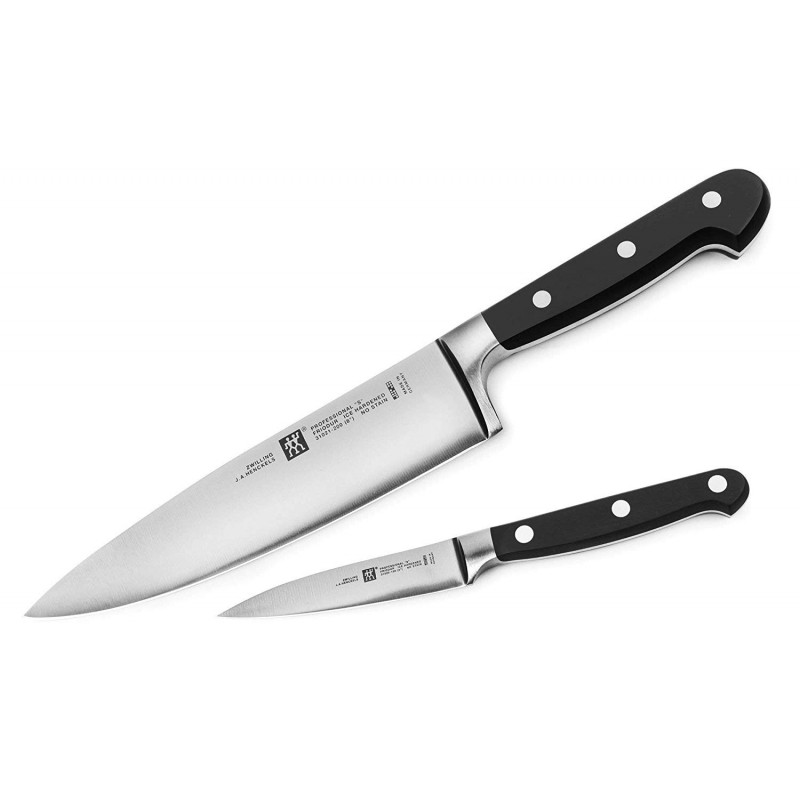 Furthermore, the company controls various kitchen appliance brands with which they offer nonstick cookware, stainless steel cookware, and enamelled cast iron cookware. Henckels also offers Japanese cutlery sets. Henckels knives are produced in China, Spain, India, and Thailand, but the designs are carried out in Germany to ensure it has the class of knives.
Henckels has around 18 collections of knives, and all of them have a unique construction, materials, quality, and design. For example, premium knives are made from premium steel, while other knives are made from stainless steel materials. Some blades are mixed with carbon, chromium, and molybdenum, which improves the harness, stain resistance, and edge retention.
Henckels also uses POM, which is not only durable but also comfortable to use. This is a tough material that's moisture resistant. However, Graphite and best henckels knife set Modernist range use stainless steel handles. Most of the best Zwilling J.A. Henckels knives are designed with stamped blades but Forged Premio, The Classic, Forged Accent, Forged Synergy, and Forged Contour use forged blades.
Henckels knife sets include:
Chef's knife

Santoku knife

Bread knife

Paring knife

Boning knife

Carving knife

Serrated knife

Utility knife

Steak knife
Cuisinart and Zwilling Knives Key Features
Both Cuisinart and Zwilling offer different types of kitchen knives. And both have their own unique features that make them stand out from the competition.
Cuisinart Key Features
If you buy Cuisinart knives, you'll find some of the best features listed here.
Materials
Cuisinart is known for its use of high-quality materials. The company uses stainless steel blades which are tempered and hardened to give them long-lasting sharpness. In addition, the blades are also coated with a non-stick material to make them resistant to rust and corrosion. The knives are made from plastic handles, but the Graphix range uses hollow handles made from stainless steel, which enhances their durability.
Ease of Use
One of the main advantages of Cuisinart knives is that they're very easy to use. The blades are designed to offer a comfortable grip, and they're also well balanced, so they're easy to control. In addition, the blades are sharpened on both sides so that they can be used for both left-handed and right-handed users.
We have already covered cuisinart knives review for you.
Knife Handles
Most of Cuisinart's knife handles are made from durable plastic, except for the Graphix collection. The Cuisinart Graphix collection features hollow stainless steel handles that are filled with resin. This makes the knives very comfortable to hold and provides a more secure grip.
Blade Construction
Cuisinart offers a surprising amount of forged blades in their product line. Forged blades are made from a single piece of steel, which makes them stronger and more durable than stamped blades. In addition, the Cuisinart blades are designed to resist corrosion and rust. The Marble style, Nitrogen, and Triple Rivet collections feature forged blades, while the Artisan, Graphix, Non-Stick Edge and Advantaged Colored collections are stamped.
Design
Cuisinart offers more than just knives; they also have a range of other kitchen tools and gadgets to help you with food preparation. The design of the Cuisinart knives is modern and sleek, with colorful handles that are comfortable to hold. The blades are made from high-quality stainless steel and are designed to be easy to sharpen.
The Artisan collection features hammered blades, which is common among Japanese-style knives. The texture provides tiny air pockets, which prevent food from sticking to the table. The marble style collection exhibits unique handles that look like natural stone.
If you want a traditional knife style but at Cuisinart's price point, check out the Triple Rivet or Nitrogen collections. They offer a German-style design that looks similar to Henckels.
Sharpness
Cuisinart doesn't sacrifice quality for the price. All of their knives are designed to be razor-sharp right out of the box and will stay that way with proper care and use. However, they don't advertise their exact edge angle, but in their demonstrations for their knife sharpeners, they advise you to sharpen their blades to a 22-degree angle per or a total angle of 44 degrees.
Manufactured In
All Cuisinart's knives are made in China because their primary focus is to keep prices low. Cuisinart has been around since 1973 and has gained popularity for its food processors.
Henckels Knives Key Features
Henckels is another great company that comes with wonderful features. Here are some features you're likely to get:
Design
The best Henckels knife set have black handles with a fully exposed tang and three exposed rivets. The Modernist and Graphix collections have sleek and modern looking stainless steel handles, which sets them apart. All Henckels forged knives feature full bolsters while their stamped blades are bolster-free.
The bolster provides a smooth transition between the blade and handle and serves as a finger guard, protecting your hand from slipping onto the blade. The bolster also provides weight and balance as the additional steer in the center of the knife helps distribute the weight and makes for a comfortable, balanced grip.
Handle Materials
Most Henckels handles are made of a durable, moisture-resistant plastic called Polyoxymethylene or POM. However, Modernist and Graphix, which are two Henckels collections, have stainless steel handles.
Blade Construction
Henckels offers stamped blades, even though there are some forged blades as well. Th4 Classic, Forged Contour, Forged Premio, Forged Synergy, Forced Accent, and Graphite collections all have forged blades. The rest of their collections have stamped blades.
Sharpness & Edge Retention
Henckels kitchen knives are very sharp and have excellent edge retention. Henckels sharpens its edge to a 15-degree angle on both sides for an ultra-sharp 30-degree total edge angle.
Manufactured In
Henckels knives are made in several countries, depending on the collection. The Classic and Forged collections are made in Spain, the Fine Edge Pro and Eversharp Pro are made in Thailand, and the Solution, Dynamic, Everedge Solution and Everedge Dynamic collections are made in India. The remaining Henckels collections are made in China.
Cuisinart vs Zwilling JA Henckels Knives Performance Comparison
While these two knives have some features that differentiate them, here are things that set Cuisinart vs Zwilling JA Henckels Knives apart from each other:
Price
Cuisinart and Zwilling kitchen knives are both inexpensive. However, Cuisinart knives are some of the cheapest options on the market, while Zwilling knives are a bit more expensive.
Blade Quality
Cuisinart knives have decent blade quality. They are made of stainless steel and hold an edge well. However, they are not as durable as some of the other options on the market and can chip easily if not properly cared for.
Origin
All Cuisinart knives are made in China since their primary focus is to keep prices low. On the other hand, Henckels knives are made in different locations, depending on the collection.
Sharpness
Henckels sharpens its edge at 15 degrees, which is a bit sharper than most other knives on the market. This results in a sharp blade that can be used for precision cutting. Cuisinart doesn't advertise their exact edge angle, but in demonstrations for their sharper knives, they advise you on how to hold the blade at a 20-degree angle.
Weight and Balance
The Cuisinart knives are on the lighter side, which makes them easier to handle for some users. The Henckels knives have a full bolster that adds to their weight and can make them feel more unwieldy for some people.
Handle Material
Both brands use a polymer plastic for their handles that is heat resistant. The Henckels knives have a more traditional look with their three rivets, while the Cuisinart knives have a sleek, modern look.
Pros and Cons of Cuisinart and Zwilling Kitchen Knives
Here are some pros and cons you must consider before buying either Cuisinart or Zwilling kitchen knives.
Cuisinart Kitchen Knives
Pros:
Cuisinart knives are more affordable

Quality stainless steel material

Multiple blade styles and colors

Dishwasher safe

Ease of use
Cons:
Not very durable

No edge retention

Not very sharp
Zwilling JA Henckels Kitchen Knives
Pros:
High quality built

Produces premium knives

Unique construction, materials, quality and design

Improves the hardness, stain resistance and edge retention

High hardness level

Very sharp
Cons:
Edge angle not specified by the manufacturer

Very expensive

Dull blades require resharpening more often
Value for Money: Are They Worth it?
Investing in a quality kitchen knife set is worth it in the long run. Not only will you have knives that last for years, but you'll also save money on having to replace them every few months.
When it comes to value for money, Cuisinart and Zwilling JA Henckels kitchen knives are both good options. Cuisinart knives are slightly cheaper, but Zwilling knives offer better quality. If you're looking for the best value for your money, then Zwilling JA Henckels is the way to go.
All in all, these two kitchen knives are great options for anyone in the market for a new set. Cuisinart offers good quality at a slightly lower price, while Zwilling JA Henckels provides the best quality you can get. So, it really comes down to personal preference and budget when deciding which one is right for you.
Some FAQs on Cuisinart and Zwilling Knives
Why is Zwilling Henckels so expensive?
Zwilling JA Henckels is a high-end knife company that offers top-quality products. Their knives are made with the best materials and construction, which is why they come with a higher price tag.
What is the difference between Cuisinart and Zwilling kitchen knives?
Cuisinart knives are slightly cheaper than Zwilling knives but are both good quality. It really comes down to personal preference and budget when deciding which one is right for you.
Are Cuisinart knives dishwasher safe?
Yes, Cuisinart knives are dishwasher safe.
Do Zwilling knives come with a warranty?
Zwilling JA Henckels offers a limited warranty on their knives. This warranty covers manufacturing defects and damage caused by normal wear and tear. If your knife is damaged, you can send it back to Zwilling for repair or replacement.
The Winner
Zwilling JA Henckels kitchen knives prove to be the best in terms of durability, quality, and warranty. If you are looking for a top-quality knife that will last you a lifetime, then Zwilling is the better choice.
List of Top Three Zwilling Kitchen Knives