Decorating a kitchen island is an inexpensive way to update your kitchen. After the initial cost of setting up a kitchen island, or building a kitchen island , a few changes can make a big difference. A kitchen island is a freestanding cabinet, usually, in the center of the kitchen that can provide extra storage design and utlity to your kitchen. Since the kitchen island is the centerpeice of most kitchens, it's important to decorate it with the right fixtures, paints, cabinet handles, and pulls so that it enhances the look of your kitchen.
In this article, we'll show you some of the different ways by which you can spruce up your kitchen island so that it complements the style and color scheme of your kitchen. You'll also find some helpful tips on how to make sure you use the space in your island efficiently – let's get started.
Before that, we have talked about replacing kitchen island!
Paint the island a color that matches your kitchen
After you've built a kitchen island, painting it is one of the easiest ways to give it a facelift. You can choose whatever color you like that matches your kitchen – there are so many different colors out there. For example, if you have red cabinets, black granite, and stainless steel appliances, try painting your island a bold black or white to make it pop.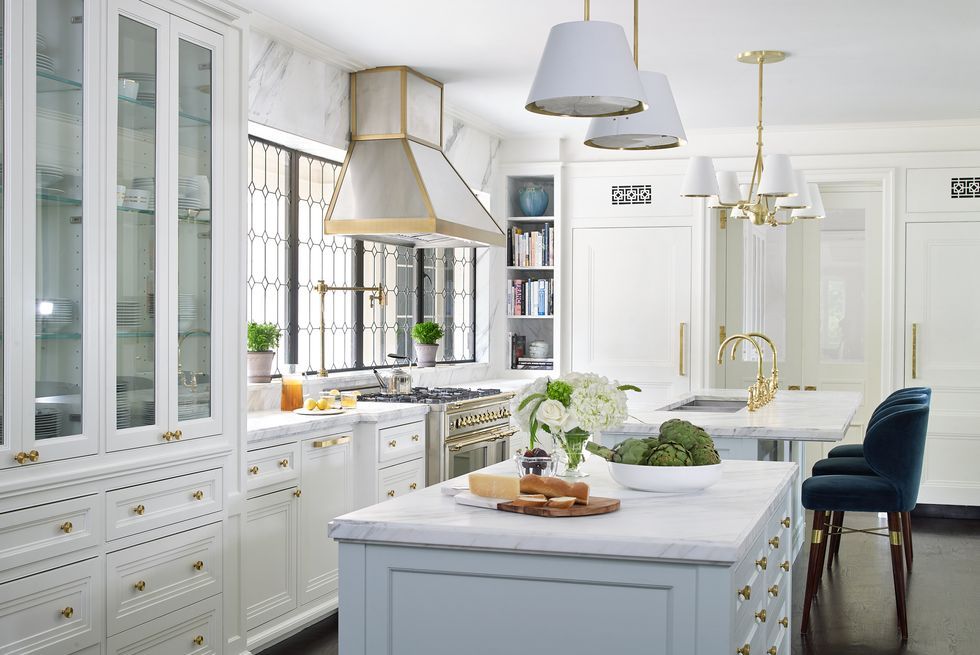 Add a decorative border to the island top
If you're not looking to spend a lot of money on your kitchen update, then adding a decorative border to your island might be the way to go. You can do this by using a stencil or by painting one yourself with special paint pens that are made for decorating furniture.
A great idea is to use stencils on the front edge of the counter and paint freehand (with no stencil) at the back. This will give it an interesting combination of patterns and designs without being too distracting in your overall design scheme. Adding a little bit of interest around the edges also adds definition between each surface, visually separating them from each other. This helps to keep everything in your kitchen looking clean and cohesive.
Use a cloth to cover the island top
If you often have spills or dirty hands, then using a large size cloth that can be washed will help keep your countertop and especially the back of your cupboards grease-free. Something lightweight like linen that is easy to wash would work best.
You may even want to use multiple layers – one underneath and one on top of the counter.
Just make sure that they are very absorbent so that they soak up all of the water before it can run down onto your counter.
Add a backsplash to the front of the island
Backsplashes are a great way to add interest and style to your kitchen. You can create one on the front of your island by using wood or any other decorative material – just make sure it is securely attached so that it's not going to fall off if someone leans against it. The backsplash will help give your kitchen a more finished look since you won't see exposed surfaces on the back…and best of all, it'll also protect the front edge from getting dinged up when you're preparing food.
Add magnetic hooks for hanging pots and pans
Do you use multiple small appliances? If so, then adding a few magnetic hooks will save space in your cabinet and keep everything organized. These would be good places to hang your tea kettle or crockpot.
Use a decorative piece in the middle of the island to add personality
Add a decorative bowl, tray, plant, or ceramic frog to give your kitchen island more personality. You can also use this as an opportunity to store some of your everyday utensils without having them take up space in your cabinets. Just make sure that you don't overcrowd it – then it becomes less useful and practical. Instead, try placing different types of items on different shelves so they are all organized into sections and easy to find.
Install new countertops in your desired material (granite, marble, wood)
If your kitchen is lacking a little pizzazz, then new countertops will give it that much-needed update. The most inexpensive way to do this (and also the quickest in many cases) is by installing new laminate countertops over your existing ones.
You can get them in any width and length you want as well as different colors to match your overall design scheme. And the best part about laminates is that they are easy to install and are very durable. Not only will they last for years but they're also scratch-resistant, waterproof, and heat resistant.
Install drawers or shelves underneath the island
There's always extra space underneath islands – but most people will ignore it instead of using it. You can add some extra storage space underneath your kitchen island. This is a great place to put drawers or shelves. If you have young children in the house, then throw in some extra safety features like toe-kick bumpers.
Add wainscoting on the wall behind the island
Wainscoting are panels that run along the bottom half of a wall (also known as skirting boards). They can be used for decoration or even function – such as hiding something underneath it, but they also add an element of style and personality. They are easy to install and are very affordable since you can paint them yourself if you want. If you're afraid that they stick out too much, then just paint them white. That way they will blend in with the rest of the wall.
Install lighting above your kitchen island
If there is no direct natural light in your kitchen or even if you are trying to create a specific look by adding some accent lighting, then installing lights on top of your island is an excellent idea. It'll also help illuminate the counter surface and keep food from overheating. You will need at least one (or two) recessed lights for this purpose. Make sure they're installed securely so that they do not fall out easily. They should be attached using metal anchors. Also, use waterproof tape around the entire perimeter of the light so that moisture does not seep in and cause rusting or electrical short-circuiting. Such materials are typically designed for outdoor use; however, they can hold up well under indoor conditions too.
Add bookshelves to your kitchen island
Adding a few decorative bookshelves on top of your kitchen island is a great way to add extra storage space, plus character.
You can also hang small items like handbags and keys from hooks hidden behind them. The best part about using them in this manner is that you don't have to clutter all over the place – instead, everything has its own designated home.
Read more on building built in bookcases!
Add an area rug underneath your island
Area rugs have become very popular in many homes because they offer so much for such little cost. Whether you're trying to break up two different flooring styles, need some extra color, or want to provide comfort and warmth, then adding an area rug is something you should consider.
The best part about using one on top of your kitchen island is that it will protect the bottom surface (which most likely has been exposed for quite some time) while also providing softness and insulation. If you do have unfinished floors underneath the island, then this step is even more important since the wood will not be protected at all and it can easily crack. If you have laminate flooring underneath the island, then using an area rug is completely necessary as it will help protect the surface from direct sunlight exposure (which could cause fading) or spills that may occur frequently.
Mount a functional hood above the island
If you cook often and spend a lot of time in the kitchen, then you will undoubtedly need an extraction system. This means that all the frying fumes and stuff that's being cooked off will get drawn away from where people are trying to cook – including right over your head. If this sounds like something that would be nice to have, then mounting one into place is very easy. All you'll need are some brackets (preferably stainless steel) and screws that match whichever material you want as well as wire cutters and a screwdriver.
Hide your countertop cabinets underneath the island
You can install some drawers, shelves or just leave them empty. Either way, you will be able to hide everything from sight, which is great for those of you who don't like seeing clutter everywhere. If you do choose to use this space, then make sure that it has enough depth so that everything fits comfortably inside (without having to jam stuff in). The rule of thumb for cabinet depths is usually 16-18 inches – any less than that and things start getting cramped. Do not mount them directly beneath the sink as they might get wet; instead, place them on top of the island with some space between.
What not to have on the kitchen counter?
Do not place heavy items such as baker's racks or chairs there, especially if you have children. Other things that are best left off your island are microwaves and toaster ovens because they do tend to take up a lot of space – so adding them will make the kitchen feel cluttered.
Another thing that should be avoided is extra appliances, especially those that don't get used often (although this one is totally up for debate). And last but certainly not least – no food. At least keep anything edible away from the edge where unwanted attention might be attracted.
Final thoughts on how to decorate a kitchen island
In conclusion, decorating a kitchen island is easier than you may think. Many different ideas can easily fit into any space, plus the relatively low cost of adding anything new ensures that you won't have to worry about breaking your budget.
If you'd like to learn more about other kitchen island aspects, feel free to check out our other posts including this on how to remove a kitchen island.