Carpets are expensive investments in your home.
When you buy a carpet, ensuring it looks its best is important. The problem is that it can be difficult to find time for a deep clean.
Luckily, there are steps you can take yourself that will make your carpets cleaner, brighter, and fluffier than ever before.
While we are still on the subject of staining, you can also read more about how to whiten white clothes that have yellowed over time to learn better about staining and cleaning.
In this article, you'll learn how to deep clean carpet like a pro – let's get right into it.
Get a carpet cleaner and vacuum
If you have a home vacuum, use it before starting to clean your carpets. If that doesn't get all the dirt and pet food hair out of your carpet, then invest in a carpet cleaner for deep cleaning.
Air your carpets out before you begin cleaning them; leave fans on in areas with wet carpets. This will help the drying process as well as keep the rest of your home clean.
Preparing ahead of time will save you time later when it comes time to start cleaning – so make sure there's distilled water in both tank reservoirs before you turn on the power. In addition, make sure all the tools that come with your unit are in good working order.
Vacuum the entire room to remove dirt, debris, hair, and other particles
First, set your vacuum to a low setting and put on the brush roll. Next, go over the entire floor with the vacuum, making sure you get any dingy patches or hair – this will help loosen dirt particles before you begin cleaning.
After vacuuming has loosened up all of the dirt in your carpets, pour some of your deep-cleaning product over trouble spots like pet stains and high traffic areas. Let it sit for 30 minutes or more before blotting it up with paper towels.
Using this strategy when cleaning can help prevent you from spending too much time scrubbing stain areas that won't come out easily. Instead of wasting precious time on stubborn spots, focus your cleaning efforts on the areas that will require less elbow grease to get clean.
Use the upholstery attachment on your vacuum
This can be used to suck up any loose dirt that may be sitting in corners or along the edges of furniture.
When vacuuming, make sure you pay special attention to all the nooks and crannies of your furniture. There is a small amount of dirt that makes itself comfortable between couch cushions and in the corners of chairs and loveseats.
Be sure to pull back any curtains or valances running along walls – these may have fallen onto flooring if they haven't been changed regularly. If rugs are sitting flat on top of carpeted floors, turn them over so more of the rug gets cleaned instead of less.
If you are wanting to clean couches or chairs, place a towel on top of them and spray it with water. This will help you clean them easier and prevent spills.
After you've vacuumed with a brush roll, followed up with your eco-friendly cleaning solution, and used the upholstery attachment on your vacuum, use an upright vacuum brush for heavy traffic areas and then follow it up again with another pass from your regular vacuum.
After vacuuming a second time, let your carpets dry completely. You want to make sure there is no residual cleaner or moisture in these problem areas that could lead to mold later if not removed.
Check for scent problems
Carpet manufacturers are required to put their labels on all products they sell. If you notice an artificial, chemical scent to your new carpeting, it could be the result of a manufacturer's label that was not removed.
In this case, simply clean the area again. If you still have problems with the smell after that, contact your retailer to see what kind of warranty they offer on the product and if they will replace it or fix the problem for you.
Next, fill your bucket with warm water mixed with detergent (or shampoo) and scrub away at stains using a soft brush. While this method may be time-consuming since you'll have to brush stains like pet accidents repeatedly, it's the only way to ensure that they will come out completely. Make sure you use a stiff-bristled brush so you can scrub at these pesky spots.
You may need a couple of different kinds of brushes, depending on the shape and depth of the stain – but don't worry; cleaning solutions are relatively cheap and it's worth the expense in terms of how clean your carpets will look afterward.
Be sure to go over stubborn areas several times before stopping. If necessary, break out your steam cleaner again after brushing if there is still other dirt or grime stuck in stubborn spots that won't come out with just soap and water.
What if spots are still visible?
If spots are still visible after you've cleaned them this way, try cleaning them again with a solution of 2 cups white vinegar mixed into 1-gallon hot water. Using a soft cloth, scrub the area with this solution and let the air dry. If an odor remains afterward, try mixing 1/4 cup baking soda into 1-gallon hot water and scrubbing it into the same area. This will neutralize any remaining odors that may be lingering after cleaning.
The final step
The final step is to use the vacuum's attachment when it comes to cleaning upholstery to suck out as much water as possible. Because you are working with a clean, dry carpet (thanks to the time it took to be sure stains were completely removed), this will require only one pass. Your vacuum should have come with an upholstery brush attachment – but if not, buy one separately.
Once your carpet is dry you can use a regular vacuum over again (no tools required) on medium or high settings. This will help pull up any loose dirt particles that may still be there as well as make the carpets fluffier. You'll know they're fluffy when they almost look like new all over again.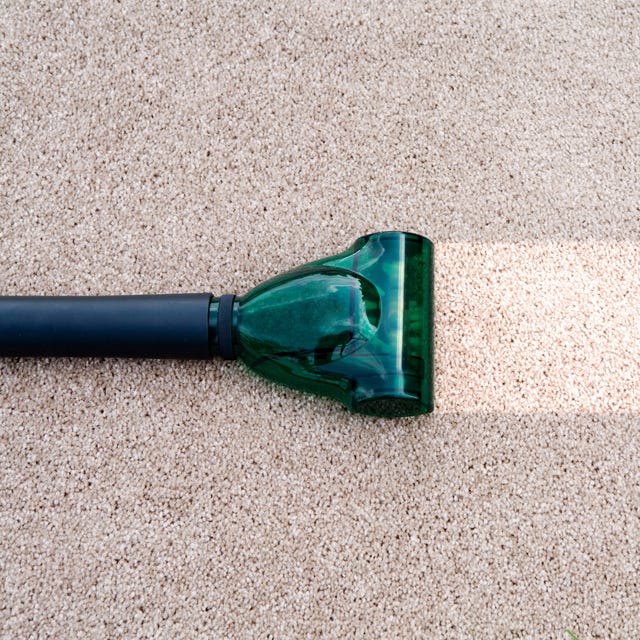 If you still see some dampness or mildew, call a professional who can disinfect and deodorize the carpet for you
Hire a professional for the toughest stains. Although you can get most of your carpets looking clean with some elbow grease, some stubborn spots are just too difficult and time-consuming for an individual to tackle alone.
If your pet has had a bad accident, or if there is a lot of foot traffic in high-traffic areas, consider paying a professional to come out and do whatever it takes to make things as good as new. Your home will be back to its pristine condition faster than you would have thought possible.
How often should you vacuum your carpets for the better health of family members?
If you follow the above-mentioned steps, your carpets will be clean and smell fresh for a long time. But if you want to maintain the freshness of your carpet then you must vacuum them regularly at least once a week so that all the dust particles get removed from the fibers of your carpet.
If you have kids or pets in your home then it is more necessary that you deep clean carpets at regular intervals so that bacteria and germs do not spread in your house as they can be harmful to health.
It is recommended that you vacuum your carpets first with a vacuum cleaner and then clean them. While vacuuming makes sure that the brush of the vacuum cleaner does not hit on any edges of your carpet as this might tear it.
Be sure to check our guide on Bissell proheat 2x revolution pet pro reviews.
Final thoughts on how to deep clean carpet
In conclusion, if you live in a home with pets, kids, or both – no matter how clean you are as a person – it can be difficult to achieve that white-as-snow look on your carpets. But now that you know how to deep clean carpet like a pro, making your carpets look good as new has never been easier.