Do you want to save on your laundry soap? Are you fed up with the cost of buying expensive commercial detergent? Making homemade laundry detergent is easy, and it will save you hundreds of dollars per year. You can make a large batch for less than $5 in under ten minutes.
DIY laundry soap is also quick and cleans efficiently, just like store brands. Homemade laundry detergent is safe for both standard and high-efficiency machines. Follow the correct measurements, and you will be on your way to saving hundreds of dollars per year by making your detergent.
This guide contains all the information that you need to know about making your homemade laundry detergent. It's easier than you think. You only need to separately purchase a few ingredients that are less expensive. Then, follow these simple steps and make your homemade laundry detergent. You can also check out our list of the best laundry whiteners for your delicate, white clothing.
Let's get started!
DIY Laundry Detergent Ingredients
Making your homemade detergent starts with getting the right homemade laundry detergent recipe. You can easily find these ingredients at your local grocery store on the laundry aisle. You can also find natural bar soaps in health, beauty, and organic stores. The following are the ingredients you can use to make natural homemade laundry detergent.
Baking soda is made up of sodium bicarbonate, which neutralizes the alkalinity in the water, making both you and your clothes happier. It is also an effective antibacterial agent as it gets rid of grime, grease, and dirt stuck on your fabrics. It also softens water to make your clothes feel smoother and silkier.
Washing soda, also known as sodium carbonate, is made up of sodium salt, which acts like bleach. This ancient laundry powder is very effective in deep cleaning clothes and dealing with tough stains like grease. It's also used in many commercial laundry detergents to treat stubborn stains because of its powerful cleaning action. Just a cup of washing soda can do more than you can imagine.
12 Ounces of Borax Powder
Borax washing soda is an amazing all-natural laundry booster that fights bacteria, fungi and gently removes tough stains like tea or coffee. It also works as a natural fabric softener by inhibiting the formation of static electricity from fabrics. This allows you to forgo the use of dryer sheets.
You should use natural, toxic-free soap for this. Melt the soap in a pot over low heat and add water as needed to make a thin paste that is easy to pour into molds. Pour it into a pop mold or ice cube tray, then place it in the freezer for around two hours. You can use Lavender pure castile soap or any other vegetable-based soap you like.
Essential oils are also an excellent option for a natural laundry detergent. Because it is so concentrated, you only need to use a few drops. Add equal parts castile soap and water as your base and up to 10 drops of essential oil for every tablespoon of the liquid mixture. Lavender, lemon, tea tree, eucalyptus, or grapefruit are all excellent options.
Homemade Laundry Detergent Steps
Mix dry ingredients thoroughly in a bowl

Put mixture into an airtight container and shake well before each use to ensure that the ingredients are mixed

Use 2-3 tablespoons per average size load of laundry
For HE top-loaders and front loading washing machines, use 1/4 cup or 4 ounces by weight in a large cup (the soap dispenser holds 8 oz.). You may need to experiment with this amount over time.
You can also take this step and blend your mixture into a powder using your food processor. The food processor creates a powder that can dissolve better in water. But make sure the dust settles before you remove the lid of your blender or food processor. After that, store your mixture in a sealed container.
You can use different containers to store your mixture. You can also use old laundry detergent bottles or ice cream pails. If you use the latter, make sure to mark the contents and date, so you won't forget what's inside. Label them clearly "Laundry Soap" for easy identification amongst your other bathroom products.
You should only apply this instruction if you're using pure bar soap instead of powered, liquid, or gel. For this step, you can use any tool that's grater-like. Take note not to grate it all over, as the soap should remain in one piece after grating. You might need more than one grated bar soap if you're using a large bar.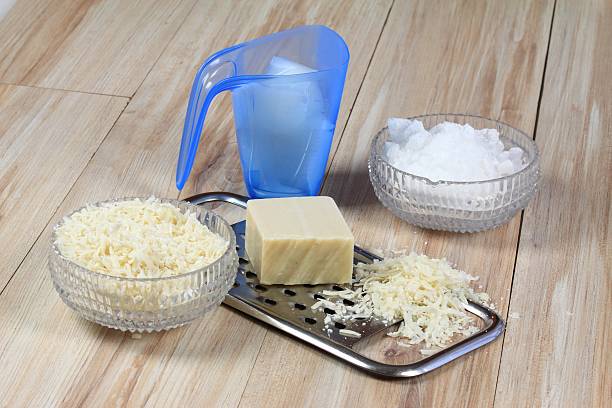 You can accomplish this by putting your bar of soap inside a blender or food processor and pulsing it until it turns into powdered soap. If you don't have any kitchen appliances, use a rolling pin to pound the soap into powder. Just make sure to put several layers of paper towel under and over your bar before pounding so it won't crumble or break.
After you have both powdered and grated soaps, combine two parts borax, two parts washing soda, and one part soap flakes. Stir it with a wooden or stainless steel spoon. This will help you save money by creating your own laundry detergent. You can make as much as you like, but the ratio should stay 2:2:1.
Fill up the container with warm water before stirring it. Opt for liquid dye instead of gel dye since most gel dyes are petroleum-based and can damage your machine. Powdered dye is more readily available than liquid, so you'll have to make your liquid dye using vinegar, glycerin, and water.
Use the Right Amount of Detergent
Do not add too much detergent because it can leave soap residue on your dirty clothes. Make a small batch first and use the same amount for each load until you notice no more soap scum in your machine's drum. You will soon discover how much laundry detergent to use to avoid this problem.
If you are the crafty type, you can consider making your storage container for homemade laundry detergent. Make sure that it is made of a material that does not react with caustic soda; one option is plastic containers.
Store your dry ingredients in an airtight container until you intend to use them. If the recipe makes more than what you need for a single load of laundry, separate your detergent into smaller zippered bags or plastic containers and freeze them. This will allow you to defrost only what you need at any given time.
Get the Right Ingredients and Tools
Detergent-making is very simple, but you should have the right equipment to make a batch of homemade laundry detergent. To make a basic recipe that can handle light to medium soiling.
After following all the procedures, now it's time to use your detergent. Using homemade laundry detergent is easy. Just stir it in your washing machine like you would with any other product. Use two to three tablespoons of your laundry detergent per load of the laundry. If you have a high-efficiency washing machine, then one tablespoon is enough.
Importance of Homemade Detergent Powder
Switching to homemade laundry detergent is a smart choice for the environment, your wallet, and, most importantly, your family. Commercial laundry detergents have been linked to health problems connected with respiratory issues, including asthma and allergies. Conventional laundry detergents contain harsh chemicals, fragrances, additives, and artificial colors, which are extremely harmful to our health
Homemade laundry detergent is a good choice for families looking to switch from commercially manufactured soaps to something more natural. It's also an excellent choice for people who want to start using environmentally friendly products in their homes. For those wondering how clean your washing machines you'll be surprised to learn that these detergents work here as well and are safe for your appliances.
The best part about homemade soap is that you know exactly what's going into it and have 100 % control the ingredients.
FAQs DIY Laundry Detergent
What is the best homemade laundry detergent?
The best homemade laundry soap recipe is the one that fits your needs and preferences. You can alter it according to your requirements and make a perfect version of homemade soap for you. It all boils down to what kind of ingredients you want to use in your DIY detergent. You can use just liquid components or add some solid elements as well.
Why did my laundry detergent turn hard?
Homemade laundry soap is bound to solidify if exposed to cold temperatures, especially in winter. There are two ways you can avoid this: firstly, add more water and less of the soap components you used. Another way would be to put it into a sock or cloth bag before hanging it somewhere for storage.
Is it a must to use essential oils to make laundry detergent?
Essential oils are optional in homemade laundry detergent. However, if you want to make your detergent smell fresh and pure, adding some essential oil will do the trick. You can choose from a vast array of scents and fragrances available in the market; it all boils down to what you like best.
Does fragrance stay long on clothes?
The fragrance won't stay on your clothes, but your laundry will stay fresh and clean like when you first used it.
How long will a batch of homemade laundry detergent last?
The time needed to use the homemade laundry detergent depends on how many clothes you have, but one batch should last up to six months or so for an average family of four. You can make your amount depending on your needs and preferences. If you're making the detergent to clean your upholstery as well, you'll need to make a lot of it.
Final Thought on DIY Laundry Detergent
Laundry detergent can be expensive. That's why it is wise to make your own, With the recipe provided in this article, you can use different fragrances to make most conventional laundry detergents including; bath soap, laundry soap, liquid fabric softener, and more. The ingredients are readily available, and you will have a good time making up your batches.
Though the process might be tedious for some, it won't be that difficult once you get started. Don't let the cost of laundry detergent hamper your budget, as you can always make homemade versions to ensure freshness and cleanliness for your clothes.