Gray and white bathrooms are becoming more popular in modern design. They can be used to create a minimalist look, while still giving you the freedom to make it your own, adding various fixtures, and accessories. Gray and white bathrooms are often seen as more relaxing than other color schemes because they aren't too loud or overstimulating.
In this article, we'll discuss some of the pros and cons of gray and white bathrooms, give you some examples of different designs, and then explain how to create a walk-in shower in this type of bathroom. Keep reading to learn more.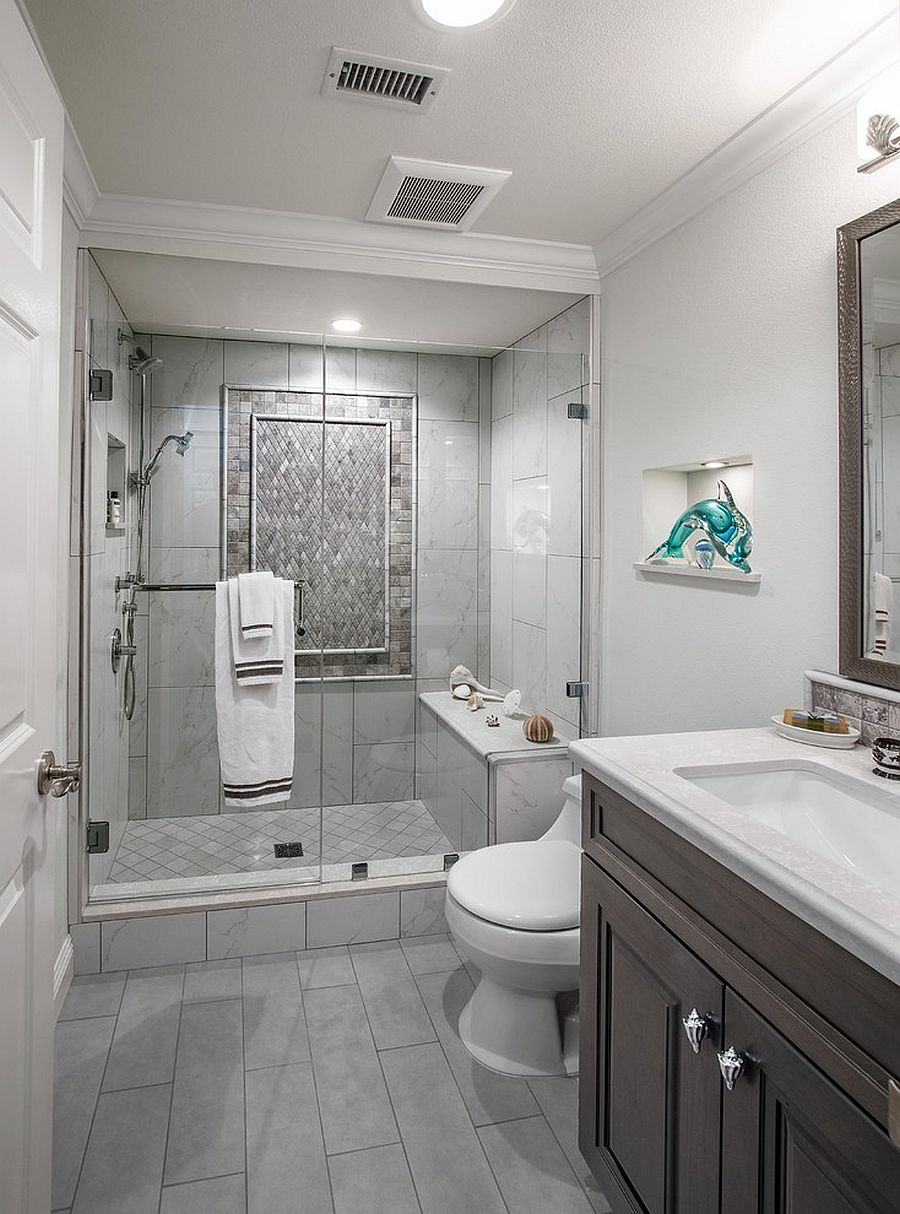 Image Credit: http://decoist.com
Pros And Cons Of Gray And White Bathrooms
At first, gray and white bathrooms might seem a bit dull or tame. However, there are some advantages to using this color scheme in your bathroom, as well as a few disadvantages. Let's take a look at some of them.
Gray and white bathrooms are calming, relaxing, and modern. They don't detract from the bathroom itself, but rather make it seem more inviting. For example, you might have a loud or obnoxious color scheme in your living room that makes you want to leave as soon as possible. However, you can have gray and white bathrooms that still fit into your overall design style while being calming at the same time.
Gray and white bathrooms are also very versatile. You will find that there are many different ways to design this kind of bathroom so it works for your needs. Some people prefer to use mainly grays while others mix in whites as well. Bathroom fixtures and accessories come in different colors, so you can customize your bathroom however you like. For example, if you want to use a lot of white in the bathroom, but still have dark gray fixtures, that is possible. The possibilities are endless with gray and white bathrooms.
Gray and white bathrooms are also liked because they aren't too overwhelming or distracting. While some color schemes might seem so at first glance, this isn't the case with gray and white bathrooms. They often look more clean-cut than other color schemes because of their simplicity.
A few disadvantages of using gray and white for your bathroom include the fact that they can be difficult to decorate with if you don't have many accessories or trinkets to use as decoration. Gray is also known to make a room seem even smaller and more enclosed than it already is, so consider that if your bathroom is already on the smaller side.
Overall, gray and white bathrooms are becoming increasingly popular because they fit well with different design styles and can be decorated easily to fit your needs. However, keep in mind that grays will often make a room look small and whites might fail to provide any decoration at all.
Different Designs For Gray And White Bathrooms
Now you know some of the advantages of using a gray and white color scheme for your bathroom. But how should you decorate it? There are a few different design styles you can use in your gray and white bathroom. Here's a basic overview of some popular designs:
The first design is a modern look with black accents. This is the most simple design, using only grays and whites to create a stylish and attractive room. You can use touches of black in accessories or fixtures for an interesting twist on the style, but the main focus will be on whites and grays.
In this design idea, you'll also have mostly grays and whites, but there will be pops of color coming from both natural elements like plants or flowers as well as colorful towels or rugs You can choose whatever colors you want to go with your gray and white bathrooms, so long as you have a base of grays and whites.
The perfect bathroom layout means that you have a lot of grays and whites, but this one also has pops of color from different accessories. For example, you might have a white sink with red towels or a gray bathtub with blue soap. This design can incorporate many colors while still staying within the palette of grays and whites.
This layout features wood elements to give it a more classic look. You can use either dark or light woods to make this style work for your bathroom. Overall, the main focus is on grays and whites; however, there are some cases where there are dashes of color here and there, like an accent wall in green or some colorful accessories. This particular design idea will come off as quite traditional because of all that natural wood used throughout the space.
You can incorporate any of these ideas, or you can combine them to come up with a unique style of your own. Gray and white bathrooms allow for so much creativity and flexibility in terms of designing one.
Creating A Walk-In Shower In A Gray And White Bathroom
The next step in your bathroom renovation is to consider how you want to layout your new shower. Remember that the proper dimensions of the shower are very important for both convenience and safety, especially if you're planning on putting one in yourself. This means that you should measure out the space carefully before making any kind of decision about design, materials, or function.
When designing a walk-in shower specifically, there are a few different things to take into consideration. First of all, be sure to plan out where exactly you'll place the door. You need enough room for people to comfortably pass through, so make sure it's not too close to other pieces of equipment or fixtures. Next, think about what size shower head will work best with that particular space. You want the spray to be comfortable, but you don't want it to be too weak or strong for easy rinsing.
The placement of the shower is also important; this means you should pick a corner if possible. If your space doesn't naturally allow for this option, you can easily cut out a rounded section of drywall to make one. This will provide both more floor space and more elbow room, which is always good in any shower.
Image Credit: http://home-designing.com
Final Thoughts On Gray And White Bathrooms
In conclusion, it can be said that gray and white bathrooms are a timeless combination of colors. They work well together, creating the illusion of space in smaller rooms, while also balancing out brighter hues used throughout the rest of the house. If you are looking for a way to bring out all your décor ideas at once, yet still have them complement each other, consider adding some gray and white bathrooms to your home.