Finding the right pan can be difficult, especially with all of the cookware choices available today. When looking for a pan, you need something that is durable, effective for its intended purpose, easy to use and clean, and that holds up well over time.
In this article, we'll look at GreenPan and see if the pans produced by this company satisfy the above checklist. Here is our honest GreenPan cookware review:
Quick GreenPan Cookware Review
Green pans are one of the latest products to enter the nonstick ceramic cookware market and are designed without lead, cadmium, PFOA, and PFAS to reduce the hazard to the environment and you. Most of GreenPan cookware prices are average, but people consider the quality to be great, making it worth the cost.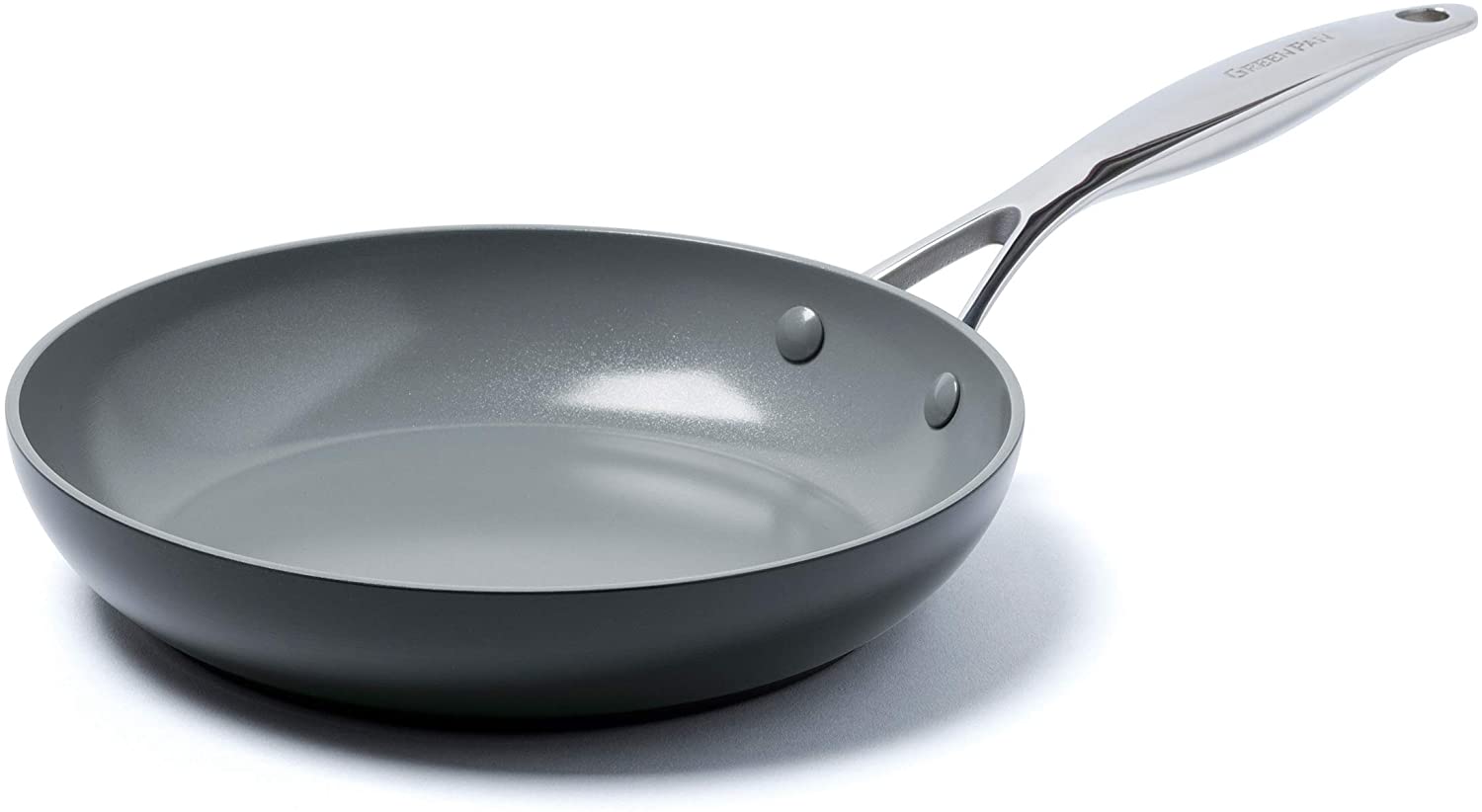 Image Credit: http://amazingribs.com
When cooking your food, it's important to use the right equipment, and GreenPan offers cookware that is perfect for a wide variety of cooking needs.
GreenPan technologies are available in a wide range of cooking products, including:
Frying pans
Woks
Cast iron pans
Casserole dishes
Saucepans
Saute pans
Pancake pans
Fish pans
Kitchen sets
You can also buy GreenPan kitchen accessories. Some popular GreenPan accessories include glass lids, chopping knives, steamer inserts, and meat knives.
Choosing the right kitchen accessories can really take your cooking experience to the next level. The right products can help you manage tasks like cutting, chopping, mincing, or slicing.
Top GreenPan Products
Here are some of our favorite GreenPan items:
GreenPan Thermolon Ceramic Non-Stick Fry
The GreenPan Thermolon Ceramic Non-Stick Fry pan is coated with a ceramic nonstick coating and provides the performance needed during cooking for a great finished result, regardless of what dishes you're making.
Because the GreenPan Thermolon is made with a healthy, eco-friendly material, it offers even heat distribution and doesn't emit harmful fumes. This pan is induction-compatible and can be used in the oven or on ceramic cooktops.
The stylish, stainless steel handles also make the GreenPan Thermolon easy to use. This product is heat resistant up to 600 degrees Fahrenheit, which is one of the highest capabilities among all brands of stainless steel cookware. Even if you accidentally set your cooking surface higher than this, the pan won't emit dangerous fumes.
Even better, this non stick fry pan is easy to clean. It has earned 4.7 stars out of five in the Amazon store, with thousands of positive reviews from customers who are satisfied with the high-quality cooking utensils.
Check Price on Walmart Check Price on Amazon
GreenPan Paris Pro 11-Piece Set
If you're looking for a high-quality set with both stainless steel pots and pans, look no further than the GreenPan Paris Pro 11-Piece Set. This ceramic non stick cookware set comes with 8-inch, 9.5-inch, and 11-inch frypans. It also comes with 1.5-quart and 3-quart saucepans with lids, as well as 3-quart and 5.5-quart stockpots with lids.
This 11-piece nonstick pan set includes ceramic pans and pots made free of PFAS, PFOA, lead, and cadmium, making it a great choice.
Check Price on Walmart Check Price on Amazon
GreenPan Valencia Pro, 11-Piece Set
The GreenPan Valencia Pro is another set of frying pans and pots that are perfect for stocking up your kitchen. The GreenPan Valencia Pro set comes with 8-inch, 9.5-inch, and 11-inch frypans, 2-quart and 3-quart saucepans with lids, a 3-quart skillet with a lid, and a 5-quart casserole with a lid.
All pots and pans included in this set are made with premium stainless steel materials with a hard anodized aluminum coating. This set also features nonstick pans that are infused with diamonds and are free of harmful materials.
Even better, these frying pans and pots are extremely durable, and some can be used with metal utensils. However, you'll still want to take care when using your metal utensil to prevent it from reducing the non stick coating.
Keep in mind that only some GreenPan items are compatible with metal utensils. Specifically, GreenPan's cookware products made with the Thermolon Diamond Advanced ceramic materials are metal utensil-safe.
Check Price on Walmart Check Price on Amazon
GreenPan Venice Pro 10-Piece Set
If you're looking to take your non stick cookware to the next level, you'll definitely want to check out the GreenPan Venice Pro 10-Piece Set. This set comes with everything a professional-level cook needs in their kitchen. It includes 8-inch and 10-inch frying pan, 2-quart and 3-quart saucepans with lids, a 3-quart sauté pan with a lid, and a 5-quart casserole with a lid.
Each frying pan and sauté pan included in the set is infused with diamonds, making them extremely durable and non-toxic. You're free to use your favorite metal utensils with this cookware line because the stainless steel products are made well so that they won't peel or chip.
GreenPan produces several types of cooking ware. Most are hard anodized aluminum, and some are stainless tri-strip.
The lids of GreenPan's nonstick pans are also made to be durable and versatile. Most GreenPan dishes come with oven safe lids and stylish, stainless steel handles. The stainless steel handle protects your hands from heat and improves comfort when cooking.
The great thing about GreenPan is that they have a wide variety of cooking tools available. Most products come with a unique GreenPan design and are made with a ceramic nonstick coating and oven safe materials. Unlike other traditional non stick cookware, GreenPan has products with a safe non stick coating that won't peel or flake.
Check Price on Walmart Check Price on Amazon
Performance of GreenPan Non Stick Cookware
GreenPan is a top-rated cookware company, mostly due to its premium stainless steel materials and exceptional performance of the cookware.
GreenPan items cook quickly and evenly so that you rarely need to shift below medium temperatures. GreenPan aluminum cookware products are the perfect kitchenware for cooking omelets, vegetables, seafood, and poultry.
You can also pour sauces, seasonings, and marinades into the non stick pan for sautéing. The non stick coating is also oven safe and can be used in the broiler, grill, or microwave.
In addition, GreenPan hard anodized aluminum can be used on all heat sources, including gas, electric, halogen, and induction cooker, making them one of the most versatile products available today.
Regardless of which heat source you use with GreenPan items, you can expect your dishes to heat evenly.
How to Properly Care for Your GreenPan Pots and Pans
GreenPan products are a great, low-maintenance choice for those who prefer stainless steel and want products without harmful toxic fumes. It's also important to know how to properly care for your GreenPan cookware, so they last a long time.
While you don't have to scrub the GreenPan pans every time after each use to keep them in pristine condition, a little soap and warm water can go a long way. Wash the cooking surface after using it to prevent food from getting stuck. However, avoid immersing your non stick pans in cold water before they fully cool off.
GreenPan is also not compatible with aerosol cooking spray because it creates an aerosol that oozes off over time.
It's best to hand wash your non stick pans to preserve the quality of the ceramic non stick coating. Hand washing your non stick pans is easy with a soft sponge or brush and warm, soapy water. You can also use baking soda to remove tough stains from your favorite GreenPan skillet.
Of course, GreenPan ceramic products are also a great choice because they are dishwasher safe. Most GreenPan cookware is dishwasher safe, with the exception of wood utensils.
While many GreenPan hard anodized aluminum products are durable, you still want to take care when using metal utensils. Metal utensils are compatible with most GreenPan's nonstick coating pans, as long as you're not scratching or scraping them on the non stick coating of the frying pan.
The Difference Between Silicone and Porcelain Products
Two of the most common materials used in cookware are silicone and porcelain, and knowing the difference can help you choose the best material.
Silicon is widely used in cookware to provide non-stick surfaces. It can be found on most pans and bakeware under brand names like Silverstone, Anolon, Xtrema, and WearEver, which are all good brands of cookware.
Porcelain is a new type of surface that provides advanced nonstick performance and is more durable than silicon. It also provides a smooth surface with no bumps, allowing food to slide off easily without fear of scratching the coating. It will not peel or chip away like other traditional surfaces.
GreenPan uses an innovative new material made entirely from natural substances. It includes a ceramic nonstick coating that's manufactured under high temperatures.
The aluminum oxide is oven safe and offers many benefits, like the ability to heat your ingredients evenly. When cooking with GreenPan's ceramic coating, your food tastes perfect.
The most important thing about GreenPan products is that these pans can be used on any heat source and can be exposed to almost any cooking temperature while being resistant to scratching or peeling off.
GreenPan reviews also support the quality of the hard anodized aluminum material and its durability.
What Should You Buy GreenPan?
There are a lot of reasons to buy GreenPan products. GreenPan offers products with ceramic coatings that are durable, long-lasting, and a healthy alternative than when compared to PTFE coated cookware.
The thick hard anodized aluminum that makes up the Green pan products is what leads to good heat dispersion. GreenPan cooking items can also handle higher temperatures than when compared to other pans.
Most GreenPan items are oven safe up to 320 degrees, but some are capable of heat as high as 600-degrees Fahrenheit. The steel handles on GreenPan items are also more durable than any kind of plastic or resin handles. Plastic handles don't withstand temperature and eventually wear out as it melts.
Anodised aluminum is the same as stainless steel, so getting anodized aluminum is a good choice. The metal plate installed below the top of the Green pan's handle adds longevity to make the pan even more warp-resistant.
When cooking frequently, you need a pan with a strong weight, a nice thickness, and a strong brass handle. The grips of GreenPan items are also ergonomically designed and welded for stability on the base. The aluminum body is made to be non toxic.
More About GreenPan's Thermolon Non-Stick Surface
GreenPan's Thermolon non-stick surface is used in many different products. Thermolon is a new generation eco-friendly ceramic coating. It's superior to old-style non-stick coatings.
Thermolon is made from natural ingredients, meaning it's completely free of PFOA and heavy metals. It has superior heat resistance up to 500°C/930°F.
The best thing about this coating is that it does not contain PFOA or lead. When you cook, there are no harmful chemicals that can get into your food. It provides a durable and scratch-resistant surface which means you will have the same quality from pan to pan, as well as year after year.
Even better, the cast aluminum body is durable. You can use your GreenPan frying pan with all your favorite dishes, including fried eggs, pancakes, or even messy, sticky cheeses.
Ceramic Nonstick Cookware Vs. PTFE Non Stick Cookware
When it comes to nonstick cookware, there are two types: traditional and ceramic. Ceramic is generally a newer technology than PTFE, but both can be used as a surface for cooking.
Traditional nonstick cookware uses PFCs like Teflon, which makes the pans heat resistant up to 500 degrees Celsius/930 Fahrenheit. Teflon is a brand name we associate with nonstick cookware, but there have been some concerns of the non stick coating peeling or flaking off on Teflon pans over time.
Many home chefs who want a non stick product without the risk of toxic ingredients are moving to products like GreenPan. The original Green Pan became popular because its design moved away from the traditional Teflon cookware company.
Frequently Asked Questions About Best GreenPans
Here are some frequently asked questions about GreenPan cookware:
How many cookware collections does GreenPan have?
GreenPan has more than a dozen cookware collections. This makes it easy to find one that fits your kitchen needs.
Are GreenPan products oven-safe?
All products by GreenPan are oven-safe. However, the specific temperature that you can use with products depends on the specific GreenPan item. Most GreenPan cookware products are oven-safe between 320-600 degrees.
Cookware lids sometimes come with different temperature ratings. GreenPan lids are oven-save between 350-600 degrees. If you're specifically looking for oven-safe cookware collections, we'd recommend the Paris Pro or the Valencia Pro.
Many GreenPan dishes are also induction-safe.
Are GreenPan Products Dishwasher-Safe?
Yes, some GreenPan products are dishwasher safe. However, we recommend hand washing any non stick pan because this helps to protect the non stick coating.
Why do eggs stick to my GreenPan frying pan?
While GreenPan products are made with a non stick anodized aluminum material, it's not impossible for certain foods to stick.
When foods stick to your ceramic pan, it's typically due to overheating your frying pan and oils carbonizing into the carbon steel coating.
Once you notice these carbonization spots, you can easily wipe them away to prevent sticking eggs. You can also invest in certain products, like the GrenPan Restore Sponge, to restore the condition of your sauté pans.
You can also further protect your eggs from sticking by using good olive oil. Olive oil and other butter can stop tougher foods from getting stuck.
Where is GreenPan made?
GreenPan products are manufactured in GreenPan factories in Italy and China. GreenPan owns the manufacturing plants and employs its own workers, so they have more control over the quality of products.
GreenPan products are designed in Belgium, which is also where the company headquarters are located.
Is GreenPan a healthy brand?
GreenPan is a considered a healthy brand and a favorite brand for healthy greenlife cookware. The company was founded as a healthy, ceramic nonstick cookware brand.
What is better than GreenPan?
GreenPan is often compared to other healthy alternative non stick brands, like All-Clad and Scanpan. Scanpan has been around longer than GreenPan, but GreenPan has already become a top choice for non stick pans free of dangerous chemicals. Scanpan tends to cost more than GreenPan, but also has a wider range of products.
All-Clad and GreenPan are also both non stick cookware brands. All-Clad has been around since 1971 but has fewer stainless steel options than GreenPan.
GreenPan also has more products that are induction-compatible, with a total of 10 compared to All-Clad's four collections.
When it comes to price, GreenPan typically wins, but the price depends on the product. All Clad is one of the most expensive non stick cookware brands, and with companies like GreenPan coming close in quality, the price increase may not be worth it.
Does GreenPan offer a warranty?
Yes, many GreenPan products do come with a warranty. A limited lifetime warranty protects your purchase and ensures that it arrives without any problems. However, to avoid voiding your warranty, make sure you buy from a reputable seller.
GreenPan claims that its items are worth the investment. They stand behind this claim by offering a product warrant.
The GreenPan warranty covers product defects and problems with the workmanship of the product. The GreenPan warranty extends two years on the ceramic non-stick coating. The pan itself has a lifetime warranty.
GreenPan tends to have good customer service, so if you have problems with your Green Pan, you can always reach out to them directly and ask for assistance.
History of the GreenPan Brand
Understanding the history of the GreenPan brand can help you decide if this brand is right for you. GreenPan was founded by Jan Helskens and Wim De Vierman. These childhood friends were surprised at the fact that traditional non stick pans, like Teflon pans, were coated in a potentially harmful coating.
They wanted to equip household kitchens with safer cooking products without giving up the conveniences that come with non stick materials. Together, they invented Thermolon.
Thermolon was a new method of coating pots and pans with a ceramic non stick coating that included no harmful substances. They founded the GreenPan brand in 2007, and the rest is history.
Today, GreenPan is one of the top ceramic, non stick coating brands. They continue to innovate and find new ways to incorporate their unique technology into a wide range of cooking products, including cast iron pans, frying pans, glass lids, and even stainless steel lids.
How to Buy the Top GreenPan Products
Ready to invest in a safe, healthy cookware set by GreenPan? The good thing is that buying GreenPan kitchen tools and accessories is easy. They're readily available and come at a great price.
The first thing to do is decide if you want to invest in just a single cast iron frying pan or if you want to go with a whole set. Buying a set can be a more efficient purchase, but buying a single pan can give you time to find out if you like the cookware brand.
Even if you decide to buy a set, you'll find that GreenPan has a lot of choices. Doing a quick inventory of your kitchen and making a list of the items you need most can help you decide what pieces are most important.
Don't forget to stock up on your kitchen accessories too. Whether you need to update your metal utensil collection or you want to replace your kitchen knives, GreenPan has it all.
Whichever piece you buy now, we're confident that you'll return for more. GreenPan products are high-quality and low-maintenance, making them well worth the investment.
You can buy GreenPan products from most retailers or online.
Final Thoughts on GreenPan Review
In conclusion, GreenPan has an excellent ceramic coating which means you don't need to use a lot of olive oil or butter when cooking. GreenPan products are easy to clean and eco-friendly.
Whether you choose a GreenPan frying pan or pots with glass lids, GreenPan products are durable, and they can be taken from stovetop to oven and freezer to grill without scratching. GreenPan products are nonstick and dishwasher safe. They're free of harmful chemicals like PFOA and PTFE.
Even with all these benefits, GreenPan products come at a competitive price. Home chefs can stock up on all the cooking tools they need without having to spend a fortune.
All in all, GreenPan is definitely worth the investment.