Finding the right pan can be very difficult, especially with all of the cookware choices out there.When looking for a pan, you need something that is durable, effective for its intended purpose, easy to use and clean, and that holds up well over time.
In this article, we'll look at GreenPan and see if the pans produced by this company satisfy the above checklist. Let's get started.
Quick overview about GreenPan
Green pans are the latest entrant into the market and are designed without lead, cadmium, PFOA, and PFAS to reduce the hazard to the environment.Most of their prices are average, but people consider the quality to be great considering these prices.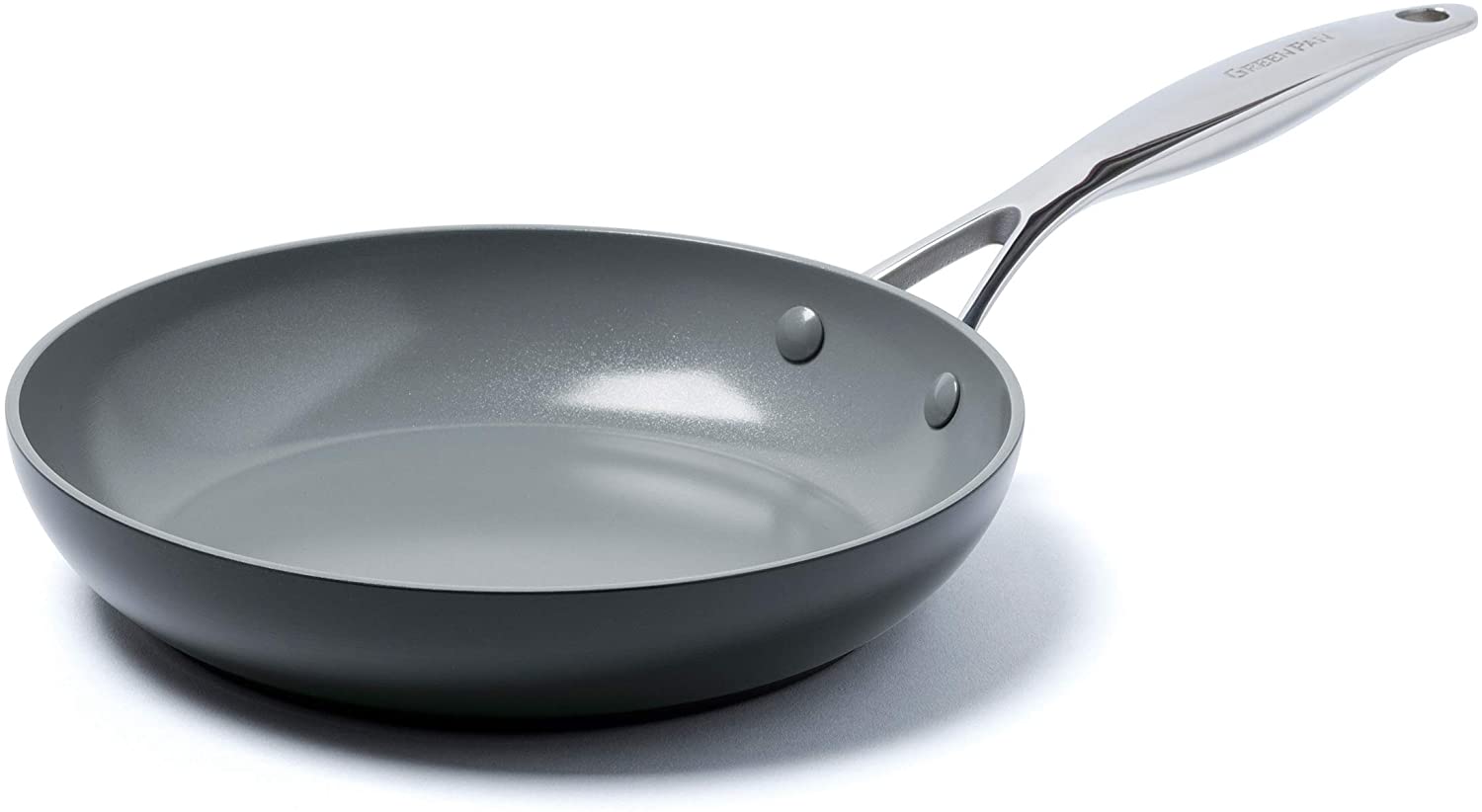 When cooking your food, it's important to use the right equipment and it seems as if GreenPan offers equipment that is just right for the occasion.
GreenPan Thermolon Ceramic Non-Stick Fry
This product is coated by Ceramic and provides the performance needed during cooking to ensure a great finished result. What is more, it is easy to clean and very convenient. Just a little effort, and you will get the best result. This product has earned 4.7 stars out of five in the Amazon store with thousands of positive reviews from customers who are satisfied with the high-quality cooking utensils while they use them for cooking.
Performance
GreenPan cooks quickly and evenly so that it rarely needs a shift below the medium temperature. It's the perfect kitchenware for omelets, cooked veggies, seafood, and poultry. Pour sauces, seasonings and marinades into the pan for sautéing. To assist in your cooking, it is suitable for the oven, broiler, grill, and microwave as well.
In addition, it can be used on all heat sources including gas, electric, halogen, and induction cooker so that you will use your time effectively to prepare the foods while saving money. It is noted as one of the best green pans which have a versatile use.
The surface needs to be exceptionally neat for optimal cooking performance and still look great over time. This doesn't mean that you must scrub the pan every time after each use to keep it in pristine condition, but a little soap and warm water are enough.
GreenPan is not compatible with aerosol cooking spray because it creates an aerosol that oozes off over time.
GreenPan Cookware Lines at a Glance
Green Pan produces several types of cooking ware. Most are anodized aluminum and some are stainless tri-strip. Other lid alternatives vary and usually come in larger sizes. Various formulations including Thermolon differ from one to the next. Green pan offers a variety of products that are designed for different purposes.
The difference between silicon and porcelain
Silicon is widely used in cookware to provide non-stick surfaces. It can be found on most pans and bakeware under brand names like Silverstone, Anolon, Xtrema, and WearEver, which are all good brands of cookware. Porcelain is a new breed of surface that provides advanced nonstick performance and is more durable than silicon. It also provides a smooth surface with no bumps, allowing food to slide off easily without fear of scratching the coating. It will not peel or chip away like other traditional surfaces.
GreenPan uses an innovative new material made entirely from natural substances. Ceramic is the coating, manufactured under high temperature.
The most important thing is all these pans can be used on any heat source and be exposed to very hot temperatures while being resistant to scratching or peeling off – if they are not exposed to too much heat at once.
Build quality and durability
When properly assembled and fitted the pan is much more enjoyable to use. The thick aluminum is what you want when you get a good heat dispersion and it can handle high temps without warping. The GreenPan does this with ease.
Its steel handles are also more durable than any kind of plastic or resin handles. Plastic handles don't withstand temperature and eventually wear out as it melts. Anodised aluminum is the same as stainless steel so getting anodized aluminum is also a good choice. The metal plate installed below the top of the pan's handle will have added longevity to make the pan even more warp-resistant. You need a pan with a strong weight, a nice thickness and a strong brass handle.
The grips are ergonomically designed and they are welded for stability on the base. They may have a harder time keeping the dish clean, for bits of food or oil to crawl into the pan. The handles are made from stainless steel, although the Padova range has gold tone handles.
Keep in mind that many cookware sets are pricey because they contain many pieces in the set. If you know where to look you can get a nice well-made set at a low price. However, it is still important that you inspect each piece in the set before buying it.
Interior
Greenpan's Thermolon non-stick surface is used in many different products. Thermolom, a new generation eco-friendly ceramic coating. It's superior to old-style non-stick coatings. Thermolon is made from natural ingredients, it's completely free of PFOA and heavy metals. It has superior heat resistance up to 500°C/930°F.
The best thing about this coating is that it does not contain PFOA or lead. When you cook, there are no harmful chemicals that can get into your food. It provides a durable and scratch-resistant surface which means you will have the same quality from pan to pan, as well as year after year.
Ceramic Nonstick Cookware Vs. PTFE Non Stick Cookware
When it comes to nonstick cookware, there are two types: traditional and ceramic. Ceramic is generally a newer technology than PTFE but both can be used as a surface for cooking. Traditional nonstick cookware uses PFCs like Teflon which makes the pans heat resistant up to 500 degrees Celsius/930 Fahrenheit. Teflon is a brand name we associate with nonstick cookware.
Final thoughts on Green pan reviews
In conclusion, GreenPan has an excellent ceramic coating which means you don't need to use a lot of oil or butter for it to cook, it's easy to clean and is eco-friendly. They're durable, they can be taken from stovetop to oven and freezer-to-grill without scratching; nonstick, and dishwasher safe. They're free of harmful chemicals like PFOA and PTFE. All in all, GreenPan is definitely worth the investment.