There are many different types of kitchen islands to choose from and their prices vary greatly. The size of the island is important because space will dictate how big your island can be as well as how much you spend.
In this article, we'll discuss some typical costs associated with installing a new kitchen island as well as other factors that need to be considered in this process.
Let's get started.
The typical cost of a kitchen island
The typical cost of a kitchen island ranges between 100 USD to over 5,000 USD. This depends on features as well as the quality of the island. You can get a basic portable or rolling stand-up kitchen island for about 100 dollars. If you buy one in this price range expect it to be small and made from cheaper materials. You can also find some sturdy and larger models with higher quality products as the price range increases.
Types of kitchen islands
There are four main types of kitchen islands that most people use in their homes; portable ones (usually made from steel), wooden ones (can be purchased already built or you can build it yourself), metal and ceramic tops and roll-out stands (these usually don't have a top).
The cost will vary for each style and the quality of materials.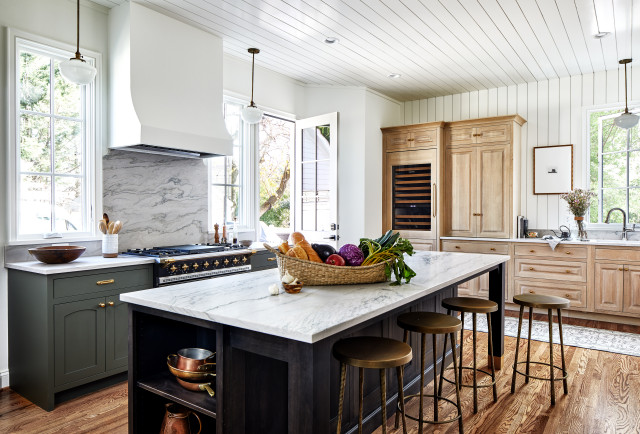 Image Credit: http://houzz.comOften, homeowners who want to add extra storage space in the kitchen will opt for a built-in type of kitchen island. These are usually installed into an L shape or into the middle of a wall that separates two main areas of the home. It's important to make sure you leave enough room so it won't be getting in your way and you can still use your normal daily work surface on either side of it.
If you're going to build a kitchen island yourself then you need to measure your plot first because this is very important before buying any wood etc. Even if building from kits they have guidelines available on how big they should be according to measurements of your kitchen.
These are a bit more expensive in comparison to the other types but they can be adjusted or added on to better fit your needs. Just like you'd add new cupboards or drawers to suit whatever is needed, the same goes for islands.
With these, it's important to make sure there is enough room between them and other furniture such as fridges, etc so that you don't bump into anything when walking behind your newly installed kitchen island.
Also, look for ones with little clearance because this means they'll be easier to clean. The less space there is between the wall and unit then the easier it will be to wipe down after cooking just like any other surface in your kitchen.
You can find some adjustable kitchen islands as well as ones that fit into a corner or to an L shape too. These are perfect if you don't have the space available to build one yourself and want something more permanent in your home without it taking up valuable floor space.
It's also important to look for those with adequate storage and easy access if you want to keep everything stored away but still accessible when needed.
Some manufacturers will sell wooden parts slip-on over a rugged steel frame which makes the island even more durable and strong.
These portable units are great for when you're not using them in the kitchen as you can take them with you to other places around the home, such as when entertaining guests or friends. These types of kitchen islands will come in various sizes ranging from mini-units up to several feet high and several feet wide depending on your needs.
The last type is typically found in full-sized kitchens that have been installed by an expert craftsman and then plumbed into a wall for piping purposes. This style requires some building knowledge but don't worry if you're a novice because there are kits made just for these situations too.
The most common look these days is the one similar to those used in commercial kitchens because the islands are larger than average and can be made to match the cabinets.
These usually have a sink built-in however, you may want to add one as it's very common for homeowners to use these instead of the kitchen faucet.
Consider height as well as length
The higher your kitchen island is then the more it will cost too, but they hold a lot more than others so they may be worth it if you plan to use them for extra cooking or prep areas in the future.
These are also great for storing larger appliances such as toasters and blenders or other items such as baking ingredients, pots, or pans when not in use. Keep things off the countertops and even save money by using this type of storage at home instead of buying cabinets. Due to their height, these are also suitable for food preparation purposes like chopping vegetables.
Keeping children in mind when choosing a kitchen island
If you have children or pets who are always underfoot, look for an elevated design that's off the ground with a built-in fence in case of little accidents. These are tall and will make it hard for children to reach anything on them since they can't climb over the railings.
Try to keep these at least three feet off the ground or more if you have small ones who may still be able to fit inside.
On the flipside, if your children have toys, or love making breakfast before going to school, look for one that's more square than rectangular so there is enough room for larger cookware like a waffle iron, griddle, or even an outdoor stove too.
This way you won't have to worry about getting any grease stains on your counters when cooking eggs in the morning – not having somewhere clean nearby would drive most folks crazy.
What else can be accomplished with a kitchen island
If you have extra space, then it will be worth considering a larger unit that has more room for storage or even cutting space as these are great for this purpose too.
Once you've considered all the above things, try to think about what else this piece of furniture could do for your kitchen and whether there's anything else you need to get before making the final purchase.
Some people love to bake at home and end up filling every cabinet with baking sheets, mixing bowls, whisks, and everything else needed for this particular hobby. With room under the island, put these out of sight. If you need something nearby like measuring cups or spoons, then a freestanding organizer may be better suited as it can be moved around easily and placed near where you stand when cooking in the kitchen.
This means you'll have room for everything else on your shelves making it easier to find the things you need as well as looking more tidy and organized. If you don't cook then remove some of these items and consider getting pot racks or hanging rods instead which are great for storing large pots, pans, or even Tupperware containers too.
As the seasons change, so will your cooking habits so it's best to look at ways to use any kitchen island by making sure there's enough storage for all the food preparation methods that you like to do – whether it's baking cookies in winter or grilling outdoors in summer.
If you're not sure what size space your new island should be, then add in things you use often and make a list of them. This way, when you go to the store, your list will remind you what you need to look for that is essential for your kitchen island too.
At this point, don't forget to factor in if you'll be using it to cook on top of it too; otherwise, there may not be enough room for your cooking needs.
Final thoughts on how much a kitchen island costs
In conclusion, an island can be a great addition to your kitchen because it can do so many things apart from being a decoration and can give kitchen renovation a whole new level.
Overall, you'll find a basic kitchen island can help get the job done for most people; however, there are always ways you could improve things by being a bit creative and adapting this piece based on your family's needs as well.
Finally, check out this article on how to remove a kitchen island if you want to do this before installing a new one.