Virtually everyone needs furniture at some point or another. For many people, the need for furniture is a new experience that they have not had before. To buy furniture effectively, it's important to understand the basics of how to get what you want and where you want it without going over budget or being disappointed by your purchase after bringing it home.
The following article will provide helpful tips on how to buy quality furniture with minimal effort and cost so that you can enjoy selecting from a variety of options while getting exactly what you need for less money than anticipated.
Here's all you need to know.
Choose a room at a time
Whether you are thinking of things to buy for a new house or just want to spruce up your current furniture, it's important to consider the types of pieces that you need for each room in your home. Decide which rooms need new furniture and focus on those first before moving on to other spaces. By choosing one room at a time, you will ensure that you have enough money set aside each week or month for these purchases so they don't hinder your budget too much.
To save more money on this big purchase, choose quality pieces that can be used in multiple rooms throughout your house rather than buying something specific for just one location. This way, if the needs of your family change over time, you won't be stuck with items taking up space in your home.
Make the most of every purchase
When you are buying furniture, it's important to consider how each piece will fit into your house in terms of size, shape and color. As you browse through stores and online websites looking for what you need, measure rooms so that they can help you determine how large or small a particular item might be.
Even though many people think that this is impossible with furniture, particularly when purchasing couches or dining room chairs, it's quite easy to do with some measuring tape and by comparing measurements against your current pieces to get an idea of scale. Also keep in mind which colors work well together if you are planning on buying several items at once since the store may not have all of them on hand at once to try out together.
Pick a style of furniture you like
Of course, it's important to consider the styles that you like in terms of how each piece looks when considering how to buy furniture.
Most people have a specific style in mind for their home and getting a few pieces in this style is usually easier than trying to mix and match items from different periods or decorative themes because they don't work together or look appropriate within your room's design. Once you know what you want, finding good quality pieces at good prices will be much easier since there are so many options available to suit your needs.
For example, if you love mid-century modern designs with clean lines and silver accents, but aren't sure where to find these pieces at affordable prices, check out local thrift stores and Craigslist first until you find some gems you can restore to their former glory.
Plan out your budget
When it comes time to buy furniture, it's important to plan out how much money you can spend on each purchase – or on all of them combined if they are for more than one room. It is easy to go overboard with this specific type of purchase since there are so many options available regarding size, style and color that suit your needs.
For example, if you need a new couch for the living room but want blue velvet armchairs for your office, expect to pay more than if you were buying items for just one room at a time.
After getting an idea of how much money you can spend on each item, don't go over it no matter what.
It's easy to be tempted by high-quality furniture at low prices even though this usually means that something is wrong with the piece in question since the price is just too good to refuse.
If you are buying used furniture online, check out all of the photos available and read reviews from other customers who have already received the item before committing to buy so that you know exactly what you are getting for your money instead of regretting later on when items arrive damaged or not working properly.
Once you've gotten an idea of how much money you plan on spending per purchase, stick to it by setting up a separate account specifically for purchasing new furniture.
While it is okay to go over your budget now and then if something exceptional comes along that fits into both categories, it's best not to do so since this usually ends with quickly depleting funds that could be used elsewhere if not properly managed.
Combine one room purchases whenever possible
An added benefit of planning out how much money you plan on spending per purchase is not only knowing when an item meets the quality standards set by your taste, but also if it is within your price range.
Once you've found great pieces that work well together, combine them into one purchase whenever possible to save money on delivery charges and expedite the process of having everything delivered in one trip instead of multiple trips back and forth between your home or office.
For example, if you are looking for a new couch, coffee table and side tables that work well with each other since they all have silver accents, find an online store that offers these items at reasonable prices so you can get all of them without spending too much on shipping fees or delays due to purchasing them separately.
Combining purchases not only saves time but money as well. This is especially important when trying to get furniture that is slightly out of your price range. Also, be patient and wait for the right deals to come along that fit both criteria before committing to anything since this can make a world of difference in terms of how much you end up spending, as well as whether or not the items work well together once they arrive.
Consider the functionality needed within your space before shopping
Even though you may have a specific color or pattern in mind when shopping, do not forget to consider the size and shape of your space before adding any furniture to the cart. This can be especially important when buying new couches, recliners and chairs, and dining tables since they come in a variety of shapes and sizes that must match up with the dimensions of your room or else it will look very off-balance.
When planning out how much money you plan on spending on furniture, keep in mind that some items are usually cheaper than others for this exact reason. For example, if you need an office chair but don't want to spend too much because your office is small and narrow, go for a simpler model without too many bells and whistles so it doesn't break your budget.
While you do want to make sure that each piece of furniture can fit into the room without looking too cramped since this will ruin the overall look, always go for the least expensive option first before considering other styles or pieces that are bigger or more complex. This will ensure that you don't end up spending more than you were initially planning on even though there are plenty of other options available.
Before giving in to any flashy pieces, first determine how much money you plan on spending per purchase as well as if they all work well together based on size, shape, color and pattern.
Figure out what type of upholstery or fabric is best for your lifestyle
Once you have a list of priority items in mind, figure out what type of upholstery or fabric is best for your lifestyle and budget. For example, if you need new couches but have kids at home who tend to ruin certain types of fabrics very quickly, do some research online and find out which ones will work best for your situation.
When it comes to upholstery, also consider carpets. Buying a carpet is also very similar to purchasing furniture since you have to think about size, color and shape before adding any specific items to the cart. For example, if you need a new area rug for the living room to go under your coffee table and couch, find an online store that can offer a wide range of styles at reasonable prices so you won't have to worry about spending too much.
It is essential to first determine how big of carpet you can afford, as well as its overall theme and color scheme based on the furniture that is already there. If you plan on buying new couches or chairs, do so provided that they all match with one another since this will ensure that your new carpeting doesn't look too out of place once it arrives.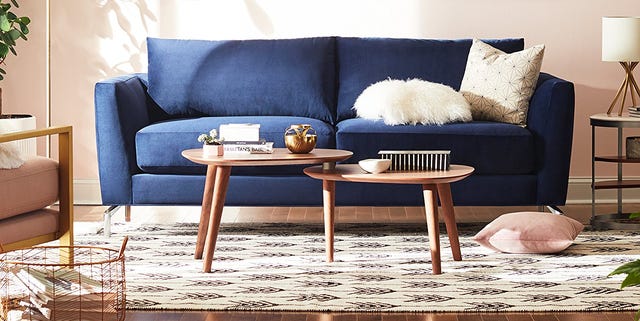 Final thoughts on how to buy furniture
In conclusion, we can say that the best way to buy furniture is by ensuring that you already know what you need to focus on. Make a list of items that are absolute musts and those that are not as high up in your priority list.
This will ensure that you make the most out of every purchase while ensuring that you get the furniture that will make or break your house.