Most tiles are installed using an adhesive or mortar. Which one is the best for your project? Choosing the wrong adhesive could lead to expensive mistakes and even damage your flooring.
The best way to ensure you choose the correct tile adhesive for your project is to know what's available, how it works, and when to use each one. In this article, we'll help you understand what makes an effective tile adhesive so that choosing the right one becomes easy as pie.
Here's how to choose the correct tile adhesive.
What Types of Adhesives are There?
There are two different types of tile adhesives. These include ready mixed pastes and powdered adhesives. You can use ready mixed pastes straight out of the tub, making them easy to use. However, they have their limitations, as pastes can only be used to fix smaller ceramic tiles to walls.
On the other hand, powdered adhesives need to be mixed with water into a slurry, which takes more time and effort. Powdered adhesives offer a far stronger bond and can be used to fit ceramic, porcelain, and natural stone tiles to almost any substrate.
What are You Fixing?
There are three different Tile Adhesives for fixing tiles to walls, floors, and countertops. Small ceramic tiles are often used for walls and splash cards, and in most cases, a ready mixed paste will be suitable for the job. If you're fixing a larger ceramic tile or any size porcelain tiles to your walls, then a powdered adhesive.
Make sure your wall can bear the weight of tiles and adhesive. If possible, tile directly onto the plasterboard rather than fresh plaster. Install a layer of marine-grade plywood or a tile backer board on top for floors. This will give you a stronger, more stable surface to tile onto.
Never use ready mixed pastes on shower floors, even if you're using ceramic tiles. Instead, use a powdered adhesive. When choosing the right powdered adhesive, the main things to consider are color, flexibility, and the open or setting time.
What to Consider When Choosing Adhesives
Color
There are numerous powdered adhesives available in the market. The most common colors for wet applications tile adhesive are pink, beige, and white. Most powdered tile adhesives are pre-mixed with water to form a pourable paste. It may be easier to use pre-mixed pastes if you're working alone because you can pour them into the grout joints. You can also regrout kitchen tile when required.
However, if you're working with a partner who will spread the paste on the sanded floor, you should use powdered adhesive. Powdered adhesives are available in a variety of colors, including gray and white.
Flexibility
The type of tile adhesive you choose should be compatible with your tile and support. Tile adhesives designed for natural stone installation are, in most cases, more flexible. These types of adhesives can also be used in a wet environment, such as bathrooms or swimming pools, whereas some other types of tile adhesive cannot.
Setting Time
Some adhesives are set slowly and can be walked on soon after application. Other types of tile adhesive are set very rapidly so that the tiles are not easily moved. These require an extended setting time to allow adjustments in placing the tiles.
Types of Tile Adhesives
1. Thinset Tile Mortar
Thinset mortar is the most widely-used adhesive for laying porcelain and ceramic tile. Thinset is a mortar made of Portland cement, silica sand, and moisture-retaining agents. The thinset provides a very durable bond between the substrate and the tile when installed correctly. It has a smooth, slippery consistency, similar to mud.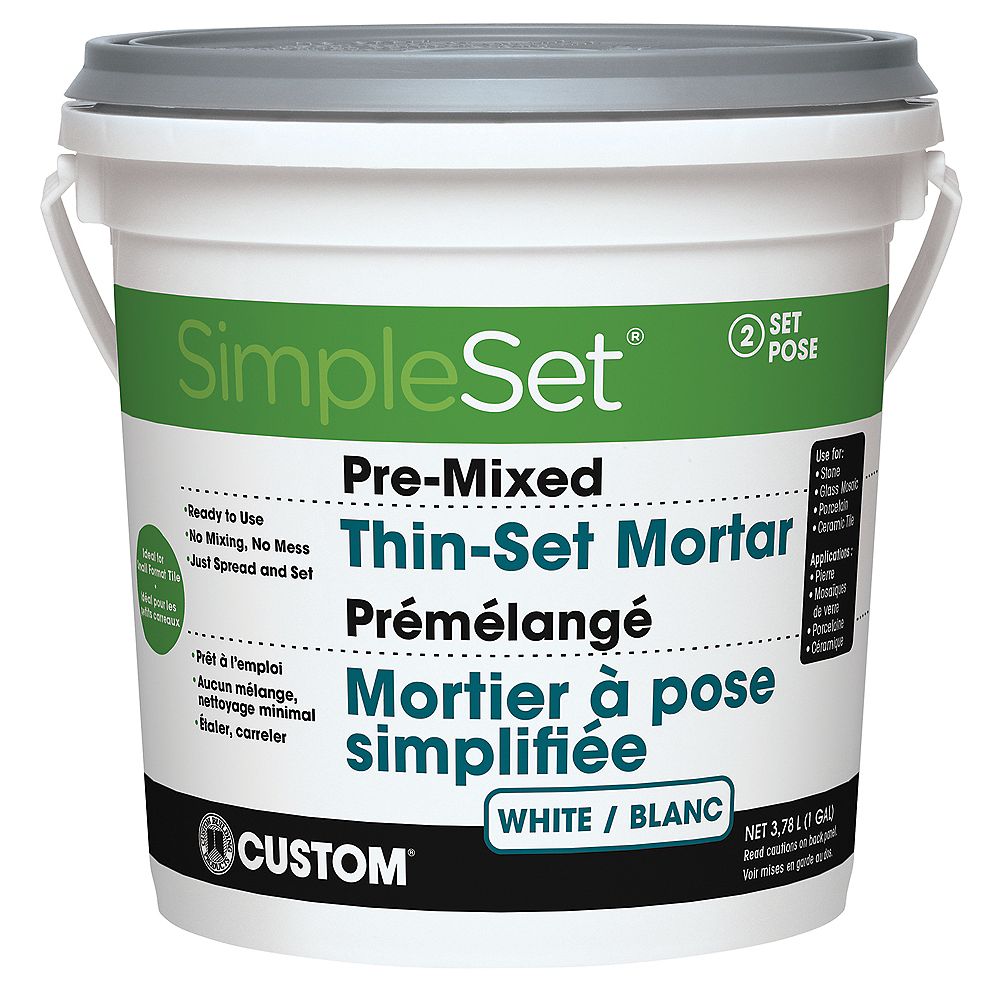 The types of thinset mortars you'll use for your project will depend on various factors such as environmental conditions, amount of foot traffic, and the amount of moisture in your home. The two types available at your local hardware store are premixed and powdered forms. Dry mortar requires you to mix in the water and the latex additive yourself.
Premixed mortar comes in big tubs with the latex already added, and the consistency is right for the application. Unless you're tiling large areas or multiple rooms, premixed thin set mortar is a better choice for do it yourselfers than dry mortar mix. Thinset mortar is applied to the substrate with a notched trowel.
If you're tiling wet areas such as a shower stall, a sink, or tub surrounds, thin-set mortar is the best choice. This is because it's not impervious to water and won't dissolve in water. And because it's inorganic, thinset mortar won't encourage mold growth. Thinset mortar also dries slowly, which can be an advantage as you maneuver tiles into place but can pose a challenge when tiling vertical surfaces.
2. Premixed Thinset Mortar
Premixed thinset mortar is typically used in areas where there isn't a lot of foot traffic, such as in small bathrooms, mudrooms, or utility rooms. Even though it's heavy to carry and more expensive than dry mortar mix, the ease and convenience of premixed thin-set make it ideal for do it yourselfers. If you're dealing with multiple spaces, consider a dry mix to save money.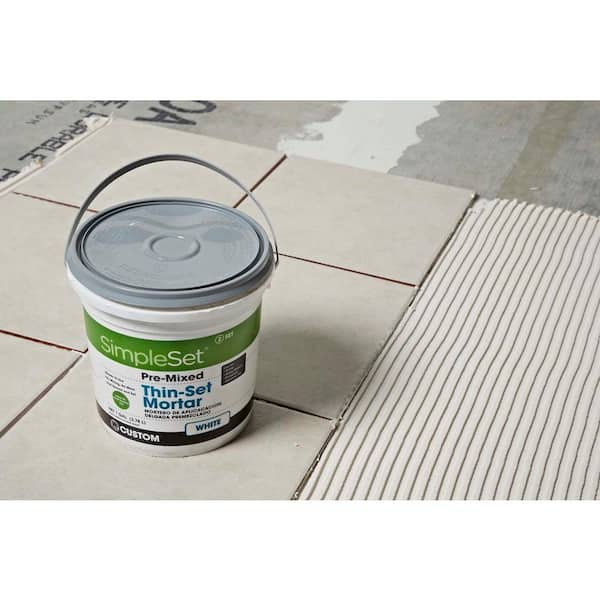 3. Epoxy Tile Mortar
Epoxy mortar is a good option for wet areas like showers and tub surrounds. It has the same qualities as thinset mortar but with enhanced water resistance. Epoxy mortars work well for porcelain, ceramic, glass, stone, metal, mosaic, and pebbles. They can even be used for installing rubber flooring or woodblock flooring.
Also, pigmented epoxy mortars do not leak onto ceramic or porcelain tile. Epoxy mortars are resistant to a wide variety of chemicals. Temperatures range from 60 to 90 Fahrenheit for proper installation. Warmer temperatures speed up curing time while cooler temperatures slow it down.
Installation can be made on a damp surface, but new concrete must cure for at least 28 days before adhering to the tile. You can check how to install tile over concrete.
3. Tile Mastic
This type of bond is perfect for large format stone or ceramic tile. Mastic adhesive is pretty much what it sounds like, a sticky bonding agent that allows you to set the tile in place without nailing or pressing them into the mortar base below.
Mastic tiles are available in a self-leveling variety that will fill in imperfections in the substrate, making them perfect for floors or countertops. These types of adhesives are self-leveling, so they don't require any additional leveling underlayment.
Mastic adhesive is best for installing ceramic and porcelain tile rather than natural stone. It's a good choice for DIYers because it provides a strong hold which doesn't require specific installation tools or knowledge. Mastic tiles are also self-leveling to make your project flow easily from start to finish with ease.
Because mastics may vary in consistency and formula between the brands, it's best to follow the manufacturer's recommendation as to which notched trowel to use.
4. Mortar Beds
Mortar bed installation is the oldest and most common form of tiling. The Romans first used it to create their famous baths and aqueducts. The mortar bed method works well for floor, wall, and indoor and outdoor projects.
Mortar bed tiles pack more weight than adhesive tiles, so you need to make sure that your subfloor will be able to carry the weight. Putting a mortar bed down on a cement board can have some problems, which is why it's important to research the best method for your particular project.
FAQs on How to Choose the Correct Tile Adhesive
What tile adhesive should you use on walls?
This depends on the space your wall resides in. For instance, for a kitchen backlash or accent wall inside, you can enjoy the ever convenient benefits of premixed adhesive. But for areas that contain moisture, then use thinset mortar. Also, know how to remove a tile if you're going to use any adhesive on it.
What tile mortar should you use on cement?
If the cement isn't exposed to water, use mastic or tile adhesive. But if your tile needs to be laid on a wet surface, then unsanded grout is best.
Final Thought on How to Choose the Correct Tile Adhesive or Mortar
There you have it. Don't let the options intimidate you when thinking of a tile project. They're pretty basic and don't require a lot of experience. Just watch your measurements and weigh the pros and cons for each product.