Buying used furniture is a great way to save money, but it's important to clean it before bringing it inside. Otherwise, you may end up with health problems or bring pests such as bedbugs to your home. How to clean a used couch?
If you're looking for the best way to clean a couch that your little ones use often, try a natural fabric couch cleaner first.
Follow these simple steps to clean your used couch and ensure it's free of any harmful bacteria or germs. Let's get started!
What You'll Need
Vacuum

Bristle brush

Baking soda

Vinegar or vodka

Castille soap

Warm water

Bug spray

Disinfectant wipes

Gloves

Dishwashing detergent

Enzyme based cleaner
Here are the step by step guide on how to clean and sanitize a used couch:
Bring Your Couch Outside
Always remember to bring your used couch outside when you're carrying out your cleaning. Cleaning a couch is messy work, so it's best if you can do it in an area where there are no carpets, carpeted stairs, or valuables that could get stained in the process.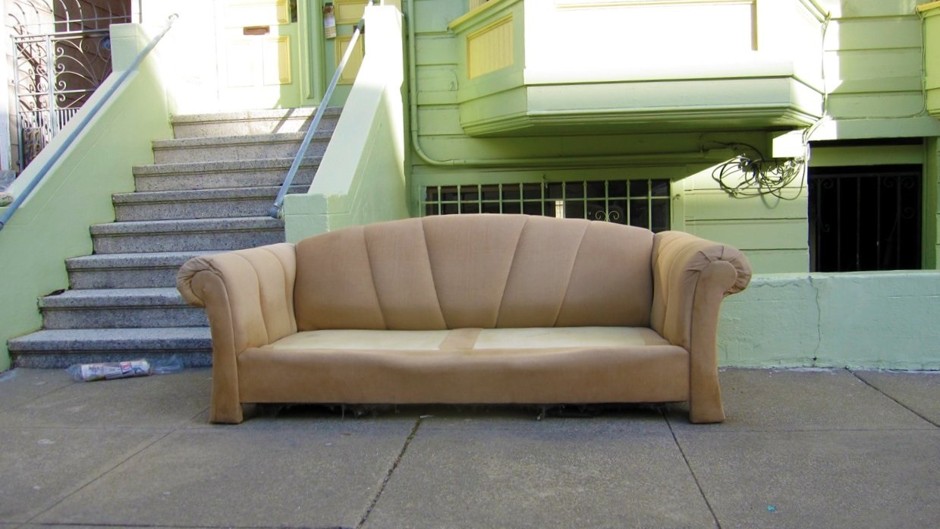 Also, bring your couch outside to get a more spacious and well ventilated area to work on it. UV rays kill bacteria, and working outside ensures you won't breathe in decades of dust.
Clean Up Dirt and Debris
Before you can clean a couch, you need to make sure there is no dirt or debris left behind on the fabric. Although modern couches are mostly made of sturdy materials, some may contain loose threads and frayed parts that could snag onto dirty clothes. Use a handheld vacuum with an upholstery brush attachment to suck in any dirt hidden in the crevices and folds of the couch.
Your used couch might need a certain amount of elbow grease to clean the filth and grime off it. If you want to be thorough in cleaning your second hand couch, use a cleaner with the necessary strength. Most furniture cleaners are non-toxic, so they'll not cause any harm.
You might want to test the cleaner in an inconspicuous area because some couches have special finishes that might react to the cleaner. If you don't want to use a conventional cleaner, use your non toxic furniture cleaner with ingredients such as baking soda, distilled white vinegar, or hydrogen peroxide.
Disinfect and Wipe Down
You may want to make a natural upholstery cleaner for spot removal. You can also use a store bought cleaner. Make sure you test a small patch of fabric first. Next, wipe down any upholstery sections with a reliable disinfectant. Ensure the wipes or spray you choose doesn't have bleach as an ingredient because this can damage your sofa's wood or other non fabric parts.
Bug Spray for Treating Bedbugs and Other Pests
Even though this seems optional, if you're planning on getting a second hand couch, you may want to spray it with a bug spray before bringing it inside. Bugs and unwanted pests can make a home in old couches and furniture without being seen by the naked eye.
If you don't know how to treat bedbugs in furniture, this is the way to go. Spray the nooks and crannies with vinegar bug spray that will work to repel and kill pests such as bed bugs, fleas, ticks, and mites. Leave your couch for 24 hours in a well ventilated area after spraying it with bug spray. This will be good enough to kill the majority of the insects on your old couch.
Tackle Stains
Mix one cup of warm water with a 1/4 cup of white vinegar and a tablespoon of castile soap or mild dish detergent inside a spray bottle or small bowl. Spray or use a clean cloth to dab the solution onto the stain, but do not saturate the fabric.
Blot the stain with a clean, damp cloth, allow it to dry, and repeat the process if necessary. If your vintage modular sofa has metal legs that have seen better or shinier days, soak the area in white vinegar or use a solution of lemon juice and salt, mild dish soap, and ammonia to remove rust.
Deal with Odors and Bad Smell
Sprinkle baking soda all over the sofa and wait 15 minutes. Vacuum or dust off any excess powder, then use a clean, damp cloth to rub the surface of the couch. If your furniture has removable cushions, remove them and vacuum both sides before placing them on cold with one cup of white vinegar in the washing machine.
Make sure to test a small piece of upholstery to ensure the baking soda doesn't affect the material. Use a bristle brush to spread out the baking soda in an even layer on every upholstered surface. You can also use an enzyme cleaner to tackle your smelly couch. Baking soda is effective, especially when it comes on how to clean a suede couch.
After spreading the baking soda, leave it there overnight, then vacuum up. If you notice an unpleasant odor lingering around your couch, you can mix vinegar and water in a spray bottle, spritz it on your couch and let it dry. This will dissipate the vinegar smell, leaving behind the fresh scent of clean upholstery.
Deep Clean Your Couch
If you have the luxury of time, rent a steam cleaner and use it on your couch. Steam cleaners can lift even more dirt than vacuums. Use an upholstery attachment to your vacuum for quick cleanings or touchups between deep cleanings with a steam cleaner. Another option is to purchase a handheld steamer that you can use to cleaning and sanitizing a used couch.
When using a steam cleaner, hit everywhere you can access on your couch, pay extra attention to the cushions and crevices. Don't forget to clean the spaces between buttons on your couch as well. You can use a brush attachment or toothbrush to get rid of the dirt left behind by the steam, cleaner in hard to reach areas.
Removing Stains from a Couch
Removing stains can be a trial and error process. If you're having a lot of trouble, consider renting a carpet extractor and use a high-quality upholstery cleaner that is suitable for your couch. If you want to continue with more homemade remedies, then try these methods:
Crayon
If your item has any crayon stains, use a rag to rub some WD40 on the stain.
Ink
For ink stains, saturate the cotton ball with rubbing alcohol and gently rub it on the area.
Rust
To remove rust stains from your couch, dab a bit of lemon juice, salt, mild dish soap, and ammonia on the stain and let it set for five minutes.
FAQs on How to Clean a Used Couch
Is it safe to use carpet cleaner on a couch?
Yes, using a carpet cleaner for upholstery is safe. However, it may lead to some problems, including the strong solution can discolor the fabric and affect the color of your couch. It will also leave behind residue on your furniture, which might cause allergies or asthma attacks in people who are sensitive to chemicals.
Can you clean a couch cushion that cannot be removed?
Yes, you can use a steam cleaner to clean the fabric for couch cushions that cannot be removed. Make sure you follow the specific model's instruction and test a hidden area for colorfastness if any color transfer occurs.
How do you sanitize a leather couch?
Before you sanitize your couch, consult the owner's manual for your type of leather. Most manufacturers will recommend a specific cleaning solution or method to use on their type of leather.
Final Thought on How to Clean Your Used Couch
As you can see, a couch is a big investment that you really should take good care of. Cleaning your couch properly not only will help to extend its life, but it will also make you feel better about the purchase and avoid any potential allergies or problems that other people may develop and bring into your home if they choose to sit on it.