Microfiber has gained a lot of popularity in the market. If you're shopping for new upholstery for your home improvement, you'll likely come across lots of these options. What this means is that many people prefer microfiber upholstery to other materials.Why is that? Well, microfiber material is known for its easy maintenance and how it can last a long time. In other words, cleaning microfiber furniture would not be too hard as long as you know how to do it correctly. Follow this handy guide on how to clean your microfiber couch.
1. Locate the Tag for Cleaning Code
So that you avoid damaging your couch, it is best first to check the tag. This tag will often be located on a side rail or the bottom of microfiber couches. Make sure that you can read and understand what's written there. If you can't find the codes anywhere on your couch, you can search on the manufacturer's website.
Here are some potential codes that come with the tag:
W — This refers to water only. You can use this tag if your microfiber couch is not machine washable.

X — This code states that you shouldn't use liquid cleaner on your couch. Instead, just vacuum it.

S — This means that you should use either a solvent cleaner or a dry cleaning.

S W — You can wash your microfiber couch with a mild detergent in cold water; then air dry it to avoid damaging the fabric.
2. Vacuum Your Couch
First, you should vacuum your couch. As much as possible, make sure that you remove stains, soil and other dirt on it. You should know what heavy traffic areas look like; these are places which receive lots of stains in a day. Vacuum them first before doing anything else. Follow this with a soft scrub brush to pick up the dirt you missed while vacuuming.
3. Use a Cloth and Mild Detergent Solution
After vacuuming, soak some water on a clean cloth, then use it in wiping down your couch. You can even use mild detergent or fabric softener to treat stains easily. Just wipe and blot the area using this solution. Test how your fabric reacts to the solution you'll be using. If possible, consult your couch's manual to help you in this matter.
4. Mix Cleaning Solutions
You can use a solvent based cleaner or water based cleaning solution on your microfiber couch. If you'll be using a dry cleaning solvent cleaner, then it's recommended that you mix it with water. Dilute the solution with at least 50 percent of clean water to ensure that the cleaning product won't have an adverse effect on your couch.
If you're using water based cleaners, then spray it directly on your microfiber couch. If you want to use a clean cloth, blot the solution instead of rubbing it aggressively.
5. Dip and Scrub
If you want to clean a microfiber couch, you can use a solution that is made for cleaning. Dip the cleaning brush on soapy water and gently scrub with it. Don't dip your hand in because you may never get all of it off. It's important to lift things up when rubbing because this can help lift dirt stuck on the fibers.
6. Pray the Stained Area with Alcohol
If your couch has a lot of stains, you can use a cleaning solution consisting of alcohol and water. Liberally spray the stained area using a spray bottle and use the cloth to pat it dry. When rubbing alcohol, you won't have to worry about drying because alcohol evaporates quickly.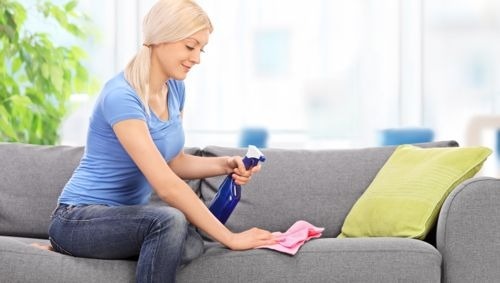 Rub the stained area with a soft cloth. Don't forget to gently rub the sofa in a circular motion. Switch the clothes as they get dirty until you get the results you desire. Make sure the colored cloths to avoid color transfers. After you're done, wipe off any excess alcohol with a white cloth and let it dry.
7. Dry and Fluff with Soft Bristled Brush
After you're done cleaning the entire sofa, you'll now need to allow your fabric to dry completely. You can also pat dry it. You must also know that microfiber feel stiff as it dries. To return it back to its normal condition, you have to fluff it using a soft-bristled brush. Gently comb the fibers using the bristle brush until you see the fibers looking soft and fluffy again.
Microfiber Couch Cleaning FAQs
Is it easy to clean a microfiber couch?
Yes, it's easy to clean a microfiber couch. All you need to do is remove surface stains from the fabric. You can use mild dish soap and warm water in cleaning microfiber sofa. However, ensure you understand the codes of your microfiber fabric before you proceed.
What are home remedies good for cleaning a microfiber couch?
There are several home remedies that you can use for cleaning your microfiber couch. You can use vinegar and water, baking soda mixed with water, alcohol, or even lemon juice to clean your microfiber sofa. If these do not work, then you should try a commercial cleaner available at home depot. Make sure any cleaning solution you use doesn't damage the fibers.
Can you clean a microfiber couch without rubbing alcohol?
If you don't have any alcohol or it doesn't work for you, try dry cleaning your upholstery with a combination of baking soda and water. You simply need to apply this paste on the sofa and wait for it to dry. Once it has dried, spray a small amount of warm water using a spray bottle on the area and cleans away any excess stain with a clean dry cloth.
How often should you clean a microfiber couch?
Like any other fabric for a sofa, you should clean your microfiber sofa at least once a week. Otherwise, the stain will build up and make it harder to clean later on. But if it doesn't get too dirty, you can clean it once every few months.
You're Now Ready to Clean Your Microfiber Couch
Microfiber couches can be your best furniture items once you know how to clean them. However, if you don't take good care of it and clean it often, the dirt will build up, making it more difficult for future cleaning sessions. Just remember that how well you maintain your sofa will impact how long its lifespan will be.
When cleaning your sofa, be sure to use a vacuum cleaner and a cleaning solution that will not harm the microfiber. Remember, you don't want to damage your couch. Be sure to clean your microfiber sofa as soon as possible when there is a water stain. This will make your life easier and you won't have to scrub it much harder and damage the fibers.