There are many different ways to design a backyard, and the best way is going to depend on your needs. This article will give you some ideas for how to decide what kind of backyard would be perfect for you and tips for making sure it stays looking great year-round.
Let's dive deep into this topic.
What is a backyard and how do I design it?
A backyard is an outdoor area that's located behind a home. They can be very large, but they're usually smaller than the front yard and are often overlooked when it comes to design choices. Backyards aren't just for show — they're also meant for use. That means you can have storage areas here as well as seating or even play areas for your children. It's up to you how you want to design yours.
Backyard Basics
So what do you need in a backyard? You'll want some kind of patio or decking area where you can sit outside and relax with friends and family. You may also install some sort of shade like trees or pergolas if you live in a particularly sunny climate. When it comes to storage, you can consider adding a shed or building an extension for your home.
So how do I design my backyard?
As we mentioned above, there are lots of different things you can do with your backyard that will suit all kinds of needs. Before you begin designing yours, think about what you need from it – this will help you get an idea of how you can use the space.
1 – Storage
If all you need is storage, why not consider installing some lockable sheds? These will keep your tools safe and protected from damage or theft. Depending on the area of your yard, there are other options for storage too like carports and garages. If you think any part of your backyard needs a shed or similar building, then it may be worth investing in one. This could increase the value of your home if you ever decide to sell.
2 – Relaxing/Entertaining Area
Are you looking for somewhere where everyone can gather together when they visit? If so, then look no further than seating areas. It could be a swing, some chairs, or even a bench that gets the job done. If your yard's large enough, you may also want to consider a patio of some kind too. For all these areas, they must be big and comfortable for you and everyone else.
Ensure you have a great outdoor kitchen sink and some basic kitchen appliances if you want to cook outside. If you don't have any, then consider buying a barbeque grill and installing it somewhere in your yard. It's worth thinking about where else your guests can sit beside chairs as well – you may like some hammocks if there isn't enough space for them inside.
When it comes to entertainment areas, you need to think about how you're going to use the space. Are you just planning on using it for recreational activities or will you be planting flowers and herbs too? This will help determine whether or not lighting is necessary.
3 – Garden Space
If you like to grow plants, flowers, and vegetables in your backyard then you'll want lots of space and light for all of them to thrive. If this is something you'd like to do, think about what else will help your garden grow such as an irrigation system or small greenhouse where you can keep seeds dry and safe from pests.
How to design a patio?
If you're planning to build a patio, there are many things that you need to consider beforehand so that the new area will be enjoyed by everyone in your family for years to come. Before diving into any designs, start with some general decisions on how you want the area to look and feel.
Do you want it to be formal or informal?

What style do you like?

Will it be for entertaining friends and family while they visit your home or just for relaxing outside after dinner? A

re there better places in your house where guests can sit while staying over — if so, then why bother building one outside?
It's important to make sure that your patio is the right size too. If there isn't enough space then it won't be used. Before you start planning things like stairs, patios, and fencing, it is also a good idea to do a little research on what plants will grow well in your area. This will help ensure your planters get plenty of light for their flowers and vegetables and that they have everything they need for growth.
Fencing & Walls
Perhaps the most important thing about your backyard is that it feels safe and secure. This means implementing things like fences, walls, and gates to keep intruders (both human and animals) out of your home. When it comes to unwanted animals, even small ones are capable of getting through without much effort if they want to.
If you have kids or any vulnerable individuals who live with you then making sure they're protected should be high on your list of priorities. You'll need to research a bit before choosing which fence material will be best for you because not all of them are equally durable.
What materials to go for depends largely on where you live and how much time it takes for them to decay when exposed to harsh weather conditions. Some examples include cedar or redwood which are great for letting air flow through without blocking out light.
Of course, you can also choose to have a fence custom built from scratch — just make sure that whoever helps you has the experience and credentials necessary to do it right. Whether or not your house is brick-faced will also determine what kind of walls will look best between them.
Should I have a hot tub and is it difficult to wire?
Wiring a hot tub is usually a little more difficult task than wiring electrical outlets, but it often doesn't require hiring an electrician to complete. A hot tub usually sits in the ground which must then be dug out to accommodate pipes.
If you want your hot tub to look good and not have plumbing that is exposed, make sure the hole is big enough – usually 4 feet wide by 4 feet deep. You will also need a pump of some sort which can be purchased at most hardware stores for about $200-$300.
In deciding whether or not to install a hot tub, consider how you'll use it and who will use it with you. If everyone who uses the tub wants privacy, then separate tubs may be better than one shared between children. Some spas will allow multiple users during a single session, but others may require an attendant to monitor the pumps and make sure that everyone is safe.
Should I have a pool?
Installing a pool in your backyard is something not everyone would do even though it adds significant value to your home. There are plenty of things that need to be considered before doing so including – including whether or not you can fit one which will meet local codes and how much money it is going to cost on average per year for maintenance.
Research local laws from both state and county levels as well different property covenants. You can also read up by Googling swimming pools rules and regulations plus any special requirements based on where you live, such as if there is a building permit needed for example.
Another important thing you'll need to consider before installing a pool is how much money it will take to maintain. If you live in an urban area with lots of trees, that can be problematic for pools because the leaves and other debris that falls from them can collect on the surface very easily, so you may need to spend a lot of time clearing out your pool just so people want to get into it.
While some property covenants allow above-ground pools, it's better if whatever is installed in the backyard is at least partially covered – whether it's with built-ins or screened-in structures. Research what kind of animals are common in your area as well as any problems they could present when trying to enjoy your outdoor space.
How do I choose the right plants for my backyard?
There are many different ways of ensuring that your plants will grow well in the long run. One of them is by installing drainage tiles which everyone knows to do a great job at directing and draining water to a certain area. Another thing you can do is lower the soil pH so acidic chemicals can be used without damaging other components such as your patio or pool.
Proper planning and installation are essential for making sure everything goes smoothly without any problems arising from either underground pipes, electrical wiring, or plants growing inside walls.
While some landscaping consultants work independently, others are part of larger companies that offer these types of services as part of their packages. Many houses have been built with improper drainage systems and poor planting choices which means there has already been plenty of experience in dealing with such homes. Homeowners can consult a landscaping consultant for more information on things like the plants used in their region as well as which can and cannot grow together without causing issues like topiary shrubs.
Another thing to consider is purchasing from a local nursery perusing all of their products so you know what exactly you'll be getting. While some nurseries stock everything, others only provide certain types of products, so make sure you are aware before choosing one over another.
You should also shop around – prices differ greatly between different stores, especially when it comes to watering systems or drip system fittings. Make sure your calculations include special features that will increase the value of the home and not simply look good.
What other ways can I add aesthetics and value to my yard?
There are plenty of things that can be done to ensure a pleasant outdoor space, such as installing lighting fixtures that provide warmth in colder months and lots of light when the season is right.
Proper planning is essential for making sure everything goes smoothly without any problems arising from either underground pipes, electrical wiring, or plants growing inside walls. That's why most people choose to hire professionals, especially if they live near busy streets.
If you want to know a detailed comparison between cactus vs succulent, read the article on our site.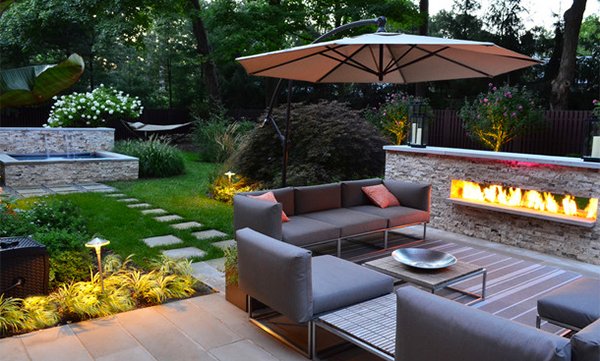 Final thoughts on how to design a backyard
In conclusion, there are different ways to design a backyard. A well-designed backyard will attract your guests and create an enjoyable environment that encourages family activity. This will ultimately result in a backyard design that everyone enjoys.
If you like this article, make sure you read about Cup and Saucer Plant, False Indigo problems, Heather Shrub, Peruvian Lilies care, Silverdust plant, Becky Daisy, Black Lace Elderberry pollinators, How to grow Chia seeds, Marvel of Peru care, How fast do Colorado Blue Spruce grow, Godetia flowers, What does a Lychee tree look like, Morning Glory ideas, Information about Is Ninebark evergreen, growing Oriental Poppy, Persian Shield light requirements, Pipe Vine flower, How to grow Red Salvias, planting Strawberry seeds in pots, Strawberry Begonia care, growing Sweet Potatoes in containers, When to harvest Zucchini and Pink Dogwood tree care on our site.