Designing and decorating a room is an exciting task for anyone, whether your home or a business. When designing and decorating a room, there are many things that you need to consider.
You should decide the room's function before you start thinking about how you will decorate it. You want to orient everything in the space to fulfill its primary function. If it's the seating area, you need to ensure comfortable enough for your guests. For the bedroom, you must ensure it's extremely comfortable and inviting. Make sure the dining room design is also accommodative enough.
Read this article to understand some important tips on decorating and designing your space the right way. Let's get started!
1. Define Your Space
The first thing you need to do to decorate your room is know how much space you have at your disposal. Start by measuring your space and getting the right measurements. It's important to know how much space you're working with and the dimensions before creating a layout for your room. Know the space in your living room, dining room, bedroom, kitchen, and all the rooms in your house.
After this, you need to understand the purpose of that room and who will be using it. Based on these factors, you need to decide what needs to go where and how much space that activity or thing requires.
2. Choose a Style
Once you have an idea about how much space you have at your disposal and the purpose of each room, it's time to choose a style for each space. This is where you decide the kind of look that your rooms will have.
You need to make sure that all of your rooms match each other in terms of their style. If you want them to look bright and fresh, choose an elegant look for one room and a warm, tropical vibe for another one. Make sure that your rooms all come together to create a unified feel appropriate for the home you are designing.
3. Divide Your Spaces
You can simply allocate different layouts or floor plans to each room, but it might be more fun if you divide them up using fabric partitions. This way, they'll look unique and interesting while still being functional.
4. Go Shopping for the House
At this point, you need to understand the things to buy for your new house that will go well with your room design. Once you've defined your space and know how much each room can accommodate, it's time to furnish it up. Be sure to add in some extra stuff on the floor and top of tables since you can never have too much "junk."
When buying every piece of furniture such as a sofa or a coffee table, make sure you invest in the best quality. Of course, you must be within your budget when buying furniture and other items for the house. Check ideas for floating sofa in small living room.
5. Bring Your Furnishings Together
This step helps to have a room that has already been completed so that you can use it as a point of reference when arranging the rest of the pieces.
You can also use scrap paper to brainstorm and draw your ideas before you begin buying and placing items in the room. Doing this makes it easier to visualize what each item will look like when placed together with other furniture pieces.
6. Decorate the Room
Your room won't be complete without some good decorations in place. If you don't know how to decorate your room, an interior designer or a decorator may come to your aid. Good decor and design should focus on the aesthetic appeal of the house. You don't have to go overboard with the decor, but you must not stick to one style at all. You can also go for wind chimes feng shui.
You need to choose a theme that will go well with your house and the entire neighborhood. In this way, it becomes easier for you to decorate the whole house together with your room. But of course, if ever you have a specific theme in mind, go ahead and stick to that one concept throughout the house instead of mixing things up.
7. Get a Head Start on Your Room's Color Palette
Remember that interior design is all about creating a perfect theme. The same logic goes when it comes to picking paint colors for your room's walls. You can rely on the advice of an interior designer or a decorator who may come to your aid when choosing the perfect paint color.
Good decor should focus on the aesthetic appeal of the house. You don't have to go overboard with the decor, but it should create a serene and relaxed atmosphere. You can ask your friends or family members about their favorite colors, especially those who are quite artistic.
8. Mix the Old with the New
A lot of people don't know this, but it's actually possible to mix old things with new ones for an amazing result that is also total eye candy. There are many options for this approach, from antique lamps to classic furniture and even vintage bookshelves. Have you ever heard the saying, "a little bit of old will always help shake things up"? It works as long as you don't overdo it with the whole decor and design thing.
9 Don't Forget to Light It Up
Keep in mind that your room decor and design are not complete without some light fixtures and this is no doubt the fun part of it all. You can install several light sources on the ceiling if you have plenty of space. However, if your room is quite tiny, find a more practical solution that will also look great. Wall sconces are functional and normally designed to complement any kind of decor or style out there. You can also use table lamps to light up your nightstands.
Also, ensure you get natural light from outside through the windows and curtains that can be closed – otherwise, the beauty of your entire room might get lost. Mirrors will also work well to add some softness and style to your boudoir. You can check mirror frame ideas here. Choose light wallpapered walls and brighten up the place with bold colored bed linens if you want some color. Try red or pink – you'll love it!
10. Don't Forget About Greenery
Adding some plants to your living space gives it a natural feel and adds some freshness and serenity to the place. Also, they'll give your boudoir a nice scent – much better than any artificial air freshener. Plants always work together with the entire decor to create great harmony. Plants also work well for people on a budget and who can't afford pricey decorations.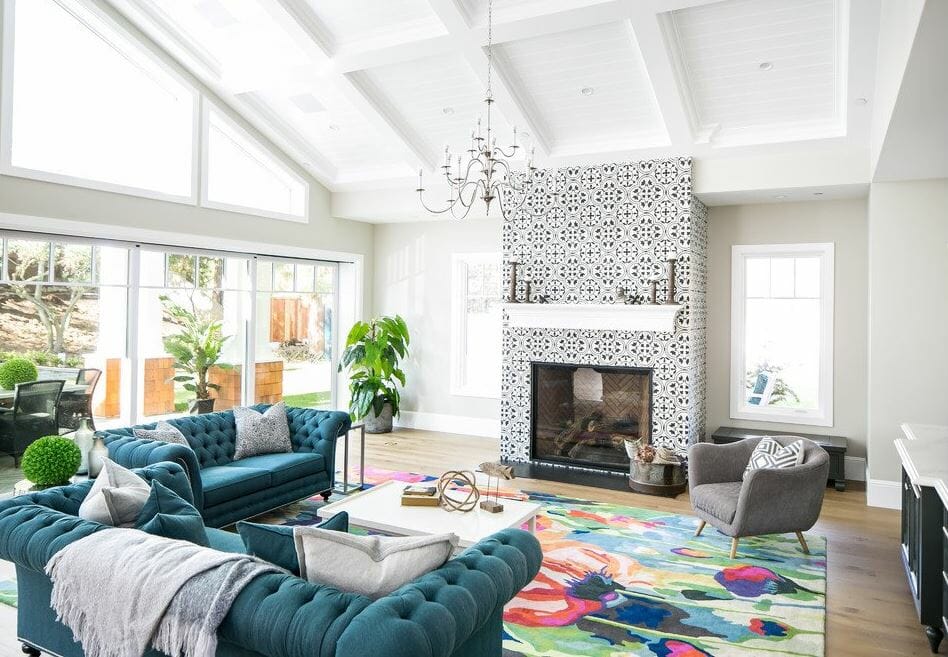 11. Flooring is Important, Too!
It's not like you'd spend hours walking on that floor, but it's still an important part of your room's appearance (especially if you've got a nice rug). And since this isn't the place where people come to do their chores, don't be afraid to go for something soft and comfy, like shaggy carpets. Also, ensure you come up with a good floor plan so everything gets into place.
FAQs About Designing and Decorating Your Room
Does an interior decorator and designer do the same thing?
Not necessarily. While both have an influence on how a room's going to look at the end, interior decorators work more as educators, helping you select your furniture and colors, as well as finding ways to arrange your stuff so that everything fits in.
Designers tend to be more artistic – they will actually design everything from start to finish – the look of the room, how it will be decorated, and what furniture will fit in. So, choosing an interior designer vs. decorator depends on what you need.
If I'm decorating my home, do I have to hire both?
It's up to you to decide which one you need, but if your budget isn't too limited, there's no harm in hiring an interior designer and a decorator. The only downside is that the process will take longer if they all need to work in harmony.
Does interior design cost a lot?
Anything that is professionally done costs money. If you're hiring an interior decorator, you have to expect some cash coming out of your pocket. But on the other hand, having someone with experience working on your home is definitely worth the investment.
Final Verdict on How to Design and Decorate a Room
There's no specific formula for decorating or designing your room. You just need to understand what you want, your room size and shape, as well as your limitations. Then go from there!