Refrigerators play an integral part in any kitchen, and with so many different brands on the market, it can be difficult to determine which one is the best for your needs. However, by taking a few key factors into consideration, you can narrow down your options to enable you to find the top appliance brands that perfectly suit your home.
Buying a new fridge is a big decision. You want something that's going to last is energy efficient and fits both your needs and your budget. But with so many brands on the market, it can be tough to decide which one is right for you.
Here are a few things to keep in mind when you're shopping for a new refrigerator:
Consider Your Kitchen Space and Layout
The size and layout of your kitchen will play a big role in determining which model you'll choose in the long list of best refrigerator brands. If you have a small kitchen, you'll want to make sure you choose a compact model that won't take up too much space.
On the other hand, if you have a large kitchen, you'll have more room to work with, and you may want to consider a larger model or one with extra features like a built-in water dispenser. Make sure you have ample space for the fridge door to swing open, and also factor in any other appliances or cabinets that might be in the way.
Choose Refrigerator Types
There's no type fits all when it comes to refrigerators. Every household has its needs hence different types suit different needs. Here are the different refrigerator types to consider.
Standard Depth Refrigerators
These are the most common type of fridges. They range in size from about 18 to 30 inches deep. Standard depth refrigerators are bulkier and deeper than counter depth refrigerators, equating to more storage space.
Counter Depth Refrigerators
These are shallower than standard depth models, so they take up less space. They're typically about 24 inches deep. They give a more aesthetically pleasing and finished look to your kitchen because it blends into the counter space.
Built-in Refrigerators
Built-in refrigerators are fully integrated into the cabinetry. They're usually 48 inches wide and can be customized with panels to match your kitchen's décor. They don't offer the depth of freestanding units, but they're much more aesthetically pleasing.
Mini Fridges
These are the smallest refrigerators on the market. They have a limited amount of space, but they're perfect for college dorms or small apartments. They typically range from 1.7 to 4 cubic feet. Mini fridges can be freestanding or installed as built-in units under the kitchen counter.
Consider Your Refrigerator Styles
Organize and store your fresh and frozen foods with the right refrigerator style and configuration for your family. These configurations include;
French Door Refrigerators
French door models keep fresh food in easy reach and are perfect for families who entertain often or have larger items to store. These refrigerators typically offer more capacity than a side-by-side fridge. The standard French door design features two doors that open to a single refrigerator compartment on the top, plus a deeper freezer drawer on the bottom.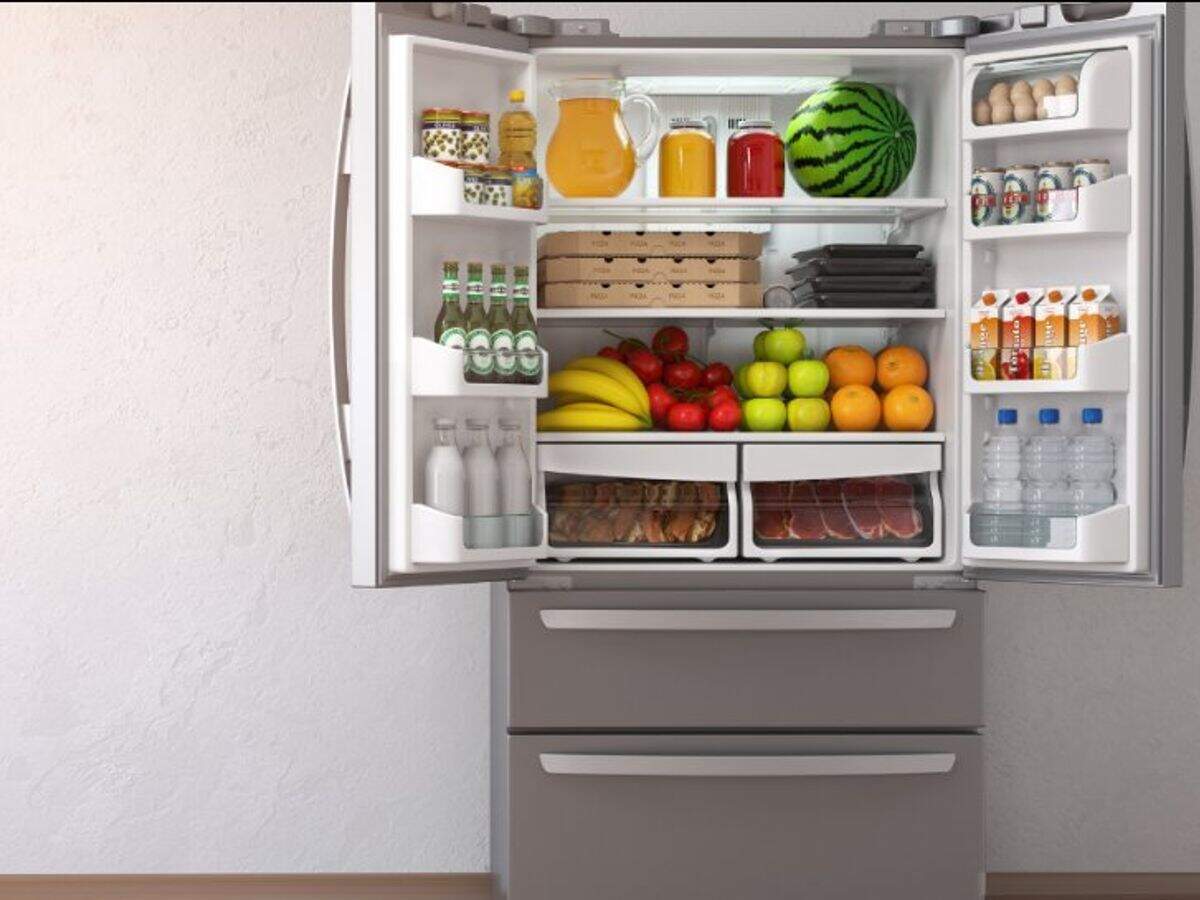 French door fridges are a higher-end choice because they have the most features, including ample space for wider items like platters and pizza boxes, customizable drawers, water dispensers, single and double ice makers, and dual cooling.
Side by Side Refrigerators
Side-by-side refrigerators have two equal compartments that open side-by-side. They're a great choice if you want easy access to both the fridge and freezer, and they're perfect for families with small children since everything is within reach.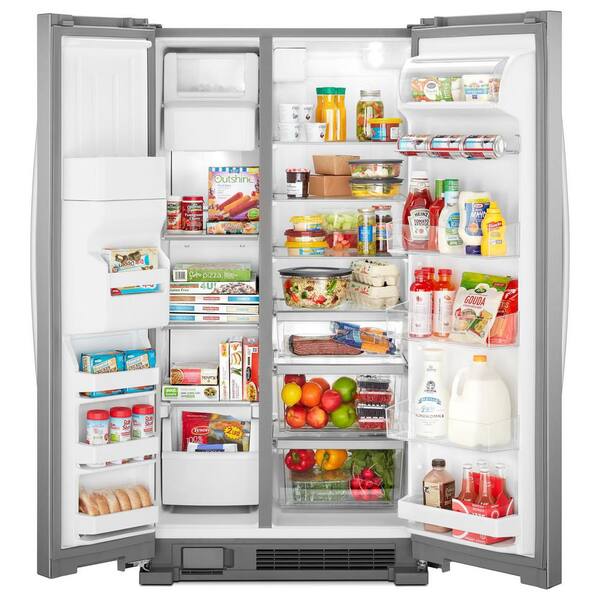 Side-by-side fridges are available in standard and counter depth options. The best side-by-side refrigerators offer features like humidity-controlled crispers, space-saving ice maker and dispenser, flexible shelving, spacious interiors, and quiet operation.
One downside of side-by-side refrigerators is that the freezer compartment is often smaller than the fridge compartment. If you have a large family or do a lot of cooking, you might want to consider a different type of fridge.
Top Freezer Refrigerators
Top freezer models are the most common type of fridge. They typically cost less than other types of refrigerators and offer a good amount of storage space. Many top freezer models come with features like adjustable shelves, door bins, and automatic defrost. Wide shelves are also available in both the fresh food and freezer compartments.
Bottom Freezer Refrigerators
Bottom freezer refrigerators have the freezer compartment located below the fresh food compartment. This can make accessing frozen items easier, especially if you have a bad back. Bottom freezer models often cost more than top freezer models, but they typically offer more storage space.
Undercounter Refrigerators
Undercounter refrigerators are designed to fit underneath a countertop. They are perfect for small kitchens or areas where space is limited. Undercounter models typically have less storage space than other types of refrigerators, but they can be a good option if you don't need a lot of room. They're often available with reversible doors, temperature-controlled zones, and spill-proof shelves.
Look for the Organization Features that You'll Use
Before buying a new refrigerator, think about which organizational features you'll actually use. This will make it easy to keep food fresh and neatly organized. These features include
Adjustable Glass Shelves
Most refrigerators come with at least one or two shelves that are adjustable. This means that you can move the shelves up or down to accommodate taller items.
Adjustable Gallon Door Bins
Many refrigerators have bins on the door that are adjustable. This means that you can store taller items, like gallon jugs of milk, without having to worry about them taking up too much space.
Spill-Proof Shelves
Some refrigerators come with spill-proof shelves, which have a lip around the edge to prevent spills from spreading. This is a great feature if you have kids in the house.
Humidity-Controlled Drawers
Many refrigerators come with drawers that can be set to a specific humidity level. This is perfect for storing items like fruits and vegetables, which need to be kept at a certain humidity level to stay fresh.
Dual Cooling System
A dedicated cooling system ensures fresh and frozen food is stored in the right environment.
Pantry Drawers
Refrigerators with pantry drawers create a separate temperature zone for storing items like snacks, drinks, and ingredients.
ENERGY STAR Certification
ENERGY STAR-certified refrigerators use less energy than standard models, saving you money on your energy bill.
Consider Energy Efficiency of the Refrigerator
Energy efficiency is closely related to the performance of the refrigerator. So, it is important to check the energy efficiency of the refrigerator before making a purchase. The refrigerators with high energy efficiency use less power and save more on your electricity bills in the long run.
For example, Frech door refrigerators use more energy than other types since they also tend to be larger. Efficiency is more than just operating costs. Consider the long-fuel fossil burning that is required to make the Freon that is used in most refrigerators. This means that you should also think about how much carbon dioxide is emitted during the production process.
When looking at energy efficiency, always consider the bigger picture and not just operating costs. French door refrigerators may cost more to operate, but they have a smaller carbon footprint overall.
Choose Your Desired Fridge Color and Finish
While most of us think about big appliances in terms of their function, we also want them to look good. The refrigerator is no exception. These days, you can find fridges in just about any color and finish that you can imagine. Whether you want a sleek stainless steel model or a colorful retro fridge, there are plenty of options to choose from.
Another thing to keep in mind is that the color and finish of your fridge can have a big impact on your kitchen's overall design. If you're going for a certain look, make sure that your refrigerator fits in with the rest of your decor.
Consider Refrigerator Size and Capacity
When it comes to choosing a refrigerator, size and capacity are two of the most important factors to consider. After all, you need to make sure that your fridge can actually hold all of the food and beverages that you want to keep in it.
Before you start shopping for a new fridge, take some time to measure the space in your kitchen where it will go. This will help you narrow down your search to models that will actually fit in your kitchen.
In terms of capacity, it's important to think about how much food and drink you typically keep in your fridge. If you entertain often or have a large family, you'll need a fridge with a lot of space. On the other hand, if you live alone or have a small family, you can get away with a smaller model.
Consider the Price
Of course, you'll also need to think about your budget when choosing a new fridge. Refrigerators can range in price from a few hundred dollars to several thousand dollars.
If you have a limited budget, you may want to consider a smaller model or one from a less well-known brand. On the other hand, if you're willing to spend more, you can get a larger fridge with more features.
Frequently Asked Questions
What features should you look for in a refrigerator?
Refrigerators come with a variety of features that can make your life easier. Some common features to look for include:
Built-in ice and water dispensers:

These can be a great convenience, especially if you entertain often.

Adjustable shelves:

Shelves that can be moved to different positions can be very helpful in maximizing space.

Spill-proof shelves:

These are especially helpful if you have young children.

Door bins:

Door bins can be very helpful in storing items you use frequently.
What size refrigerator do you need?
The size of the fridge is going to depend on the size of your family and how much space you have in your kitchen. If you have a large family or entertain often, you'll need a larger fridge. If you have a smaller family or limited space, you can opt for a smaller fridge.
Final Thought on How to Determine a Good Refrigerator Brand
Choosing the best refrigerator brand for your home can be a tough decision. There are different refrigerator brands and styles to choose from. But, with a good budget and some research, you can find the perfect fridge for your home. There is a long list of refrigerator brands available in the market, including Whirlpool, LG, Bosch, Frigidaire, and GE refrigerators.