Fixing a squeaky floor can be annoying and difficult to do on your own. The good news is that no matter what flooring in your home you have, there are a few ways to fix squeaky floors to consider. Before that, we have talked about how to apply polyurethane to wood floors?
In this article, we'll go over the main steps you can take to ensure your flooring is silent once again.
Keep reading to find out more.
Clean and vacuum the floor thoroughly.
You need to start by thoroughly cleaning the floor, including the subflooring. Vacuum rugs and carpets, as well as baseboards and crevices. If you have hardwood floors, use a damp mop to clean them; if they're covered in carpet, you'll want to steam-clean them with an upright or a carpet cleaning machine
If you have a home full of tile, make sure to thoroughly clean all grout. Otherwise, the grout will get dried out and crack over time, which can lead to more squeaking in your flooring. Using a multi-purpose cleaner or an enzyme detergent is best for getting rid of heavy dirt and grime.
Repair any loose subflooring.
After you've vacuumed the floor, inspect it carefully to see if there's any subflooring that needs to be repaired or replaced. Squeaky floors can often be caused by a piece of wood that has become loose under the flooring material.
Most homeowners attempt to fix squeaky floors by just putting some additional nails or wood putty into the crack, but this method is very ineffective and damages can come back time and again.
Not sure if you have a loose board? The best way to tell is to press firmly with your foot in several places around the flooring. If there's a loose piece of flooring, you'll be able to hear it easily.
Replace the subfloor if necessary.
If a piece of wood underneath the flooring is separating from the rest of the subflooring, then you'll need to replace it completely. You can use either plywood or OSB (oriented strand board), which are both inexpensive and very easy to find.
Once you've removed the loose board or sections of flooring, measure the length and width of the area that needs to be replaced. Then cut a piece of subflooring to fit using your handsaw (if it's plywood) or a table saw (with OSB).
Remove any protruding nails from the underside – they'll prevent your new piece from fitting correctly – and then nail it down in place using a hammer with galvanized nails. Once this is done, add some glue as well for extra protection; make sure you don't get any on yourself or anything else.
Seal around windows, doors, and baseboards.
You may have found that adding additional wood putty was enough to get rid of that annoying squeak, but this is not the case for everyone. Even if your flooring seems like it's been fixed, there may still be further problems with baseboards, window and door trim, or moldings around the perimeter of your home.
Squeaky floors are often caused by these problems because they can create gaps between pieces of wood and even bend nails slightly. To fix this problem, you'll need to seal any additional cracks that may have formed as a result of normal expansion and contraction during extreme weather changes throughout the year.
You can use caulking for this purpose – its consistency will fill in gaps from top to bottom without being too difficult to spread. Don't forget to caulk large gaps underneath doors as well.
Sand the floor in spots where you can hear squeaks.
If your flooring has been completely sealed, there may still be a few spots that are causing squeaking. There's one surefire way to tell: with all of the lights off in your house and the TV turned up loud, walk around on the flooring that is giving you problems. If it starts making noises under your feet, then it needs to be sanded down to eliminate those squeaky sounds.
For this step, use an orbital sander or belt sander if possible; otherwise, just use whatever tool you have available. Even if some sections are especially squeaky than others, don't touch them manually – this could lead to scratches and other damages which will make the flooring even worse in time.
Instead, use a simple piece of sandpaper and rub it up and down repeatedly to smooth out these problem areas. After you've done this, give the entire floor another coat of polyurethane or some other protective finish to keep it from getting too dirty over time.
Replace your door stops with non-squeaky ones.
If there are squeaks in your floors while walking on tile/wood laminate/hardwood, noise may be coming from your doorstops. There are many different doorstop options out there – just look at those offered by 3M Command Products if you want something sturdy enough for regular use but still affordable.
Buy flooring that doesn't squeak.
Don't want to worry about fixing squeaky floors anymore? Then just buy new flooring altogether. Compare hardwood vs laminate flooring and then make a decision based on which one will last longer and which one you like more.
You might also want to consider other types of flooring if this is your first time buying new flooring, such as tile (which is much easier to clean than wood floors) or vinyl (which can be easily replaced whenever it becomes damaged).
Use a buffer to remove scratches.
If you have hardwood floors that are scratched up pretty badly – either from regular use over the years or from people moving in and out of your home – then there's still hope for you yet.
You'll need something like a buffer that spins quickly so that it can smooth down these rough spots on your hardwood without doing any damage. Then just use some fine-grit sandpaper after the buffer to make the flooring feel smooth again.
Use a buffer on your tile floors too.
Tile is one of those materials that just seems to get more scratched up over time, but it doesn't have to be this way. By using a bit of elbow grease and one of those rotating buffers, you can buff out any scratches in your tile so that they disappear completely. This trick works best with light-colored tiles as opposed to colored/mosaic ones.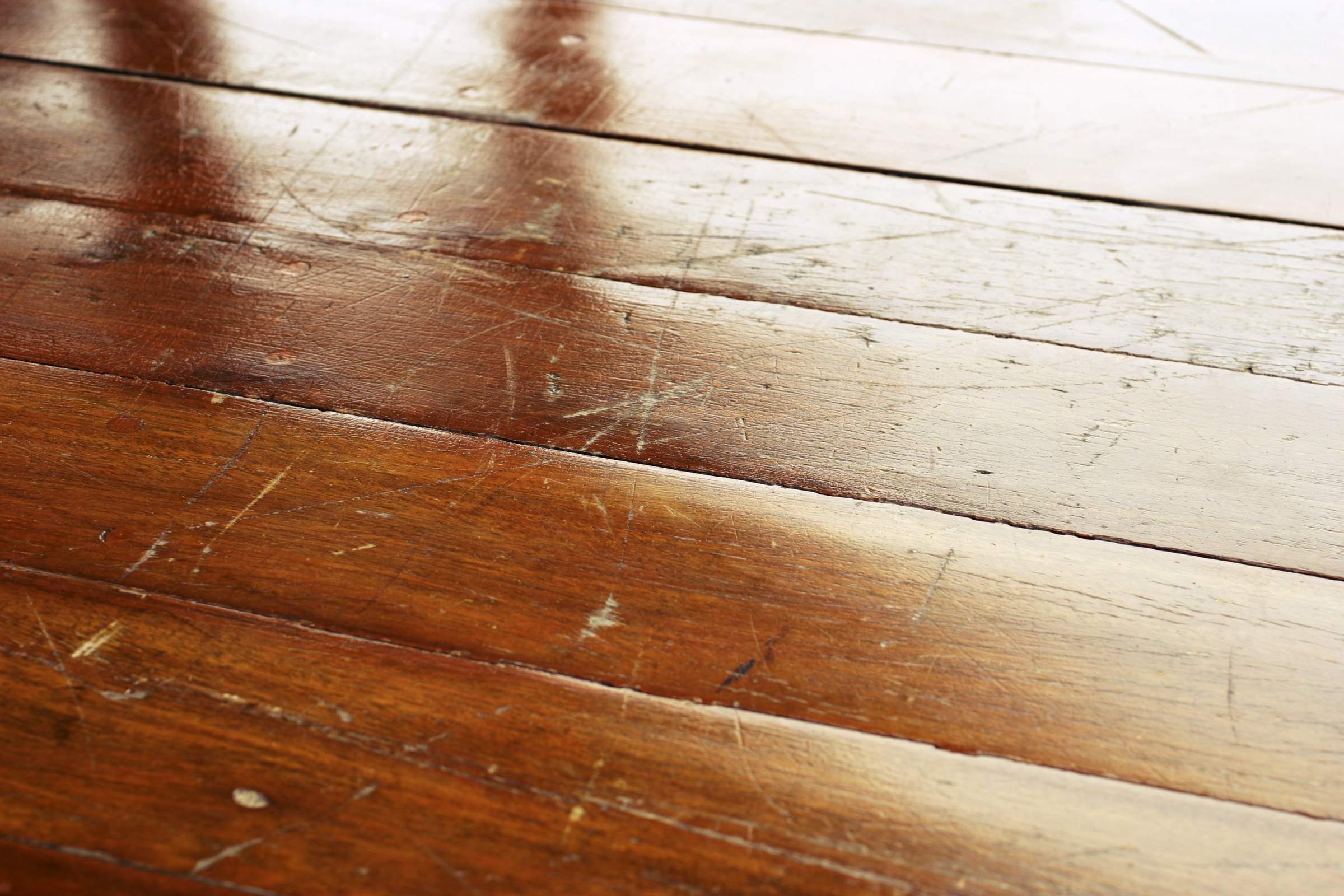 How much does it cost to fix squeaky floors?
Just like every other aspect of home improvement, the answer depends on what exactly needs to be fixed. However, most people find that they can get their floors fixed for about $50 or less, depending on how big their house is. If you're doing this kind of work all by yourself, then this isn't too high at all considering that soundproofing can easily run into thousands of dollars.
How to fix squeaky floors on stairs
If your stairs are also squeaking, then this problem is usually caused by loose or worn-down carpeting. Just replace the carpeting with something new and it should go away right away. This may be a good idea for all of your carpets throughout the house just so that you can get rid of any noise as quickly as possible whenever you want.
Should kitchen countertops match flooring?
Since we're speaking about flooring, the question of matching countertops to flooring is a common question that we get asked. When it comes to matching kitchen countertops with the floor, it doesn't matter which way you go. You can have your countertops match your floors, or have them not match at all – it's all up to you and what kind of look you want in the end.
Older homes: Squeaky Floors? Soundproofing might be the answer.
For older homes that are squeaking, there is another trick to get rid of those nasty sounds without spending much money at all. All you need to do is add some sound-proofing spray or tiles underneath the floorboards – this will provide another layer between the floorboards and people walking around above them so that they won't make as much noise as before. This method is only temporary but does fix squeaks well enough for a few months.
How to fix creaking hardwood floors
If you have creaking hardwood floors that keep waking up your family in the middle of the night, then there are a few things that you can do. First, make sure to give them plenty of time to dry after they've been sealed or cleaned. Also, place floor mats by all entrances and exits so that people will be less likely to walk on noisy wood.
Final thoughts on how to fix squeaky floors
Squeaky floors are annoying – but they don't have to be. Most people find that their floors start making noises after many years of regular use, such as from stomping around on hardwood or walking across the tile. However, you can always fix these problems cheaply and easily if you're willing to roll up your sleeves and get to work.
In conclusion, the solutions for squeaky floors are generally pretty straightforward. The most common causes of a squeak in floors are old wood, loose subfloors, and furniture moving around. You can fix all these problems with some pretty basic flooring maintenance as we've seen in this article. Give it a shot and hopefully this will fix all those annoying noises that you're hearing coming from your floor.