Closets are a nightmare. They can be so disorganized that you don't even know where to start. You want your closet to look nice and organized, but how do you stay on top of things? How do you fit everything in there? These questions need answers. And, hey! You don't need to spend a fortune on this built-in system.
Here is the ultimate guide for organizing your closet. The best thing about it is that it doesn't have any strict rules or guidelines. Use what works for you.
Start by Emptying and Cleaning Your Closet
The first thing you need to do is to empty your closet. This might seem highly unnecessary, but it's actually crucial for a few reasons. First and foremost, there won't be any clutter in there that will get in the way of organizing the rest of your stuff. Second, all clothes can be easily hung out and cleaned. It's always a good idea to clean your clothes every now and then. Besides, if you're learning how to decorate your bedroom, the bedroom will be a good place to start.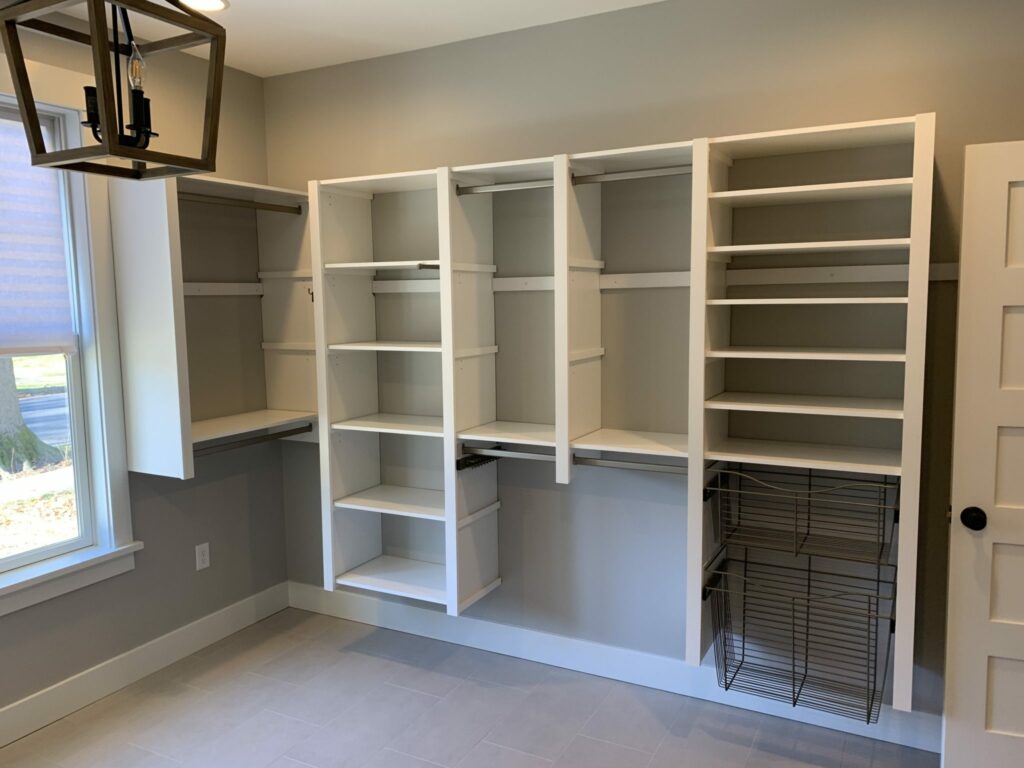 When emptying your closet system, remove everything starting from hangers, baskets, bins, and any other accessories that might be on the closet floor. You're going to need a clean and clear space to plan and visualize how you're going to re-organize your closet. So, don't assume this part.
Declutter Your Items
Now that you've removed everything from your closet, it's time to declutter your room and the closet. The best way to do this is to sort items into three bins: keep, donate and toss. If you have a hard time deciding whether or not the item can be kept, go with the first decision you made about an item when looking at it.
Focus on what you can keep and not what you're getting rid of. Separate your clothes into categories such as pants, dresses, tops, accessories, and undergarments. This method is important because it helps you get rid of things you don't need by giving them a designated place to go.
Donate the clothes you haven't worn in years. Sorting out your shoes and small items that are cluttering up your space is a wonderful way if you're learning how to organize your closet. When going through your stuff, commit yourself to keep items that you know you love and will use frequently.
Use Other Spaces in Your Home
Many people easily assume that the only place for storing clothes and shoes is in a bedroom closet. This makes them forget how convenient it can be to utilize a guest room as a walk-in closet, attic, basement, or spare room. Before you think of a bedroom as the only storage option you have, be open to other possibilities.
Think of how your bedroom would feel if you took out some of your dresser and cloth racks to make way for a few pieces of furniture that you can use as storage. If you have a spare room, then think of how much more space you could make by using it to store clothes and shoes instead of just being considered as an extra bedroom.
Hang Your Delicate Items
Hanging your delicate items is one of the easiest ways to make sure they last longer, stay clean, and smell good. While you can still decide to fold them occasionally, hanging them most of the time will automatically have a better effect on their aroma and longevity. A wardrobe with at least two hanging rods is always ideal for this purpose.
If you have enough space, then hang everything, including dresses, skirts, shirts, and those fancy items such as suits, coats, and blazers. Hang everything facing the same direction so that you can easily recognize the labels and not get confused when searching for a certain item. If you have clothes of different sizes, hang them accordingly so they are easier to identify.
Invest in Coordinating Hangers
Nothing makes a closet look chaotic like using different types of hangers. For example, a collection of wire and neon plastic hangers cannot coexist in a closet. Think of your closet as a wardrobe that is designed to highlight the items. To do this, make sure all the hangers are the same shape and size.
Limit visual clutter as you give your closet a sleek, streamlined look by using hangers that have thin bars and match your clothes. Make sure you use hangers that work with what you have. Consider using sturdy velvet hangers instead of thin plastic ones, especially if you have heavy suits to hang. For example, if you have lots of slippery silk dresses, then a steer clear of wooden hangers is the right option.
Place a Dresser Below Your Hanging Clothes and Accessories
This is indeed a simple and effective way to upgrade a small closet. Ensure you place a dresser below your hanging clothes. You can also remove the drawers of your dresser and pile all your accessories in that area. Use a decorative box to store your shoes on the top of the dresser.
This will free up space in your closet or room and gives the illusion of more space. It will also make a quick upgrade to your shelf dividers and closet drawer space. It's simple as it doesn't require installation like other closet systems. What you need is to place your dresser below your hanging clothes and place your items there.
Do Not Hang Thick Items, Instead, Stack Them?
You don't need to hang thick items such as denim and sweaters, instead, stack them. This will save your precious drawer and hanging space. These items also make perfect stacks for your shelf space above your hanging clothes. Not only will it free up space but also gives a better look to your closet and room decor.
They're sturdy and thick, making them not crinkle, slump or lose their shape. They also have been known to last for more than fifty years. Additionally, you will be able to see each item when it's stacked. This gives your closet a more organized look while saving you a lot of space in the process. It also saves you a lot of time when searching for items, because you don't need to dig your way through other clothes to find them.
Consider Using Drawer Dividers for Your Undergarments
Drawer dividers can be used to make your undergarments easier to look for. You don't need to dig through piles of clothes, making them easy to find and put away immediately after use. This gives you more time with your family or doing other productive activities than looking for an item that may not even exist in your laundry pile.
If you want to maximize the drawer spaces and make everything visible, try to roll your socks, underwear, tights, and belts; this makes it easier to see what you're looking for. Add an extra liner inside the drawer, one part for shorts, and one part for pants, and so on. This will help you divide your clothes into two different categories that make things much more organized while storing them in drawers or laundry bags.
Make Use of Your Vertical Storage Space
Every closet has a secret storage solution in the form of wardrobes. If you have enough space, store your out-of-season clothes at the bottom and the current season clothes on top. This will make it easy to grab what you need when the season changes without messing things up or ruining other clothing items.
Every closet has a vertical space that if used properly, can store a lot of clothes. Since they are stored on top of the wardrobe, you don't have to worry about them taking up space and it allows you to get more clothes without worrying about storing them.
Allocate Space for Hanging Long and Short Items
Instead of folding your dresses and shirts, use different-sized hangers to keep your closet organized. This will allow you to store more items without having to use a lot of room in your closet. Just create a corner with different sized hangers and it will be easy for you to find what you need whenever the season changes.
Have separate hangers for long dresses, long and short-sleeved shirts. This will enable everything to stay neat and organized. You will not have to worry about losing your shirts inside the dresses or having the dress getting wrinkled because the shirts are still on them.
Utilize Empty Wall Space for Hanging Jewelry and Accessories
Keep your jewelry and accessories organized by hanging them on a wall. Use hooks to hang necklaces, bracelets, rings, belts, and other similar items. This will save space in your drawers while keeping everything at one location. You can add some closet lights and a small retractable mirror so you can try on your jewelry right there without making a mess around your room.
But how do you hang your items in that empty wall space? Well, you can use jewelry organizers or towel hooks to hang your accessories. Instead of using hangers and boxes to store your scarves, belts, and other accessories, utilize unused wall space and install a towel bar to display your collections. This will make it easy for you to locate the item you are looking for without having to look through all of your drawers.
Consider Better Folding and Hanging Methods
There are several ways to fold and hang clothing. Once you have valuable space in your drawers, shelves, and boxes, you can experiment with new folding and hanging methods. There are easy-to-follow folding tutorials online that will help you create expandable space in your drawers. If you don't have foldable hangers, then use baby ones to make more room for clothing.
Hang pants on a hook organizer to keep them from getting wrinkled and out of your rack and prime real estate. Keep nest bras inside each other to save your drawer space. Even better, get rid of that bulky plastic hanger and invest in a few good low-profile ones.
There's no rule about how you must fold your clothing or what type of hangers you can use. The best way to get organized is to try things out until you figure out the closet organization process that works for you and your items.
Get an Additional Cloth Rack
When it comes to closet organization ideas, you cannot run out of options. One of the most popular and widely used amongst these is to get an additional cloth rack which should be placed next to your existing one. This would help you in keeping your clothes organized not just according to their types but their colors as well.
If you're working with tiny closet space, consider adding a shelf to store items on. They're pretty inexpensive and can be installed easily. You may also consider installing hooks for your coats or jackets. This way, you will have all of your clothes organized according to the season in which they should be worn.
You can also consider placing a tall closet system at the corner of your room. This would help you in placing your clothes according to their color and type of fabric. A shorter design can also double up your existing closet space. In order to keep all of your clothes organized, make sure that you don't leave empty spaces on the shelf or rack where dirt or dust can accumulate.
FAQs on how to organize a closet
What is the best way of organizing a closet?
Check if you have enough storage space in your closet before making any changes to it. To organize a closet, make use of every inch available by partitioning the space with rods and shelves. Do not leave gaps between them as they provide an ideal breeding ground for dirt and dust particles.
In which order do you hang clothes in a closet?
If you have space to keep only a few hangers in your closet, hang the clothes in an orderly sequence by type and color. In case you can accommodate more, organize them by week.
How can you organize a small closet?
You can make the most of your small closet by storing clothes in drawers. Invest in a set of drawers that are deep as you can afford to keep them filled with clothes. If this is not possible, think about replacing those shallow drawers with deeper ones and place them one above the other to save on space.
Final Thoughts on Closet Organization
A closet need not be a horrible place to look at. In fact, you can make it into a wonderful haven for your clothes by ensuring that everything has its own space in there. Also, do remember that the same rules cannot apply to every household. You may have to tweak things to suit your needs and storage capacity.