Most people are afraid of repainting their old dresser because they think it will be a hassle. While not all dressers are good for painting, those that need painting don't require too much effort.
If you have a dresser that needs a new look, then you can easily paint it using this guide. You will learn how to prep your furniture and what type of paint would work best for your project. Once done painting, you will also learn how to add some finishing touches such as hardware and accessories and get some perfect home decor. Let's get started!
What You'll Need for Painting Your dresser
Old dresser

Paint remover or latex gloves

Update furniture paint

Screwdriver

Synthetic brushes or natural bristles

Clean lint-free rags

Vinegar

Clear wax finishes or dark

Small paint roller

Paint can opener

Clean rag or paper opener

Painter's tape

Floor covering to protect your surface

Use oil-based primer only if your dresser is bleeding through
Prepare the Dresser
When it comes to painting a dresser or any piece of furniture, always start with prep work. First, remove the hardware and set it aside. If your hardware isn't removable or they have stubborn drawer pulls, don't worry. You can use painter's tape to cover any hardware that can't be removed carefully.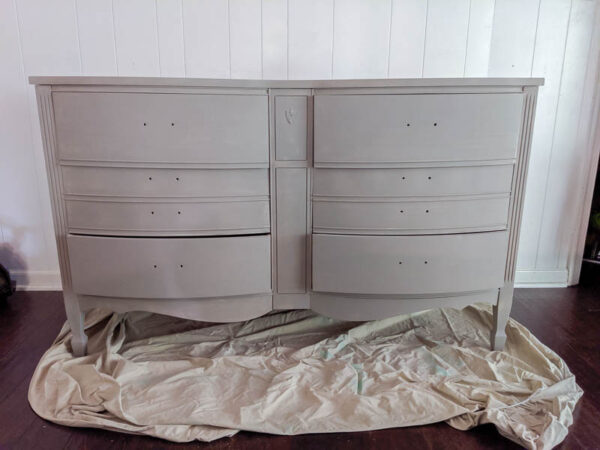 Secondly, ensure it's completely clean. You can start by taking off the drawers and give it a general wipe-down with a damp towel. If your dresser has oil stains from human contact or any other oily substance, you might need to apply some mineral spirit until those spots are gone. After cleaning, assess your dresser and make sure it's completely dry.
If there're any broken parts, repair them before you paint. This is also a good time to decide on your new hardware. Even if you don't choose the previous hardware, you need to know if you'll reuse the holes from the original hardware. If you aren't reusing the previous holes, then use wood filler to fill them. You can also use wood filler to repair any other damages. Do not sand the wood filler before painting, but rather let it dry and sand only after applying paint.
Once you've repaired everything, wipe down your dresser with a damp towel. You can also use this opportunity to apply painter's tape around the edges of your dresser where you want spray paint to remain. After sanding those rough spots, do a second round of wood filler to achieve a completely smooth surface.
After that, use a clean rag to wipe down any dust from sanding. You can also skid sanding if your dresser has a smooth finish and is in good shape. You can also opt to work with chalk paint if you're painting smooth surfaces. Remember that if everything is in perfect shape, you can paint cabinets without sanding.
Look for a Place to Paint Your Dresser Indoors or Outdoors
Not many people have a place like a garage, basement, and studio where you can carry on with your project. So you can opt to paint inside your home. Make sure windows and doors are closed to block the paint out. Also, cover any objects in your room that you don't want to be painted, such as shelves, chairs, or tables. You can also paint it outdoors if you have a covered area outside your home. It's important to find a place where there is good ventilation because spray painting produces fumes.
But the good thing is that nowadays, many paint brands have no volatile compounds, or the VOC is very low, making them friendly to the environment. But still, make sure you check the instructions on the label before using the paint color. Also, wear the appropriate attire for spraying. Don't use only old clothes, wear even a mask or some wide nose glasses to protect your eyes from paint sprayer.
When preparing the paint, shake it up well before using it. This ensures that the mix of paint color stays uniform throughout the can. If you're going to paint outside, ensure there are no kids nearby. When it comes to choosing the paints, there're tons of paints in the market. All you have to do is to be creative because selecting the best ones can be confusing.
Don't be too bold on the first coat. Instead, you should consider using a light coat of paint and build it up gradually from there. This will ensure that enough paint has been applied while preventing paint drips and runs. You can also use an old toothbrush to apply the paint.
Primer Your Dresser
After prepping your dresser for paint, think of what a primer can do to your furniture. Primer is necessary for furniture painting. Even if you're using paint that contains a primer, it's always better to apply two coats of primer before applying the finish coat of paint.
When priming your dresser, ensure there are no drawers or other compartments sticking out too much because this will make it difficult for them to eventually close properly. Primer helps in sealing the wood tannins that can damage your wood paint. After you have applied the primer, let it dry under light and well-ventilated areas.
There are two kinds of paint in furniture painting that you can choose from – oil-based or water-based. Both have their advantages and disadvantages, but generally, water based paints don't have a fast drying time. So when priming, don't use a water-based primer; instead, use oil-based primer to prevent your painted surface from yellowing.
Use a paintbrush to apply the primer in those hard-to-reach areas. But if you want to save time and get that smoother finish, then use a small foam roller. Don't raise the alarm if your primer coat looks splotchy and bad. It's a normal thing as it will look better once you apply paint.
Paint the Dresser
After finding an indoor or outdoor space to paint your dresser, it's now time to paint. Furthermore, you can use any paint. You can use paints that are specifically for painting furniture. The most crucial step is to prepare the paint surface. You can use sandpaper or medium smooth cloth for finishing, but make sure it's not too rough to prevent bubbles and brush marks in your finished dresser.
To create a vintage look, do some distressing on your dresser before painting. When painting edges and small details, use a paintbrush and a foam roller to paint when dealing with larger surfaces. Make sure you apply two coats of paint to get even coverage of the dresser. If you would like to paint the handles, cover them securely with tape first. The final step is to apply a few coats of varnish or wax over your painted dresser to protect it from dust and moisture.
If you're going to paint your furniture with a brush, choose the right brush for the job. If you're looking for a smooth-painted dresser, then go for synthetic brushes. You can also opt for natural bristle brushes if you want a textured finish. At this point, you should have a pretty good idea of the steps required to paint a dresser. However, if you're still in doubt about any aspect of the project, why not ask one of our friendly customer service teams for more information? Or watch our step-by-step video tutorial on how to paint a dresser.
Paint Your Dresser Drawer's Inside
There's no need to paint the exterior of your dresser if you can't paint it inside. Ultimately, it's up to you, but remember that if your dresser is made of solid wood or plywood and particleboard, then painting the interior shouldn't cause any problems. Paint both the inside and the sides of your drawers as well. Don't forget the back and make your piece feel more finished rather than giving it an ugly look when you open drawers. Paint the face of your dresser drawers with a sponge brush.
Give it time to dry, and let the drawer sit unattended before you leave your house, as you'll never know what might happen. To add more effect, spray painted or stenciled words like "Love" or "Peace." You can also apply decoupage paper to the drawers, which will make your dresser look more elegant.
Decide on whether you want to use a stencil or go free-handed with a pen. Next, outline the area you want to paint with your pen or stencils and wait for it to dry before filling in with color. It's best to use acrylic paint as they are easy to wipe off if anything goes wrong. Apply two coats of paint from start to end, including any crevices. Let it sit overnight.
Add Two Coats of Furniture Paint
Let your dresser sit for a day, and then apply two coats of paint using a sponge for the drawers. Even though your first furniture paint will look good, most of the paint brands available will require you to paint two coats. The zebra stripes take about two hours to dry.
Once your dresser is fully dried, draw your zebra lines with a ruler and pencil. If you're having trouble drawing straight lines on walls or furniture, use painter's tape as a stencil. Remember that the material of the wood will determine the number of coats you can paint. And the darker the wood, the more coats you might need. Use paint made for furniture, so the finish will be smooth and durable.
The zebra dresser was done in pink, but you can use any color you like on your furniture. For example, Marine Corps dressers are often painted with blue blotches to mimic camouflage. Also, when applying the second coat, don't overload your paintbrush with paint, or the color won't develop evenly. Make sure the paint on the paintbrush is light to avoid drips.
Applying the coat also depends on the type of paint you use. You can even proceed to apply the third coat to achieve that shiny finish. Do not worry about the furniture being damaged as long as you use the right type of paint.
Stencil Your Furniture
Stencils can be used to add a personalized touch to your home. If you don't want the pink furniture but want it to look like a rosette, you will need some stencils and paint, of course. A simple way of drawing one is jotting down a few circles on a piece of paper. Before stenciling, ensure your drawers are dry.
Another possibility is to draw out a design on the paper and cut it out. Once you're done with cutting, lay down your stencil, then apply paint. One advantage of using designs made from writing is that it won't leave a mark when you remove it, unlike other materials. But if you are not confident in drawing or cutting, then you can also use adhesive stencils. You would have to cut out the parts of the design that you don't need leaving only the remaining ones.
Another suggestion is using materials from nature such as sandpaper and leaves. To make a leaf look like a rose, rub it over with paint in circular motions. Other than stenciling, you can also glue fabric to drawers as a way of concealing its contents. It is also known as quilting. Recent designs are painted using stencil sprayers which can free you from the hassles of cutting and pasting. That's because this device can save time and effort in producing larger designs.
Seal or Wax the Dresser
Painted furniture can chip and wear down easily. It can also get stained, so whether to wax or seal should be your main concern, especially if you'll put many things in it.
Be sure to use a good sealer and wax for protection; the best available in the market is polyurethane, which also has a satin finish. It lasts longer and is very much resistant to water, oil, and alcohol, and acid. If you are touching your furniture and stashing many things inside, you need to add a top coat to your painted dresser.
Sealing will ensure your paint finish lasts for long and it keeps your furniture looking new. It's very important to seal the dresser even if you use a top coat for added protection.
Clear wax is also a good choice if you want the finish of your paint job to have a nice, matte look. It is easy to apply, too; use a quality paintbrush, and even a cheap one will do. After applying a clear wax, go on and apply dark wax. Clear wax will act as a barrier between the furniture paint and the dark wax.
When selecting paint colors, you can choose the ones that are similar to the original color of the cabinets, or you can be bold and do something daring with a bright hue. You don't have to stick to just black or white on painted wood pieces; it's possible for other base colors such as brown or tan to do a good job at hiding nicks and dents as well. You can also use colored furniture paints in your project.
Reattach the Hardware
Now that your dresser has been painted, all you need to do is reattach the hardware. If any piece of hardware still seems loose, use a wood adhesive to bind and secure it back safely in place. Do this once the sealer is fully dry to avoid any damage to the finish.
You can also remove the painter's tape from hardware that couldn't be removed beforehand. Be careful while removing this tape, as it can pull off some of the paint. For stubborn pieces, use a razor blade to carefully cut around the edges so that the painter's tape meets the painted surface before removing the tape. Remember to learn how to get rid of paint odor so you don't get overwhelmed with it.
How to Paint Your Dresser FAQ
What type of paint is suitable to apply in a dresser?
Most dressers are made of wood, and the paint that works best for them is water-based. You can also use latex-based paint, but this type will usually peel off in a few years after application. Can you use oil-based paint on your dresser? Oil-based paints contain a chemical solvent that may harm the structure and color of your dresser.
Is sanding important before painting?
Sanding may not be necessary, but it is crucial in preparing your dresser for paint. It provides rough edges to provide a bonding surface for the primer and paint, and the smooth finish that you'll get from sanded surfaces can last longer than those surfaces that aren't sanded.
How can you avoid visible brush strokes when painting your dresser?
Brushing is the most commonly used way of applying paint. Sticking to a specific order or steps will likely produce better results if you are using a brush. Always start at left and work your way to the right when brushing on paint; try using light strokes for a smooth finish
Enjoy Your New Piece of Furniture!
Now that you've finished up dresser painting, it's time to enjoy the fruits of your labor. You can use this beautiful creation as a television cabinet with room for other storage items and a decorative element in your bedroom or living room. Whatever choice you go with, you can never miss how to paint a dresser if you master these tips.