Does your house need a little bit of refreshment? Well, house painting can do wonders for your curb appeal. However, painting a house is hard work. House painting can be messy and time-consuming. It can take weeks to get the job done, especially if you're doing it yourself.
Here is a free guideline with all the information you need to paint your house quickly and easily in just one weekend. This step-by-step guide will help you paint your home efficiently, effectively, and without using much energy.
You don't need any special skills or equipment, either. Just follow these simple steps, and before long, your home will look new again. Let's go!
Clean Your House
Give your house a thorough cleaning. This includes windows, gutters, and the exterior of your home. You need to ensure that your home is entirely clear of any debris or dust before you start painting because otherwise, the paint won't stick well, and it will damage your house further.
If you live in a humid climate, you need to ensure that all nearby plants are well away from your home. Use a pressure washer if you're familiar with it. But if you're not, this equipment can drive water behind the siding and trim of your home.
Fortunately, you can effectively use a hose, pump sprayer, and scrub brush to clean without worrying about safety. Before scrubbing, lay down some drop cloths to protect the ground and anything that may be damaged by splashing water. You can use chemical cleaners like TSP or trisodium phosphate to do the job if you wish. It's available at hardware stores or home supply centers.
Repair Any Damaged Area
Make sure any damaged areas of your house are repaired prior to starting painting. Otherwise, the deterioration will only get worse, making it difficult for you when it comes to painting. A fresh coat of paint won't help if the surface underneath is still in bad shape. In other words, it will make your painting job a lot more complicated.
You can use putty to fill in any dings, holes, or cracks that may have developed on the exterior of your house. You can also change old storm windows with new window panes as they can become challenging to paint without cracking them.
Get Rid of Chipped and Flaking Paint
Check your home for areas that have chipped or flaking paint. If you find an area, use a wide paint scraper and a wire brush and gently scrape off the loose paint. A knife may also come in handy to remove any stubborn flakes of paint that are jutting out. You can use the same method used when removing paint from metal.
Once you've removed the loose paint, use a stiff bristle brush and warm soapy water to scrub the area. Use caution when scrubbing, as it may remove any old paint that's still stuck. Follow up with a thorough rinse of your house's exterior with fresh water.
Caulk and Patch Cracks and Holes
Before you pick a paint roller, use a caulking gun to apply caulk around any cracks or holes you find on the exterior of your house. This will help create a seal between your paint and weather elements like rain and ultraviolet rays. After applying the caulk, patch up any holes with wood putty using a putty knife. Make sure the patch is slightly smaller than the hole as not to draw attention to it.
Gather Painting Tools
Making sure that you have all the required paint supplies beforehand is an important step in this process. After checking the materials you have at hand, gather anything that is needed. You should have the following tools:
One paintbrush

A roller and pan

A scraper for when the house paint gets too thick or hard to remove

Drop cloths and plastic sheeting to protect surrounding areas you do not want staining with paint

Painter's tape

Paint sprayer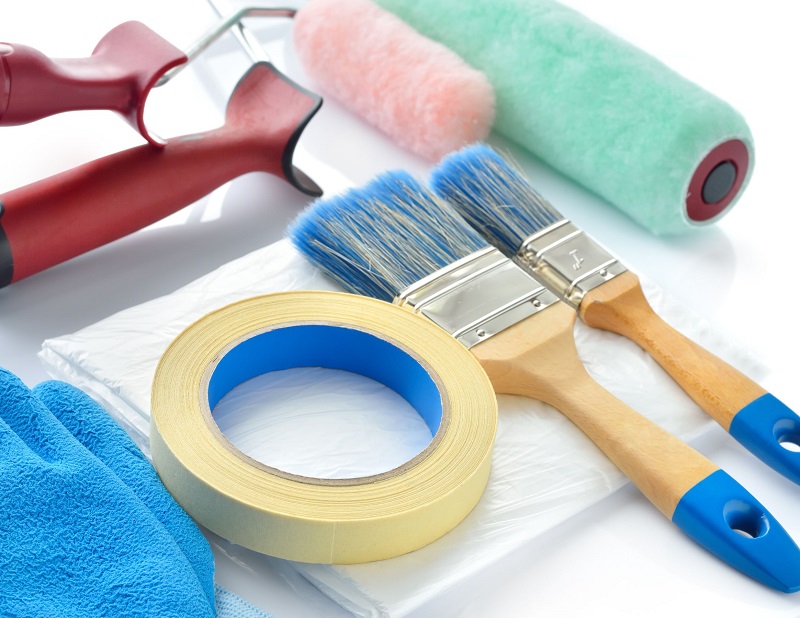 Additionally, make sure you protect your surroundings because there will be a few spills during the painting process. Make sure patios, landscaping, decks, and walkways are covered before painting application.
Prime the Exterior of Your House
After cleaning your house's exterior, prime any bare spots or stains you find during your inspection using a high-quality primer. Make sure to follow the manufacturer's instructions on the can for best results and wait 24 hours before painting. Also, consider if your house needs a coat of primer before applying.
When your paint is in good condition, and you're repainting with the same color, then there's no need to apply primer. But for problem areas such as bare wood, wood filler, and rust-stained areas, you'll need to apply a coat or two of primer first.
If you're working on a new building, try to use latex primer as it works well with both vinyl siding and wood siding, while the oil-based primer is designed to bond only with wood. For bare surfaces and problem areas such as bare wood or rust stains, use hot stucco primer and allow it to dry completely before applying paint.
Paint Your House the Same Color
When choosing your paint color and sheen, go for the same sheen as your existing paint if you want the new and old coats to blend in seamlessly. And apply one coat of primer before painting, which is a great time saver. You'll be creating more work if you choose to change your exterior house color. You can also go for best paint for one coat for your house!
This will increase work when your new coat is lighter than your existing paint because the difference will be more noticeable. If you know your present house color, find an area of peeling paint, then pull it off and take it with you to the paint store. The paint store workers should be able to match that color or find a similar shade.
If the peeling area is larger than a small square, cut out pieces as needed and place them in a plastic bag until you are ready to make your purchase. If you decide to change the color, let it be darker than what you plan to paint the house. That way, no matter how much lighter it becomes, you will have some relief from seeing the difference constantly. Applying the same color or darker color also makes it easy to maintain.
Avoid Scraping if Possible
If you want to save time and not cause too much damage, avoid scraping the old paint off. Instead of using a scraper for removing old house paint, use a chemical paint remover. This will soften up the existing surface, making it easier to remove with your roller and pan.
Once you have removed as many layers of paint as possible, you are ready to use your scraper. There's no need to paint if the edges are already painted. This is because the new paint will seal the edges, especially if it's decent paint.
Apply the Paint Using Spray and Roll
If you're looking for a way on how to paint your exterior walls is using a paint sprayer to apply the paint. This is because you will get an even coating, which makes your job much quicker and easier. Also, the result will be fantastic. Just make sure that you don't skimp on the primer; apply at least two coats of primer for best results.
You'll also need a partner to use a sprayer while the other person follows a running roller on the sprayed surface. After applying the first coat, follow with the second coat if your budget allows.
Before applying the second coat, allow the first coat to completely dry. It is best to let the coat cure for four days before applying the second coat. Two coats are always great as they
may leave you with a more durable and shiny finish. So, if you're looking to get more life out of your paint job, applying the second coat is the solution.
Tape and Paint all Trim
Once your pieces of trim are fully primed, tape them off and paint the walls. After painting, allow the paint to dry for 6-8 hours before taking off your painter's tape. Now that your exterior is sparkling clean, try to refresh your door frames, windows, pillars, trim work, and window wells.
Wind Up with Cleaning
Whether you're exhausted or not after a long painting work, you must clean up your brushes and roller covers. Cleaning will keep your painting tools lasting for a long time and in good condition. Clean them while they are still moist and use a knife to remove excess paint.
FAQs on How to Paint a House
Can you paint over old house paint?
Yes, you can paint over old house paint if the surface is in good condition. Be sure to sand down any bumps or debris and clean thoroughly since oil particles may come out from previous paint coats. Also, cleaning will prevent an unwanted color change when you use a primer/sealer.
How do you prepare the home exterior for painting?
You need to clean and dry your house for the paint to be applied properly and evenly. Wash your house, then remove any flaking paint. After that, repair loose wood or siding. Make sure you sand uneven surfaces before applying paint.
What's the best time to paint?
Winter is the best period to paint your home's exterior and interior. This is the season when weather conditions are most favorable for painting, and many dust particles have settled down.
Spring has an excessive amount of moisture, which can cause paint to streak. Fall has a lot of wind, especially severe in tropical climates. This brings with it tiny dust particles that may mix up with your paint.
Final Thoughts on How to Paint a House
As you can see, painting a house doesn't need to be that difficult. If you plan it well, the world can be your canvas. You have to follow simple steps and some of them are even free.