Concrete slabs are commonly used in homes and businesses for various reasons. Slabs can be used as patios and walkways and can also be used to create garden beds and cut flower containers, among other things. You'll need several different tools and materials for concrete pour. While you are on the topic of pouring concrete slab, be sure to also check out our guide on how to glue wood to concrete without drilling for your next DIY project.
In this article, we'll take you through all the basics of pouring concrete slabs so you're well prepared for this project. Let's get started!
What You Need to Consider Before You Pour a Concrete Slab
Safety Precautions
It's essential to learn and understand all the safety precautions and requirements before pouring a concrete slab. You should always use proper safety gear such as good shoes, gloves, goggles, and earmuffs. The concrete will need to cure for several days or weeks (depending on the thickness of the slab), at which point it will be safe to walk on. Never forget to wear eye protection and wear gloves while on the job.
Pouring a Concrete Slab in Cold Weather
The weather is another big concern when pouring concrete. Usually, the big concern is the cold weather. Pouring concrete in cold weather will put the fresh concrete at risk of freezing and cracking. This is because water expands when it freezes, and if there is anything in the concrete that is weak, it will most likely crack. If you pour concrete when it's cold outside, you should use heated blankets to keep the temperature up and insulation to prevent heat loss.
Pouring Ready Mix Concrete
Ready-mix concrete is usually the best to use because it comes in a bag or a box already mixed. All you need to do is pour it into your formwork and vibrate the air bubbles out for maximum strength. Just make sure that you follow the directions on the bags because different types of concrete have different strengths, dry times, etc.
Concrete Flooring Surface Treatment
Most of the time, homeowners end up needing different concrete flooring surface treatments after you pour concrete. Therefore, this makes it a factor worth considering when pouring concrete.
You can use a strong floor epoxy to make the concrete surface more wear-resistant. For homeowners with young children, you will probably need an adhesive sealer to prevent chipping and wear on certain parts of the house. You can also use waterproofing to prevent water damage from things like flooding or leaking appliances.
Insulation To Prevent Heat Loss
Concrete flooring doesn't have to be installed on exterior walls. You can also use it as a basement floor where the main purpose is to trap heat and prevent heat loss from the home. In this case, you will need an insulation finish that can work with your desired dry times.
How to Pour Concrete Slab
Now that you know what you need to consider before pouring the concrete slab, it's time to get to the action. So, how do you do it? Here is a step-by-step guide.
Step 1: Prepare Everything
First and foremost, you must prepare all the tools and materials you'll need for the project. Putting everything in order will help make your work easier and much faster. Some of the things you'll need to pour concrete include:
Tape measure

Float Leveling tool

Water hose

Power mixer

Concrete finishing tools

Shovel

Tamper

Wheelbarrow

Safety gears

Hammer

Level

Concrete

Nails

Lumber

Anchor bolts

Edging tool

Package fill

Etc.
Step 2: Prepare the Slab Construction Site
If you are going to install concrete slabs on your basement floor, you will need to prepare the slab construction site first.
The most important thing is that you need to ensure that there aren't any electrical wires or pipes. Electrical and water systems should be placed at least 12 inches away from where the concrete slab goes.
You will also need to ensure there's no dirt and debris on the surface that can damage the concrete's quality. You can clean job site by sweeping or dusting it off to remove all loose particles and debris.
If the surface is uneven, you will need to level it out first to achieve an evenly filled area. But if you are dealing with flat surfaces without bumps and holes, you don't have to level them out anymore.
Step 3: Set and Level the Surface
Setting and leveling the surface is a very important step that you should never skip if you want your concrete slab to turn out just right.
Set the concrete level on top of gravel base or sand that is spread across the prepared surface. You want to make sure that there are no bumps or ridges on the surface before you pour your slab, so all parts are smooth and equal in height.
You should also outline the surface carefully so that it will not go outside the intended location when you pour the concrete. Get yourself a concrete edge tool. You can get these at any home improvement store for less than 5 dollars. You will also need to buy some thin-set mortar mix. This is typically found in the same area as the concrete edges.
Step 4: Lay the Sub Base
You need to use sand and compacted gravel to lay the sub-base. While working on the sub-base, you can mix the thin-set of mortar in a bucket with water. Make sure to observe how much water is added to the thin-set mix so that when it comes time to mix the concrete, you will make sure not to add too much.
To ensure everything sets in correctly, you'll need to use a tamper to make the surface more compact and flat. The sub-base will help the concrete to stick and prevent it from cracking.
Step 5: Build Concrete Forms and Level Grade
This is another important step that you should never skip. The concrete forms are basically frameworks built around the area where you are going to pour your concrete. They are necessary because they hold the shape of your future patio while the cement is setting. The concrete forms will also help reinforce the strength and rigidity of your patio, so it would be best to use strong materials when constructing them.
You should then level the concrete forms to ensure the surface is uniform, especially if you are pouring your concrete into an area where it is already sloped. This step is also necessary to ensure that your patio will be even and level.
Step 6: Prepare the Concrete Mixing Machine
If you intend to do this manually, this step would not be necessary because no machine would ever beat human hands when it comes to accuracy. However, there's no denying that a mixing machine will make your work much easier.
So, if you've decided to use the concrete mixing machine, then you'll need to attach the mixer's water feed apparatus to supply it with enough water. You should then follow instructions on how much sand, all purpose gravel, and cement powder you'll have to pour into the mixer.
The mixing machine will then do its job while you're directing it through a series of levers. While waiting for the concrete mix to be ready, you should prepare the actual spot where you intend to pour the concrete.
The most important thing is that there's a chance you'll need to use a formwork system with a plywood sheet on top of it. The plywood will be used as a base for when you pour the concrete into the right places.
Step 7: Partition the Slab
While partitioning the slab area may not seem necessary, it's one of the steps that will make your work pretty easy. You need to use a crowbar and some wooden boards to create cracks for the concrete you'll be pouring. If you want, you can also use steel bars and bolts to make sure they stay in place. Once finished making partitions on your slab, it will finally be time to pour the concrete mix.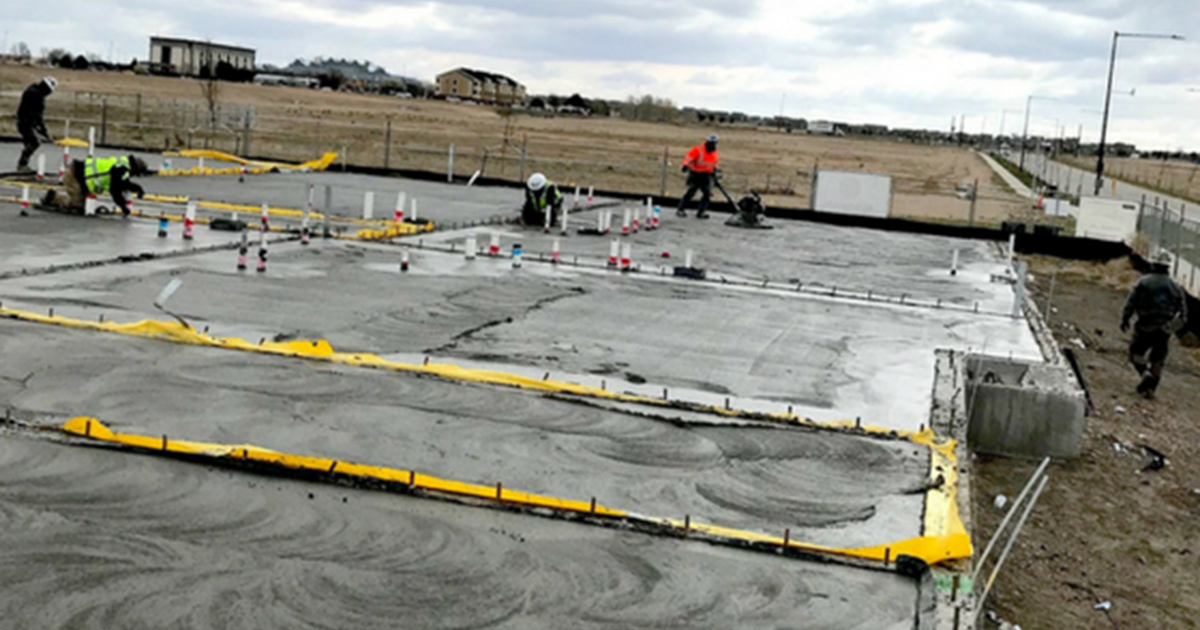 Step 8: Pour the Concrete Mix
Now it's time to pour wet concrete evenly into the previously made cracks. You'll need a big container for this as you'll be needing at least 50 gallons of it. It's also possible to use a cement truck, but if you're working on a small-scale project, chances are you don't have access to such equipment.
Make sure the concrete you're pouring is properly mixed according to the manufacturer's instructions. Any wrong move with the mixed concrete, and you risk getting a few cracks in your final product. Also, you should pour everything before the concrete harden to make your work easier and prevent cracking.
Step 9: Level the Concrete with a Screed Board
To get a smooth finish and remove extra concrete, you'll need to get your hands on a screed board. It's basically just a big flat piece of iron with an attached handle to help you level out the concrete mix before it dries and hardens.
To do this, you'll need to pass the screed board or a piece of lumber back and forth over the surface of the fresh concrete. You don't really need multiple passes since three or four passes will be enough for a smooth finish. Don't worry about making it perfectly smooth, especially if you plan to throw down your own brick pattern or add some decorative rocks. Just focus on getting a fairly even top layer that's flat enough to drive on later.
Step 10: Let It Dry
Give your wet concrete slab project time to dry. This will depend on the specific mix of concrete and additives you used, but usually, it will need at least a couple of days to ensure proper curing.
Wait until it's completely dry and firm to the touch before moving forward. This is when you'll actually know for sure if your slab job turned out well enough to be safe for driving over. If any areas are not properly done or done too thin, it will be evident at this point.
You can also do any final patching or clean-up work at this time before you move on to step. But you must ensure all the surface water disappears before doing anything else.
FAQs On How to Pour a Slab
What's the perfect time to pour the concrete slab?
The best time to pour concrete slab is during the summer months because the weather is very dry and conducive to fast curing. The perfect weather for this project is usually between June and September.
What should I use as a concrete form?
For large slabs, you can use wooden boards as concrete forms or just leave them as it is. However, if you're working with wet concrete slabs that you cannot work with it easily, then you can use polystyrene foam board or blue board as a concrete slab form.
What's the best concrete mix to use for concrete slabs?
For a small concrete slab, you can use a 5-gallon bucket of premixed concrete made for sidewalks. For larger projects, it is better to rent a mixer and get bulk materials so that you will have enough material to fill the concrete forms and so you will not run out of materials.
Final Verdict on How to Pour a Concrete Slab
Pouring concrete slabs may look like a complicated project, especially if you're doing it for the first time. However, if you follow these steps, you'll find that it's not as difficult as it seems and it's perfect for do it yourselfers. Just be sure to use the right tools and materials for a professional-looking concrete slab.