Are you looking for kitchen appliances that can bring culinary inspiration to your kitchen? Well, KitchenAid might be the brand you're looking for. KitchenAid is a well-known kitchen appliances manufacturer that produces high-quality and innovative products.
Some of the popular kitchen appliances from KitchenAid include stand mixers, food processors, dishwashers, refrigerators, ranges, and more. With so many different products to choose from, you can easily find the right kitchen appliances for your specific needs.
If you're looking for high-quality and durable kitchen appliances, then KitchenAid is definitely a brand worth considering. With a wide range of products to choose from, you're sure to find the perfect kitchen appliances for your home. So, what are you waiting for? Check out KitchenAid today and see for yourself why this brand is so popular.
KitchenAid History
KitchenAid is an American home appliance brand owned by Whirlpool Corporation. The company was started in 1919 by The Hobart Manufacturing Company to produce stand mixers. The first model to be introduced was the H-5. The company faced competition as rivals moved into this emerging market and introduced its trademarked silhouette in the 1930s with the model K, the work of designer Egmont Arens.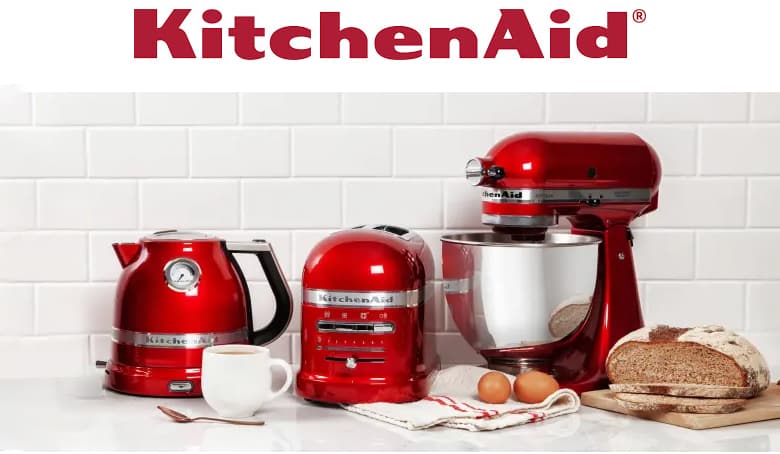 The idea of a stand mixer was formulated by Herbert Johnson, an engineer working at Hobart Corporation. He was inspired after seeing a baker mix dough and thought that there could be a way to make the process easier. With this in mind, he created a prototype of a mixer that would become the very first KitchenAid. The prototype was introduced at the 1918 Toledo, Ohio Home, and Flower Show, where it was so well received that Johnson decided to put it into production.
The first KitchenAid stand mixer was known as the H-5, and it was made to be a more durable and powerful version of the earlier Hobart model. It had a 1/2 horsepower motor and a cast-iron body, making it much heavier than the earlier model. However, the first machine to carry the KitchenAid name was the ten-quarter C-10 model, introduced in 1918 and built at Hobart's Troy, Ohio factory.
Prototype models were given to the executives' wives, and the product was named when one stated I don't care what you call it, but I know it's the best kitchen aid I've ever had. They were marketed to the farmhouse kitchens and were available in hardware stores.
But owing to the difficulty in convincing retailers to take up the product, the company focused on recruiting a female sales force, which sold the KitchenAid stand mixers door to door. The C-10 machine was also marketed heavily toward soda fountains and small commercial kitchens and was sold under the FountainAid and BakersAid model names.
KitchenAid mixers remained popular in the late 1930s, then it would completely sell out its products each Christmas. The factory was closed during the duration of World War II. After the war, production started up again in 1946 when the factory moved to Greenville, Ohio, to expand its capacity.
The product range expanded beyond the stand mixers for the first time in 1949, with the introduction of dishwashers. In 1985, the company purchased the Chambers Company to incorporate its range of cookers and other products. In 1986, the company was bought by Whirlpool Corporation after initial complaints regarding competition from dishwasher manufacturers White Consolidated Industries and Magic Chef were dismissed.
Refrigerators were also added in late 1986. In 1988, retailer Williams Sonoma was opening new stores across the United States and released a cobalt blue stand mixture for the company. Although the retailer had been carrying KitchenAid products since 1959, the new stores introduced the stand mixers to a wider range of home cooks. This, combined with a change in marketing strategy for KitchenAid, resulted in a doubling of brand awareness over the course of the following three years.
KitchenAid began manufacturing blenders and other small appliances in the mid-1990s. The brand was further promoted by sponsoring the PBS show Home Cooking and by introducing a line of professional quality appliances for the home cook in 1998. In 2003, KitchenAid introduced a ProLine range of appliances with an initial six-month exclusivity agreement with Williams Sonoma.
Headquarters Location
KitchenAid is headquartered in Greenville, Ohio. That's where all the KitchenAid stand mixers are assembled. The company has manufacturing facilities in Ohio, South Carolina, Iowa, Mississippi, Indiana, Arkansas, Ontario, and Quebec, while others are manufactured in China, and its appliances are distributed throughout North America.
The die-cast parts of the machines come from various manufacturing plants around the world. A factory tour, known as the KitchenAid Experience, is conducted by the assembly line workers.
Popular Product Types by KitchenAid
KitchenAid produces a wide range of best appliance brands, both small and large. Some of their popular product types include:
Stand Mixers
The KitchenAid stand mixer is the original product that made the brand what it is today. The first mixer was introduced in 1919, and the design has remained mostly unchanged since then.
Food Processors
KitchenAid food processors are some of the most powerful and versatile on the market. They come in a variety of sizes and can handle anything from chopping vegetables to making ice cream.
Blenders
KitchenAid blenders are available in both full-size and personal sizes. They have a wide range of features and are capable of handling anything from blending smoothies to crushing ice.
Dishwashers
KitchenAid dishwashers are known for their durability and performance. They offer a variety of features, including energy-efficient models and models with built-in water softeners.
Refrigerators
KitchenAid refrigerators are available in a variety of sizes and styles. They offer features such as adjustable shelves, ice makers, and water dispensers.
Other accessories include beaters, bowls, cooktops, food mixes, and attachments for pasta making and juicing. KitchenAid also offers a line of small appliances, including toasters and coffee makers.
KitchenAid Reputation
KitchenAid is a respected and well-known brand in the kitchen appliances industry. The company has been around for over 100 years and is known for its quality products. KitchenAid products are available in major retailers worldwide, and the company offers a wide range of product options to choose from.
In recent years, KitchenAid has been named one of the best appliance brands by Consumer Reports. The company consistently ranks highly in customer satisfaction surveys, and its products are backed by a strong warranty.
If you're looking for the best appliance brands, KitchenAid is a great option to consider. The company offers a wide range of product options, and its products are backed by a strong warranty.
When choosing kitchen appliances, quality should be one of your main considerations. KitchenAid is a great option for those who want quality appliances that will last for many years.
What Brands or Subsidiaries Does KitchenAid Own?
KitchenAid is a subsidiary of the Whirlpool Corporation. Some of the other brands that are owned by the Whirlpool Corporation include Maytag, Jenn-Air, and Amana.
Social Responsibility
Improving Life Through House+Home
The KitchenAid brand is about more than just appliances. The company strives to improve the lives of people through its House+Home program. This program provides resources and support for those who are affected by poverty or natural disasters.
Whirlpool Corp. and Habitat for Humanity
In 2010, Whirlpool Corporation partnered with Habitat for Humanity to help build homes for families in need. To date, the company has helped build more than 1,000 homes through this partnership.
In addition to building houses for distressed communities, the company has donated appliances to save countless hours in laundromats and kitchens. The company's philanthropic efforts don't stop there. KitchenAid also supports culinary education programs and provides scholarships to students pursuing a degree in the culinary arts.
So, when you purchase a KitchenAid appliance, you can be confident that you're not only getting a high-quality product but also supporting a good cause. When it comes to kitchen appliances, there is one brand that stands out from the rest: KitchenAid. KitchenAid has been around for over 100 years, and during that time, the company has earned a reputation for manufacturing high-quality products.
In addition to their lasting quality, KitchenAid appliances are also known for their stylish designs. Whether you're looking for a classic stand mixer or a modern toaster oven, KitchenAid has an appliance that will fit your kitchen's style.
But what really sets KitchenAid apart from other brands is its commitment to giving back. KitchenAid partners with a number of different charities, and the company also has a long history of supporting the arts.
If you're looking for a brand that produces high-quality products and gives back to the community, KitchenAid is the obvious choice.
Related Top Appliance Brands