Are you getting ready for that Italian vacation you've been dreaming of? Get ready to be inspired by the adorable villa kitchen, thanks to Smeg appliances. Smeg offers a line of retro Italian appliances that will transform your home into a picturesque Tuscan villa.
Smeg is known for its design, as much as they are for its function. This brand has been around since 1948 and offers a wide range of small appliances like toasters and coffee makers, as well as larger ones like dishwashers and refrigerators. All of their products have a vintage style yet are still modern and sleek.
If you're looking for a true taste of the good life, then check out Smeg's line of appliances. And who knows? Maybe with a little help from Smeg, you can turn your own kitchen into a picturesque Tuscan villa.
History of Smeg Appliances
Smeg is an Italian home appliance manufacturer based in Guastalla near Reggio Emilia in the north of the country. Founded in 1948 by Vittorio Bertazzoni as an enameling and metalworking company, Smeg has subsidiaries worldwide, overseas offices, and an extensive sales network.
From the 1950s, the company's metalworking background was accompanied by the production of its first cooking appliances. In 1956, the company presented Elisabeth, one of the first gas cookers equipped with automatic ignition, a safety valve in the oven, and a cooking programmer.
In the 1960s, Smeg introduced its first ever washing machine, the Leda, and then introduced the 60 cm Niagara dishwasher, known for its unprecedented load capacity of 14 place settings. In 1971, Smeg company began the production of built-in hobs and ovens.
Having started in the residential sector, Smeg later entered the commercial market. Smeg Food Service manufactures appliances for the hotel, restaurant, and catering market. Smeg Instruments supplies disinfection equipment to hospitals and dental surgeries.
Headquarters Location
Smeg has designed innovative household appliances for all everyday environments since 1948. The headquarters are situated in Guastalla, in Emilia Romagna, Italy, where the company was founded. The design and manufacture of Smeg appliances are concentrated in four factories based in Northern Italy, each specializing in a specific type of appliance.
Smeg has subsidiaries worldwide, overseas offices, and an extensive sales network. Smeg has developed a product collection in collaboration with architects and designers, including Guido Canali, who also designed the company headquarters in Guastalla. Others are Mario Bellini, Renzo Piano, Marc Newton, and deep design.
Popular Product Types by Smeg
Products that express Made in Italy by perfectly combining design, performance, and attention to detail. These products include:
Refrigerators
A wide range of freestanding, built-in, and integrated refrigerators, including multi-door and side-by-side models.
Small Domestic Appliances
Including kettles, toasters, juicers, blenders, coffee machines, food processors, and stand mixers.
Cooktops
Both gas and induction cooktops, as well as ceramic hobs.
Dishwashers
Fully integrated or semi-integrated dishwashers with a wide range of programs.
Wine Coolers
With different capacities and configurations to store wine at the perfect temperature.
Drawers
Under-counter, integrated fridge, and freezer drawers.
Ranges
Cookers with gas, electric, induction hobs, and ovens in various sizes.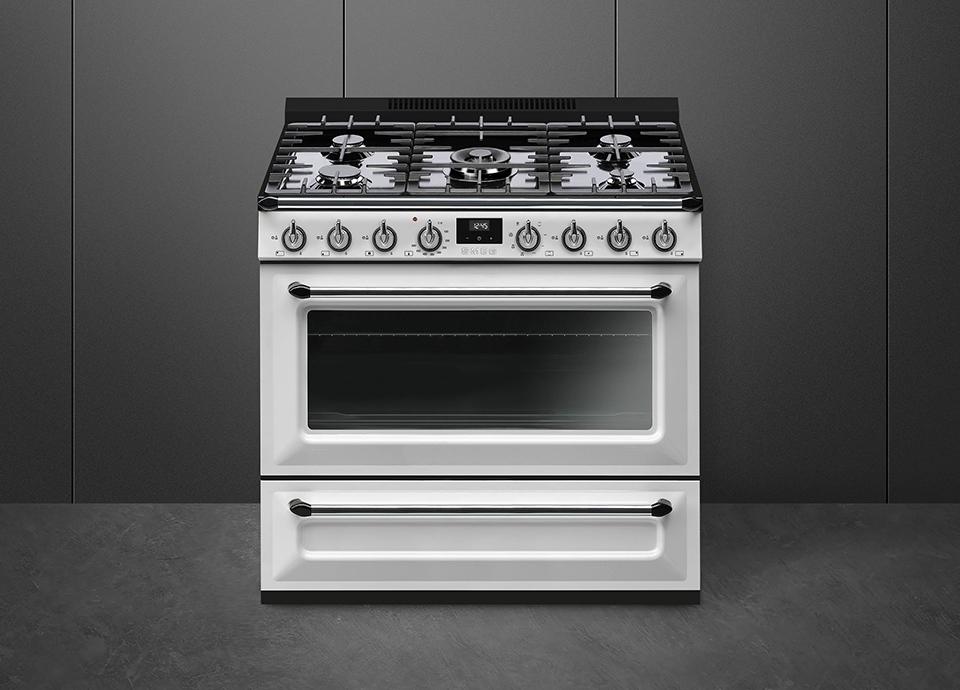 Hoods
Canopy, chimney, and downdraft hoods in stainless steel or glass.
Brand Reputation of Smeg
The Smeg brand has been associated with high quality, style, and design since its inception in 1948. The company's appliances are known for their retro style, as well as their advanced technology and features.
Smeg is a respected name in the appliance industry, and the company's products are sold in over 80 countries around the world. With its Italian style, the brand identifies with the features such as inventive elegance, originality, and quality products.
Other than styling, the expression of the origin of the brand itself and its passion for applying new technologies to home appliances has resulted in the development of a wide range of models that are unique and exclusive. Smeg also has licensing agreements with some of the world's most prestigious design companies, such as Dolce & Gabbana, for exclusive appliance collections.
What Brands or Subsidiaries Does Smeg Own?
Smeg is a high-end appliance brand that produces a wide range of some of the best appliance brands, including refrigerators, ovens, dishwashers, washing machines, dryers, and small appliances such as mixers and toasters. The company also produces other home essentials, such as vacuum cleaners and irons.
One of Smeg's most popular product lines is its FAB refrigerators, which come in a range of colors and retro-inspired designs. Other popular products include the company's line of small kitchen appliances, such as toasters, kettles, and blenders.
Smeg has subsidiaries in a number of countries, alongside overseas sales offices and an extensive sales partner network. The company's products are also available in a number of other countries through distributors.
Social Responsibility
Environmental Sustainability
Smeg is committed to reducing its environmental impact and supporting sustainable initiatives. The company has achieved ISO 14001 certification, meaning that its environmental management system meets international standards.
Smeg has also been awarded the European Ecolabel for a number of its products, including washing machines, dishwashers, and fridge-freezers. This label certifies that the product meets a number of environmental criteria, including energy efficiency and the use of sustainable materials.
Smeg has numerous policies designed to target ongoing improvement, including the use and recycling of materials, natural and renewable resources, minimization of waste, and responsible design. Its Italian headquarters has been named one of the most innovative sites in Italy, thanks to its intelligent consumption management and sustainable development policies.
Responsible Design
Smeg's domestic appliances, including hobs, cookers, dishwashers, washing machines, and fridge freezers, have all been designed with longevity in mind and to reduce environmental footprint where possible.
The greatest emphasis is on its materials, such as steel, glass, aluminum, and brass which can be easily recycled using carefully planned separate collections. Smeg also fully complies with the stipulation of the EU directives on Restriction of Hazardous Substances and Registration, Evaluation, Authorization, and Restriction of Chemical Substances, going further than just the minimum requirement.
Related Top Appliance Brands