Viking Range Corporation is an American company that manufactures kitchen appliances for residential and commercial. This is a luxury appliance manufacturer and is a subsidiary of Middleby Corporation.
Owning a Viking range is a dream for many home chefs, but the high price tag can be a deterrent. Not everyone can afford to buy a Viking range, but that shouldn't stop you from enjoying the amazing benefits they offer. If you manage to get one, it will be worth every penny you spend on it.
Viking offers financing options so you can get the kitchen of your dreams without breaking the bank. This article will explore Viking appliances, starting from their history, where you can get them, and much more. Read on to learn everything you need to know about Viking ranges.
A Brief History of Viking Ranges
As mentioned earlier, Viking Range Corporation is an American appliance company that manufactures kitchen appliances. The company was founded in 1987 by Fred Carl, Jr. and Rosemary Miller.
Viking originated the professional segment of kitchen appliances with its introduction of the first professional-grade range for home use in 1987. Today, the company offers three complete lines of premium appliances, including cooking, ventilation, kitchen clean-up, and refrigeration, as well as various outdoor appliances.
In addition to their professional and less expensive designer series, Viking's latest offering is their new commercial line of kitchen appliances for use in restaurants and other commercial kitchens. Headquartered on historic Cotton Row in downtown Greenwood, Mississippi, the Viking range employs more than 1000 people in the United States.
Viking's partnership with the reliable industry giant Middleby has allowed Viking to redesign its products to be more energy efficient and introduce new features such as the self-cleaning mode that is now available on all ovens. As a result of this partnership, Viking was also able to expand its product lines to include outdoor appliances such as grills and smokers, as well as commercial kitchen appliances.
Viking has four appliance collections: 3 series, 5 series, 7 series, and Tuscany line. The 3 series is Viking's entry-level series, available in gas, dual fuel, and electric but only in a 30-inch width. These series come in standard sizes packed with professional power that has been adapted for the residential setting.
The 5 series takes it up a notch with professional features, a wider range of colors and finishes, options for sizes that range from 48 inches to 60 inches, and a professional style. There's LED lighting to illuminate the knob, a soft close oven door, and high output burners.
This series gives you the most color options and the most cooktop configuration options. You also have the option of choosing a sealed or open burner gas range or a dual fuel or induction range. The 7 series is built for aspiring chefs. These ranges come in 36 and 48 inches and gas or dual fuel only.
They also have higher output burners and a better-infrared broiler. The grates are heavier, the knobs are bigger, and the cooktop is deeper. You can get a double-sided griddle or grill cooktop element, which is unique in the industry. The 7 series also come with Viking Elevation burners, which are higher quality ranges with 23000 BTU output. The Tuscany series is for those who want a truly unique range.
The Tuscany collection is inspired by the classic style of the Italian Provincial ranges. These dual fuel ranges come in 36, 48, and 66-inch sizes and three color options, including black, white, and dark blue. The Tuscany series are unique in that they allow you to add induction elements to your gas cooktop.
Headquarters Location
Located in downtown Greenwood Mississippi, Viking range is the only US range manufacturer that still produces all of its ranges in America. With a plant located in Greenwood, Viking has about 1000 employees at four manufacturing facilities in Leflore County. The company is currently under the ownership of Middleby Corporation, which also owns other high-end appliances brands like La Cornue and Aga.
Popular Product Types by Viking Range
Viking appliances are known for their high-end professional-grade cooking appliances. Here are the Viking appliances by category. Viking refrigerators, Viking hoods, Viking cooktops, Viking wine coolers, Viking ovens, Viking wall ovens, and Viking microwaves. Other popular products include Viking freezers, Viking freestanding ranges, Viking outdoor kitchens, Viking ice maker drain pumps, and Viking cookware.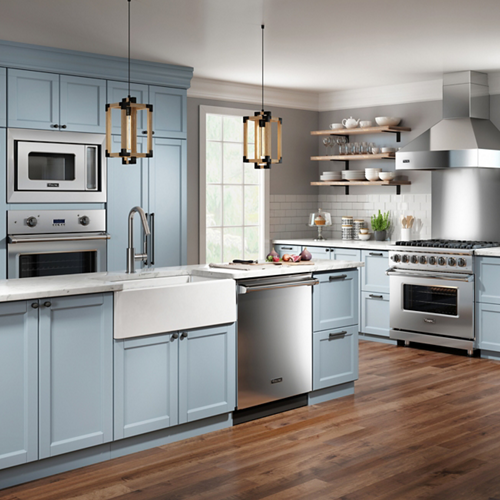 These products are of great quality and durability. They are built to last long and provide excellent performance. Viking appliances are available in a variety of designs, colors, and sizes to suit your kitchen needs.
Viking Brand Reputation
Viking is one of the most recognizable brands in kitchen appliances today, and their products are available in countries all over the world. Viking ranges are known for their quality construction, innovative features, and stylish designs. Whether you're looking for a professional-grade range for your home kitchen or a commercial-grade range for your restaurant kitchen, Viking has a model to suit your needs.
Due to their high performance, high quality, and unique look, which are included to complement any kitchen design, Viking appliances are priced at the high-end of the market. Nevertheless, they are worth the investment as they last long, have unique features, and come with a solid warranty.
While most people think of Viking as a range company, they actually offer a full line of best kitchen and home appliance brands, including dishwashers, microwaves, refrigerators, and even small appliances like mixers and coffee makers.
What Brands or Subsidiaries Does Viking Own?
In addition to its main Viking range brand, the company also owns several other appliance brands, including:
La Cornue: A luxury French range company that produces high-end ranges, cooktops, and ovens.

Aga: A British range company that produces cast-iron ranges and cooktops.

U-Line: An American appliance company that specializes in undercounter refrigeration and ice makers.

Lynx: A American outdoor kitchen appliance brand.

Marvel: This is an American refrigeration brand that specializes in wine storage and beer dispensers.

Evo Brand: This is a high-end Italian cooking brand that produces ranges and cooktops.
Social Responsibility and Sustainability
Viking is committed to social responsibility and sustainability and has been recognized by the EPA for its efforts in reducing greenhouse gas emissions. The company also participates in water conservation initiatives and energy-efficient practices.
In terms of social responsibility, Viking has a long history of supporting culinary education initiatives and programs. The company sponsors the James Beard Foundation and provides scholarships to students studying culinary arts. Viking also partners with Share Our Strength, a non-profit organization dedicated to ending childhood hunger.
Viking is committed to being a responsible corporate citizen and giving back to the communities where its employees live and work. The company's philanthropic efforts are focused on three key areas: culinary education, social responsibility, and sustainability.
Related Top Appliance Brands