Need quality appliances to make your life easier? Whirlpool is a brand known to provide the best home appliances for over 100 years now. The company takes its time to thoughtfully design its appliances with consumer needs in mind. From energy-saving refrigerators to time-saving ovens, Whirlpool appliances are created to help you get the most out of your day. You can never go wrong with Whirlpool if you're looking for the best appliance brands globally.
What Is Whirlpool's History?
Whirlpool is part of Whirlpool Corporation, a leading appliance manufacturer committed to being the best global kitchen and laundry company in constant pursuit of improving life at home.
The Whirlpool Corporation has a long and rich history. It was founded in 1911 as the Upton Machine Company by Lou and Emory Upton. In 1916, the company changed its name to the Whirlpool Corporation.
The name "Whirlpool" was chosen because of the whirlpools that were created when water was poured into a tub with a rapidly spinning agitator. The company has been through many changes over the years, but it remains one of the most trusted and well-known brands in the appliance industry.
Today, the Whirlpool brand is known for its innovative and reliable appliances. The company offers a wide range of products, including refrigerators, dishwashers, washing machines, dryers, and ovens.
Whirlpool is also a leader in appliance technology, with a number of industry-firsts to its credit, including the first front-loading washing machine and the first self-cleaning oven. Today, the Whirlpool brand has announced the expansion of its top load washer with a removable agitator to major retailers nationwide. It also has a new finish on the machine.
Headquarters Location
The Whirlpool Corporation is an American multinational manufacturer and marketer of home appliances, headquartered in Benton Harbor, Michigan, United States. As of 2020, the company has annual revenue of approximately $21 billion, 92,000 employees, and more than 70 manufacturing and technology research centers around the world.
Popular Product Types
Whirlpool Refrigerators
Whirlpool offers a variety of refrigerators, including French door, side-by-side, and bottom-freezer models. The company's refrigerators are available in a range of sizes and come with a variety of features. The most common features of the best Whirlpool refrigerators include ice and water dispensers, spill-proof shelves, and Energy Star certification.
Whirlpool Dishwasher
Whirlpool dishwashers are available in both built-in and portable models. The dishwashers come with a variety of features, such as noise reduction, energy efficiency, and soil sensors. The dishwasher is also adjustable for its price point, allowing users to fold-down tines and adjust the height of the upper rack. If you need the extra space, you can remount the cutlery basket on the door, freeing up plenty of room in the lower rack.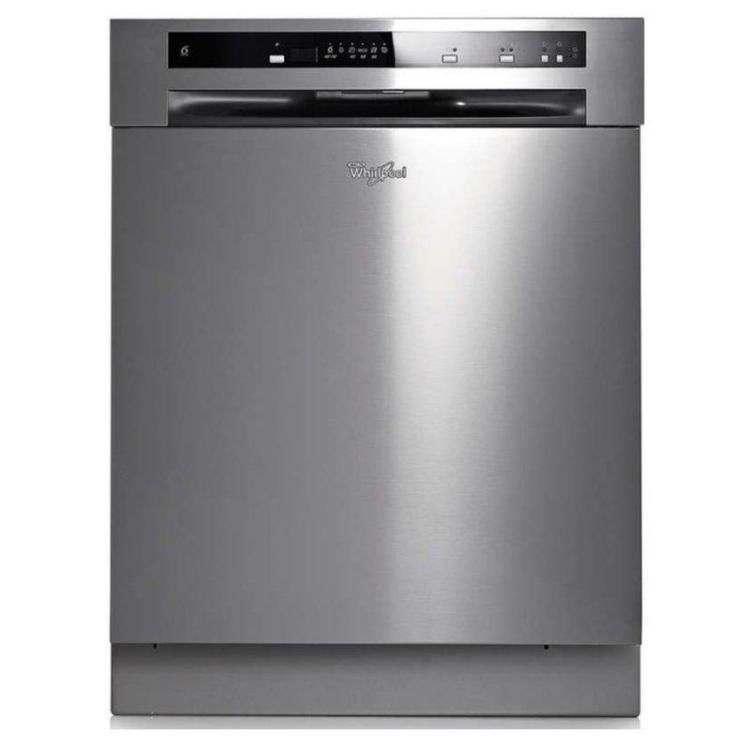 Whirlpool Top Load Washer With an Innovative Twist
The Whirlpool top load washer is a great choice for those who want an innovative twist on a classic design. This washer features a unique impeller that helps to get clothes clean while using less water. The washer also has a number of other features, such as an automatic dispenser for laundry detergent and fabric softener and a built-in faucet for pre-treating stains. The Whirlpool top load washer is also one of the most affordable top load washers on the market, making it a great choice for budget-minded shoppers.
Whirlpool Washer and Dryer Set
For those who want the convenience of a washer and dryer in one unit, the Whirlpool washer and dryer set is a great option. This set includes a Whirlpool top load washer and a matching dryer. The washer features the same unique impeller as the standalone model, and the dryer has a sensor that automatically adjusts the drying time based on the load size.
Whirlpool Microwave Ovens
Whirlpool also offers a line of microwave ovens. These microwaves are available in both countertop and over-the-range models. The countertop models are available in a variety of sizes, and the over-the-range models have features like sensors that automatically adjust the cooking time based on the food type.
Whirlpool Range Hoods
In addition to microwaves, Whirlpool also offers a range of hoods. These hoods are available in both wall-mounted and island models. The wall-mounted models are available in a variety of sizes, and the island models have features like LED lighting and stainless steel construction.
Whirlpool Brand Reputation
Whirlpool Corporation is one of the largest appliance manufacturers in the world, and the brand is known for its quality and durability. In addition to microwaves and hoods, Whirlpool also offers a range of other appliances, including refrigerators, dishwashers, washers, and dryers.
The company has a strong reputation for customer service, and it offers a wide range of services to its customers. On 28 April, the Whirlpool Corporation was named one of the Top 25 most respected U.S companies by Forbes Magazine and the Reputation Institute. This is the third consecutive year Whirlpool has been named to the list.
What Brands or Subsidiaries Does Whirlpool Own?
Although Whirlpool is the flagship brand, there are many brands under the Whirlpool Corporation. The most popular are: KitchenAid, Maytag, Jenn-Air, Amana, Gladiator GarageWorks, and Inglis. Each of these brands has its own unique identity and provides different appliances to suit different needs.
Amana
If you're on a tight budget and looking for budget-friendly, simple, and hassle-free appliances, then Amana is the brand for you. Amana provides customers with a wide range of affordable and dependable products, including refrigerators, dishwashers, air conditioners
When it comes to design, Amana appliances are pretty straightforward. They don't have all the bells and whistles of some of the other brands, but they get the job done well and are very affordable.
Whirlpool
Whirlpool, the flagship brand of Whirlpool Corporation, is perfect for family-oriented customers who are looking for dependable and affordable appliances. Whirlpool is a trusted name in the appliance industry and offers a wide range of products, including ovens, vent hoods, washers or dryers, and dishwashers. Whirlpool is dependable and has advanced features that keep their products at the cutting edge, and they're backed by a great warranty.
Maytag
If you're looking for a washer and dryer that can handle big loads, then Maytag is the brand for you. This reliable brand is great for homeowners that need kitchen and laundry appliances that work as hard as they do for their families. Maytag also offers a variety of other appliances such as ovens, refrigerators, and washers or dryers.
Grimy hands are no match for fingerprints resistant stainless steel, while Maytag dishwashers tackle baked-on food with the most powerful motor on the market. A 10-year limited parts warranty provides peace of mind that if something goes wrong, your customers can rely on Maytag.
KitchenAid
KitchenAid brand appliances are known for their quality craftsmanship and innovative design features. From dishwashers with advanced wash cycles to ovens with built-in convection cooking, KitchenAid has something for every home chef. Refrigerators and freezers with a stainless steel finish complete the look of any modern kitchen.
KitchenAid not only helps create and deliver exceptional results, but they also act as the perfect centerpiece for entertaining, matching any style of kitchen one could dream of.
Jenn Air
One of the luxury brands made by Whirlpool is Jenn Air. Jenn Air is a popular choice for many urbanites due to its innovative appliances that cater to smaller spaces. Jenn Air's high-quality products include cooktops, compactors, and ventilation that offer unique features such as the ability to steam clean your oven.
Whirlpool's Social Responsibility
Whirlpool is committed to making a difference not only in the products they deliver but also in the way they conduct business. They have set a goal to be a leader in social and environmental responsibility.
Energy Conservation
One of the ways Whirlpool is working to be more energy efficient is by using less water and detergent in their washing machines. They have also developed a process that uses less electricity to dry clothes.
In addition, they are working on ways to reduce the amount of energy used to operate their appliances. One way they are doing this is by developing new refrigerators that use less energy.
They are also working on developing new technology that will allow their appliances to be more energy efficient.
Diversity
Whirlpool Corporation has seven employee-run diversity networks that are dedicated to ensuring Whirlpool is an inclusive environment for all.
These networks are:
The Whirlpool Women's Network

The Young Professional's Network

The Pride Network

The Whirlpool Asian Network

The Whirlpool African American Network

The Whirlpool Hispanic Network

The Whirlpool Veteran's Association
Each of these networks provides support, development, and networking opportunities for their respective members. They also work to ensure that the company's policies and practices are inclusive of all employees.
Charity Work
Whirlpool Corporation is committed to giving back to the communities where its employees live and work. They have a long history of supporting United Way and other local charities. The Whirlpool Corporation is a principal supporter of Habitat for Humanity, a nonprofit organization dedicated to building low-cost, affordable housing.
The company's commitment to Habitat for Humanity has exceeded $34 million, and it has donated more than 73 000 appliances for Habitat homes. The company plans to support every Habitat home built globally by 2011, either through product donations, cash, or home sponsorship.
LGBT Commitment
The Whirlpool Corporation has been recognized as one of the best places to work for lesbian, gay, bisexual, and transgender equal rights organization human rights campaign. The company has a long-standing commitment to diversity and inclusion and is a founding member of the National Gay & Lesbian Chamber of Commerce.
To date, Whirlpool Corporation has achieved a perfect Corporate Equality Index score for 18 consecutive years, the longest of any major appliance company. Whirlpool was the first appliance maker to feature same-sex families in its advertising in the United States.
Related Top Appliance Brands