An outdoor living room is a great way to get more out of your home and enjoy the beautiful outdoors. An outdoor living room can be used for many different purposes, including entertaining guests, playing games with friends and family members, or just relaxing on a lazy day.
This article will go over some of the best ways to design an outdoor space that you'll love spending time in. Let's dive deep into this topic.
Why you should have an outdoor living room
Outdoor living spaces have been gaining a lot of attention lately as people start looking for ways to enjoy nature and strengthen their connection with it. As a result, many homes are adding an outdoor living room to the back of their property. While anyone can put together a simple catering-style backyard, creating a truly enjoyable space takes planning and time. People nowadays are introducing outdoor kitchen into their homes as well. A few outdoor kitchen sinks ideas is a great read too!
Some people may wonder if having an outdoor area where they can invite family and friends is worth the trouble. In short, yes. Having an outdoor living space is one of those things that you don't realize how much you want until you have one. Not only does it allow you to spend more time outdoors year-round, but it also makes guests feel more welcome by giving them a place to gather and relax.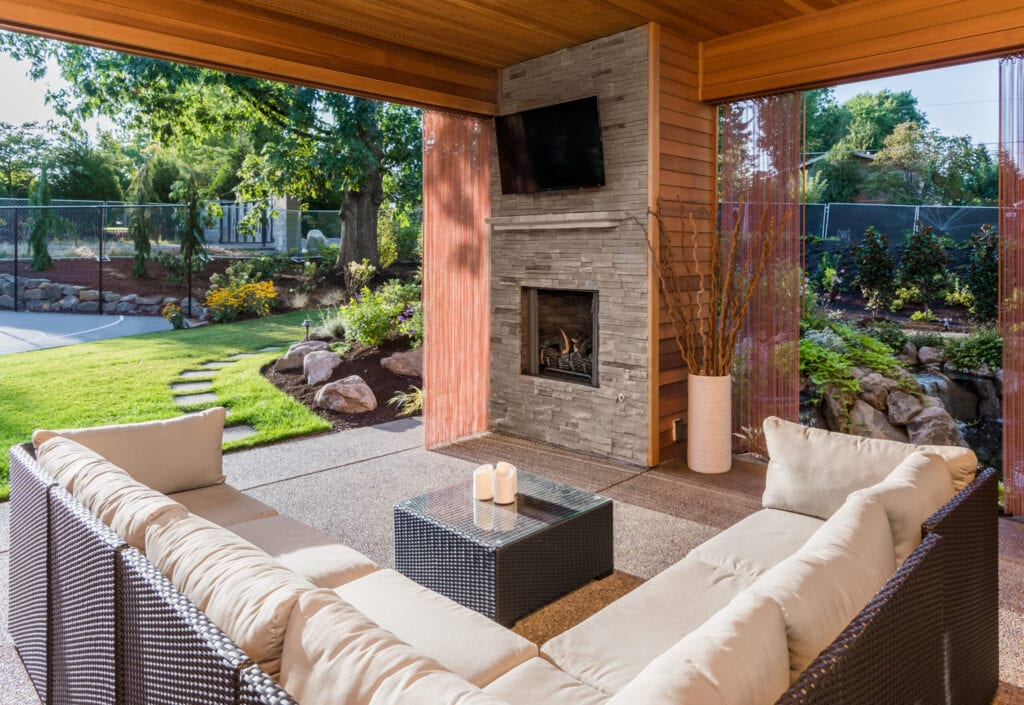 Image Credit: http://mymove.com
What to look for when designing your outdoor space
When you're first designing an outdoor living room, it can be helpful to think of what purpose you want the area to serve. While some people want an outdoor living space that they can use year-round, others may just want somewhere they can host larger gatherings once or twice a year. If home improvement and design is your goal, be sure to read about brick stains and how you can give your home a whole new look.
Either way, there are some key points to keep in mind as you start putting together your dream outdoor living space. Let's take a look at these below:
Location
This is one of the most important aspects of the design process because location will determine how much maintenance your yard needs and where different amenities should go. For example, if you have a large yard that's mostly flat it makes sense to place your outdoor living room near the center of the property so guests can easily walk from other areas. However, if you have a smaller yard or live in an area with harsh winter weather, placing your living space closer to the house will keep it protected from the elements.
Surface materials
The surface materials are another important aspect to consider when planning out your outdoor living space. This includes things like gravel, grass, soil, or concrete. If you don't already have any natural surfaces in place on your property then this is something that will need to be installed before you can start decorating.
Maintenance
Another important thing to think about when planning out your outdoor living space is how much maintenance it will require on an annual basis. As you start designing your outdoor living room, try to be mindful of the different upkeep tasks that will need to be done throughout the year. For example, if there's grass in your yard then it makes sense to place most of the seating along the perimeter of the area where it will get some protection from foot traffic and lawnmowers during warmer months. If you prefer gravel or dirt then having seating placed closer to the center may work better.
Knowing this information ahead of time will help you develop a plan for your outdoor living space that will work well with the natural layout of your property.
Types of seating to consider
If you have high-end outdoor furniture or are hoping to build some benches or other types of seating, there are two basic options that you can choose between wood and plastic. Wood is typically more expensive than plastic but it's also known for its aesthetic appeal. If you're looking for something cheap and simple, then plastic may be the better option because it's easier to clean and doesn't require much maintenance.
As you make decisions about which materials to use, try not to get hung up on details like color or style because this can often change as trends come and go over time. Instead, focus on choosing materials that will weather well and last you for many years without becoming damaged or looking worn out.
Outdoor lighting
Having outdoor lighting can make your space feel more inviting by keeping it lit up even after the sun goes down. There are a few different options for this but solar-powered lights and string lights tend to be the most cost-effective and eco-friendly options since they don't require any wiring or extensive maintenance.
When you install outdoor lighting, consider where light fixtures should be installed to create balanced illumination across the entire area of your outdoor living space.
Outdoor Kitchen Designs
Having an outdoor kitchen space is a great way to ensure that your guests will have all the amenities they need to make themselves at home. Outdoor grills are popular for this purpose but heaters, sinks, and ice chests are also good options depending on how much cooking you're planning on doing.
The right outdoor kitchen design will depend on what you need and want as well as how much space is available. For example, sinks built into counters are a great way to save space while outdoor ovens can offer an extra degree of convenience.
When designing your outdoor kitchen, try to keep things organized and streamlined so it's easy for guests to find what they need and nothing feels cluttered or overwhelming. You also don't want the setup to obstruct any pathways so people can still move around freely during parties and special events.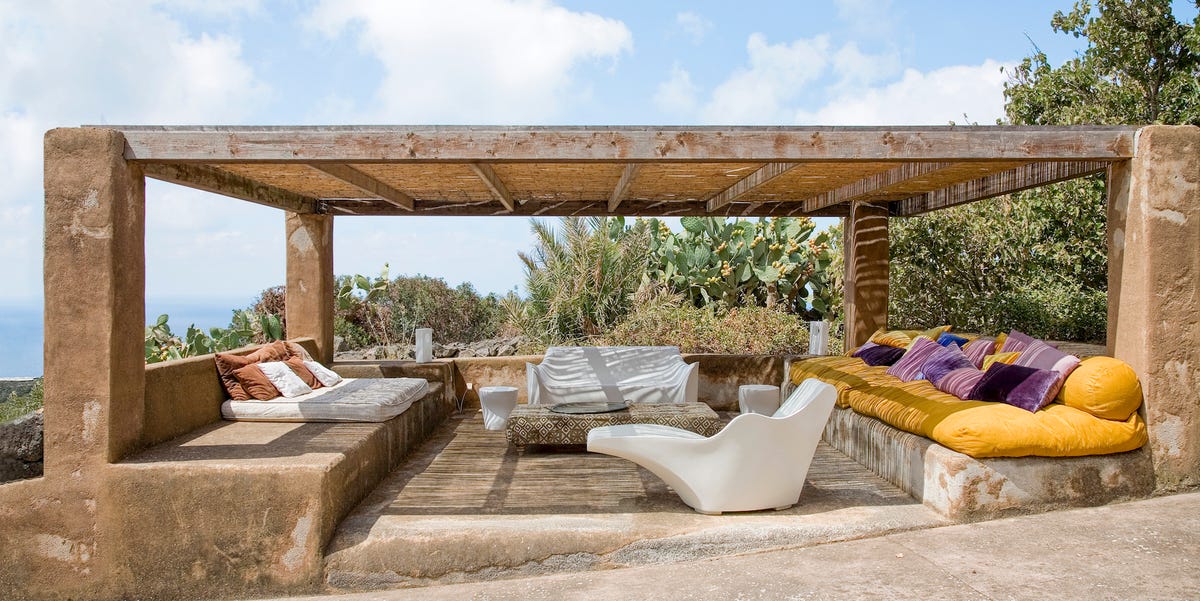 Image Credit: http://elledecor.com
How To Design A Backyard
Taking all that we've said into consideration, there are a few basic guidelines that you can use to help with a backyard design.
Learning how to design a backyard can seem like a challenging task but it's pretty simple if you follow three basic steps:
First, determine what kind of outdoor space you want to create. This can range from something small and intimate that mainly serves as an extension of your home to something large and expansive that will serve many guests at once. Think about how much space you have available, the type of activities you're hoping to do outdoors and the amount of maintenance each option will require throughout the year so there are no unpleasant surprises later on down the line.

Before making any major design decisions about furniture or other amenities, take measurements so everything fits together properly before you start building anything permanent. You also want to make sure that there's enough space for people to move around without bumping into each other when things get crowded.

Finally, consider how much sunlight your plants will need based on the time of year and where they are in relation to any trees or buildings nearby. This is especially important if you're trying to grow edible plants like vegetables. It's helpful to know which kinds will survive in certain conditions before you spend money on seeds and equipment that may not work out in the end.
Final thoughts on outdoor living room designs
In conclusion, to avoid the many problems that arise when you are designing an outdoor living space, it is important to remember that outdoor rooms should be lived in.
The design process will be much easier if you follow these simple guidelines. By sticking to them, your outdoor room can become a place where your family and friends will want to spend time with you enjoying each other's company. For extra comfort, you can get outdoor recliners as well. And isn't that what having an outdoor room means?