When you have a small bathroom, it may be hard to find inspiration or small bathroom floor plans that suit your taste. However, we've put together the best small bathroom layout ideas that prove that you can still choose a bathroom design despite the small space. A small bathroom needn't be boring, here's our guide!
Make the Most of Your Limited Floor Space: Small Bathroom Layout Ideas
Put the Tub Across the Room
If you have a narrow space, one of our favorite bathroom ideas is to put your bathtub across your shower cubicle. This blueprint features a double sink and a swinging door but opts for pocket doors and recessed medicine cabinets if you've got a really tight space.
Put Powder Rooms First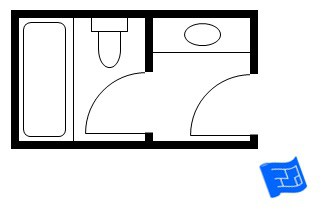 Another clever design for a small bathroom is to create a separate room for your powder room and another for the toilet and tub. Not only do you have more room to relax but this type of bathroom design gives you more privacy. Feel free to use a pocket door for a small room and it'd be great if you could have a window to look out of while you have a soak or to let the natural light in.
Have a Swing Door that Opens Outwards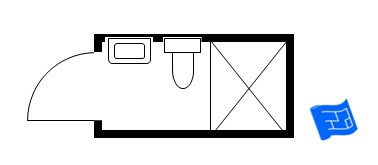 If you're really tight on floor space in your small bathroom, you can make sure that your door isn't an awkward shape that's too small by installing one that swings outwards. Not only will you have a larger space but it's pretty unusual for a door to do this. You can install fixtures on the side wall since they won't be distrubed by the door.
Split Your Small Bathroom Into Two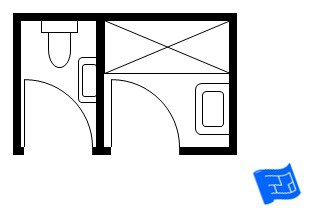 You can always create a separate room for your bathtub and another for your toilet. Even though they're connected by the same wall, you have the opportunity to switch up the interior design of both of your small bathrooms. Both small bathroom layouts have a door that swings open and a sink.
Small Bathrooms Can Be Square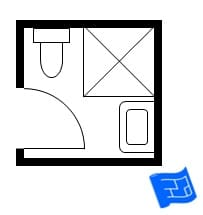 Another small bathroom floor plan that we love is specifically for homeowners with a square bathroom design. Keep it simple! Put your shower up against the wall opposite to the door and place the toilet and sink on either side. You can also choose a pocket door for this small bathroom floor plan to make more space and even put up towel bars. You can also consider bath sheets for you. For further reference, you can check bath sheet vs towel on our site.
Have a "Wet Room" or Space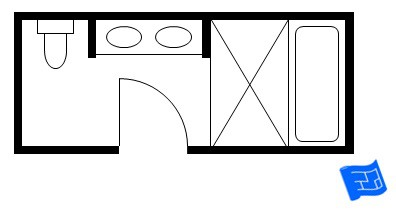 Looking for small bathroom layout ideas that prioritize a wet zone? This bathroom layout is for you. Instead of having a separate wet room, placing your bathtub and shower cubicle side by side does pretty much the same thing for small bathrooms. Line up your two sinks or vanity against one wall or the opposite wall to your door for less plumbing work.
Simply Make a Shower Room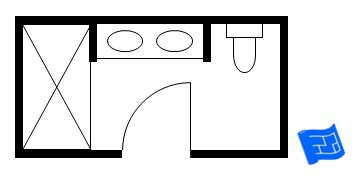 Instead of adding a freestanding bath into your new bathroom, make the most of your small bathroom floor plan and install a shower cubicle instead. Go for double sinks and choose a pretty shower curtain or shower door to really spruce up the space.
Add Walls to Your Small Bathroom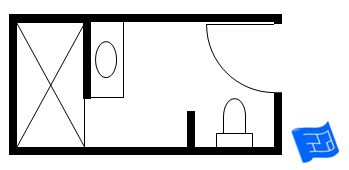 Small bathroom floor plans can be exciting and this non-typical bathroom layout is proof. Unlike other bathroom layouts, this one features a toilet to your left right when you walk in and you can see the vanity or sink across on the back wall. Instead of having awkward corners that you run into, you can even walk right into the shower. This small space uses walls to separate the amenities from each other but you can always use these walls for extra storage space or to put up fixtures and decor.
Put a Separate Shower in the Corner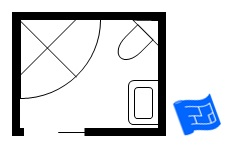 For a small bathroom where you just don't have the square feet for a tub, make do with a shower! Put it up against the bathroom corner to create a wet zone in your small bathroom. This is best for small bathroom floor plans.
Keep Your Bathroom Fixtures to a Minimum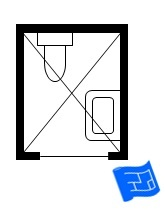 Have trouble finding space for a vanity, sink, walk-in shower, and tub? Keep your small bathroom really, really simple. Have a sink and toilet and that's it. That's the bathroom layout for you.
Small Bathroom Floor Plans: What to Remember When You Have a Limited Floor Space
Just like any bathroom design, a small bathroom has a few dos and don'ts. First, keep your building codes in mind even though it's "just" a small bathroom. Adhering to these rules will make sure that your bathroom layouts are not only space-saving and savvy but safe.
If you have a small bathroom, it may also be a good idea to explore what fixtures can be used for double duty. For example, small spaces can benefit from vanity with a sink or with storage that spans the full width of the wall. Choose high-quality pieces even if you have a small bathroom, that way, each and every nook and cranny has a purpose.
Small bathroom layouts can benefit from prioritizing storage and space-saving. So yes, get that pocket door and install those recessed medicine cabinets. You need all of the space you can get to make the most out of your small bathroom floor plan.
Lastly, invest in really good lighting or make sure that your small bathroom floor plan includes windows along the wall. All of these things can really bring the different small bathroom layout ideas together.