Adding a water feature to your backyard is one of the best ways to make it more beautiful, relaxing and enjoyable. But there are many different types of water features available with lots of options for customization. This can make it hard to know where to start or what kind you should choose.
Waterfalls are among the most popular choices because they're functional and attractive. They create a calming sound that's great for relaxation and provide an interesting focal point in your yard while also adding value by beautifying your space. If you're looking for a sleek, modern pool with a contemporary style design, then you're in the right place.
There are many types of water features that you can explore, and each type has its character and complexity of the design. Read more on bird bath bowl ideas on our blog.
Here are some of the top water features for swimming pools:
1. Waterfalls or Rock Waterfalls
A waterfall creates the most dramatic and naturalistic feel. When you hear the sound of a babbling brook or a gurgling stream, all you want to do is follow the peaceful sound to its source. This is why rock waterfalls are such popular choices for pools – it makes your backyard into an oasis where you can relax and escape from the hustle and bustle of life.
The sound of a waterfall is calming to the senses of sight, touch, smell, taste and hearing. Running water is also an effective deterrent against mosquitoes, so it's perfect for outdoor spaces where you plan to host gatherings. Lagoon style pool with a rock waterfall feature and designed to enhance its look and give the pool a more natural feel. A fire bowl water feature can be a great draw for swimming or socializing around the pool at night.
2. Sheer Waterfalls
This is appropriate if you want to achieve the waterfall effect but with a more modern vibe. This one has a more subdued and simpler design than the rock waterfall, perfect for contemporary and minimalist pool design.
3. Water Fountains
This is more formal, so it makes for a very elegant centerpiece. But of course, you don't have to restrict yourself to just one feature. If long term budget allows, you can even get all three types of waterfalls. Both the sound and the look are appealing especially if you're entertaining guests or having a backyard party. If you love birds, you can consider getting some bird bath fountains not only to attract birds but to beautify your backyard.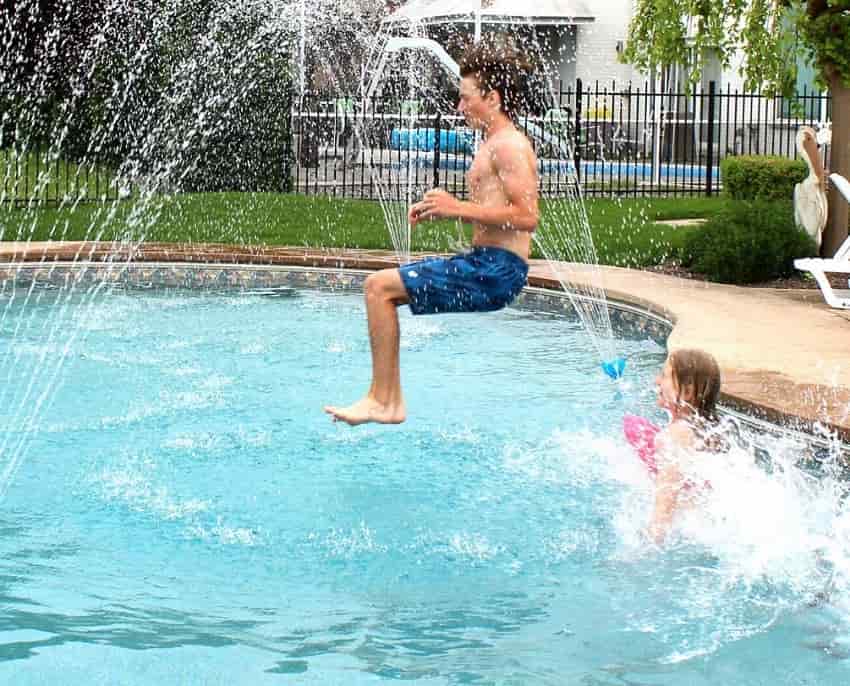 4. Rain Curtain
This is for more practical purposes. Your kids can simply enjoy the play of water, but it won't be that much of a hassle if you want to change its location or remove it altogether. A narrow and often wide sheet or curtain of water is usually mounted on a wall, pergola roof, or overhang that falls into the pool.
5. Spillover Spas
This type of water feature is used to connect your main swimming pool to a hot tub through spillovers. This is highly suitable if a swimming pool is at a raised level than your hot tub because you can create an effect where the water is transferred gracefully from one area to another.
6. Sconces
Sconces are inexpensive types of water features that are mounted to swimming pool walls. This feature is decorative and has a small opening where a narrow stream of water flows. Designing a pool wall with blue tile backlashes upon which plaques with decorative sconces spill water into the pool.
A blue-tiled spa spills into the pool, while a wood deck provides a place to lounge in the sun. A long wood deck frames the pool and continues to the spa with its impressive hillside view.
7. Deck Jets
Often called a laminar or pencil jet, this type of water feature is installed into a pool decking and shoots a narrow, arching stream of water into the pool. You can illuminate deck jets with color charging LED lights for additional fun and drama.
8. Water Bowls
Also known as water pot or water wok, the water bowl is among the pool design trends emerging over the last decade. Round or square, these vessels come in various colors of concrete and metal finishes, ranging from stainless steel to hammered copper.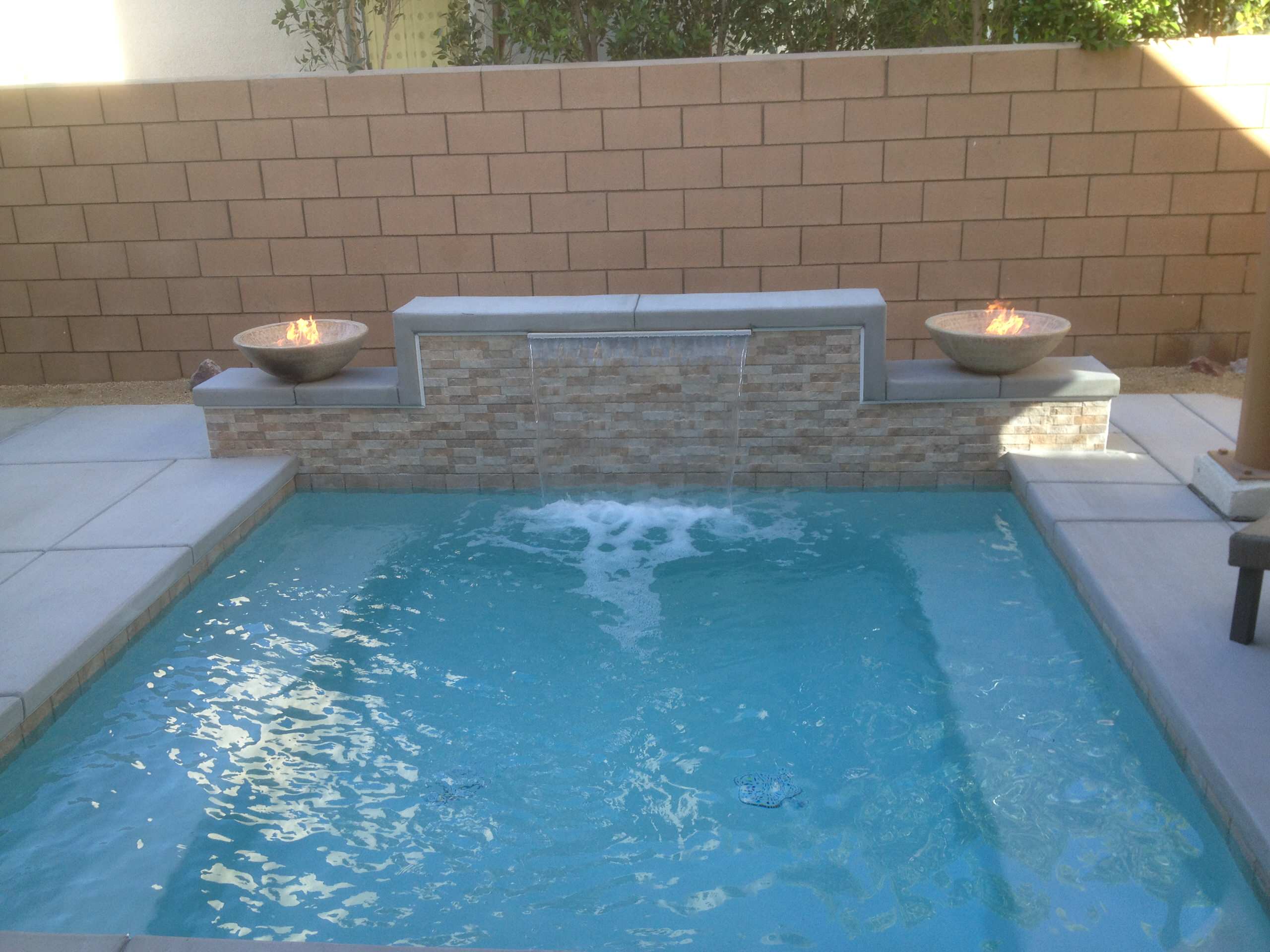 Choose the shape and finish to enhance a modern pool aesthetic. For instance, a square stainless steel bowl can optimally complement a contemporary pool, whereas a round, rough finished concrete one might coordinate well on a lagoon style pool.
Regardless of the shape and material you choose, a water bowl looks best when positioned on a perch such as raised wall or short column. The lagoon style swimming pool also showcases a modern fire bowl peninsula.
9. Sheer Descent
Appearing like a thin sheet of glass, this type of waterfall drops or forms an arc as it flows away from the pool wall. The opening of a sheer descent can range from a small dark hole to a dramatic glass expanse. It's usually mounted flush with a top surface.
Either way, it offers a stunning view of the water as it spills from top to bottom. Sheer descent is ideal for those who want an unobstructed window into their pool or spa. The opening of a sheer descent can range from half a foot to several feet wide.
A raised platform also serves as a place to sunbathe lounge chairs, allowing you to dip your feet into the pool without bending over. This is great for a larger body of water, as the sheer descent makes it easy to view the water from all angles.
10. Laminar
At first glance, laminar may look similar to a deck jet. But if you take a closer look, you'll see why it represents the deluxe version of the water feature. It provides several benefits which more economical deck jets cannot. First, without breaking its arc shape, a laminar can reach greater heights, about six to eight feet.
Its water stream is also thicker, running two to three times the diameter of a deck jet. This water feature boasts a sleek, more consistent tubular form throughout its arc. The water generally holds its shape even as the stream hits the pool's surface.
Achieving this lustrous, nearly glass-like form requires motorized parts to control the water flow. The LED technology integrated into this water feature also means that you'll have a nighttime attraction. The illumination travels through the entire liquid arc in an elegant evening display. You can remotely change the colors or set them to cycle automatically with the right automation system.
11. Reverse Infinity Pool
With most infinity edge pools, the water overflows one pool edge to seemingly blend into the horizon. Behind the scenes, the water is spilling into an integrated catch basin or trough beneath the pool's edge. The infinity pool comes with a seating area that makes a big impression and is an ideal way to enjoy a cocktail and conversation.
The section of the exposed wall will be faced with decorative pool tile or stone, and to ensure the basin is virtually pleasing, it may receive some extra finishing. The result is a large, almost artistic wall of water.
This distinctive custom feature creates a fascinating centerpiece in your outdoor space. And even the area patio around the pool environment will make everyone appreciate hearing the gushing water.
12. Cascades and Waterfalls
Adding a water feature to your outdoor living space will certainly increase the atmosphere and mood, and it may even boost property value. It is more than just a way to make your place look like paradise; you're also choosing an aesthetically pleasing focal point of the home's exterior design.
Cascading down from raised levels, cascading or tumbling down into lower levels, or spilling across areas, waterfalls are excellent for adding movement to the landscape. They're also perfect for bringing an attractive focal point inside your home–just picture one in your kitchen.
13. Spouting Statue
Spouting statues are water features that depict persons or animals, and then they shoot out jets of water. They might be on pedestals, so the sprays of water shoot upward to heights that can reach as high as 100 feet.
14. Scupper Water Feature
Consider installing a scupper water feature if you're not quite ready for a full-fledged waterfall. These features come in all shapes and sizes and can be used indoors and out. Depending on your design preferences, your electrician might even be able to incorporate the light fixture into the scupper itself.
Contractors install scuppers and spouts on a pool's raised bond beam like cascade water features. These features can also go on an elevated spa or a landscape box. Scuppers can also attach to certain kinds of water bowls.
Scuppers are fabricated in square, rectangular, U, round and other spherical shapes. Available finishes include brass, copper, nickel, stainless steel. Some are made of concrete and are called stone scuppers.
Spouts, also known as Tishways and channel spouts, come in various metal finishes and shapes. They funnel the water into tight, thin jet streams for a striking, captivating appearance. Scuppers are also great for those who want an easy to maintain water feature that will provide the soothing sound of flowing water.
Factors to Consider in Choosing the Right Water Feature for Your Pool
Sound of the Waterfall
The most important factor to consider is the sound of waterfalls. When looking for a waterfall, choose one with the right noise level. If you want something relaxing and soothing, go with water features that produce softer sounds. A well-designed pool water feature must not only be visually appealing but is equally enticing to other senses.
Flow of Water
Another important factor to consider is the flow of water. There are various types of waterfalls, but the right one will depend on where you are putting it. Dynamics is also a significant part of swimming pool water feature design.
Effects
Water features include features that can be adjusted to different settings, providing different effects. These features can be activated depending on the user's mood or the homeowner's personal preference.
Lighting
You can add mood and accent lighting to the water feature to enhance its ambience and appearance. Warm lights or colored lights add visual interest and also make your feature stand out, especially at night. Natural lighting is another important factor if you are lucky enough to have a setting that makes your waterfall visible from your window.
Budget
Before you get started, determine your budget for the project. If possible, don't just create a budget for this one project; think about what you can afford to do in each season if it is a year-round project.
Be sure to ask about any permits and make a list of materials that you'll need before starting the installation process.
FAQs on Swimming Pool Waterfalls and Water Features
Why should you put a water feature in your pool?
Improving your pool's circulation can help you for some different reasons. First, it will keep the chemicals in motion, for example, a swimming pool fountain can get the water moving. It will also help get foreign matter to the filter, which helps to keep your pool clean. Water features in a swimming pool make your pool attractive and inviting, especially if it's a lap pool where you can get some exercise and relaxation.
Is it ideal to have a swimming pool in your backyard?
Yes, the swimming pool has a lot of benefits to your backyard. If you know how to design your backyard, then adding a pool will make it even more spectacular without sacrificing that space.
Final Thought on Spectacular Swimming Pool waterfalls and Water Feature
As you can see, there are different ways you can make your swimming pool more interesting and make it stand out from the crowd. Putting in a water feature can be an inexpensive way of adding value to your existing pool, and they also add interest to your pool area, which is beneficial if you like hosting parties.