You may find that your old (or your newly installed bathtub) doesn't fit the aesthetics or overall style of your bathroom. This applies when you're considering sprucing up your existing bathing area. Furthermore, most homes today are designed to leave lots of space between the bathtub and the wall. These, among many other reasons, mean you should consider an upgrade to avoid the discomfort arising from having an 'incomplete bathroom.'
Whether you're interested in lifting your existing bathroom's outlook or want a fully furnished one, a bathtub surround can be an ideal addition. The surround is ideally made with the sole purpose of protecting your bathtub from water overflows and damages while also enhancing the area's overall appearance.
What is a Tub Surround?
A bathtub surround is a surface material designed to protect the bathtub unit. Essentially, it describes the area around your bathtub with a specific focus on the wall or tiles to the exterior.
A surround is not only good at enhancing your bathroom's aesthetic feel but also provides robust bumper solutions if your bathtub experiences excess water flow from continuous showers. A bathtub surround can be constructed in many styles depending on the level of structural integrity you want. Unlike tiles, which will cost you more, upgrading will convert your bathtub into a watertight showering space.
How Much Does it Cost to Do a Tub Surround?
On average, the cost of setting up a tub surround in your home depends on the material you use. Currently, the average cost of all resources required ranges between $ 400 and $1,050 per item. Of course, this doesn't take into account the labor price, if at all you opt for outsourcing one. Also, your total cost may be influenced by factors such as location, the amount of work at hand, and the finish options you choose.
What Can I Use for Bathtub Surround?
The common materials used for tub surrounds are acrylic and fiberglass. Depending on which one you choose, each one of them has its advantages and disadvantages. Therefore, you need to look at every aspect before deciding which one is right for you and your bathroom. There are plenty of options now available in the market. However, we've highlighted the best options you might want in your home.
The Best Bathtub Surrounds
When choosing the best bathtub surround, there are plenty of options you might be interested in. These may vary from the ones that are easy to set up, have an excellent aesthetic feel, and are available at a cheaper cost. That said, here are the top brands that are ideal for your existing or new bathroom.
1. Swanstone Panel Bathtub Wall Kit
The Swanstone Panel Bathtub features a design that's both visually impressive and durable. It's one of the few attractive products in the market that'll take you an easy time to set up, whether in a new bathroom or in an already existing one. Swanstone is made for spaces measuring between 29 to 30 inches in depth and 53 and 60 inches in width. Even so, the typical height should not exceed 60 inches. It can be easily cut and modified into a size that fits in the wall panel, making it one of the easiest ones to set up.
If you appreciate high quality and value for your money, the Swanstone bathtub surround will make a good option. Apart from the backboard, the kit comes with two sideboards that have molded-in shelves for storing your bathing stuff. And it's also made of Veritek that has no color coating on the surface. Therefore, it will not stain or lose its modern and stylish look, regardless of how long it serves you.
Also, you don't have to worry about molds and mildew as veritek ensures it's resistant to any form of growth or contamination. Its other benefits include;
Low maintenance demands
Easy to install
Durable
However, the biggest downside is that you'll also suffer from its limited storage spaces.
2. Sterling Ensemble Vikrell 60-In X 37.5-In X 54.25-In Bathtub Wall Surround
This is a complete 3-piece set designed from solid Vikrell. It's a great choice that will offer strength, durability, and appealing aesthetics to your bathing area. It also features a high gloss finish, making it smooth and easy to clean.
If you want the kind that you can easily fit, look no further than this one. Its design that allows for tongue-and-groove interlocking makes its whole installation process easy and straightforward. You'll also find shelves for storing your bathing stuff.
· It's highly durable and robust.
· Offers long-lasting beauty in your bathroom
· It comes with a smooth and shiny surface that's easy to clean
· Its tongue-and-groove interlocking joints adds to its seamless appearance
The downside is that it's heavy; hence it will give you a challenging time during the handling and setup process. It's also expensive, and you'll have to pay more for it.
3. Durawall Thermoplastic Bathtub Wall Surround
This is for bathtubs measuring a minimum of between 30 to 60 inches and 42 to 72 inches, maximum dimensions. It comes in a five-piece set, including the elegant corner panes. It's also entirely watertight, meaning you won't experience any leakages once installed.
The surround has molded-in self-draining shelves where you can store your bathing products. Besides, the attractive white finish makes it mold and mildew resistant. The finish also makes it easy to clean and maintain. Durawall bathtub surround is also easy to cut into shape and size. Once equipped with the proper tools, you won't need to pay for any professional services.
· It's durable.
· It comes with overlapping edges for waterproofing and extra durability
· Provides good aesthetics
· Easy to set up
The downside is that it requires high maintenance, and it's not easy to find one that easily fits your bathtub.
4. Maax Bathtub Wall Surround
Maax bathtub surround also comes in a five-piece package with a back section, two side sections, and two corner shelves. It fits within a minimum of 48 to 60 inches long and 31 to 60 inches wide. Luckily, it's also cheaply available hence you won't need to spend a lot. You can easily fix it once you understand how to cut the right sizes and fit them around in the walls. When fully installed, you'll also enjoy enough storage from all its six shelves. It also bears a stylish look with a white matte finish that gives the wall a visually appealing appearance.
Highly affordable
Easy to install into the wall
The white matte finish gives it a pleasing appearance
It has enough storage area
Its negative side is that it doesn't bear high quality, and the thin wall may get dented if there's no proper care.
5. Delta 39984 Bathtub Wall Panel Surround
Delta Company makes this surround with minimum measurements of between 28 to 31 inches deep
and a maximum of 49 to 60 inches wide. Delta is among the few options you can easily mount on your bathroom walls by either gluing it or using adhesives. It comes with unique visual elements that will elevate your bathroom's overall look and aesthetic appeal. In addition, the ease of maintenance means you'll have ample time to keep the wall clean and tidy all the time. It also features six shelves that will allow you to keep all your toiletries and other bathing stuff safe and in order.
It's budget-friendly
Easy to install into the wall
Looks great in the bathroom
It offers good storage for your bathing stuff
The only downside is that it's not durable enough and doesn't have a higher quality
6. Kinro Composites Bathtub Surround
Kinro composites are perhaps one of the few one-piece options available in the market today. It fits well in the wall spaces that measure a minimum of 27 to 54 inches. Kinro composite is also made from high-quality acrylonitrile butadiene styrene (abs). This makes it one of the low maintenance yet tough and durable options of all time.
Being a one-piece item also means you don't need to worry about its whole installation process. Once you know how to cut them into the size and according to the bathtub specifications, the pieces will easily fit together in the wall. Kinro composites are budget-friendly and will offer a real solution to your bathroom.
Easy to clean and maintain
They have an easy setup process.
It has a practical and straightforward look that makes it smart
It's inexpensive compared to other options
The disadvantage with Kinro is that it's not of high quality and is only ideal for short-term solutions.
7. STERLING All Pro Direct-to-Stud Tub Surround in White, 4 Piece
The sterling All-Pro is made from the finest vikrell material known for durability and strength. It also features a good finish that is scratch and stain-resistant, making it easily maintainable. You'll also benefit from its four shelves and a towel bar for convenience purposes while bathing. Equally, its modular design allows you to easily move it around the corners and through the doorways.
It's strong and highly durable.
Features long-lasting beauty
Easy to maintain, thanks to a lightly textured swirl-gloss finish.
It's easy to clean.
The four shelves ensure you have enough storage area
Its biggest disadvantage is the high cost and the difficulty in setting up.
8. FlexStone Elite 32 x 60 x 60 inches. Tub Surround in Calypso
FlexStone elite is an elegant and stylish creation made from natural stone. It's big in size and can fit in openings measuring up to 60 inches wide and 60 inches deep. This innovative shower wall surround comes with the easy-to-clean surface material, and it's also easy to cut and install by yourself. You'll also find an added adhesive that allows you to easily stick it directly to the wallboard.
One of its other major qualities includes versatility which ensures you can use it in any standard bathtub. When you purchase the Flexstone surround, you'll also benefit from a complete installation kit that includes trim, silicone, and adhesives.
Highly adaptable, meaning you can install it on any surface.
It features a durable hard-coat surface that doesn't chip or peel.
It is resistant to fading or any form of discoloration
Easy to clean and maintain
Resistant to mold, mildew, and bacteria
Lightweight in nature
The item has major downsides that include a limited guarantee to finding a piece that fits well into the wall. You'll also pay more for it.
9. STERLING Vikrell Intrigue Wallet Bathtub and Shower
This is a complete 3-piece option also made from the vikrell. Therefore, you can always trust its durability, strength, and beauty. Besides, its smooth and shiny surface guarantees you'll have no trouble cleaning or wiping any spots. It also features a corner entry shower that can easily fit and maximize any available space in your bathroom. Similarly, it's made with a modular design that allows you to move it around the corners and through doorways with relative ease.
Strong and highly durable
It has a smooth and shiny surface that's easy to clean
It doesn't feature many layers that can crack or peel.
It complements your bathroom's overall look
The downsides are;
High quality means you'll pay more
It's not easy to set up
10. American Standard Wall Set
This one is originally from the standard American company. It boasts of a good outlook with measurements ranging from 60 x 32 x 58 inches. Its design is for the ideal American standard bathtubs measuring not more than 18 inches in height. Even so, you can still use it on other brands of tubs.
One of its most beautiful features is its boards that are all designed from high-gloss acrylic. Their appearance gives your bathroom a real aesthetic boost with a touch of durability. Its interlocking tongue and groove system is there to stop any water seepage, ensuring you don't incur any costs related to drainage repairs.
You'll also find six large shelves in the wall that ensure you don't run out of any storage space. Similarly, the center of the wall is a free space that gives you bathing freedom without any limitations as to where you can move.
Features a minimalist design with pleasing aesthetics and a touch of elegance
Easy to clean and maintain
Enough storage space for your bathing stuff
It has a good design that allows you freedom while bathing
It's also effortless to install as it comes with an instruction manual to guide you.
6 Best Materials for Bathtub Surrounds
When going for a given bathtub surround, there are things you need to put on your radar other than aesthetic appearance alone. For instance, the material is an important aspect that affects its durability and how it will serve the intended need. Therefore, whether you want to spend on one that offers total enclosure or just a bare wall surround, you need to search on every available website for the best options before settling for a purchase. Here are some of the best materials you can look out for.
Acrylic
A bathtub surround made out of acrylic is one of the cheapest options you'll find in town. This is because the material is low-priced, with price variations highly dependent on the standard. It's also fancied because of its lightweight, and cutting it into shape is relatively easier.
Another aspect that makes it a good choice is its resistance to mold and mildew. This means you can have an easy time looking after your bathroom to ensure the floor and the wall are clean all the time. Besides, its appearance also means it will improve the overall appearance of your bathroom.
Fiberglass
Fiberglass is another cheap material you can use for a bathtub surround. It's ideally lightweight, moldable, and can be used to make a single-piece or multiple surround panels. However, experts opine against this idea as multiple wall panels increase the risk for water leakages when there's no effective watertight seal.
A fiberglass bathtub surround is also easy to install as it's usually glued straight to the wall. Furthermore, it's easy to clean thanks to the shiny surface that maintains a beautiful appearance for a long time, even without regular cleaning. However, fiberglass makes the wall more permeable, which is why you should be wary of stains and leakages.
Veritek
Veritek is commonly used for high-end and expensive items. It's first formed under pressure to achieve its excellent qualities of strength and durability. Veritek is uniformly colored and doesn't have top-coat colorations like acrylic or fiberglass. All these qualities render it stain and scratch-resistant. It also bears immense sturdiness and will never fade regardless of how long it's put under use.
However, veritek is a little heavier than both acrylic and fiberglass. This means you'll pay the price of lifting heavy loads during the installation process. Veritek also doesn't come cheap, meaning you'll have to spend a little more on it.
Glass
Most people prefer glass for the installation of a complete shower unit in their bathrooms. However, using glass in surround units is becoming increasingly popular, thanks to its sleek, stylish, and modern look.
Even so, the biggest worry for glass material is also its weight that makes it heavy to install into the wall. The few available glass items are also expensive and will require you to spend a little more to get a good one that fits the modern tubs. Its high price and level of maintenance are perhaps some of the key reasons why most people view it as the wrong choice for a bathtub surround.
Natural Stone
You can opt for a surround made of natural stone and still achieve the fulfillment you're looking for. The commonly used natural stones here include granite, limestone, and marble. These are known for their exceptional beauty and yield an excellent aesthetic feel to your bathroom. But even so, some of these natural stones are vulnerable to water stains and other spots found in the bathroom. So, it would be best if you practice extra caution in maintaining their natural appearance. The good thing is that they are easy to install into the wall. You only need to arrange them one by one where they can fit well in the wall.
Ceramic Tile
Ceramic tile is cheap, durable, and easy to install right into the wall. Perhaps this explains why it's commonly used in floors, bathing places, and now also in bathtub surrounds. It's also considered extra versatile and can be modified to any pattern, color or texture. This versatility means you'll have fewer struggles cutting it into different shapes and designs to match your desired style.
When you properly install ceramic tiles as required, you'll achieve their unique and beautiful appearance. However, its susceptibility to cracks and the challenges when cleaning will make you think twice. Worse still, ceramic tiles can create a breeding ground for mold and mildew if not well maintained.
How to Make a Choice for a Good Bathtub Surround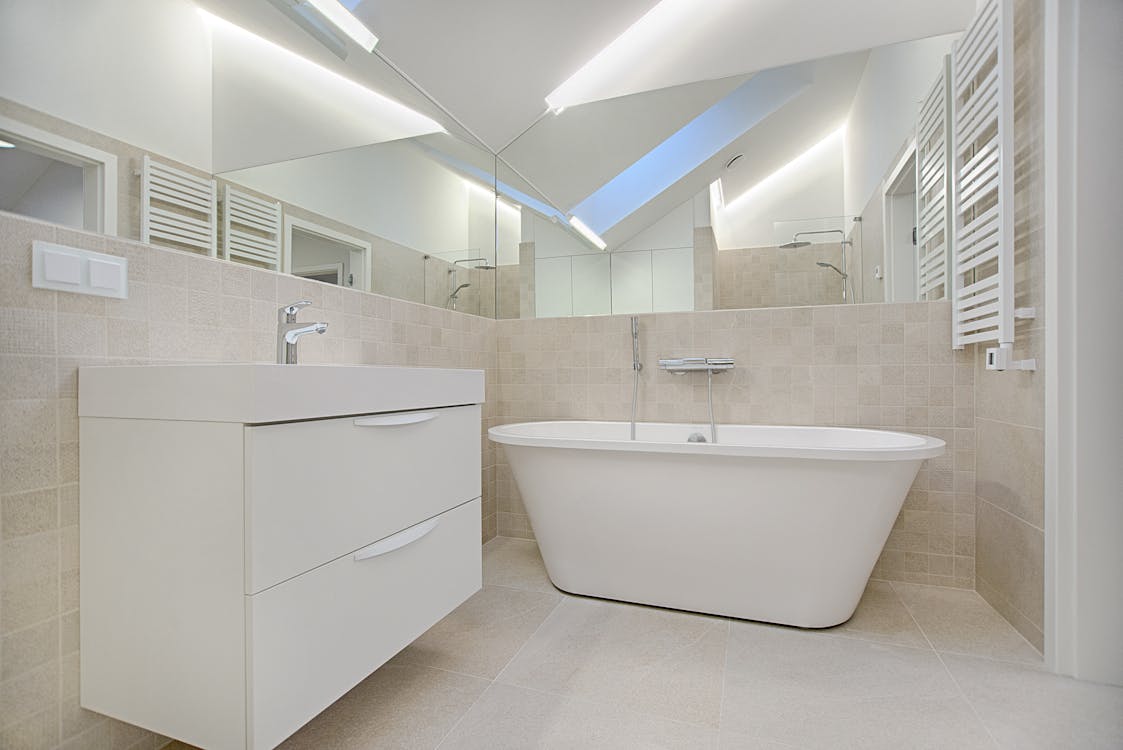 With many websites and online stores now being the leading marketplaces, you're spoilt of choices on what to choose for a bathtub surround. That's why your buying decision needs to be guided by vital considerations such as the price, the company you are buying from, and the product's online reviews found on the selling website. To save you from the hustle of taking time to decide, we provide insights into the most significant factors you should consider.
Size
When choosing a perfect surround, the first thing you should consider is the size of your tub. This also includes the size of the walls where you want to install it and the size of the shower too. Luckily, you don't have to struggle as each surround now has a minimum and maximum defined size. So, it's just a matter of cutting the right pieces and fitting them appropriately into the wall. But just to be safe, you should first check and measure the surround to ascertain if the measurements make it compatible with any of your tubs. This way, you'll avoid carrying one with the wrong measurements that cannot fit around your intended tubs.
Shelves and Storage
Your bathroom needs ample storage space where you can store your bathing stuff in an organized manner. That's why the number of shelves and storage spaces provided by the bathtub surround should be one thing to consider. If you have a shared bathroom, an option with multiple shelves is an ideal fit as it will provide enough space for everyone to leave their stuff. The multiple shelves and storage spaces also mean everyone can have their toiletries separate from one another.
Material
There's no doubt the type of material used in making the surround should influence your choice. As stated, tub surrounds are made from different materials, with each having its unique benefits. The common ones include acrylonitrile butadiene styrene (abs), veritek, fiberglass, and many others.
Material is an important consideration when choosing a good surround because it affects how you'll benefit from it in the long run. For instance, you may need a long-term solution in your bathroom, which means you'll fancy durability and the ability to withstand any form of damage. In this case, abs and veritek will be a good option. However, if you need a short-term solution, acrylic and fiberglass will serve you just better. Depending on your choice, be prepared to pay more if it bears a higher quality.
Ease of Installation and Maintenance
One of the vital considerations when shopping for a surround is whether you'll set it up yourself or call for professional services. If you trust your DIY skills, ensure you buy one that will give you ample time during the setup process. Another thing about tub surrounds is that they require proper maintenance to serve you well.
Therefore, you need to go for a bathtub surround that's easy to clean, resistant to mildew, and doesn't stain too often. Models made from Abs or veritek are easy to clean and don't have huge maintenance requirements. For instance, Veritek is non-porous and resistant to scratch. It's also color-through, preventing it from fading.
Style
Installing a surround is a great way to freshen up the appearance of a bathroom and make it good for use. But choosing a surround is not all about finding a proper solution that can prevent the tub from wearing off. As a proud homeowner, you also need a taste of style that fits both your bathtub and bathroom aesthetics.
The fact that you'll be relying on the surround for a longer time means you should choose one with a style that you love. This can be anything from a style that matches your bathroom design or one that elevates the overall appearance of your bathtub.
Can You Put a Bathtub Surround over an Existing Tub?
The most significant benefit of installing a surround is that it elevates your bathroom's general look and makes it a lot easier to keep your bathroom clean. This being the case, you can install a bathtub surround over an existing tub in many different ways. The common one involves screwing straight the studs where you won't be required to mount the drywall. In other ways, you can choose to glue the surround directly to the wall. However, this will apply if you're going for one with a thin-paneled style. Unlike screwing the studs into the wall, the gluing process requires little know-how. Most of them come in pieces of 3 or 5. So, as you go around installing them onto the wall, you need to constantly look out for watertight seals to avoid any breakages.
5Different Ways to Install a Bathtub Surround
Prepare the Drywall First- Preparing the wall allows the panels to bond appropriately. Therefore, you need to ensure this happens seamlessly by cleaning the wall and ensuring it's free from anything that can mix with the glue and prevent it from sticking firmly.
Try Dry Fitting the Attachment or the Shower if Possible-This also needs to happen before fully embarking on the installation process. By dry fitting the attachment, you'll be able to lay each board ensuring they fit in well before gluing or screwing the surround into the wall.
Side Panels Installation- You have to ensure there's a more solid base that will offer the necessary support for the surround. Here, installing side panels and lining them up will help you achieve that. Other processes such as adding adhesives should follow suit if you want to achieve absolute sturdiness.
Installation of the Back pieces –After the above process, you need to set the back section and remove any protruding studs. You should also trim the wall into shape to achieve the required fit.
Fasten all the Panels-Set the panels into place and connect them with the tub. Focus on adjusting until they are all even. If you notice any gaps in the wall, you can seal them off using shims.
Top Reasons Why You Should Choose a Bathtub Surround Over Tiles
It's no secret that most homeowners are now ditching tiles and opting for a bathtub surround in their bathrooms. This decision is primarily necessitated because there's more to a bathtub surround than what meets the eye. Here are a few reasons why a tub surround is a necessary upgrade in your home.
If you were worried about cleaning your bathtub, installing a bathtub surround will make life easier for you. A good surround provides a smooth surface for the tubs or shower making it relatively easy to clean and maintain your bathroom.
A tub surround improves your bathroom décor. Their availability in multiple styles and color means you have many options to improve the interior outlook of your bathroom and make it comfortable.
A surround protects the wall. Installing a surround is more than just elevating the outlook of your bathroom. It's considered a good way of protecting against water seepage and molds.
Unlike tiles that involve a pretty delicate and cumbersome installation process, installing a bathtub surround is short and straightforward. If you possess little or no experience, you can easily rely on the provided kits and make it a DIY process in your home.
Conclusion
A bathtub surround is an ideal addition we all need to make in our bathrooms. It offers many benefits to our bathtubs, such as mold preventions and sealing off water seepages. Besides, it's a good way to improve the style and general outlook in our bathrooms, ensuring they remain appealing. Therefore, before deciding on the particular option you want, you should always strive to ensure it serves all the intended needs and doesn't leave any room for damages or leakages in bathtub faucets or fixtures.