Your deck is starting to look a little worse for wear. The good news is that it's not too late to clean it and restore its former glory. Decks are a popular spot for homeowners because they offer great entertaining space, as well as a relaxing oasis. However, decks can quickly become dirty and stained if not cleaned regularly.
While pressure washing the deck can improve the condition of your deck, decks need cleaning with special formulas that penetrate through the surface and lift and remove a build-up of dirt and staining. By using a deck cleaner to clean your deck, you can leave it sparkling clean. Make sure you choose a deck cleaner suited to your deck's material.
Importance of Keeping Your Deck Clean
Nobody wants to unwind and relax on a dirty deck. If you don't clean your deck regularly, permanent stains can develop, and you'll end up with cracked wood and even mildew and mold. As your outdoors is exposed to various weather conditions such as sunlight and rain, it's important that you clean your deck regularly to avoid the formation of mold, mildew, and fungus. Even if you're, building a floating deck you should make cleaning part of the construction process even before you start using it.
Tips for Cleaning Your Deck
Regularly Wash and Clean Your Deck
It's important to clean your deck at least once a year to have proper upkeep of your outdoor space. If you let dirt and leaves sit on your deck for an extended time, it could result in discoloration, mold, and rotting. Start by sweeping any visible debris and dirt away from your deck.
After that, go ahead and use a good deck cleaner to scrub your deck's surface. For more thorough cleans, consider using oxygen bleach on your deck.
Different Decks Need Different Cleaners
Deck cleaners are great for your deck as they'll not only remove stains, mold, mildew, and tough grease, but they're also formulated for certain materials. Here are some of the different deck cleaners that you can use for your deck type:
Wooden Decks
Consider using an all-purpose wood deck cleaner if you have a dirty wooden deck. You can use this for cedar, tweak, and redwood. You can apply these cleaners with either a sprayer or a decker brush, spread it evenly, and rinse it with a garden hose.
Dull Wooden Decks
Do you have a dull wooden deck? Well, get yourself a cleaner that has brightening or restorative qualities. These cleaners usually come with oxygenated components that will help with lightening your wood's surface and getting rid of stains.
Decks with Mold
If your deck has mold or mildew, get rid of them using a cleaner that contains mildewcide. Unlike other deck cleaners, you shouldn't rinse these off. Leave the solution on the wood and allow ample time to soak and kill the fungi.
Composite Wood Deck Cleaner
Composite decking is manufactured from wood by-products and plastic and comes with an impermeable surface designed to resist rotting and decay. Wood deck cleaners may be too harsh for composite decks, especially if they contain brightening ingredients that strip the sheen and leave a dull, unattractive look.
To apply composite deck cleaners, spray or brush it with a soft deck brush before rinsing it with a garden hose.
Painted Decks
Have a painted deck? Go for an all-purpose cleaner that's gentle and doesn't have ammonia. Do not use a harsh cleaner as this can damage the painted surface of your deck. You can either spray or squirt it on with these cleaners before mopping lightly to clean away any dirt and grime.
Pre-Mix or Concentrated Deck Cleaners
You should also consider whether or not to go for a pre-mixed or concentrated deck cleaner. Pre-mixed deck cleaners are the simplest to use as you pour into a pump sprayer and a bucket and then spray on or apply with a deck brush. Concentrated deck cleaners come in powdered granule and liquid form and must be diluted with water before application.
You can use an undiluted concentrated liquid deck cleaner in the attached dispenser of the pressure washer or in a hose-end sprayer, both of which dilute the solution during application.
Application
A pressure washer is often the most popular option for cleaning outdoor decks because it can do in minutes what would take hours to do manually. It's followed by scrubbing the decking with a stiff brush to remove stuck-on debris. Another method is to dilute concentrated deck cleaner in a large bucket of water then apply it to the deck with a scrub brush.
Safety
Just like you follow strict building code guidelines for building decks, you should also ensure safety in maintenance and cleaning. Some deck cleaners contain ingredients that may negatively affect nearby plants and lawns. The best way to reduce damage is to rinse off plants or grassy areas after cleaning the deck. Using a pressure washer comes with additional safety as the intense pressure of the water leaving the nozzle can be strong enough to cut the skin on the bare feet and legs and even remove chunks of soft deck wood.
Coverage
Applying a deck cleaner using a pressure washer is more effective in powering away stains than a hose-end dispenser because the water pressure is much higher in a pressure washer. Pre-wetting the deck with a garden hose can soften some dirt and debris so that the deck cleaning solution will treat a more extensive area.
Best Deck Cleaners
1. Star Brite Non Skid Deck Cleaner
This is the best deck cleaner for all surfaces, including vinyl, plastic, and fiberglass. It's also suited to rubber, metal, and even painted surfaces. This deck cleaner contains non-caustic chelating detergents but still helps to eliminate spills and dirt without scrubbing.
While it's manufactured as a deck cleaning product for boats, the gentle formulation makes it an excellent choice for residential decks. Apply the pre-mixed liquid to a wet deck with a pump sprayer.
2. Simple Green Oxy Solve Total Outdoor Cleaner
If you're looking for an eco-friendly deck cleaner, this is the product you want. It's made of plant and mineral-derived ingredients, so it will safely clean your outdoor deck without causing damage to it or the environment.
This simple green product can be applied manually or via a pressure washer. For the best results, mop or spray on the solution, let it sit for 7 minutes to effectively dissolve grime and dirt, and rinse with plain water. Spray nearby plants and lawn to wash away any residual solution for extra safety.
3. itra Shield Exterior Algae Control Systems
Exterior Algae Control Systems are another efficient tool to remove algae, mold, moss, and mildew from your deck. Since each application only takes 30 minutes to work, you can rest assured that there is no need for multiple treatments and no waiting time before allowing people on the surface again. Just apply it with a sprayer or pressure washer, and you're done.
4. Mold Armor Cleaner
Consider mold armor cleaner from Luxury Vinyl to clean vinyl or PVC decking. This unique mold and mildew remover are one of the best exterior cleaners for vinyl, wood, tile, and stone surfaces. It leaves no dulling residue behind but rather eliminates mold spots on your deck with a natural formula that will not damage or fade your outdoor decks.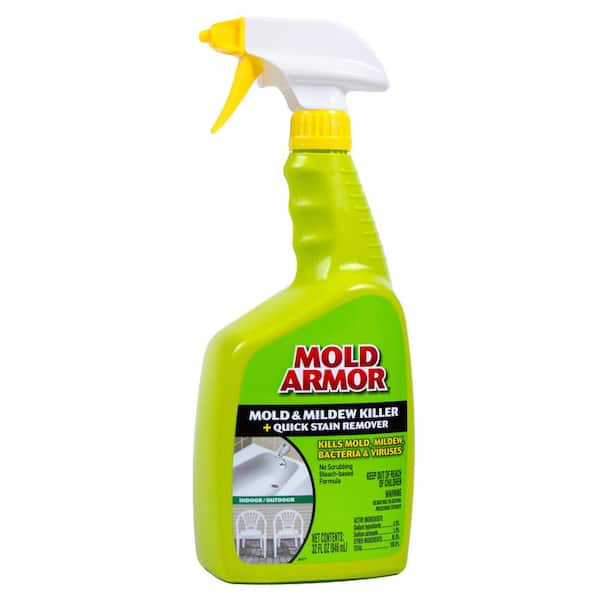 5. Karcher Multipurpose Pressure Detergent Soap
If you're planning to use a pressure washer to power away dirt, stuck-on debris, and stains, consider this multipurpose dish soap from Karcher specially designed to remove mold, mildew, algae, and moss. It's strictly specially made for outdoor use with added mold inhibitors. This exterior cleaner can also be used for other exterior cleaning jobs such as your driveway or even your siding because it will boost the life of the latter.
It contains sodium tripolyphosphate, a powerful agent that penetrates wood grain for a deep and thorough clean. During the application process, wear protective clothing and keep pets and children away from the area. Also, avoid getting the solution on the plants and rinse any nearby foliage with plain water after cleaning the deck.
7. DEFY Wood Brightener
If you're looking to both clean and brighten a weathered wood deck before applying a fresh new coat of deck stain, DEFY'S wood brightener is the best option. DEFY'S wood brightener removes dirt, rust stains, and the dark tannin stains left behind by decaying leaves. It's suitable for use in all types of wood.
It brightens old weathered woods and opens the wood grain, so the deck stains penetrate the wood more evenly, making it suitable for prepping a deck before staining. Apply with a pump-type garden sprayer and thoroughly rinse the deck with plain water after application.
8. Oxygen Bleach Cleaner and Brightener
Oxygen bleach cleaner products are safer for the environment. However, they may not tackle stubborn mold and algae set into wood decks. But if you use them frequently, mildew and algae will not have a chance to set in.
9. Baking Soda, Vinegar, and Dish Soap
Baking soda, vinegar, and dish soap are 3 inexpensive cleaning ingredients that can be mixed to create a deck cleaning solution. These natural cleaners can be used to tackle mildew and algae on the outdoor deck. Sprinkle baking soda on the affected areas of the deck.
Then mix vinegar, soap, and water in a bucket and apply to one section of mildew-infested decking. Scrub with a brush and repeat the process if you're looking for a thorough job. If you're looking for a homemade deck cleaner, then these products are the best option.
10. Oil Eater Original Cleaner or Degreaser
Oil Eater Original Cleaner or Degreaser is a commercial strength product that can remove stubborn stains and grease on the outdoor deck. The oil remover penetrates surfaces and dissolves built-up stains like grease and oil. Apply Oil Eater to the dirty spot and scrub it with a deck brush after allowing it some time to penetrate the surface.
11. Wet and Forget Moss, Mold, Mildew and Algae Stain Remover
This deck cleaner is specially formulated with mold and mildew remover. It comes in a liquid concentrate to dilute water for easy application with a pump sprayer, deck brush, or a hose-end sprayer. Mildewcide in the solution kills and removes any existing mold while also conditioning the wood to prevent future mold, moss, and mildew growth.
The wet and forget formula doesn't contain chlorine bleach or acid, making it safer than other algae remover products. However, it's important to avoid contact with foliage and rinse plants with clean water if the solution inadvertently splashes while cleaning.
FAQs on the Best Cleaners for Your Outdoor Deck
Should you pressure wash a deck before staining?
Yes, pressure washing helps remove old dirt and grime when prepping the deck for staining.
Is it better to sand or power wash a deck?
Both methods are valuable. Sand a deck to smooth out roughness before staining or sealing or power wash a deck to remove dirt, grime, and mold.
Final Thought on the Best Cleaners for Your Outdoor Deck
Deck cleaners quickly remove dirt and stains, and depending on the product, they can also brighten wood, making it look new again. These cleaners also act as long-term preventives for algae growth and even eliminate some weathered graying from the surface.