You've just moved into a new house, and the first thing you need to do is replace all the old, gross toilets. It's not fun having to replace your toilet, but it's definitely a necessary evil.
Choosing the best flushing toilet for your home can be a daunting task, especially if you don't know where to start. With so many different types of flushing systems and toilets on the market, it can be hard to determine which one is right for you. Not only do you need to consider the size of your bathroom, but you also need to think about your budget and whether you want a traditional or modern toilet.
This guide will teach you everything you need to know about choosing the best flushing toilet for your needs. Plus, we'll give you some recommendations for the best flushing toilets on the market.
American Standard Champion 4 Elongated Toilet
American standard toilet champion 4 is one of the best flushing toilets with the powerWash rim. This product provides a powerful flush system for a cleaner bowl. It also has an EverClean surface that inhibits the growth of stain and odor-causing bacteria, mold, and mildew.
Although it's somehow loud compared to gravity flush toilets, you cannot be overwhelmed by the noise of the powered flush. It's also made of durable and easy to clean vitreous china. The flush is very powerful and disperses up to 1.6 gallons of water per flush.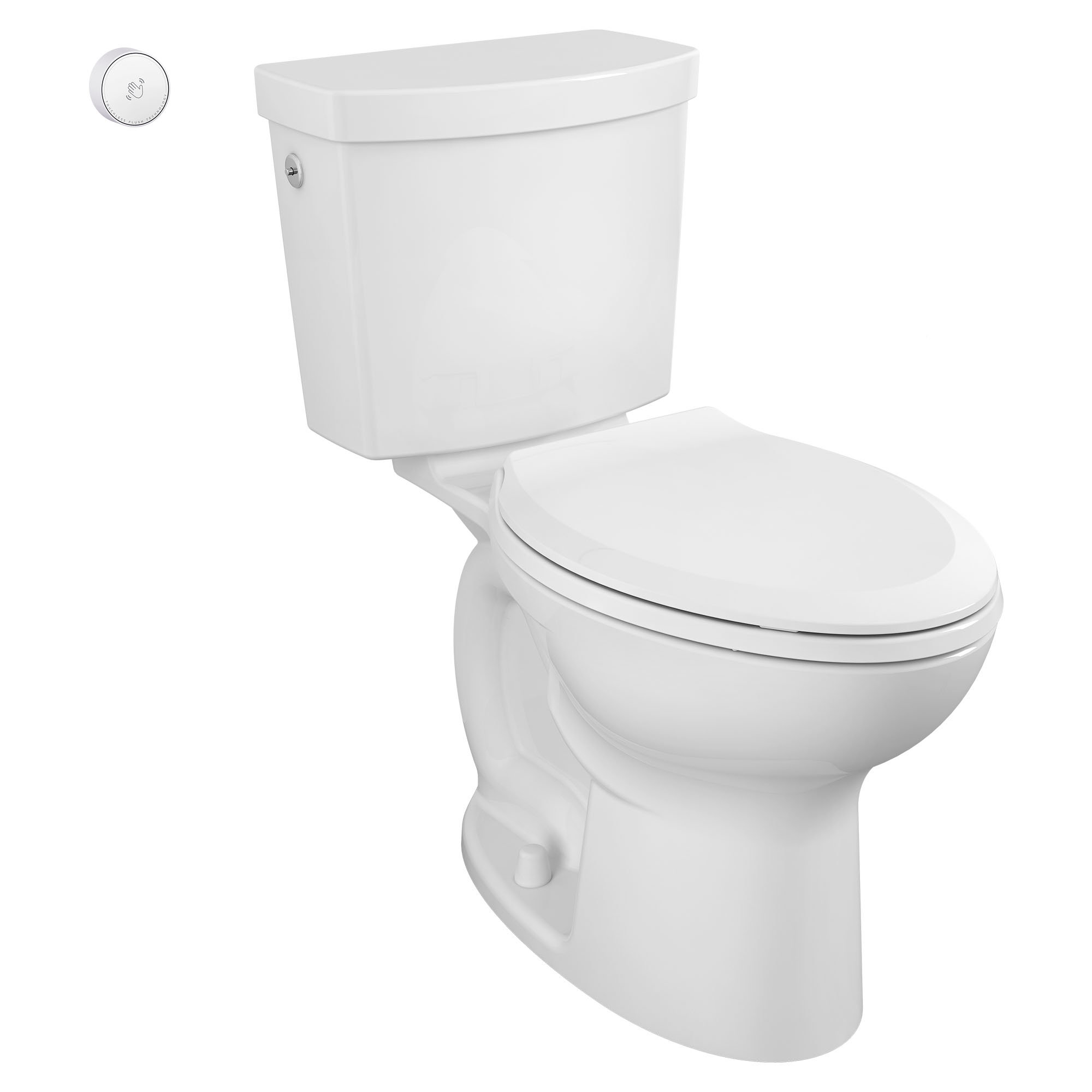 The bowl's height is a bit higher than most flushing toilets, making it ideal for taller people or those with hip, back, and knee problems. On the downside, this pressure assisted flush doesn't swirl the water around the bowl as less powerful flushing systems do.
TOTO Ultramax Elongated Flushing Toilet
The TOTO Ultramax Elongated is a low consumption flushing toilet that only uses 1.28 gallons per flush, making it more efficient. It features a G max powerful flushing system as the larger model, making use of the same 3-inch valve wider than regular flushing valves, allowing it to deliver the water faster.
It also comes in two pieces, including the bowl and the tank. It features the same chrome flush handle and is available in the same five colors, including Bone, Colonial White, Ebony, and Sedona Beige. It has a catalyzed ion barrier that works supremely well with the SanaGloss glaze.
This TOTO toilet also features an E max flushing system that provides consistent flushing, which is quite impressive considering it uses only 1.28GPF. Manufactured from solid plastic, the toilet seat feels safe and comfortable. The innovative e max flushing system is designed from the same advanced engineering as the renowned 1.6 GPF G max flushing system.
TOTO Flushing Toilet
If you're looking for an attractive classic style toilet, the TOTO flushing toilet might be the one you're looking for. It uses 1.6 gallons per flush and has SanaGloss glazing that helps keep the bowl clean. This model is also available in both round and elongated versions.
It comes in five colors, including Cotton White, Sedona Beige, Bone, Colonial White, and Ebony. The elongated bowl shape and the height of 16.5 inches make it comfortable to sit on. It's ADA compliant, making it suitable for people with mobility problems.
One of its outstanding features is its powerful flushing capability. Its G max flushing system features a 3-inch valve that is 125% larger than regular 2-inch versions. This allows it to deliver more water quicker, flushing everything away with ease. With this quick and powerful flush system, this flush toilet is suitable for residential and commercial uses.
The pack includes two separate parts, including the toilet bowl and the tank. It also features a chrome flush handle. However, it doesn't come with a toilet seat, so you'll need to buy it separately. If you're looking for a fast, powerful flushing action, then this toilet is worth investing in.
American Standard H2Option Siphonic Dual Flush Toilet
The American Standard H2Option Siphonic Dual Flush Toilet is a high-efficiency model that is designed to save water. It features two flushing options, a partial flush for liquids and a full flush for solids. This toilet uses 20% less water than standard 1.6-gallon toilets, making it environmentally friendly.
It also incorporates American Standards Siphon flushing technology that uses the powerWash rim system. This forces air and water into the rim and then forces it out into the bowl at high pressure through special holes. These high powered jets of water ensure that nothing is left stuck to the bowl.
As the water reaches the bowl, it activates the second part of the water siphon. This forces all water and wastes out through the pipe, leaving nothing in the bowl. This toilet only consumes 1.28 gallons of water per flush, so it will help to reduce your water bills.
Kohler K-3999-0 Two Piece Toilet
If you're looking for an affordable flushing toilet without compromising on quality, the Kohler K-3999-0 is a great option. This toilet uses 1.28 gallons of water per flush, which is standard for toilets. But it comes with a powerful flushing system that will leave your bowl sparkling clean.
This Kohler toilet comes with an elongated bowl, which makes it more comfortable to use, and it also comes with a soft-closing seat, so you won't have to worry about making too much noise when you flush. This Kohler toilet is a 1.28 GPF, so it's far superior to a 1.6 GPF toilet.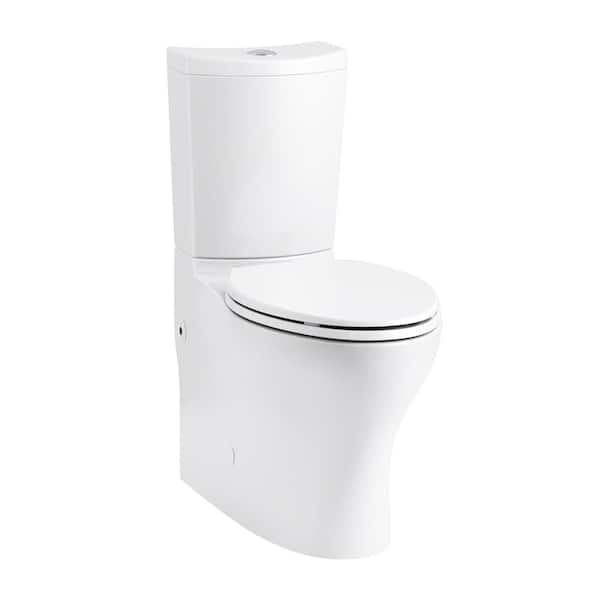 Because of the flushing technology used, this toilet can be removed using no more than 1.28 gallons of water per flush. It also comes with the Class Five flushing system, designed for bulk flushing performance. It maximizes water flow but minimizes noise at the same time for a quiet flush. The toilet's flush system comes with a large flush valve that allows the speedy release of water in the flush bowl without creating excessive noise.
Swiss Madison Ivy Wall Hung Toilet
Are you looking for an elongated toilet for your bathroom decor? Well, Swiss Madison has the solution for you. The Ivy is a wall hung toilet that is both stylish and space-saving. If you're also looking for a space saving and thoroughly modern toilet, check out the Swiss Madison wall hung toilet.
It features a clean and simple wall mount design that perfectly fits your modern bathroom. Because its base is off the floor and it has a skirted design, this flush toilet is easier to clean than most other toilets. When you have this toilet, you cannot experience any dirty caulk or leaky, damp base.
This toilet is also more economical than other toilets. It's one of the most affordable toilets sold right now, but its dual flush design ensures that it's cost effective in the long run. It relies on gravity to flush waste. It also dispenses only 0.8 gallons for liquid waste and 1.28 gallons when you flush solid waste.
Its elongated seat and toilet bowl make it comfortable for almost all body shapes and sizes. With this dual flush toilet, you can use less water per flush to remove specific types of waste.
Things to Consider Before Buying Flushing Toilets
Now that you know some of the best flushing toilets available in the market, you must be wondering how to select the best one for your needs. While flushing toilets are superior to non flushing toilets for most homes, not all flushing toilets are made equally. There are a few factors that you should keep in mind before making a purchase:
Budget
Flushing toilets can be quite expensive, so setting a budget before beginning your search is important. Avoid any budget specials you find, or if a plumbing contractor happens to have some unused toilets at his warehouse.
Location
Toilets are usually located in the bathroom, so you will need to take measurements to ensure that the toilet you select will fit in your available space. It is also important to consider the nearest water supply line and waste pipe location, as this will affect installation costs.
Flush Type
There are two main types of flushes: gravity flush and pressure assisted flush. Gravity flush toilets use gravity to create a powerful flush, while pressure assisted toilets use air pressure to force water into the bowl, creating a powerful flush.
Water Consumption
Water consumption by your toilet is determined by the manufacturer, and unless you have a dual flush system, it will be the same with every flush. While toilets that use more water will be prone to clogging, using more water will also add to your water bill. So, opt for the most water efficient toilet that you can afford and that you feel comfortable using.
Shape
Toilets come in different shapes, which can impact both the size and how comfortable they're when you sit on them. The primary shapes are known as compact and elongated. The elongated bowls with an oval shape are more comfortable but take up more space.
On the other hand, toilets with a compact or round bowl are less comfortable but take up less room. Choose the shape that will be most comfortable for you and that will fit in your bathroom.
Installation Method
Toilets are simple to install without any plumbing experience, especially if you order a one piece toilet. You'll only need to hook up the tank of the toilet to an existing water line in your bathroom. Then, hook up the toilet bowl to an outgoing sewage line.
Noise Level
Toilets make a fair amount of noise when flushed. If you are looking for a quiet toilet, be sure to check the decibel level before purchasing. Look for toilets with a low-flush or dual-flush option to save on water and reduce noise. Toilets with more power, such as pressure assisted flushing toilets, will also be noisier than gravity toilets.
FAQs on the Best Flushing Toilets
What is the strongest flushing toilet?
The American standard cadet pressure assisted toilet is considered the strongest flushing toilet, thanks to its waste eating feature and other powerful features such as the largest accelerator flush valve.
What is the most powerful flushing toilet on the market?
TOTO UltraMax toilet is the most powerful flushing toilet you can find on the market. TOTO is one of the most trusted toilet manufacturers in the market, and their toilets are updated and modernized to fit any bathroom. They also come with a powerful performance that will eliminate clogging forever.
What toilet advertises flushing golf balls?
The Champion 4 Max toilet from American Standard advertises flushing golf balls. Thanks to its large water surface area and fully glazed trapway, this toilet can flush a golf ball in just one flush. If you have any clogging issues, this is the perfect toilet for you.
Final Thought on the Best Flushing Toilets
No matter the type of flushing toilet you choose, performance is always the key. If you are looking for a toilet that can flush anything, go for the models with the largest water surface area and fully glazed trapways. These toilets will never give you any clogging issues. With several types of flushing toilets, you'll definitely find the one that fits your needs.