When it comes to the all-white kitchen trend, what's not to love? White kitchen cabinetry is classic and can look crisp and clean. It also offers a super sleek aesthetic, plenty of clean lines, and a light, airy vibe that's Pinterest-worthy.
However, the all-white kitchen might hold up a lot in your life. So, if you're looking for something more interesting and unique, an all-white kitchen might not be right for you. But if you're still interested in this style, consider adding some color through accessories or paint.
Here are some of the common problems that you may face by owning white kitchen cabinets in your home:
White Kitchen Cabinets Get Dirty Easily
This is probably one of the biggest problems that you can face. It's like owning a white car in the city, and it's completely understandable why you'd turn your nose up at this popular style if this is something that bothers you. Because white doesn't hide stains or smudges, white is easy to look dirty and requires more maintenance than other colors.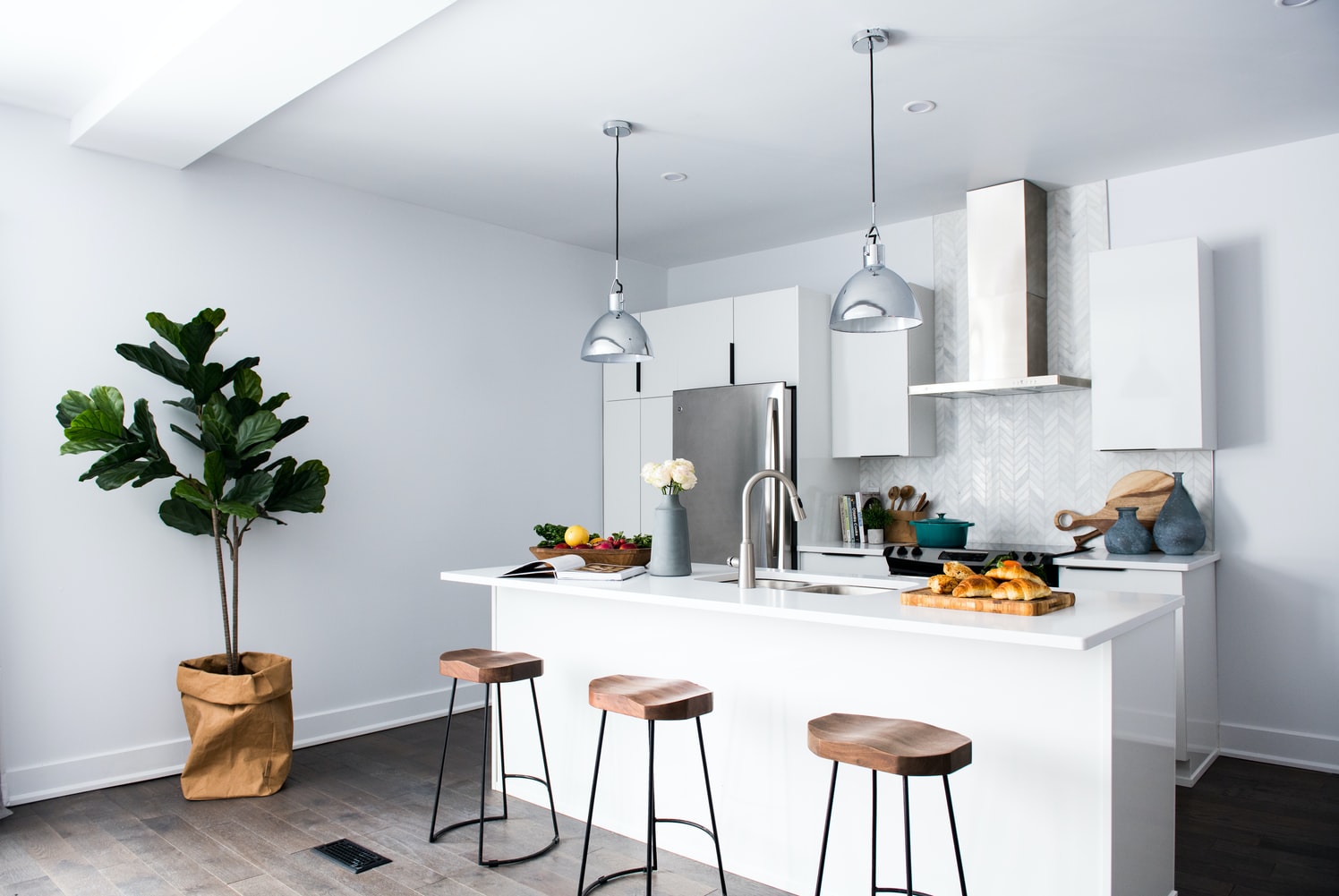 They Show Wear and Tear
White is an unassuming color that shows every dent, ding, and scratch. Because it's so easy to see dirt on white, it's also very visible when the cabinets begin to wear down over time. As your home ages, your cabinets are likely to go through wear and tear due to constant use.
With white cabinets, your eye has nothing to distract itself from zeroing in on all the blemishes that will cover your cabinets. White cabinetry can also turn to a slight shade of yellow with age. This is a natural progression of any white surface, but it can lead to some noticeable inconsistencies with other white finishes in your home.
Darker cabinet colors also tend to be more forgiving when it comes to cheaper woods or finishes. You can opt for a less expensive wood material with a darker stain on top. However, white cabinets draw attention to flaws, rudely highlighting any wood grain irregularities and inconsistencies.
White Kitchens Might Feel Cold and Clinical
White kitchens put all of the attention on the cabinets. It's a very clean and modern look that can be nice, but it may not be to your taste. Some people want their kitchen to have a warm touch and feel, which means opting for a different color scheme.
Stark white cabinets can have a clinical, utilitarian feel. A kitchen that's mostly white can remind you of a sterile clinic or your dentist's office. If you're looking for your kitchen to be warm and a welcoming place where memories are made, then you don't want to come across a sterile or uninviting.
Kitchens have a specific function, but they also have a purpose not only for cooking but for chatting, cleaning, and enjoying each other's company after cooking. However, a white kitchen might bring you more lonely nights than lively conversations.
Kitchens should feel inviting and comfortable, not clinical or unwelcoming. If you want to bring some warmth into your kitchen that it may be missing, then paint the walls a different color than white or go with white shaker cabinets as opposed to just plain white appliances and cabinets.
White Kitchens are Tough to Keep Clean
White is a tough color to keep clean. If you have kids, pets, or enjoy eating with your hands, then you might want a paint color that doesn't show dirt as readily as white does. Yes, it's true that there are certain paints available now that claim to be super-easy to clean, but be sure of what you're buying before you paint. If you must have white, take your time to learn how to clean inside kitchen cabinets to maintain the shine.
Choosing the Right Shade of White Can be Tedious
Choosing a shade of white can be tedious, especially if you're looking for the lightest possible shade. A sink or backsplash that looks like it will match your vision in the store can throw your plans off in reality. If your counters and cabinets are a little off and the floors just a bit brighter, the sleek look comes off as thrown together and out of date.
If you insist on staying with one tone, look at your options in the proper light that mimics the light in your home and double the shade against existing materials.
It's Hard to Keep White Cabinets Looking Nice for Longer
It's hard to keep white cabinets looking nice in a home with children, pets, and busy family members. With regular wood cabinets, you wipe off the grime and move along your merry way. With cabinets that are painted white, you take a little bit of that look with you with each wipe.
Spills are noticeable on white cabinets. And, the constant cleaning it takes to keep them looking their best is time-consuming. If you've owned these cabinets, you might have an idea how long kitchen cabinets last. But with regular cleaning and maintenance that white cabinets need, they'll rarely last long enough.
Cabinets That Match Your Home's Interior Design Can Be Difficult to Achieve
You may think you're getting exactly what you want and need when purchasing matching cabinets with your home design, but that isn't always the case. Cabinets may not be available in the perfect style or finish you were hoping for or expected. Some styles may not match your particular décor, either. Or, you may have certain expectations about the cabinets in your kitchen that are just unrealistic to have met for a variety of reasons.
White Kitchens May Not Be Timeless for Much Longer
White was an obvious color choice for inclusion in kitchens during the early days of modern design because it reflected the limited, almost stark white décor that was typical of most homes back then. Today's living spaces are much more colorful and dynamic than they were 50 years ago, though, so you may find that your white kitchen is feeling a bit outdated in comparison.
Your options for updating it are limited, unfortunately. Painting the cabinets or adding colored backsplashes may work temporarily, but ultimately your white kitchen is aging rapidly, and you'll eventually want to either change the style of your cabinetry completely or add something new to keep from being embarrassed when people visit your home.
White kitchens are falling out of favor with Millennials and Gen Z, the two groups that make up a big chunk of potential homebuyers. With so many models and existing homes sticking with this trend, white remodeling to stand out has the opposite effect. Homebuyers are moving on to bolder looks.
White Kitchen Cabinets Comes With Too Much Variety Making It Hard to Choose
There's a big difference between a space that is too dark and one that is too bright, though, which means you'll need to be cautious about how many colors you add to your kitchen. What might look bright white in a catalog can easily fall short of your expectation when you see it in person.
Cabinets that are pearly or glossy white will look quite different from ones that are described as antique or heirloom white. This can make it difficult to match other white furniture or wall colors in your home. Even if you're good at interior design, the result will likely look weird or off-color unless it's done correctly.
White Kitchens Reflect Light
All-white cabinets and countertops have a tendency to turn yellow over time when exposed to high amounts of direct sunlight. If not properly protected, the jaundice-like effect can cause major regret over the years.
Bright, light cabinets catch and reflect sunlight, making your kitchen look larger and more pristine than it really is. If your kitchen is on the smaller side, white countertops can give you the illusion of more square footage. If you're looking for a much less expensive way of making your kitchen appear more expansive, then try out white cabinetry.
Lighter cabinets look best in the kitchens with well-placed windows that let natural light stream in for most of the day. So before committing to an all-white scheme, consider your kitchen and the cycle of natural light it receives daily. Installing curtains and shades can help you take care of this situation.
FAQs on the Biggest Problems With All-White Kitchens
Why should you not have an all-white kitchen?
White cabinets are the hardest to keep clean, so if your kitchen is high-traffic or you have kids in the house, it's best to go with something else.
Is there any way to make all-white cabinets attractive?
The key is using bright colors that contrast with them. White counters can give kitchens a clean look while serving as a contrast for the cabinetry. If you must use white cabinets, ensure they're accented by matching appliances and colorful accessories.
Final Thought on the Biggest Problems With All White Kitchens
As you can see, all-white kitchen cabinets are very expensive to maintain. Therefore, if you're considering a kitchen cabinet renovation, don't go with all-white cabinets. You will be losing money in the long run due to constant refinished and touch-ups. Choosing a color for your cabinets is one of the several decisions you'll make as you make your remodel. It's also one of the most important ones since you'll open and shut your cabinet doors multiple times a day.