As the world has gradually gotten itself into this era of information overload and content overdose, experts are taking pages out of the old books in an attempt to find ways to lighten the burden all this has on our minds.
Various techniques and hacks are studied and used in order to enhance productivity, focus, and calmness in our lives. Some people are able to give a break to their minds by washing their car; while others soothe their nerves with ASMR videos—even such as "5-minutes of crunching edible glue". Yes, it has come to this point.
Amongst many of these actions uniquely linked to our state of mind, sorting and cleaning are highly ranked to alleviate stress. Clutter indeed not only causes a delay in our daily tasks, but it also adds significantly to our tendencies of anxiety.
The most peaceful spot in the house?
As we are on the topic of relieving stress and finding peace, most often, funnily, the place inside our houses that we most associate with these terms, is the bathroom. Those few minutes of calm and privacy are just what we often need to recharge and resume doing life!
But what if this 'safe haven' of ours, itself is a cluttered mess and nothing like the picture above? It is surely not a room we can just avoid visiting, in fact, each of the family members visits it (statistically and logically) at least three times a day, including at the very beginning of the day, in the period that has the potential to set-up the tone for the rest of the day.
Sorting the bathroom does not only save ample time in our daily routines, but it also makes the place cozy, warm, and perhaps suitable for its infamous brain-storming-friendly environment.
Bathroom Vanities
One of the most efficient ways of organizing the stuff in your bathroom is through what's called a Bathroom Vanity. According to one of the definitions in the Cambridge Dictionary, Vanity means "a small cupboard that stands on the floor in a bathroom and has a washbasin in the top." This definition does cover the basic elements of a bathroom vanity, however, as the world has innovated, so have the bathrooms. The key element here is the washbasin; if the vanity is just as it is, but the washbasin is absent, it's no more vanity, it's merely a storage space, such as a cupboard.
Multi-fold benefits
Apart from providing storage space inside the bathroom, these bathroom vanity cabinets also serve the noble purpose of concealing the associated plumbing.
Bathroom vanity units are now available in different styles and sizes, designed to meet our personalized needs and preferences. The style, however, largely depends on the overall interior of the house, as well as the available space in the particular bathroom.
Some styles are shown below:
Styles for bathroom vanity
French Provincial
Their Origin
The French provincial style of furniture is inspired by that of rural France from the 17th and 18th Centuries. It is the more elegant branch of the generally rustic French Country style as seen in the picture above. The patterns, colours and the shapes of this large bathroom vanity are reflective of the country surroundings and almost mimics a vintage dresser or an old dresser with fancy legs.
The number of drawers, the fancy sink and the faucet with its handles are also coherent with this iconic design.
Where are they most Suitable?
French provincial bathroom vanity units are often suited for spacious bathrooms in houses, such as a master bathroom, that has an overall royal and a luxurious look. They go pretty well with large mirrors with fancy frames and marble floors in the bathrooms. For vanities this size, you can even consider double bathroom vanity as in the picture below.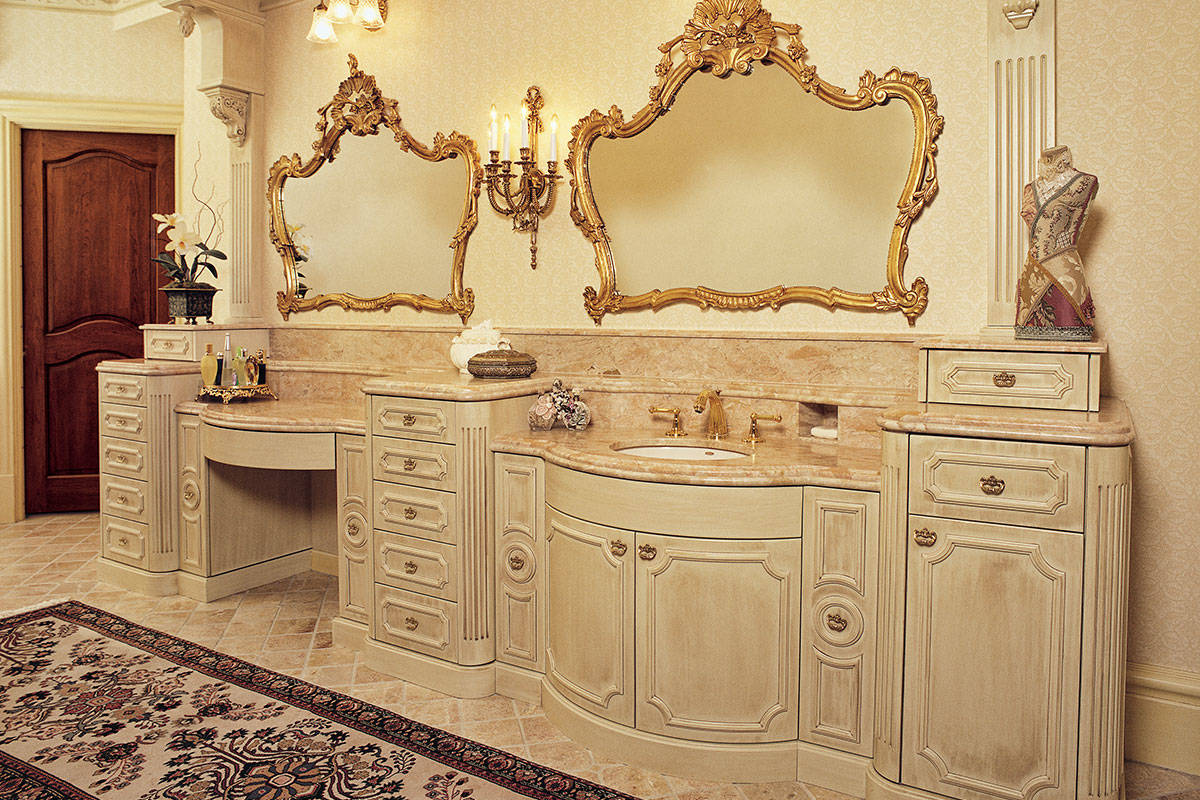 If you've ever thought of having a chandelier in your bathroom, it may not be the oddest choice in such a place that can aesthetically and space-wise accommodate a French Provincial bathroom vanity.
Art Deco
Their Origin
Art Deco, the decorative art style that gained its peak popularity in the late 1920s and early 1930s is the second on our list of bathroom vanity styles. The particular characteristics of this style are its very notable geometric shapes and patterns along with strong (often metallic) colors.
Where are they most Suitable?
Such bathroom vanity plans can be easily applied in bathrooms of various capacities and sizes; large or cozy. As seen in the picture below, the face frame itself is of a solid square shape with no curves whatsoever. The same goes for the patterns on the cabinet doors, the angles are sharp and sleek, as can also be seen in the mirror.
Such are the characteristics of the Art Deco bathroom vanities. These styles do not necessarily have to strictly follow the theme of the house, they could stand equally well as independent, pretty rooms of the house; almost like rebels. The paint on the walls around also helps the vanity blend in well with the bathroom.
Minimalist
The cleanest Design Theory
Back to where we began our article; sorting and cleanliness for peace of mind. The design theory that is the closest to our aim is indeed Minimalism. In this, usually, the bathroom vanity is a compact unit (such as a floating vanity), just enough to fulfill your needs without occupying unnecessary space for the sake of design. The colors as well are never too loud or conflicting. You will observe soft tones that blend effortlessly into each other, and instead of patterns, textures can be added to provide some variety to this design.
This design category is perhaps the most soothing to the eye, and light on the mind due to its simplicity. The picture shows a floating bathroom vanity which still leaves plenty of vacant space underneath. This space can also accommodate a small chair or stool if required. Moreover, some indoor plants around the vanity would certainly not feel out of place.
A potential drawback
The important thing to keep in mind here though is the lack of free space available for additional or large items. Such vanity plans have the potential to make a smaller bathroom feel bigger; they also work equally well for more spacious bathrooms.
Various Style Options for Bathroom Vanity Plans
Having discussed the different designs of bathroom vanity, it is vital to look at the various styles that these vanities can be installed. Depending on the size and layout of your bathroom and the location of the plumbing in your bathroom, multiple styles can be chosen. Some of which are shown below.
Freestanding Vanity
They Make a Statement
Freestanding vanity, as the name suggests, are independent units that establish themselves as the centerpiece for your bathroom. They stand on their own feet and can offer free space at the cabinet bottom.
This type appears as a furniture unit while serving both the purposes of a bathroom vanity discussed earlier; therefore, it can very well adapt to the furniture design of the house without seeming as a special adaptation for the bathroom.
Freestanding vanities are available in different sizes and shapes and can in fact be custom-made to suit your preferences. You can also get the desired bathroom by looking at best rental furniture companies.
Floating Vanity
Floating Vanities serve our purpose to an optimal level. They do not occupy needless space, yet they offer sufficient storage room and hide your plumbing. Most commonly found in minimalistic bathroom designs due to their sleek and to-the-point design, floating vanities have gained popularity in the bathroom vanity market for multiple reasons.
Benefits:
Multiple design preferences can be converted into this space-saving style thus providing an exciting blend between different designs and styles.
Due to their 'levitating' style, they provide a room to breathe below them, offering an uninterrupted flooring surface, which, with even a few inches, can have a significant calming impact on the mind.
The fact that these are wall-mounted, their heights can be adjusted as per those of the residents of the house. You do not have to get a humongous bathroom vanity simply so it can be at a comfortable reach.
Their installation, however, may be slightly trickier than those of the free-standing vanities, it's no rocket science and can be managed well with little assistance.
Going an extra mile with space-saving
A step further in minimizing the clutter is the extension of floating vanities—the floating shelves! Shown below in the picture, it offers a further reduction in the space consumed by your vanity despite having a couple of vessel sinks.
Tower Storage with double bathroom vanity
Depending on the space in your bathroom, the ideal candidate for a bathroom vanity with the most storage space is indeed the Tower Storage. The tall cabinets go all the way up, using the otherwise unutilized space, and thus, have the potential to significantly decide the overall look of your bathroom.
These towers can also have relatively bigger shelves and drawers (as shown in the picture above) which can accommodate more types of bathroom-related stuff, that would normally not fit in the regular-sized compartments. Certain toiletries can be purchased in bulk now that you have enough space, thus, reducing the frequency of your trips to purchase them.
P.S. It's not an odd practice to utilize such large storage space for objects irrelevant to the bathroom too.
Morning routine hack
As seen in the picture, tower storage of the wood bathroom vanity can also be used to separate the sides of the double bathroom vanity, with 2 sinks. This saves plenty of time, especially in the hectic mornings.
A possibility to build on
The cool part is that your existing bathroom vanity can also be, in some cases, converted into tower storage, provided that you're able to match the wood type, design, and other elements of the existing unit.
DIY bathroom vanity
All of what has been discussed so far in the article has a massive underlying assumption that you have the freedom to just pull out the existing vanity and install a new vanity, as you please. However, in the case of rental houses, the tenants do not mostly have the liberty to make too many changes.
In such cases, the good news is, you can always Do.It.Yourself—DIY using basic tools and hardware.
Specifically for the reason stated above, and the costliness to install pre-made bathroom vanity plans, DIY bathroom vanity is quite popular nowadays, just as are all sorts of DIY furniture.
You have sufficient knowledge to go-ahead
We have looked at plenty of design and style options for bathroom vanity, but when it comes to DIY vanities, we are in charge of almost everything, the most important of which is the material.
It is important to keep in mind that the bathroom is one of the moistest areas of our houses, if not the most. This factor, therefore, must be included in the equation while making the decision for the type of bathroom vanity you want to create.
Material
Following are the two major factors to keep in mind while selecting the material for your DIY project of a bathroom vanity using your own tools and hardware.
Moisture Resistant
The material of the bathroom vanity must be at least moisture resistant if not entirely waterproof. The reason for this is that the moisture in the bathrooms may cause the furniture to crack, distort shape and discolor with time.
Strength
Secondly, the strength of the material used must be sufficient to hold not only the (usually heavy) countertop but also the stuff that is going to be put on top as well as inside the vanity.
Solid Wood
If your pocket allows, solid wood such as oak wood would definitely do a great job, owing to its strength and natural beauty. However, when it comes to moisture and temperature tolerance, it may not be the most reliable choice since it could expand or contract unless kept in check. Other similar wood choices can be maple or poplar woods.
Plywood
Plywood is a combination of thinly cut natural woods, glued to each other. This type of wood is often used for roofing, which reflects its reliability, strength, and durability. Plywood also is able to resist expansion or contraction potentially caused by exposure to moisture, especially in a bathroom setting. Which makes it a pretty considerable option for your bathroom vanity.
Rubberwood
Usually referred to as the eco-friendly choice, the rubberwood is indeed obtained from rubber trees, but only after the tree has gotten to an age where it has served its purpose and is no longer able to produce rubber. This naturally makes it an eco-friendly choice as compared to some other ones.
MDF
The medium density fibreboard (MDF) is a material not in its natural form, but processed enough to give it durability and strength. MDF is made by breaking down wood into smaller fibers before it is processed into dense and stable sheets. This option for bathroom vanity units is also a great balance between price and material strength as well as durability. It won't crack or warp like solid wood.
DIY Bathroom Vanity Plans
If you have read the article with focus and patience all the way to this point, you definitely have a good idea of various design and style possibilities and how to make decisions based on your own preferences. Keep your own target bathroom in mind and think of the available space, the interior of your house, and your aesthetic sense; whether it is going to look like a vintage dresser or a sleek minimalistic block.
The vanity you wanna build should be of the right proportion; neither too huge, not too tight. Keep in mind also your core intention for building a bathroom vanity; what particular items are you going to store in it? These questions will help you decide the right shape and size of your new DIY vanity.
There are many tutorials for easy and straightforward DIY bathroom vanity plans available online. Usually, a bathroom vanity will have a combination of some shelves and drawers, but the one we will be looking at here is a very simplistic unit that will also save you a lot of money.
This DIY vanity has two drawers (faux drawers) which are actually a single door (as seen above) and a shelf below it. Such a small bathroom vanity can be made with the help of simple and common tools found at home; you may want to however borrow certain rather uncommon tools such as a Kreg jig to make the pocket holes.
Characteristics of this basic bathroom vanity
The material used is simple plywood which forms the door, the side pieces, and the vanity legs. The countertop also appears to be a basic ceramic countertop, plain white in color. It rests over the wooden frame with the help of wood glue and/or other adhesive elements. This wood bathroom vanity is not a floating vanity therefore its legs are resting on the bathroom floor.
By the looks of it, unless you're trying to remodel an airplane bathroom, this unit should work pretty well for all sizes of bathrooms, provided you have a good sense of your DIY plans for your powder room.
In conclusion
Bathroom vanities can be extremely contributional to our daily lives. Whether it is to beautify our 'peace rooms' or to provide us with additional storage space thus allowing us to have quick and easy access to the essentials we look for, when in the bathroom.
And therefore, since we will be installing a bathroom vanity anyways, it is always nice to have a deeper understanding of all of its do's and dont's and match it with the overall design philosophy of the house.
DIY bathroom vanity plans are not a bad choice either, only, it will require some skills and availability of tools and hardware. Many different options are available and apart from stuff that looks like extracted from a King's room, most vanities are certainly very much possible DIY projects.