If you're building your home and choose to have stucco siding, start by working with your builder to select the stucco colors of your choice. However, if you have a stucco house already, know that it's very easy to refresh the color of your stucco exterior.
With so many different color and paint options available, it can be hard to decide which route to take with your exterior color scheme. Check out these stucco colors that go beyond the classic tan color. From light colors to bold statements, there's something for everyone. Read on!
White Stucco House Exteriors
White stucco is the perfect option if you're looking for a clean and classic look. It will give your home a bright and airy feel, and it will match any exterior color scheme. It allows you to add pops of color to your entry door, shutters, and trim. Also, a white stucco house opens up the possibilities for all types of composite roofing options.
When selecting white stucco paint for your home exterior, take your time. Look carefully at different samples and then compare white paint chips to make sure you see the color and its undertones. This is because other white stucco paint colors are grayed down a bit.
Most homeowners prefer a true white stucco house paint and a slightly yellow one. Steer clear of any whites with a pink or blue undertone when you compare them with other whites. This is important because the textured nature of the stucco tends to make subtle undertones of the color you choose during different times of the day when light changes. But you can never go wrong with this color as long as you know how to paint a house.
Grey Stucco House Exteriors
If you are looking for a stucco house color different from the standard tan, you may want to consider a light grey. A light grey can still give you the traditional look of a stucco home, but it will be unique. Sometimes, white stucco can be too bright on the eyes in a sunny environment.
Alternatively, grey stucco can dim down that brightness. With many varieties of shades of grey in the marketplace, make sure you try on paint chip samples on your home exterior during different times of the day. If you know you'll have grey stucco paint on your home, make sure you select a deeper shade of grey for your composite slate or shake roofing tiles.
Black Stucco House Exteriors
These homes have a unique look that can be quite elegant. While black stucco is not for everyone, it can be a great option if you're looking for something different. Black stucco paint can give your home a modern edge and make it stand out from the rest. Stucco colors in shades of black offer richness to a home, and black never goes out of style.
You can match the timeless color with a variety of color options on a composite roof. Black requires more upkeep than lighter choices, but it tells the rest of the world that you're not afraid to break from the norms and be noticed.
Creating a Cheerful Look by Using White Trim and Yellow Stucco
If black isn't your thing, consider yellow stucco. The sunny color is perfect for giving a home a warm and welcoming feeling. It also provides a great contrast against dark roofs and can really brighten up a space.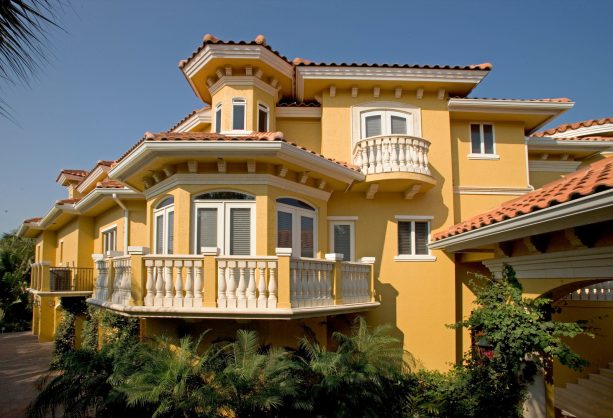 There are many shades of yellow to choose from, so you can find the perfect one for your home. If you're looking to create a catchy exterior with some cheerful expression, then these color combinations are perfect for you.
Lime Green Accents With Tan Stucco
Incorporating lime green accents is a great way to add some life to a tan stucco house. The two colors work well together and create a look that's both unique and stylish. You can use green trim, shutters, or even doors to achieve this look.
Using different shades of the same color can also be a great way to add interest to your stucco paint job. For example, white stucco home gives off a wonderfully beachy vibe with a twist of nature. The house typically features an earthy, lime green front door and garage. The burst of color adds a little playfulness to the style and upgrades the home's curb appeal.
A Welcoming View With Wood Trim and Red Stucco
This home's exterior is a welcoming sight with wood trim and red stucco. The color scheme is classic and timeless, making it easy to maintain over the years. You could easily replicate this look on your own home by using similar colors.
The trim's wooden element will help you make it easier for a red stucco house to blend with nature. You also need to know that any shade of red is easy to pair with any wood color. But if you want a relaxing sensation, darker shades might be the best option.
Stunning Off White Trim Paired With Grey Stucco
This home's exterior is stunning with its off-white trim and light grey stucco. The combination of these two colors is perfect for creating a modern look that will never go out of style. You can pair the grey stucco with any shade of white for the trim. For example, use the off white tone, and no matter the combination between white trim and grey stucco, the result will always be a stunning look.
Sky Blue Stucco House Exteriors
This home's exterior uses a light sky blue color for the stucco. The color is peaceful and calming, perfect for a home that wants to evoke those feelings. You can use this same idea with any light color, but make sure that the trim is a different color so that it pops against the background. Sky blue naturally pairs well with white trim, gutters, and gray shingles.
Elastomeric Paint on Stucco Walls
Consider using elastomeric paint on your stucco walls if you're looking for a modern look. This type of paint is made to stretch and move, so it's perfect for homes that experience a lot of weather changes. Elastomeric paint also comes in a wide range of colors, so you can find the perfect shade if you're looking to paint your walls.
Because of its thickness, elastomeric paint can bridge hairline cracks in stucco, removing them altogether. Elastomeric paint also lasts long and offers a lot of protection.
Classic Black Trim and White Stucco Combo
If you're looking for a classic look, consider painting your trim black and your stucco white. This combo will give your home a timeless feel that will never go out of style. Plus, black trim pops against a white stucco background, making your home stand out from the rest.
Navy Blue Stucco and White Trim for an Elegant View
If you're looking for a touch of elegance, consider painting your stucco navy blue and your trim white. This combo will give your home a sophisticated feel that's perfect for those who want their home to stand out from the rest. White trim is an exterior element that doesn't only have a compatible visual when paired with navy blue stucco.
Deep navy blue stucco, hunter green, and brick red are some of the non-traditional stucco paint color ideas that look great when paired with white trim. All of these colors can create an interesting and unique exterior for your home, setting it apart from the others in the neighborhood.
Freshen Up Your Exterior With Pear Green Stucco and White Trim
A light green stucco with white trim is a great way to add some life to your exterior without going too crazy. This color combination is perfect for those who want a more subtle look or are afraid of going too bold with their stucco paint choice.
FAQs on Stucco Paint Ideas That Go Beyond Classic Tan
Is painting stucco a bad idea?
Not really. Painting stucco is a great idea, especially if you want to keep it looking great. Also, properly caulking hairline cracks and using high-quality paint can help prevent fading and deterioration.
What is the most popular color for stucco?
Colors with a high reflective value are often the best colors on stucco homes. Tan is often a popular color for stucco, but it doesn't have to be your only option. In fact, there are many different stucco paint ideas that you can explore to give your home a unique look.
How do you choose paint colors?
You don't have to be a designer or artist to know how to choose paint colors. With a little knowledge and some common sense, you can easily choose a paint color that blends well with your home exterior.
Final Thought on Stucco Paint Ideas That Go Beyond Classic Tan
As you can see, when you're ready to enhance your stucco house exterior, use one color on your stucco banding and trim, including your soffits, fascia, door trim, and garage doors. After that, use a second stucco paint color on the front door to create a focal point. This catchy stucco and trim color combination can spruce up the look of your home.
And don't forget about accent walls! If you have an interesting architectural style on your house, like a turret or a bay window, use a darker color on the stucco to make it stand out. As long as you know how to paint, these stucco paint ideas can help you create a look that's truly unique to your home.