When you notice unusual noises coming out from your toilet, this means there might be a problem. Some of the sounds you're likely to notice are flushing sounds.
These sounds sometimes appear like a whistling noise or a whooshing sound. You may also hear a gurgling noise. It could be that your toilet constantly runs or seems to be flushing on its own. While this may seem a severe problem, it doesn't have to be.
Here are some of the things that may result in your toilet making strange sounds when not in use. By determining the underlying problem, you'll find that it's easy to resolve this problem.
Phantom Flushing
Also known as ghost flushing, phantom flushing can be one of the most annoying problems to deal with. It's also one of the most common causes of a noisy toilet. While phantom flushing may scare you as you're startled by the sudden sound, you may constantly hear the toilet's tank refilling noise, and the phantom flushing toilet wastes water. The constantly refilling tank will lead to a higher water bill as your household water usage increases.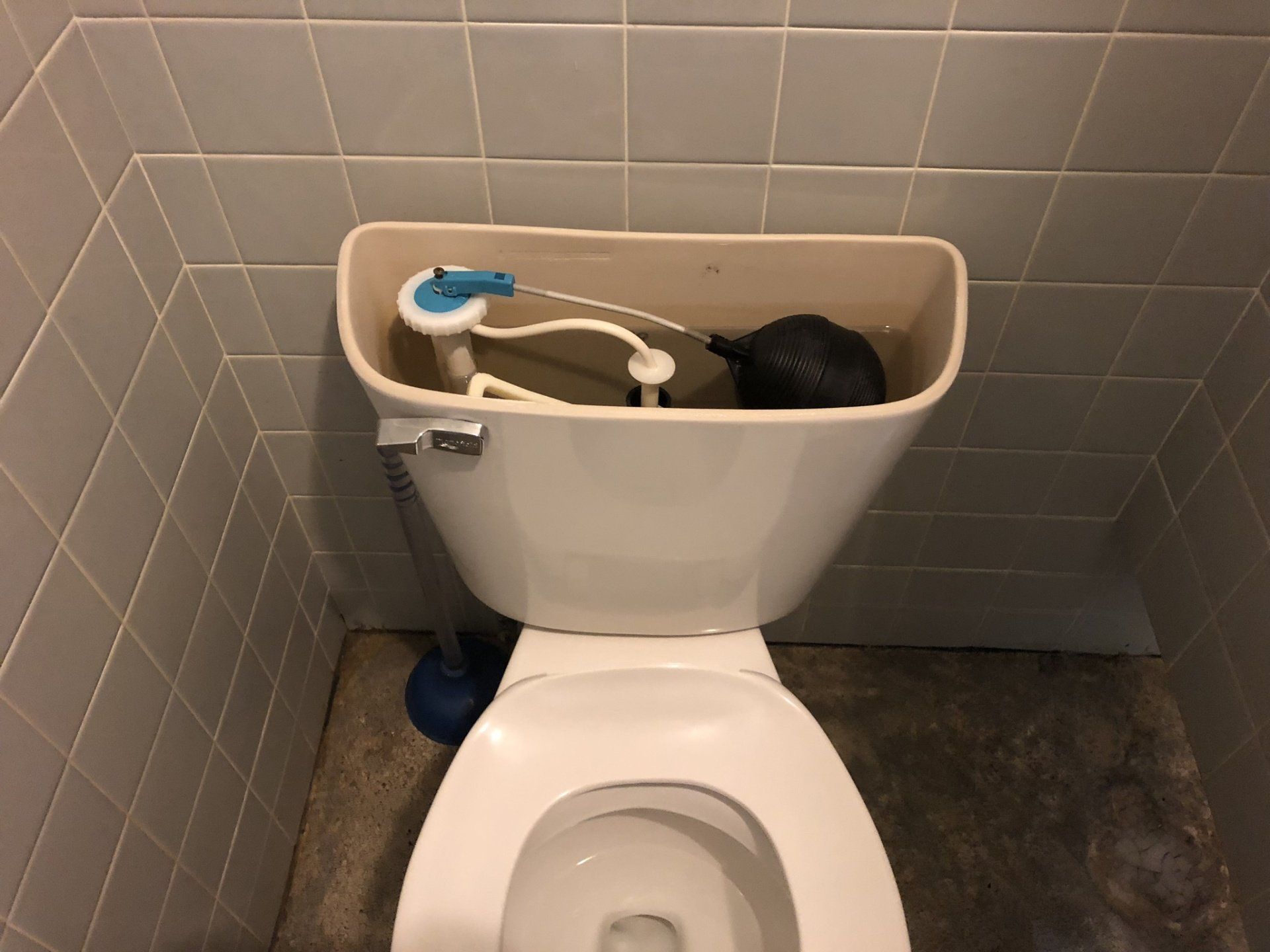 This happens when the water in your tank is slowly leaking into the bowl. The result is that your toilet seems to flush on its own, even when nobody has used it. While it may not seem like a big deal, this problem can waste a lot of water over time. This could also indicate that the tubing used for refills isn't positioned appropriately over the overflow tube. Make sure you know how to stop a toilet from running before you proceed.
Another common culprit is also a faulty flush valve. This is the part of your toilet that controls the flow of water from the tank to the bowl. If it's not working properly, it can allow water to leak into the bowl, causing the flushing sound slowly. A worn or faulty flapper can also cause this problem. The flapper is the rubber seal that opens and closes the flush valve.
If this happens, make sure you replace the toilet flapper by removing the old flapper and replacing it with the new flapper. Make sure you adjust the flapper's chain, so it allows the flapper to sit down securely over the drain opening, but not so long that it binds up.
Gurgling Noise
A gurgling sound coming from your toilet could be caused by a blockage in the drainpipe. This is usually caused by too much toilet paper or objects being flushed down the toilet. A blocked vent stack or sewer drain may also cause gurgling sounds when flushing. To fix this, you will need to remove the blockage.
If you have a blockage in your sewer drain, you will need to remove the blockage. The best way to do this is to use a plunger. If you do not have a plunger, you can try using a drain snake. If you don't succeed, call a licensed plumber with skilled help.
Hissing Sound
A hissing sound coming from your toilet could be caused by a faulty fill valve. The fill valve is the part of the toilet that controls the water level in the tank. If the fill valve is leaking, it will need to be replaced. Hissing is also important, but how much is too much?
A brief hiss post-flush as the tank fills fine. That's the usual sound of your toilet tank refilling. However, constant hissing means that the tank never stops refilling, and you're wasting water, leading to a higher water bill. This is due to a worn or faulty flapper. This allows water to leak slowly from the tank into the toilet bowl.
To fix this, inspect the flapper for visible damage. Wipe the flapper and surface area of the flush valve clean. If this doesn't do the trick, you'll have to replace the flapper to fix the hissing sound. If the problem is a faulty fill valve, then leave it to a professional plumber to do the repair, especially if you don't know how to replace the toilet fill valve.
Static Type Sound
This is another common sound made by toilets, and it's usually caused by water that has seeped into the bowl through a hairline crack. While this may not seem like a big deal, it can actually waste a lot of water and lead to higher bills. Additionally, the sound may be amplified if your bathroom is located on the upper floor. If you hear this type of sound coming from your toilet, it's best to call a plumber so they can fix the crack and prevent any further damage. You should also not blame it on your best flushing toilet if you're faced with these loud refills.
Loud Refills
When you flush your toilet, does it sound like there is a lot of water pouring into your toilet tank? Well, this means that there may be an uneven flow of water coming from the overflow pipe to the toilet. This is one easiest problems to diagnose. You only need to adjust the fill valve that directs water into your toilet. Just turn it so that it can receive less water at a time. You should not experience such problems if you take your time to invest in the best flushing toilet with quality parts.
FAQs on Why Toilet Keep Making Flushing Sounds
Why does my toilet sound like it's flushing?
It could be that the fill valve needs to be adjusted so that less water flows into the tank at a time.
Why does it sound like my toilet is flushing?
There could be an issue with the fill valve not shutting off completely, which would cause a flushing sound. Alternatively, it could be that the float ball is set too high, causing water to constantly flow into the overflow pipe.
Why does my toilet keep making flushing noises?
It's likely that the fill valve or flapper valve is defective and needs to be replaced. If you have worn out the fill valve or flapper, it will need to be replaced.
Final Thought on Why Toilet Keep Making Flushing Sounds
Sometimes, flushing sounds in the toilet may be normal. However, if you hear loud or constant flushing sounds, it's best to check for leaks or other issues to avoid costly repairs down the road. Leaving these problems unattended can lead to severe problems, which may even require you to replace the entire toilet.