When building your own house or making repairs, you'll need to decide what type of wall and ceiling surfaces you want. Drywall is widely used for interior walls and ceilings because it's very economical and easy to install. The flat white and clean appearance makes it ideal for ceiling finishes and residential construction.
But choosing the right sizes and thicknesses for drywall isn't an easy thing, but you definitely won't need professional help. This is a complete guide to all sorts of drywall from regular drywall to cement board. So, you can easily compare them by type and size, making it easier for you to choose which ones would work best for your project. Let's get started!
Drywall Thickness
Drywall comes in 3/8″, 1/2″, and 5/8″ thicknesses or in metric 6, 9.5, or 12.7mm. Standard US drywall is 1/2″ (12.7mm) thick, while the other two are called "non-standard." Building codes also have some requirements when it comes to standard thickness. The building code dictates the thickness of each application.
1/4 Inch-Thick Drywall
This is not very common, and it's used as a skimming material for placing over an existing surface. You can also use these thin drywall sheets to install drywall on the slightly curved surface. If the drywall is not meeting the curve, you need to add a layer of mesh tape and compound before applying another thin sheet.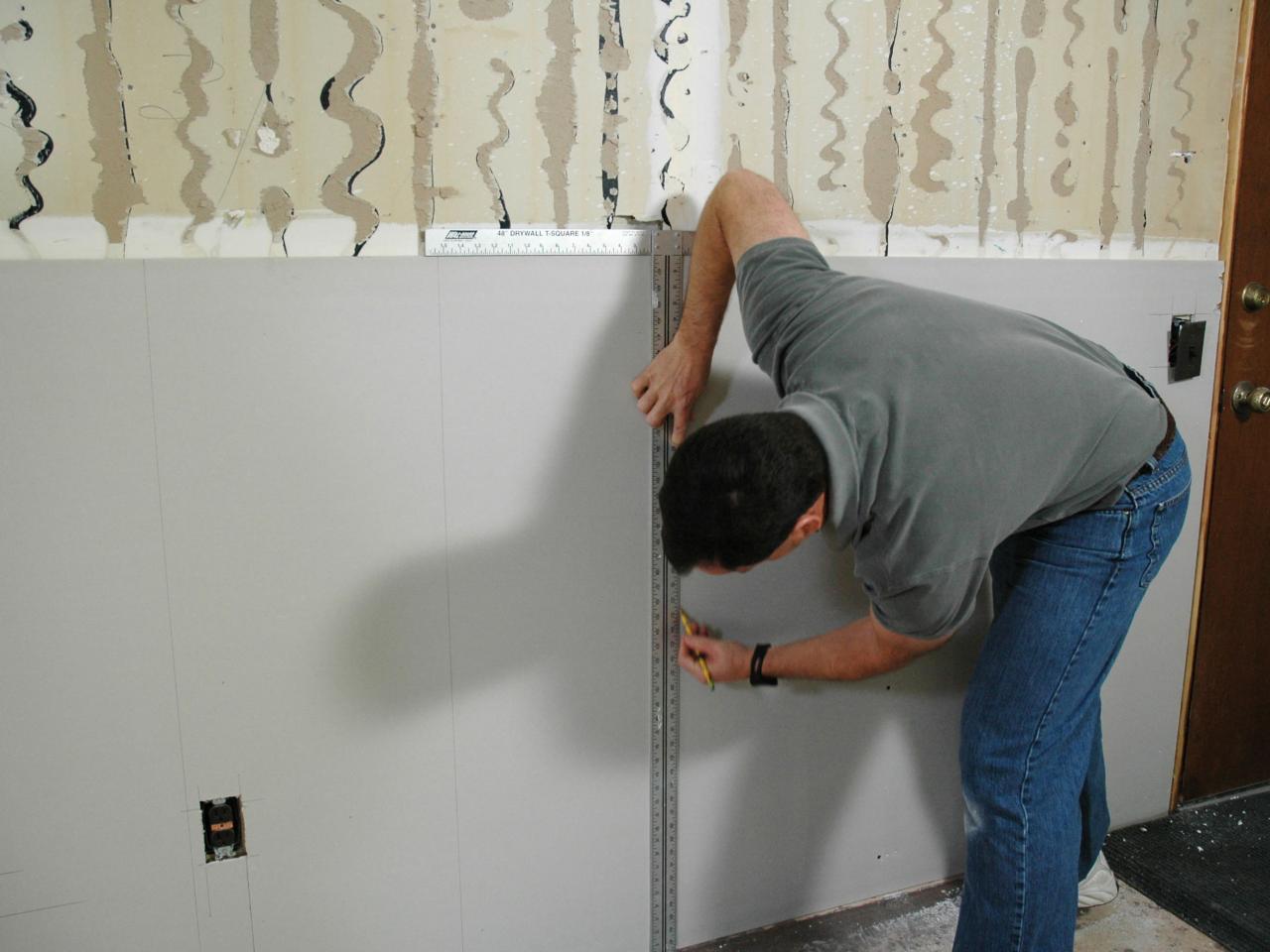 1/2 Inch Drywall
This is the most common type of drywall used in construction, and it can be found in all building and construction material stores and outlets. Thanks to their standard thickness, the regular 1/2″ (12.7mm) sheets are suitable for interior walls.
They're very easy to carry and hang. It's the most versatile board and common thickness for the 16-inch on-center interior walls. It provides a great balance between strength and weight.
5/8-Inch drywall
If your ceilings or walls require a prescribed fire-resistant rating, then this is the right drywall thickness for you. It's a heavier product that can resist sagging in your ceilings and 24-inch wall. It's also the thickness standard for fire-resistant or fire-code drywall, mostly found in garages. This added thickness also improves soundproofing.
Due to its excellent soundproofing qualities, 5 8 works well in bedrooms and living areas. However, you'll have to pay more for this type of drywall than 1 2 inches thick and smaller.
3/8-Inch drywall
When you're looking to fix drywall patches or if your drywall is damaged and worn out, this is a great drywall thickness you need to consider. It's the best option for home remodeling projects. Note that it doesn't offer the strength of 1/2-inch panels.
Drywall Sizes
The length and width of drywall sheets usually come in 4x. The most common ones include 4-foot by 8-foot, 4-foot by 12-foot, and 4-foot by 16-foot sheets. The building codes don't dictate the requirements for drywall sizes. The sizes are determined by the needs of the architect, builder, and client.
4-Foot by 8-Foot drywall
This is the most common size of drywall. It's commonly used because it's easy to carry. Working and installing this type of drywall is very easy. However, it's not the best option for remodeling jobs because its small size is limiting. You can't use this type of drywall in rooms more than 8 feet wide and 12 feet long.
A drywall board size with these dimensions together with the thickness of 1 2 makes it manageable. It's the biggest sheet ideal for a DIY project because you can easily carry and lift it into place. It allows for both vertical and horizontal installation.
4-Foot by 12-Foot drywall
For long and tall drywall, you can find drywall in lengths of 12 or 16 feet. So, if you have long and tall walls, go for this size of drywall. If you also want an unbroken line from floor to ceiling and prefer a smooth surface when working with a long and high wall, this is the best solution.
These longer sheets also produce fewer butt joints than 8-foot-long sheets. However, they are heavy to carry by a single person, so if you're going to install them at your home, make sure you have people around to help you.
2-Foot by 2-Foot drywall
This type of drywall size is best when you have small spaces. When you also need to do some patchwork around your stairs, alcove, and nooks, opt for this drywall size. It's not the standard size of drywall, but you'll find it at local hardware stores and home improvement stores.
Alternatives to Drywall Sizes
When your wall panels come in lengths and widths instead of four feet multiples, then those are not drywall panels. They are cement board or drywall alternatives such as DRIcor Smartwall. 4-1/2-foot wide drywall sheets are not very common in the consumer market, but you can get them with special orders. They are rarely available in home improvement centers and are only used by professionals.
Types of Drywall for Your Bathroom Walls
While standard drywall works well for bedrooms and living areas, there are other types of drywall for special purposes. Here are the types of drywall that you should consider for your next home project. They are excellent in humid areas such as bathrooms, kitchens, and laundry rooms.
Fire-Resistant Drywall
Fire-resistant drywall contains glass fibers and other materials, enabling them to endure flames more than any other type of drywall. You can use it in the laundry room, near furnaces, stairwells, and garage ceilings. It will help reduce flames from spreading in case of fire break out.
In addition, they enable the walls to generate less smoke and are also good for sound control. When renovating your home, the building codes will request you to use a fireboard with fiberglass in areas where you have rooms with wood studs. You'll also be required to install this type x drywall if you have furnaces, garages, and utility rooms.
Abuse-Resistant Drywall
This is the type of drywall that can withstand any abuse. It has a polystyrene layer that bonds well to the non-decorative gypsum board.
Mold and Moisture-Resistant Drywall
Both mold and moisture-resistant drywall panels are paperless panels with a special coating that blocks moisture and helps prevent mold growth. So, if you're wondering how to get rid of mold from your home, installing this drywall will be your first solution. This combination is an excellent choice for bathrooms, kitchens, and laundry rooms. As it reduces mold, it extends the appearance and lifespan of surfaces.
Cement Board Drywall
Cement board drywall is durable drywall that's designed to be installed on plywood or studs. It is available in 1/2-inch and 5/8-inch thicknesses. The cement board is made by sandwiching a cement core between two layers of fiberglass mat. You can use this type of drywall behind ceramic tile and marble for high moisture areas. It's the hardest material to cut.
It's also known as a backer board and can also be used under floors and counters. Its moisture-resistant quality makes it ideal for high-moisture areas.
Standard Sheet Drywall
This is the common type of drywall. It is ideal for residential remodeling and basements. It doesn't have any interesting features and can be used for ceilings and residential interior walls.
Square-Edged Drywall
This type of drywall is most common, and it's fitted into standard studs 16 inches apart. If you're looking to plaster your ceiling or wall, here is the drywall solution for you.
Fire Code Drywall
Fire code drywall is thicker than half-inch material. It has a special gypsum core that resists heat and provides fire protection. Despite having a heavier core, it's still easy to cut.
Tapered-Edge Sheets
This type of drywall sheet is great for finishing walls. The tapered ends allow the compound fillers between gaps.
Foil-Backed Drywall
They don't offer much moisture resistance like moisture-resistant boards. But, it's suitable for areas with less moisture but more for colder temperatures.
Green Board Drywall
Green board drywall is known for being water resistant. Installing drywall that is green board means that you are installing a material similar to regular drywall but one that has a wax coating.
Purple Drywall
There is also purple drywall which is known to be mold resistant, moisture resistant, and mildew resistant. While moisture-resistant sheetrock and mold resistance is great to have in bathroom walls, purple drywall is great for other rooms as well.
FAQS on Bathroom Drywall
What is the best drywall? Is it regular drywall, cement board, green board drywall, purple drywall, or something else?
In a bathroom, it is essential that your drywall is mold-resistant and water-resistant. Green board and purple drywall are better than regular drywall in this regard. You can use purple and green drywall for the bathroom ceiling, beneath tile grouting and shower tiles, or the wall space.
What drywall reduces noise transmission?
While you can add a layer of regular drywall to the exterior of your existing walls, can also purchase soundproof drywall to isolate sound. There are brands that sell soundboard drywall that is mold resistant and designed for ceilings.
What is the best thickness for regular drywall?
Most drywall measures 1/2-inch thickness, which is the most common for interior walls. This is because they are easy to carry and hang, unlike other types of thickness.
What sizes does drywall come with?
The standard size of drywall includes 8, 9, 10, 12, 14, and 16 feet. However, 8, 12, and 16 work well for residential construction, so you'll find it in most retail hardware stores.
Is it better to hang drywall vertically or horizontally?
Fire codes require seams to fall on the length of the framing, especially on commercial jobs, so ensure you hang your drywall horizontally. If your walls are 9 feet higher or shorter, hanging your drywall horizontally will leave you with more benefits.
How much does a drywall project cost?
There are a lot of factors that will affect the price of installing drywall in your bathrooms. Are you choosing cement board, regular drywall, or white board drywall? Do you prefer mold-resistant or moisture-resistant sheetrock? Are you looking for thicker drywall?
On average, drywall installation will cost at least $1.50 per square foot but can go up to $3 per square foot. Costs can tally up to $1000 to $1800.
Final Thoughts on the Guide to Bathroom Drywall
As you can see, it's very important to be careful when choosing drywall because choosing the wrong size and thickness can break your project. You don't want to spend a lot of money and time on your home improvement project only to end up with losses.