The kitchen faucet market is real, providing room for more brands to get into the market. In particular, the US market is experiencing an upsurge in kitchen faucet production. The high demand for kitchen faucets is also pushing many brands to get into the market.
Top US kitchen faucet brands have been tested and produced high-quality kitchen faucets. You can also learn more about kitchen faucet sprayer repair, where are Kohler faucets made? and how to prolong its life and also Moen Vs Delta Vs Kohler on our blog.
So, if you're looking for genuine, high quality and reliable kitchen faucets, then here are the best brands to consider:
Moen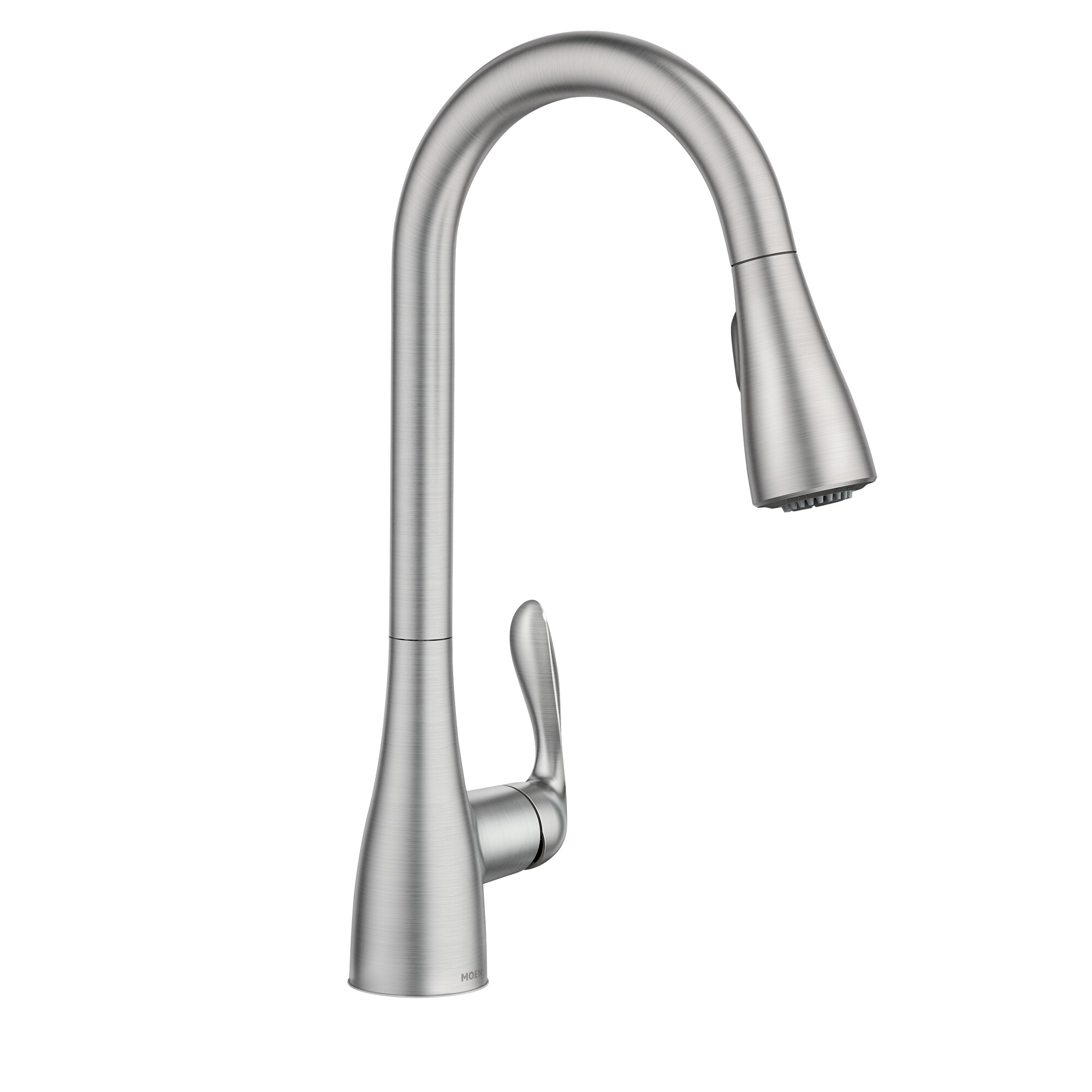 Moen is one of the best brands in the US. The brand has been around for over 75 years, and it is reputed for quality craftsmanship. All Moen products are designed in the USA using the highest quality standards. The company also offers a great warranty on all its products.
What sets Moen faucets apart from its competitors is its wide range of stylish finishes and unique designs. Finding a faucet design from the company that matches your performance and aesthetic requirements won't be an issue. Moen kitchen faucet is also certified by the IAPMO Group, an organization that focuses on researching and testing kitchen products.
The certification means that Moen products are lead free and don't contain any harmful substances. With technologies such as MotionSense, Magnetix, and PowerClean, customers count on them for superior kitchen faucets. These technologies make life easy and comfortable.
In addition, the invention of MotionSense technology has made it easier to produce touchless kitchen faucets that are smoother and easy to operate. Moen PowerClean provides higher water pressure for faster cleaning up at the sink. Despite delivering high pressures, the technology is also water efficient, keeping water bills to a minimum.
So, if you're looking for top quality and reliable kitchen faucet, then Moen is the way to go. They produce the best pull down kitchen faucet.
Grohe
Grohe is a kitchen faucet brand that is headquartered in Germany. It began making the products in the US in 2011. This company is a leader when it comes to plumbing technology. Grohe has won several international awards for its excellence, including over 300 design and innovation awards such as the CSR Awards, KB Awards, and Great Designs Awards.
They produce high quality kitchen faucets. With Grohe, you're sure of getting innovative products that can serve you for years to come. Some of their best technologies include GROHE Blue and GROHE Red in water systems.
Others include Grohe Smart Control and Grohe Sense water based security system. The best part is that GROHE offers an unlimited warranty on almost their products, giving customers confidence when purchasing these kitchen faucet products. They also include mechanical, finish, control, valve, and electrical warranty.
Kohler
Kohler is the leading manufacturer of kitchen faucets in the United States of America. It was founded in 1970 by Michael Kohler. The company is headquartered in a village known as Wisconsin. Despite selling high quality products, many of Kohler's faucets are reasonably priced. They also come with a limited lifetime warranty.
The company sells pull down and pull out faucets as well as single and double handle designs. It also has a range of smart products, including touchless faucets. They also come in various color and finish options, ensuring that you'll find the perfect fixture for your residential or commercial needs. It's also one of the best touchless kitchen faucets available on the market.
Chicago Faucets
Chicago Faucets is another brand that's based in the United States. The company has been around since 1901 and is currently headquartered in Des Plaines, Illinois. Chicago Faucets produces a range of high quality products, including commercial and residential faucets.
In 2002, Swiss Geberit AG acquired the company, which necessitated the relocation of its headquarters to Des Plaines, the US. Like other top faucet manufacturing companies, Chicago uses sophisticated technology to manufacture its products. Chicago faucets are also famous for the production of a highly innovative commercial product line. Products come with a limited warranty, giving you the confidence to purchase your products.
Pfister
Pfister is a brand of faucets that are made in the USA, and it is a part of the Fortune Brands Home & Security company. The company has been around since 1910, and it is currently headquartered in Lake Forest, Illinois. Pfister kitchen sink faucets include pull out, pull down, single handle, and two handle faucets.
Pfister is another oldest kitchen faucet manufacturer which uses premium quality materials. The brand manufactures kitchen faucets in various finishes such as Brushed Gold, Polished Nickel, Polished Chrome, Matte Black, and Stainless Steel. You can read more about the comparison on chrome vs brushed nickel.
Some of the kitchen faucet models use Pfast Connect technology, TiteSeal, Mounting Technology, and Pforever Seal Advanced Technology. The brand has touchless and built in filtration kitchen faucets.
Kingston Brass
Kingston brass is located in Chino, California. These are quality kitchen faucets that can serve you for years. With Kingston brass, you have a partner who understands your kitchen needs, thanks to their innovative products and unique designs.
Established in 1998, the company owns a 72 000 square feet warehouse and produces an array of products. This means that you can count on their rich product line to find faucets that match with your explicit needs. Kingston brass kitchen faucets also come with a 10-year warranty, and they offer spare parts and accessories, giving customers total confidence to purchase Kingston products.
With these parts, you can easily or replace your faucet without hassle. Kingston brass also cares about customers' health as their products are certified and meet the AB1953 standards. All products from Kingston brass are lead free, so you don't have to worry about your health when purchasing these kitchen faucet products.
Delta Faucet Company
Delta Faucet Company is one of the leading manufacturers of residential and commercial applications. The company is based in the United States, and it has been in business for over 50 years. Delta faucet company produces a wide range of products, including kitchen faucets, bathroom faucets, shower heads, and more.
The brand has VoiceIQ kitchen faucets that can react to voice commands through Google Assistant or Amazon Alexa. You can also choose from the traditional, contemporary and transitional kitchen faucet models.
All Delta products are made in the USA, and they are subject to strict quality control standards. Delta faucets are also backed by a lifetime warranty, so you can be sure that you are getting a quality product when you purchase a Delta kitchen faucet.
Jaclo
Simplicity, accuracy, and durability are the key features of Jaclo kitchen faucets. The company has a wide range of products to choose from, and all of its kitchen faucets are made in the USA.
Jaclo kitchen faucets are available in both traditional and contemporary styles, so you can find a model that will suit your kitchen décor. As an American owned company, Jaclo has continued to give Americans unique solutions that are tech inspired. Established in 1901, this family owned company produces unique kitchen faucets for a modern looking home.
With Jaclo, you have a kitchen faucet manufacturer who understands your needs, including quality, durability, design and cares for the environment. They also use modern technology to manufacture their products. Most kitchen faucets from this brand also come with an unlimited warranty and reliable customer service.
Brizo
Brizo is a luxury brand that specializes in eco-friendly and innovative kitchen and bathroom fixtures. This includes stylish yet functional kitchen faucets. All Brizo products are designed with the following concepts in mind – style, craftsmanship, innovation, and sustainability.
Brizo is a company that really cares about its impact on the environment. As such, they have a Water Conservation Initiative, which aims to reduce water consumption without sacrificing style or functionality.
Brizo faucets are so exclusive that you can't buy them anywhere. You have to visit one of the Brizo showrooms to view their collections. If you're looking for bespoke luxury kitchen fixtures, Brizo is the brand for you. You can choose from one of their pull out, bridge, articulating, or pull down faucets to elevate your kitchen.
American Standard
American Standard offers a range of single hand and touchless kitchen faucets with pull down and pull out sprayers that are available in attractive designs with durable scratch free finishes. Formerly known as Standard Sanitary Manufacturing Company, the company has produced high quality kitchen and bathroom accessories for over 140 years. Their products are made in the USA using some of the best materials available.
American Standard's kitchen faucet lineup includes pull down and pull out sprayers as well single handle, two handle, and touchless choices in both deck mount and wall mount models. Filtered water faucets and measure fill faucets offer additional convenience. If you're looking for the best kitchen faucet with a sprayer made in the USA, the American Standard 4175.300.002 Pull-Down Kitchen Faucet is a great choice.
FAQs on Brands of Kitchen Faucets Made in The USA
What kitchen are faucets made in America?
There are many brands of kitchen faucets that are made in America, including American Standard, Delta, Kohler, Moen, and Pfister.
How can I find out who made kitchen faucets?
The manufacturer's name and contact information should be listed on the kitchen faucet. If this information is not readily available, you can try searching for the manufacturer online or contacting a customer service representative for assistance.
Final Thought on Brands of Kitchen Faucets Made in the USA
Kitchen faucets are important aspects of a home. Therefore, when buying your products, make sure you go for high quality, durable and affordable kitchen faucets. Also, confirm that the faucets perfectly complement your home decor, and most importantly, purchase your products from a reputable brand. The above are some of the best brands that are high quality, durable and elegant kitchen faucets that are made in the USA.