A butler's pantry cabinet has evolved into more than just an old-fashioned storage area for silver and fine china. Today, it is a well-designed space that can be used to store your household appliances and features. The name for this area is still maintained because it was traditionally used by the slave of the house or family who worked as a butler or man's maid.
There are many reasons you would want to have one installed in your home today. For example, if you do not have enough countertop space, this custom-built kitchen cabinet will help you out. You can also use it as an extra refrigerator for beverages such as wine and beer, making entertaining easier.
What Is a Butler's Pantry?
A butler's pantry can be defined as an area in the kitchen used by servants who worked in the house during the Victorian era (the 19th century). Butler's pantries were once a Victorian England and Colonial America home architecture hallmark.
Even though the popularity of butler's pantries declined with the trend of open floor plans, larger great rooms, and the addition of mudrooms, these spaces are coming back again. Modern butler's pantries are different from those of Victorian England, both in design and purpose, but they have a place in a modern home.
What Is a Modern Butler's Pantry?
Today, butler's pantry can take many forms, but they're still near the dining room and serve the purposes of storage, meal preparation space, and more. Interior designers place butler's pantries between the kitchen and the dining room so that they can take care of food service and cleanup.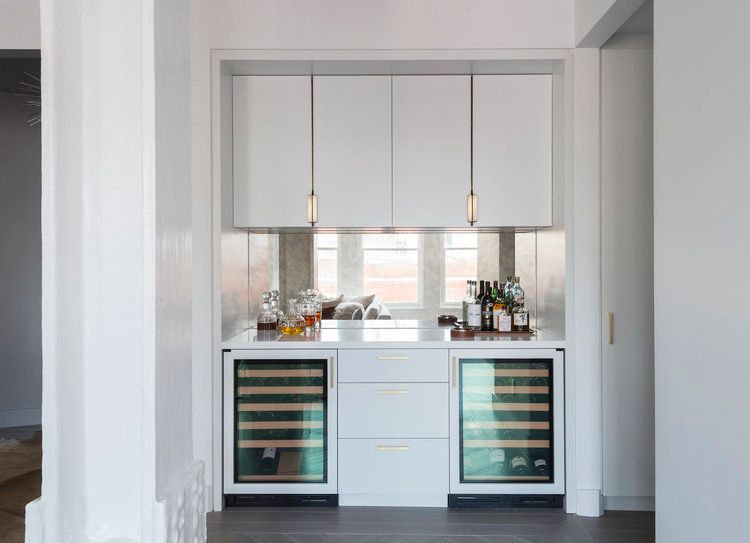 Modern Uses for a Butler's Pantry
Here are some of the uses of modern-day butler's pantry:
A Food Prep Space
Thanks to their proximity to the dining room, butler's pantries are an excellent food prep space for simple tasks. A butler's pantry is usually near the kitchen, so it has easy access to other accessories like the sink, stovetop, and ovens.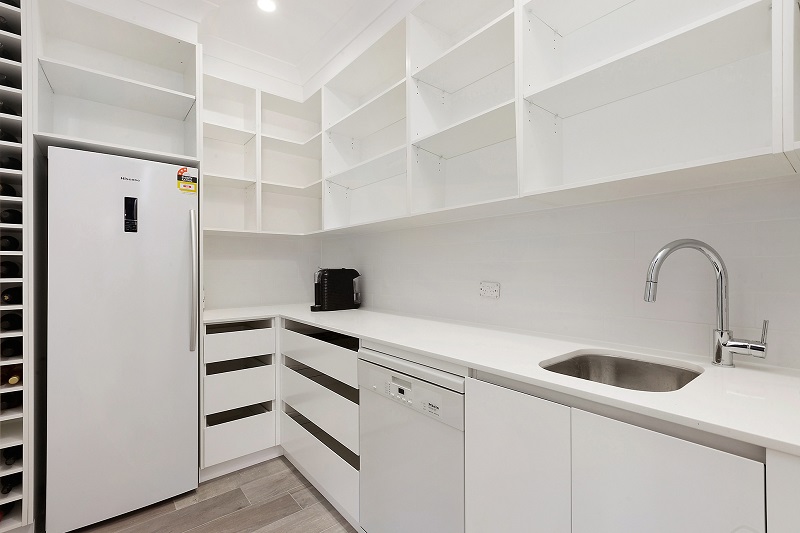 The modern butler's pantry can also make prepping and staging large meals much easier and free up tons of counter space to enable you to continue cooking. It acts as additional storage for things you want to hide from guests in solid cabinets. These items include small appliances such as coffee makers, bread makers, and blenders.
A place to Store and Display Treasures on Open Shelving or Glass Front Cabinets
A place to store dishes, glassware, and accessories. It offers perfect additional storage for fine china, knickknacks, an extra set of dishes, holiday dishware, and heirlooms that you might not want on open shelving or visible cabinets.
You can offload these items from the kitchen cupboard space, which tends to clutter up the space, making it feel crowded. You can also store and display serving pieces, serving utensils, fine silverware, and table linens.
A Simple Wine Cellar
A wine cellar is a home's best friend because it keeps wine at an ideal temperature to preserve its taste and aroma. Wine cellars add beauty and add value to your home. Using a butler's pantry to store your vino and glassware can also add your personal touch to where you entertain guests.
You'll have to install a small wine refrigerator to keep your wine at the perfect, cellar-like temperature. Fortunately, you can find mini wine coolers at most kitchen and home retailers.
Great Home Value for Future Buyers and Higher Resale Value for You
Creating a butler's pantry is an easy way to give your home added value. The resale value is a result of a fantastic place to use natural stone where it won't be abused. It comes with practicality, flexibility, and functionality that almost any future buyer will adore. The high-end luxury space becomes a favorite for real estate agents to wow their discriminating agents.
Home Entertaining Options
Creating a butler's pantry will provide you with more entertaining options. Many homeowners choose to add a refrigerator and possibly a freezer to accommodate the wine. If you want enough storage for soda pops as well as beer, wine, and chilled champagne, find out which beverage cooler is going to give you lasting service at your ideal temperature.
These rooms have a lot of counter space, making them excellent for staging meals and prep food. They also have a door, so you can make a mess in private while your guests enjoy the spaciousness of a clean, open kitchen. This makes it very important, given the popularity of an open floor plan in homes.
Extra Cabinet Storage Space in the Kitchen
Kitchen pantries are available in various styles and great cabinet storage solutions for your kitchen. The most popular style here is installing a butler's pantry in any home that doesn't currently have one. Whether you want to store extra cookware, glassware, or dishware, large platters, serving dishes for entertaining, coffee mugs, a butler's pantry is the perfect place for all of these.
Storage for Snacks
Butler's pantries are not only useful for storage, but they can act as the space to stash your favorite snacks. Many people use this room to keep their pet's food bowls or even human snacks like chips and crackers in the pantry.
A Tricked Out Coffee Bar
Many homeowners install a coffee bar in a butler's pantry because it usually has space for this appliance and food items. Installing built-in shelving is perfect for creating the most efficient space to store your coffee maker, canisters filled with coffee beans or sugar, cups, and mugs, cream, and milk, as well as your favorite snacks or desserts.
Butler's Pantry Ideas
Butler's pantry design covers a wide range of options. You can have a room off the kitchen or a walk through the hallway. You can also choose an alcove, nook, or closet style. Here are the types of butler's pantry you can choose:
Walk-in Butler's Pantry or Hidden Butler's Pantry
This isn't the same thing as a walk-in food pantry. You'll need each one of these to be able to accommodate the large pieces of furniture you're placing in it.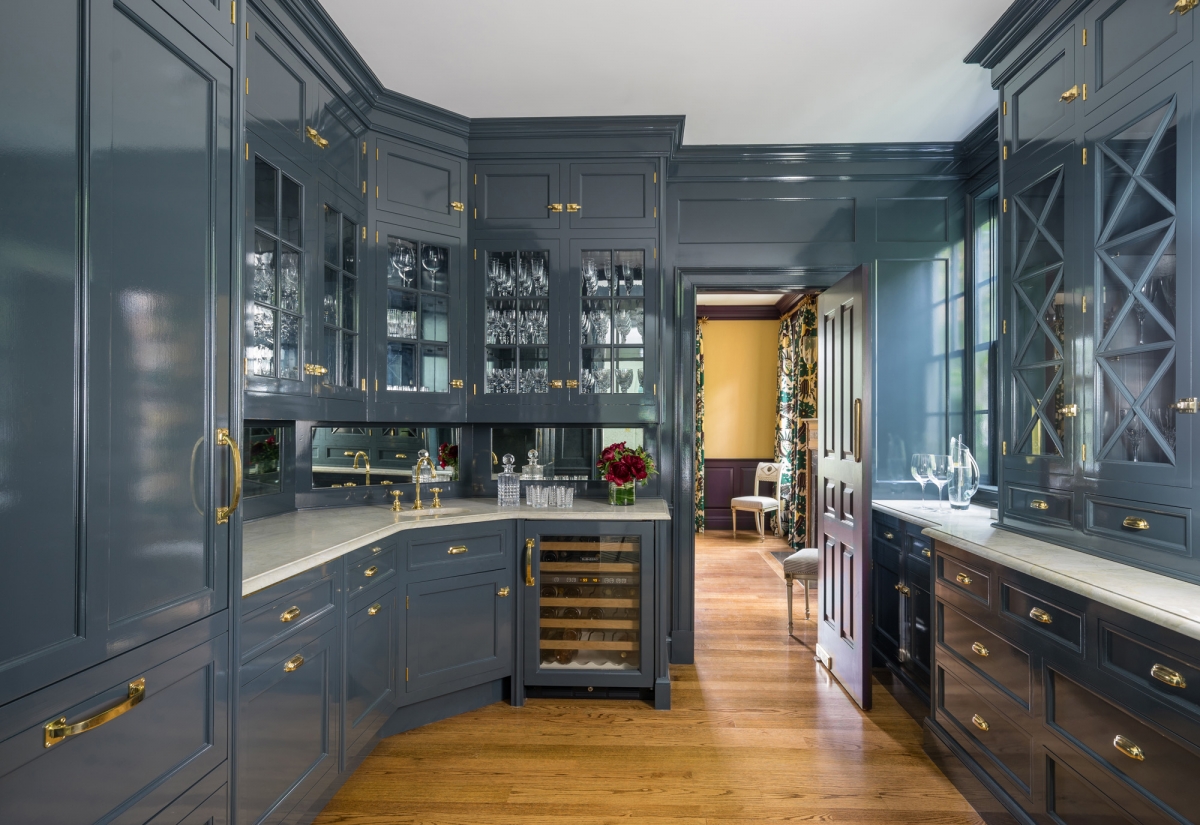 Small Butler's Pantry or Closet Butler's Pantry
If you have a small room, you can still have a butler's pantry as a built-in hutch, nook, or closet in or near the dining room. Include beautiful solid cabinets on the bottom and glass-paneled cabinets on top with the counter, and you're set.
Butler's Pantry vs Walk-in Pantry
A walk-in food pantry is a closet with wooden or wire shelves for dry goods like cereals, cans, jars, bags of rice, paper towels, and sometimes cleaning supplies. On the other hand, a walk-in butler's pantry is a room assessed off the kitchen with cabinets, wooden shelves, and counter space. It may also house small kitchen appliances.
However, its main purpose is to store china, silverware, fancy platters, and table linens. Some people design a butler's pantry with a sink for ease of food prep or serve as a wet bar.
Butler's Pantry vs Scullery or Prep Kitchen
A prep kitchen is a small kitchen that can be used for food preparation and cooking. An additional kitchen space with a sink, dishwasher, counter space, and storage is perfect for those who often entertain, have large families or even two adults who like cooking, and have their cooking stations and space.
The scullery is also becoming popular for those who don't want guests to see a messy kitchen in an open floor plan.
Standard Contemporary Butler's Pantry
Most modern butler's pantries are a passer-through hallway between the kitchen and dining room. Many homeowners and interior designers choose different colors and types of wood for the cabinets for the butler's pantry to distinguish it and make it look more formal than the kitchen.
White is the classic color for contemporary kitchen cabinets and butler's pantry. Other popular options for cabinets include darker wood or dark gray, dark green, or dark blue painted cabinets. This is also the perfect place to show gorgeous counters like quartz, quartzite, butcherblock, and natural stone counters.
Butler's Pantry with a Bar Seating Area
The butler's pantry provides the perfect place to store china, silverware, glassware, and a wet bar or a dry bar for entertaining. It's also the perfect spot for liquor storage, wine storage, and pouring drinks for guests. Just add a wine cooler or a wine rack, a small sink, a place to store your glass stemware.
FAQs on What is a Butler's Pantry?
What makes a pantry a butler's pantry?
Also known as a serving pantry or scullery, a butler's pantry is a transitional space between a kitchen and a dining area often used as storage, food prep, and staging. This makes it a huge addition to a modern home.
Final Thought Butler's Pantry
Butler's pantry are great additions to any home and every homeowner should look forward to having one. So, what are you still waiting for? Build a beautiful butler's pantry in your home and enjoy the looming benefits it comes with.