Investing in a wine fridge can be a great way to store and preserve your wine, but it can be hard to know which one is right for you with all of the different types and sizes of wine fridges on the market. Also, not everyone has the space or money to invest in a wine cellar.
If you're looking for an affordable way to store and protect your wine, a wine fridge is a perfect option. Not only do you have to worry about what type of fridge you want, but you also have to worry about the size. Do you want a small fridge that fits a few bottles, or do you want a large fridge that can hold an entire case?
We've done the research for you and found the best wine coolers and fridges on the market. We've got you covered whether you're looking for a built-in or freestanding fridge.
What to Look for in a Wine Fridge
Price
One of the great things about wine fridges is that they come in a variety of price points. You can find a small, personal fridge for around $100, or you can invest in a large commercial-grade fridge that costs thousands of dollars.
Bottle Capacity
Another thing to consider is how much wine you want to store at one time. If you have a few wine bottles, then a small wine fridge will work fine. But if you have a large collection, you'll need a wine fridge with more capacity. You should also remember that bottle capacity is measured using standard size Bordeaux bottles. The actual number of bottles will fluctuate if your wine collection includes bottles that are not a standard size.
Single versus Dual Zone Wine Fridge
If you're only interested in chilling white wines, you'll want a single zone wine fridge. If you want to be able to chill red and white wines, then you'll need a dual zone wine fridge. If you want to keep red wines at a cellar appropriate temperature, you'll want dual temperature zones instead of a single zone wine fridge.
The next thing to consider is the temperature range that the wine fridge can accommodate. Most wine fridges have a temperature range of 40-65 degrees Fahrenheit. You can also store your wines at the same temperature to score a humidity controlled fridge. When you're ready to drink your wine, you can bring it down or up to serving temperature.
Dimensions
Dimensions are also an important consideration when purchasing a wine fridge. You'll need to ensure that there is enough space in your kitchen, bar, or den for the wine fridge you select.
Types of Wine Fridges Available in New York
Wine Enthusiast Vinotheque Café
If you're planning to build a wine cellar in your cabinetry, this built-in wine fridge from Wine Enthusiast is perfect. It comes with a unique vent system, and the fan is located at the front, meaning you can install it under a countertop or table as there's no need for extra room at the back or sides for heat to escape from the unit.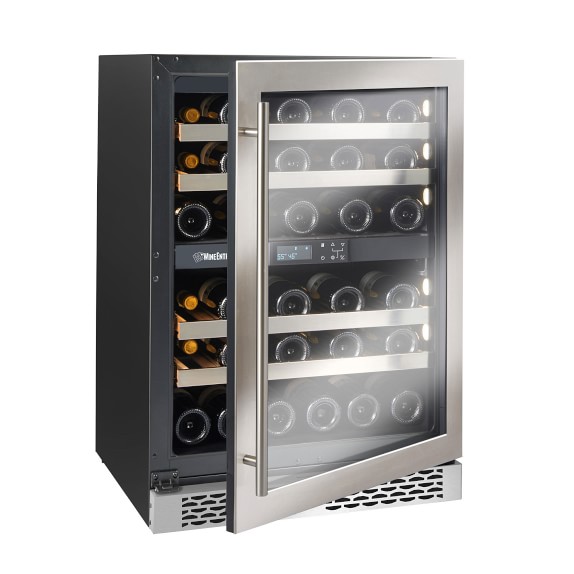 The dual zone Vinotheque Café model from Wine Enthusiasts a front vent, beechwood racks, and a touchscreen complete with a hygrometer. This wine fridge also uses a high performance inverter compressor system to control temperature and can hold up to 46 bottles of wine.
The inverter compressor system protects the wine fridge from light, humidity, vibration, and heat. This wine fridge is also energy efficient, eliminates odors with a charcoal filter, and offers a full cabinet LED and a locking stainless steel door with a UV-protected glass pane.
Wine Enthusiast 32 Bottle Dual Zone Max Compressor Wine Cooler
This wine fridge from Wine Enthusiasts can hold up to 32 bottles of wine and has dual temperature zones to store both red and white wines at optimum temperature. Dual zone wine fridges are also great, especially if you enjoy entertaining because you can serve both white and red wines at their own best temperatures, straight from the fridge. This enthusiast line of fridges is also reliable and can hold temperature incredibly well.
NUtriChef 15 Bottle Wine Refrigerator
Who said you can't have a wine refrigerator if you have a small space? This compact wine refrigerator is the perfect solution for those with smaller spaces. It comes with four chrome wine racks and one bottom standing rack to securely hold up to 15 standard size bottles.
At 17.7 inches long, 13.6 inches wide, and 27.2 inches wide, its freestanding design lets you place the fridge on your kitchen floor or countertop. Other features include a compressor cooling technology allowing you to adjust the temperature between 41 and 64 degrees.
It also comes with an auto lock for the stainless steel door and a digital control panel to monitor the unit's temperature, and interior LED lights. Thanks to a vibration-free system, the wine fridge also keeps your bottle cool while maintaining a quiet operation.
Ivation 12 Bottle Thermoelectric Red and White Wine Cooler
If you're willing to spend on your wine cooler without worrying about the price, the Ivation 12 Bottle Thermoelectric Red and White Wine Cooler is your best option. This built in wine fridge has a range of 40 to 66 degrees Fahrenheit and features a heavyweight double panel glass door to protect bottles from UV light.
It holds up to 31 bottles in its thermally insulated single zone chamber and is equipped with a heavy duty compressor, chilling wines quickly and efficiently. It's a great wine cooler to try out recipes from leaders in the wine industry or a great wine book you might be gifted from knowing a friend or yourself.
You can easily control each zone using the digital LCD control panel and turn the softer interior LED lighting on and off. Although it packs power, this wine cooler is energy efficient and extremely quiet with vibration suppressing technology to help minimize sediments inside your bottle.
With its front-facing vent, you can place it anywhere because it's a built in fridge. You can incorporate it into existing cabinets to save space or achieve a streamlined appearance.
KitchenAid 46 Bottle Dual Zone Wine Cooler
Same on the price, if you're less concerned about the price of your wine cooler, then this is another pricier wine fridge you should get your hands on. This wine fridge not only looks sleek and sexy, but it stores up to 46 bottles of wine in two different temperature zones. It also features UV protective glass and a lockout control to avoid accidental or unsupervised access to your bottles.
EuroCave Premiere S Wine Cellar
If you're looking for the best restaurant-quality wine refrigerator, you'll want to check out the EuroCave Premiere S wine cellar. This bad boy can store up to 74 bottles of wine and keep them at the perfect temperature for serving. Plus, it has a beautiful wood finish that will look great in any kitchen.
It also has opaque doors, unlike other wine fridges that use tinted glass to protect your bottles from UV damage when you're storing them for years and not months. The interior of this wine cooler is customizable, allowing you to choose the number of adjustable shelves and the orientation of the door, which is great, especially if you have a cramped kitchen.
It's also lockable, making it great if you want to keep your wine away from your teenagers or your guests crashing at your place while you're not around.
EuroCave Premiere L Wine Cellar
If you have a large collection of wine that you want to store and age, the EuroCave Premiere L Wine Cellar is the wine fridge for you. This Eurocave wine cooler fridge can store up to 178 bottles of wine, making it perfect for even the most serious wine collectors. It's a little on the expensive side, but it's worth the investment if you're serious about your wine collection.
Its signature features include a customizable solid door, precise temperature regulation, and a locking mechanism that ensures your bottles are kept pristine long term.
FAQs on Types of Wine Cooler You Can Get in New York
Which is better, wine cooler Frigidaire or magic chef?
This is a difficult question to answer, as many different types of wine coolers are on the market. Ultimately, it depends on what your needs and preferences are. If you're looking for a basic wine cooler that can store a few bottles of wine, then either the Frigidaire FRU17G4JW or the Magic Chef MCWC 6S6 wine cooler should do the trick. However, suppose you're looking for something more high-end that can store a wider variety of wines and has additional features. In that case, you may want to consider investing in a wine refrigerator such as the Haier HZB-18GALW.
Which is the low and high line for the wine cooler?
The low line for a wine cooler is typically around $100, while the high line can go up to several thousand dollars. It all depends on what your needs and wants are.
Are wine refrigerators worth it?
Why do you need a wine cooler anyway? If you're a wine enthusiast, keeping the temperature of your wine by setting it at the correct temperature every time you close or open your fridge is very important. The regular fridge will likely cause temperature fluctuations every time you open or close your fridge. When your wine's temperature fluctuates, it becomes damaged.
Final Thought on Types of Wine Cooler You Can Get in New York
Wine refrigerators come in all shapes and sizes, so you can find one that fits your needs and wants. If you're looking for a wine refrigerator that will keep your wine at the perfect temperature, you can get one. However, if you're on a tight budget, you can always get a wine cooler that falls on the lower end of the price spectrum. No matter what you decide, make sure you keep your wine fridge in a cool, dry place.