Faucets play a very important role in the kitchen. They are one of the most important fixtures in the kitchen and are responsible for providing hot and cold water for cooking and cleaning purposes.
However, it can be hard to know where kitchen faucets are made and whether or not they are of good quality. Not all kitchen faucets are created equal. Some are made with cheap materials that don't last long, while others are made in countries with low labor standards. Learn more about kitchen faucet sprayer repair as well as common pull-out spray faucet problems, where is Kohler toilets made and Moen Vs Kohler Vs Delta on our blog!
Delta is a leading manufacturer of kitchen faucets, and their products are known for their quality, durability, and style. Delta kitchen faucets are made in a variety of different countries, so you can find the perfect one for your needs. Read on to learn more about who makes Delta faucets and the pros and cons of their products.
Who Makes Delta Faucets?
Delta faucets are manufactured by Delta Faucet Company, a Masco Corporation. The company is based in Indianapolis and has been in business since 1954. Mascot's products include faucets, kitchen and bath cabinetry, paints and stains, baths and shower units, spas, showering, and toilet partitions.
In total, Masco Corporation offers more than 15 major product categories. The company's plumbing products segment offers faucets, showerheads, handheld showers, valves, bathing units, exercise showers, and toilets. The company also offers other accessories under Brizo, Delta, Peerless branded faucets and other brand names for commercial uses. Commercial systems products include playing units for schools and recreation centers for Delta branded faucets.
Where Are Delta Faucets Made?
Delta faucet company is an American faucet manufacturer. It's known for manufacturing plumbing fixtures and related products. It's a subsidiary of Masco Corporation. It manufacturers and markets faucets, bath or shower fixtures, and toilets under the mainstream Delta, economy Peerless and luxury Brizo brand names.
Delta faucets have a finish, cartridge, and plumbing technology unrivaled by the other taps in the same price range. Other firms do not provide cartridges comparable to Delta's ultra with Diamond Seal Technology at any price. Meanwhile, most of Delta's component production and faucet assembly is in Mexico and China.
Delta Faucet Assembly Lines and Manufacturing Plants
Delta faucet became another American faucet firm, like America Standard and Pfister. It manufactures plastic components in Morgantown, Kentucky, and assembles faucets in Greensburg, Indiana, Jackson, and Tenessee.
Delta also owns two factories in Ontario, London, and Cambridge, manufacturing Delta and Walter faucets. Delta also states that more than 4,500 products are Buy America Act compliant. Its new Diamond Seal Technology ceramic disc cartridges also complete the overhaul.
Delta Faucet New China Plant
Delta is not increasing manufacturing in the United States or Canada. Instead, it is outsourcing to China. In 2001, Delta and Masco Cabinetry built a new faucet factory in Hangzhou, China. The factory manufactures both faucets and valves for the Chinese market as well as some other Asian markets.
Types of Delta Faucets
Pull Out or Pull Down Delta Faucets
Pull out models make switching from aerated stream to powerful spray. The spray head fits easily in the palm of your hands and quickly switches back and forth between functions with the push of a button.
Delta pull down kitchen faucets offer the same convenience in a design that works well for larger sinks. These models have extra-long hoses to give you more flexibility while you're washing large pots and pans.
Standard Spout Delta Faucets
These models have a separate sprayer attachment that sits next to the faucet. They're a good option if you have a sink with multiple basins, as you can fill one side while still using the other for rinsing and washing. They're equipped with Touch Clean spray holes, allowing you to easily wipe away calcium and lime buildup with the Touch of your finger.
Delta also offers touchless faucets, which are activated by a sensor. This is a convenient option if you want to avoid getting your hands dirty or if you're trying to conserve water.
Tall or High Arc
If you're looking for a faucet that offers style and function, then choosing a tall or high arc kitchen faucet is the way to go. A high arc kitchen faucet has a taller spout with more clearance, making filling stockpots and buckets easier.
Look for models that extend the spout forward over your sink, like the Delta Trinsic Single Handle Pull Down Sprayer Kitchen Faucet Arctic Stainless finish and magnetic docking spray head. These kitchen sink faucets are also designed for larger areas with taller pan walls. So if you want the best kitchen faucet with a sprayer, then a high arc model is a great choice.
Single Handle Faucets
If your kitchen sink is on the smaller side, then a single handle kitchen faucet may be all you need. Single handle kitchen faucet mix hot and cold water to adjust the temperature with a single control handle. They're sometimes called mixer faucets.
Save time and effort with a single handle bathroom faucet from Delta. With a touch of a finger, water is running. The single handle lever allows you to easily adjust temperature and water pressure, making your time at the bathroom sink a more enjoyable experience.
Two Handle Faucets
If you have a larger kitchen sink or plenty of space on your countertop, then a two handle faucet may be the right choice for you. Two handle faucets give you more control over the temperature of the water, with separate handles for hot and cold water.
A two handle bathroom faucet from Delta makes daily tasks easier while adding a touch of style to your bathroom. Choose from a variety of finishes and styles to match your bathroom's design.
Top Faucet Brands: Manufacturing Unit in the USA
If you're planning a kitchen makeover, American made faucets are among the best in the world. They're long lasting, fashionable, and practical. You'll be sure that the item came from a manufacturer that adheres to the strictest quality and safety requirements. Here are some of the top faucet brands that make their products in the United States.
Moen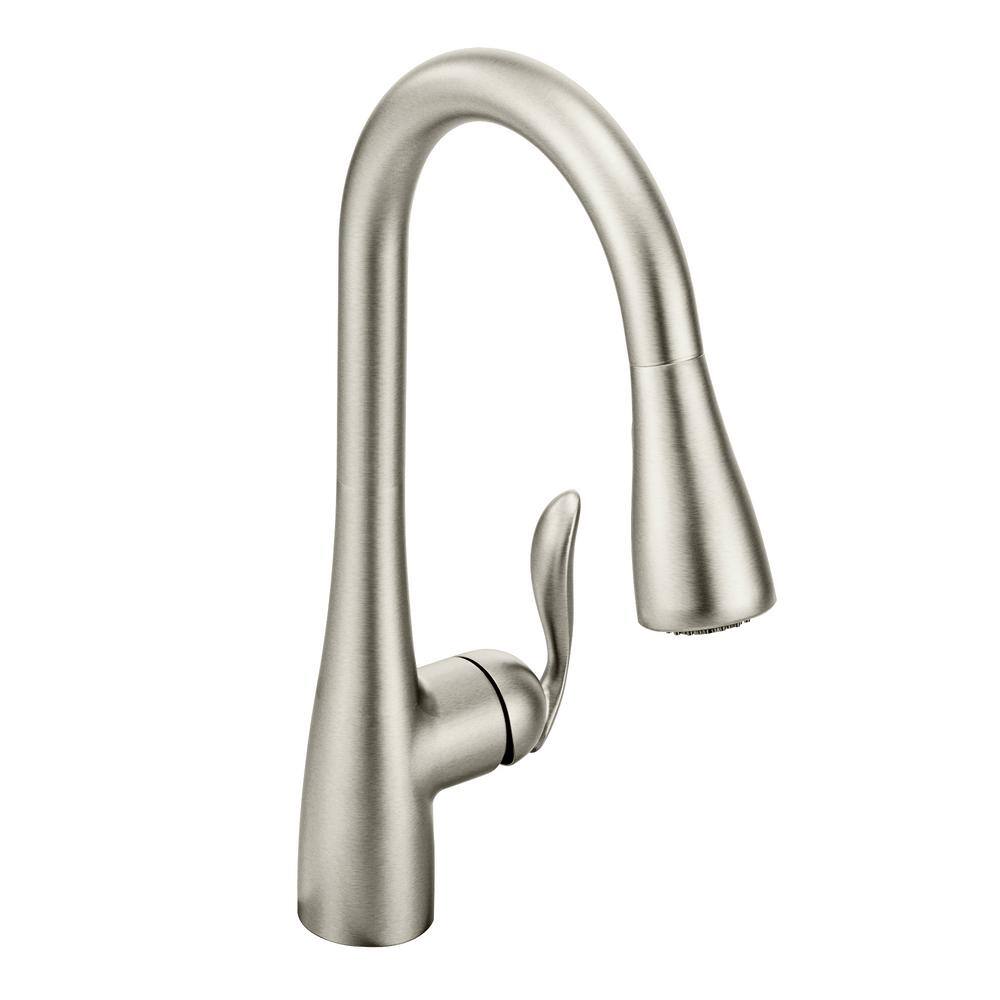 Moen is an American faucet brand that has made plumbing fixtures since 1937. The company is very well known for kitchen faucets and has received several honors for its high quality products. It has popular creations, including the MotionSense and PowerClean.
MotionSense is a touchless faucet, making working at the kitchen sink super efficient. Moen PowerClean provides higher water pressure for faster cleaning up at the sink. Despite delivering high pressures, the technology is also water efficient, keeping water bills at a minimum.
Waterstone
Waterstone began manufacturing faucets in 1999. Since then, the company has distinguished itself with handcrafted fixtures that add a touch of elegance to kitchens without compromising functionality.
Since it's a kitchen high end manufacturer, Waterstone plumbing products can be pricey. The brand also sells hot water dispensers, water filtration faucets, pot fillers, and more to make your kitchen as efficient as possible.
Brizo Faucet
Brizo is a luxury fittings brand for those who want the best of the best for their kitchen. The company offers a wide range of both traditional and modern styles to suit any décor.
As you would expect from a top-of-the-line brand, Brizo faucets come with a high price tag. However, they are well worth the investment as they are built to last and backed by a limited lifetime guarantee.
Grohe
Grohe is a German firm that began manufacturing items in the United States in 2011. The company is a leader when it comes to plumbing technology. It has won several awards for its excellence, including over 300 design and innovation awards, such as the CSR Award, KB Awards, and Great Designs Award.
One of its impressive products is the Grohe Smart Water System, which allows you to control faucets and detect leakages from your Smartphone app. Investing in Grohe kitchen faucet is also worthwhile because each product comes with an unlimited warranty, ensuring that you get your money's worth.
Chicago Faucets
Chicago faucet is a subsidiary of Swiss Geberit AG. It has its headquarters in Chicago, Illinois, and the brand is most famous for its highly durable commercial kitchen faucets. Even in the highest use and abuse environments, these faucets can work smoothly for years.
Apart from Touch, Chicago faucets are available in different styles, including classic and modern designs. Manual and touchless options optimized to deliver water efficiency are also available.
Kohler
Kohler is a leading American kitchen and bathroom fixtures manufacturer. The company is based in Kohler, Wisconsin, and has been operational since 1873.
Kohler produces a wide range of products, including toilets, baths, showers, faucets, and other plumbing fixtures. The company also manufactures furniture, small engines, generators, and cabinets.
Kohler's kitchen faucets are available in different styles, including traditional, contemporary, and transitional. The company also offers touchless and manual options. They're also backed by a lifetime Delta warranty.
FAQs on Where Delta Kitchen Faucets are Made
Are Brizo and Delta finishes the same?
Is Brizo's luxe gold finish interchangeable with Delta's Champagne Bronze? No. Being that Delta owns Brizo, it doesn't mean that they are the same.
Are Delta faucets guaranteed for life?
All parts apart from electronic parts and batteries and finishes of Delta purchased from Delta sellers are warranted to the original consumer purchaser to be free from defects in material and workmanship for as long as the original consumer purchaser owns their home, subject to certain other conditions and exclusions.
Which is better, Delta or Moen?
When it comes to which is better between Delta and Moen, Delta is more budget friendly than Moen. Moen is a bit expensive because it tends to add more high end features to its faucets, such as included soap dispensers, water filtration, and touchless operation.
Final Thought on Where Delta Kitchen Faucets are Made
Delta faucets are considered the more affordable option, but that doesn't mean they're not well made. In fact, Delta faucets are some of the most popular on the market. They offer a wide variety of styles and finishes to choose from, so you're sure to find one that fits your kitchen perfectly. Therefore, knowing who makes delta faucets is very important because it allows you to know what brand to trust.