Are you planning to renovate your bathroom or kitchen? Well, picking the right faucet or bathroom appliance is a big decision that you shouldn't take lightly. When you're unhappy with your current kitchen faucet setup and looking to upgrade to a new one, it's important to go for brands with a good reputation, like Delta or Moen.
In this article, we'll compare Delta vs Moen kitchen faucets so that you can make an informed decision. We'll discuss the pros and cons of each brand and help you decide which one is right for your home.
Moen vs Delta: Delta
Why is Delta such a popular brand to choose for a new kitchen faucet? Well, the company was founded in Indianapolis, Indiana, way back in 1954. Since then, they have become one of the biggest suppliers and innovators in the faucet industry. Delta is best for touch on faucets and cheaper options. Delta kitchen faucets are also easy to install and are slightly more affordable.
Delta has three major lines of kitchen faucet products to choose from. These include:
Delta
The most popular line of Delta faucets is their flagship line named after the company. Kitchen faucets in the Delta line fall in the moderate to higher price ranges. They have 63 different lines of kitchen faucets to choose from. These are classified into three categories, traditional, contemporary, and transitional.
Peerless
The second line of kitchen faucets from Delta is their Peerless line. These are more budget friendly and have almost as many design and style options as the Delta line.
Brizo
The third line of products from Delta is their Brizo Kitchen Faucet line. This is their luxury line of faucets and is the most expensive option. They have nine different lines of kitchen faucets to choose from, all classified as contemporary or transitional.
Moen vs Delta Kitchen Faucets: Moen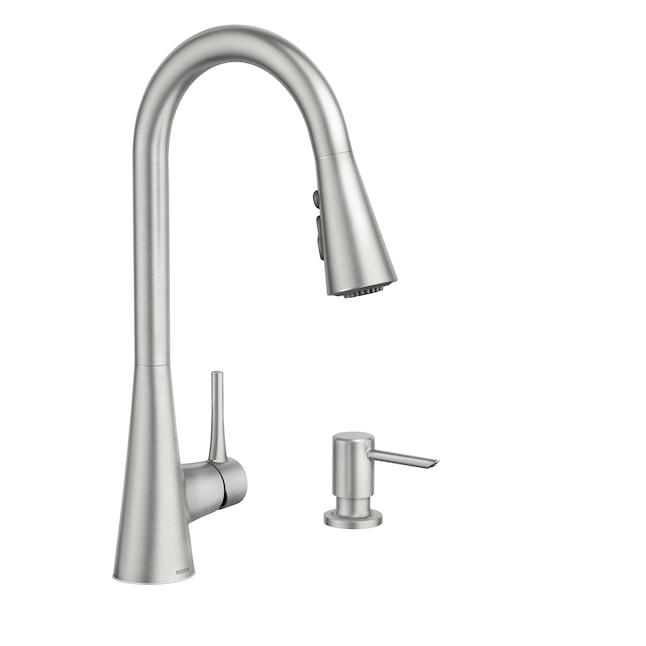 The Moen range of kitchen faucets is one of the most high quality reliable brands on the market right now. The company has been around since 1956 and has evolved to become one of the most reliable and stylish brands. It's another innovator in the faucet industry, especially when it comes to high end and smart kitchen faucets.
Although they have some affordable models of kitchen faucets, they do not have many budget friendly options. Part of that is because of the innovation that goes into these companies kitchen faucet products.
Moen kitchen faucets come in a wide range of styles, colors, and finishes to suit any kitchen design. The most popular finish is the brushed nickel finish which gives a beautiful sleek look to any kitchen. Moen also offers a wide variety of colors such as white, black, stainless steel, and more. Moen is best for touchless, high-end faucets and great warranties.
Here are the innovative kitchen faucet features of Moen:
MotionSense Touchless Faucets
This is one of the latest innovations from Moen. The faucet has sensors that allow you to turn on the water and adjust the flow without ever touching the faucet. A quick swipe of your hand in front of the sensor turns your kitchen faucet.
These are great for people with disabilities. Check out touchless kitchen faucets reviews on our site.
Power Clean Technology
Moen kitchen faucets have a power clean feature that gives you more than 50 percent more spray power than other leading faucets. This is great for quickly cleaning dishes or filling pots. Moen faucets with this capability can concentrate their spray without significant splashing.
Reflex Pulldown Kitchen Faucets
Moen Reflex faucets have a pulldown spray head that automatically returns to its docking position. This is a great feature if you have limited counter space.
If you're looking for the latest in kitchen faucet technology, then you should go a touchless kitchen faucet from Moen.
Moen vs Delta Kitchen Faucet: Head to Head Comparison
The choice between a Moen faucet and a Delta faucet boils down to your individual preference. These brands are made from high quality components and generally inhibit a higher than average lifespan compared to other generic brands. Here are some of the similarities and differences that may influence your choice:
Design
The appearance of a kitchen faucet has a lot to do with its brand. For the most part, Moen faucets have a more modern look, while Delta faucets have a classic design. Moen kitchen faucets are designed to provide simple usability and are environmentally friendly.
Moen faucets are elegant with shiny finishes to make your kitchen look brand new. Even the cheapest Moen faucet will stand out and look attractive. Delta kitchen faucets also have great designs and attractive looks. They combine modern, traditional, and transitional designs.
Moen and Delta have great designs, but Moen kitchen faucets have the best designs to attract customers. So if you're looking for the kitchen faucet ratings, then Moen kitchen faucets are the way to go. If you're not sure which way to go, it's always best to consult with a kitchen designer or visit your local home improvement store for inspiration.
Finish
When it comes to the kitchen faucets, the finish is an important feature to consider. It's always good to ensure that the finishes of your faucets match the other aspects of your kitchen design. Additionally, the finish will make all the difference when it comes to the ease of cleaning the faucet and how long the look stays new. For example, brushed nickel faucets go with brushed nickel handles. Learn more about brushed nickel vs chrome here.
Both the products have chrome and oil rubbed finish, which is cautiously and passionately done. Chrome is used in the finishing because it has a low maintenance factor. The oil rubbed bronze gives it the elegant and traditional touch that most buyers consider.
Moen faucets provide a variety of finishes, including stainless steel, chrome, ivory, and brushed bronze. Delta faucets offer more finishes than Moen faucets. Their finishes include chrome, stainless steel, matte black, and bronze.
Technology
Moen and Delta consist of advanced technologies uncommon on other kitchen faucets on the market. This is the reason Moen vs Delta is the big name in the faucet industry. If you're looking for a touchless faucet, then opt for Moen touchless kitchen faucet.
Its MotionSense technology makes it the most superior brand in the market. This tech involves operating the faucet without the need to touch it. Another important technology in the Moen's faucets is the power clean which releases water with 50% more force to help clean dishes easier and faster.
On the other hand, Delta has cool technologies that make it stand out on the market. The touch20 technology allows you to lightly touch the faucet to open and shut off the water. The magnaTite docking helps the faucet spray wand move back precisely and hold it to stay docked. It prevents the spray from dropping when it's not in use.
Spray Technology
From their pulldown design of kitchen faucets, you're guaranteed a high pressure water stream. Moen faucets use Power clean technology to provide concentrated spray powerful to wash dishes faster. The water spray doesn't result in a splash as in other kitchen faucets.
It also uses less water to create this strong force, making it a better choice for kitchens with low water pressure. On the other side, Delta also has technology that's designed to produce powerful jets of water. It also uses less water and has three different spray settings: spray, stream, and pause. It's called the ShieldSpray technology.
Spot Resistant
Moen has a Spot Resist finish that is supposed to resist fingerprints and spots, which is available in stainless steel and brushed nickel finishes. Delta also has SpotShield and Brilliance technologies. Brilliance finishes help to prevent the faucets from tarnishing and discoloration.
SpotShield reduces the stains and smells with antimicrobial protection for spotless faucets. This helps in keeping your sink and faucet dirt and germ free.
Price
If you're looking for a cheaper faucet between Moen and Delta, then the Delta faucets are less expensive. However, these two brands offer a wide range of prices depending on the type of faucet you're looking for and the features you want. The price range of Moen ranges from $70 to $700, while Delta's is about $75 to $590.
Models
There is a wide range of faucets offered by both companies. You can find one that suits your needs from either company. With many years in the faucet industry, Moen has more than 173 faucet models. These faucets vary in their designs, finishes, appearance, and technologies.
The style of the kitchen faucet range from traditional, basic, modern, and transitional. The Delta brand has more than 106 models to date with different colors, designs, and styles.
Features
Both faucets come with great features to enhance their usability and functionality. For example, Moen models come with soap dispensers, advanced filtration systems, high or low arc spouts. The Delta faucets also have some great features, such as different handles, spouts, and holes.
For special features, the Delta faucet comes with efficient water gauges, which help to regulate water usage and help save water.
Quality
It's no doubt that Moen and Delta offer the best kitchen faucets of high quality. Whether you choose Moen vs Delta, they'll offer you the best quality product. You'll use them for decades to come before replacing them.
Warranty
Both brands manufacture faucets that come with new and advanced technology. Therefore, you'll need a limited lifetime warranty covering finish and function. Moen faucets are backed with a lifetime limited warranty covering almost every part except damage resulting from installation.
The electronic parts have a different warranty depending on the model. Delta products are also backed with a lifetime limited warranty that covers the normal wear and tear of the faucet. Like Moen, Delta has a limited lifetime warranty for electronic parts.
FAQs on Which is Better Between Moen and Delta Kitchen Faucet
Which is better, Delta or Moen kitchen faucets?
So, which brand should you buy? The answer really depends on your needs and preferences. If you want a classic and timeless kitchen faucet, go for Moen. But if you're looking for a more modern look with advanced features, Delta is the better option.
Which kitchen faucets do plumbers recommend?
Both Delta and Moen are among the brands that plumbers regularly recommend. Depending on which plumber you talk to, one may be more preferred over the other. For example, some plumbers prefer Delta for its easy installation, longevity, and warranty. Other plumbers may prefer Moen.
This is also the same case with bathroom faucets. But both brands are known for their quality and durability, so you really can't go wrong with either one.
Final Thought on Moen vs Delta Which is Better
The best kitchen faucet ultimately depends on your preference, budget, and space. Both brands offer excellent, high quality, durable kitchen and bathroom faucets at varying price points. Moen and Delta create amazing faucets and shower heads with modern styles, technology, and design. So, you'll never go wrong with choosing either brand.