When you think of moving into a new home, you want to ensure that you've got the best of everything, including kitchen appliances, furniture, curtains, and cutlery. Having the right things can truly turn your house into a home. But, how do you decide what's best for you?
Refrigerators play an important in every home. Today, refrigerators are no longer considered for comfort. Instead, they're a necessity if you want to enjoy your home. If you want to store your food leftovers or store your freshly prepped vegetables, you're going to want a refrigerator that can accommodate your needs.
Fridges of different brands come with various features, prompting you to decide which is best for you. Two of the best-rated refrigerator brands are Whirlpool and GE. In this article, you'll be able to learn more about these two brands and their features to decide which one is best for you.
Whirlpool Refrigerators Review
Whirlpool appliance brand is focused on improving how families care for their homes. They have a wide variety of home appliances, all with the goal of making life easier. Their refrigerators come in different types, sizes, and colors. You can find a Whirlpool refrigerator that fits both your style and needs.
This innovative brand has been around for over 100 years since 1911 with the famous Whirlpool dishwashers. The Whirlpool refrigerator combines advanced technology to automate a number of features without compromising energy efficiency.
Some Whirlpool models include side-by-side refrigerators, French door refrigerators, bottom freezer refrigerators, and top freezer refrigerators. Whirlpool makes some of the best refrigerator brands on the market today with their range, but Whirlpool is known for its Whirlpool gold refrigerators.
GE Refrigerator Review
GE brand is one of the oldest and most well-known brands in household appliances. The General Electric Company was founded in 1892 and is still among some of the best refrigerator brands today. With a kitchen or laundry room of GE appliances, you'll never have to choose between a beautiful design and top-notch performance.
It has more than 100 models of refrigerators with three main refrigerator lines, including the GE series, GE Profile, and Cafe series. The GE series are refrigerators with basic features. The Cafe series offers large control dials, sturdy door handles, and design, while the GE Profile refrigerator has an elegant look with curved handles.
The GE Cafe series allows maximum space utilization and distributes both hot and cold water, while the Profile series only distributes hot water. GE is one of the most trusted brands on the market today for top freezer fridges and bottom freezer fridges.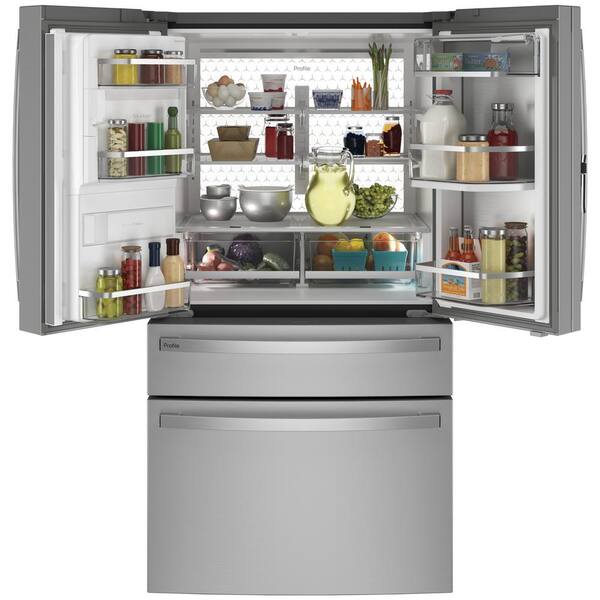 Whirlpool vs GE Refrigerator Key Features
Both GE and Whirlpool stand out when it comes to features. Whirlpool models stand out when it comes to their advanced technology, while GE models focus more on design.
Whirlpool Refrigerator Key Features
If you're looking to buy the best Whirlpool refrigerators, here are some of the best features to look for:
Ice and Water Dispensers:

Most Whirlpool models come with an external ice and water dispenser.

Built in Ice Maker:

Some models have a built-in ice maker that can be turned on and off.

LED Lighting:

All models come with LED lighting, which is energy efficient and bright.

Fast Drink and Fast Cool Modes:

These modes are designed to quickly dispense drinks and cool food.

Climate Controlled Compartments:

Whirlpool models have compartments that can be set to a specific temperature.

In Door Ice Storage:

This feature allows you to store ice in the door, freeing up space in the main compartment.

Dual Cooling System:

This system keeps the fridge and freezer at different temperatures, ensuring that both areas are cooled properly.
GE Refrigerators Key Features
For the best GE refrigerators on the market, here are some of the features to expect.
Two Humidity Controlled Drawers:

These drawers are designed to keep fruits and vegetables fresh.

Slide-Out Shelves:

These shelves make it easy to access items in the back of the fridge.

Fingerprint Resistant Finish:

This finish helps to resist smudges and fingerprints.

Built-in Ice Maker:

The ice maker is located in the freezer compartment.

Spill Proof Shelves:

These shelves are designed to contain spills, making cleanup easy.

WiFi Connectivity:

This feature allows you to control your fridge from your smartphone or tablet.

TwinChill Evaporators:

These evaporators help to keep food fresh by maintaining optimal humidity and temperature levels.

LED Interior Lighting:

This lighting is designed to be energy efficient and long-lasting.

Energy Star Certified:

This certification means that the fridge is energy efficient.

Advanced Water Filtration:

This feature helps to remove impurities from your water, giving you clean, fresh-tasting water.

Ice and Water Dispensers:

These dispensers make it easy to get ice and water without having to open the fridge door.
GE vs Whirlpool Key Differences
GE vs Whirlpool can be a little hard to tell the difference. But still, GE and Whirlpool are different brands, while GE owns the General Electric Company. So what is the difference between Whirlpool designs and GE designs? Both brands make some of the best types of refrigerators on the market today.
Features
GE vs Whirlpool has some common features such as LED lighting, a built-in ice maker in the door or inside the freezer, a climate-controlled compartment, an energy saver, and water dispensers. However, what sets GE apart from Whirlpool is its WiFi connectivity. This allows you to connect your refrigerator to the GE kitchen mobile app, enabling you to monitor the refrigerator temperature and receive important alerts.
Other GE features include hands-free autofill, dual temperature, and spill-proof shelves. On the other hand, Whirlpool also has distinct features such as Fast Drink and Fast Cool modes, which are important during urgent occasions or parties. Whirlpool also has automatic hibernation and digital temperature control.
Layout
Both of these brands offer four layouts that you can choose from. These include top freezer, bottom freezer, French door, and side by side. Depending on your preferences and your kitchen layout, each type has its own set of pros and cons that you should consider.
French door models are the most popular type nowadays because they offer the most storage space and are the most aesthetically pleasing. However, they are also the most expensive. If you are on a budget, the top freezer models are the way to go. It is the most affordable, but it has the least amount of storage space.
Most major brands design reversible doors that can be opened from two directions for convenience. GE's interior layout includes adjustable shelves, large door bins, and multi-level drawers. With Whirlpool, you'll get adjustable gallon door bins and deli drawers that you can customize to your needs.
Look and Feel
Both GE and Whirlpool refrigerators bring a sense of luxury, with a variety of colors, including black, white, and stainless steel, to enhance the elegance of your kitchen. They both have energy-saving features that produce little or no noise, creating a comfortable environment.
Whirlpool has a larger capacity than GE and has an external water and ice dispenser, which is a great convenience.
Product Range
In addition to their four common models, including French door models, side-by-side models, top freezer models, and bottom freezer models, GE has a wider range of compact fridges, which are lacking in Whirlpool fridges. This is because most of GE's compact fridges are designed to store wines and beverages, making them wine coolers.
Whirlpool vs GE Refrigerator Overall Performance Comparison
When comparing Whirlpool and GE refrigerators, both brands offer refrigerators that have large standard and counter depths. You can choose a refrigerator size that fits your needs. Most of their models have a water and ice dispenser on the outside of the fridge.
Whirlpool has a black and white color option, and its stainless steel version costs more. On the other hand, GE has more color options like Slate and Black Slate. GE's stainless steel version is also more expensive than Whirlpool's. Whirlpool refrigerators have a better energy efficiency rating than GE refrigerators.
Whirlpool fridges generally are between five and ten percent more efficient than GE models. Whirlpool fridges are also cheaper to operate in the long run. When it comes to features, Whirlpool and GE refrigerators have a lot in common. Both brands offer models with French doors, side-by-side doors, bottom freezer drawers, and top freezer designs.
Whirlpool Refrigerator Pros and Cons
Pros:
Flexible pricing options

Wide selection of styles

Great capacities

A variety of storage features
Cons:
Fewer preservation features

Not the best for small spaces
GE Refrigerator Pros and Cons
Pros:
Large selection

Reliable performance and construction

Includes smart refrigerator models
Cons:
A limited number of features

Basic finishes
Whirlpool vs GE Value for Money
Whirlpool refrigerators are more affordable than Ge refrigerators. However, GE refrigerators offer more value for the money because they have a larger selection of models and features. If you're looking for a brand with more features and ready to sacrifice a bit of money, GE is the better choice. However, if you want to save some money and don't mind fewer features, Whirlpool is a great option.
FAQs on Whirlpool vs GE Refrigerators
Which refrigerator brand is most reliable?
Both Whirlpool and GE refrigerators are reliable. However, GE refrigerators are known to be slightly more reliable than Whirlpool refrigerators.
How long do Whirlpool and GE fridges last?
The GE stainless steel refrigerator lifespan is around ten years if maintained properly, though the average is 8.5 years for Ge fridges. On the other hand, Whirlpool's new refrigerator will last longer than a used Whirlpool fridge, that's 10 years.
The Winner
Ultimately, the best refrigerator for you depends on your individual needs and budget. Consider what features are most important to you, and compare prices between the two brands before making your final decision.
This makes Whirlpool the best because of the winning interior making roominess its personal business and adds in handy deli drawers and adjustable gallon door bins to make storing foods of all shapes and sizes a snap. You can't go wrong with either brand, but if you need more space and flexibility, Whirlpool is the better choice.
If you want to buy Whirlpool refrigerators, here are three of our best recommendations: