Broken windows are a hassle. You have to get them fixed, and it can be expensive. A broken window can be a pain, and it's not just the fact that you have to replace it. It also means that your home is vulnerable to the elements and intruders.
A broken window is not only an eyesore, but it can also be a security risk. Not to mention, the cold air will start to come in, and your heating bill will go up.
Replacing a window sash is a great way to fix your broken window without having to spend too much money. Plus, you can do it yourself. Broken windows are one of the most common problems homeowners face. Window sash replacement is a straightforward process that anyone can do with a little bit of instruction.
Fixing the Window Sash
Instead of investing in a complete window replacement, you can buy and install a far less expensive window sash replacement kit. Key architectural elements such as the trim, casing, and window frame remain in place, with only the top or bottom sashes being replaced. With this kit, you'll bypass the labor-intensive job of completely replacing the broken or poorly performing window by fixing only the part that needs to be fixed. This kit also includes a simple and easy guide on how to frame a window without going through much hassle.
How to Install Replacement Windows
Know the Window Types
There are three window types that are most commonly used in residential construction: double hung windows, single hung windows, and casement windows.
Double Hung Windows
The two sashes on a double hung window move up and down together by a single track within the frame. When buying replacement parts for this type of window, it is recommended that you purchase a full assembly, which includes the sash track.
Single Hung Windows
One sash of a single hung window moves up and down by a separate track from the other sash. If only one sash needs replacing, it is recommended that you buy replacement glass or a complete unit, which includes glass and hardware for the sash. If both of the sashes need replacement, you recommend replacing both with a full assembly, which includes the tracks for each of the sashes.
Casement Windows
A casement window is similar to a sliding door in that only one side moves. When purchasing hardware for this type of window, pay close attention to the blade depth. This is the measurement that determines how far the window will open.
Window Replacement Parts
There are three basic types of replacement windows. These include sash kits, insert replacements and full-frame units. Sash replacement kits give an old window frame new movable parts, including jamb liners and sash. The liners are fastened to the side jambs of the window opening, then the sash is slipped in between.
You have to level and square the existing window frame for these to work. An insert replacement window consists of a fully assembled window in a ready-to-install secondary frame. Sometimes called a pocket window, an insert replacement slips into the existing opening and is then fastened to the old side jambs.
Because you're adding new jambs and liners, the glass area will be slightly smaller than it was before. Full frame replacement windows are similar to inserts, except they have a complete frame, including head jamb, side jambs, and sill.
Measuring for Replacements
The glass area of a replacement will be about the same as that of an old sash. To determine glass size, measure from jambs to jamb (to jamb is not necessary on casement windows). Add 1/4″ to each dimension for ease of operation.
If you're replacing window frames yourself, check the manufacturer's instructions for the proper glass size.
It's important to get the right size glass because if it doesn't fit, you won't be able to lock or latch your window properly. If the glass rattles, you can usually adjust it by loosening screws on the interior stops and pushing down slightly while tightening the screws again.
Take Out Your Sash
Before removing the old sash, try pulling down on it to see how it moves. If it's difficult or if you need more than one person to pull the sash down, release tension by removing the parting bead and turning it around so that its top is at the bottom and vice versa.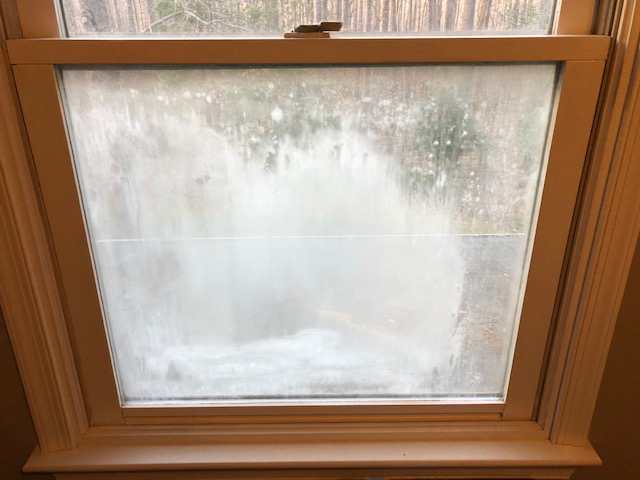 If you still need help to pull the sash down after doing this, remove the bottom sash weights. These are attached to the lower rail with a wire or chain. Pull up on these chains to take off any weight that might be holding it in place. After you've removed all of your window's weights and it still won't budge, use wooden wedges at each corner to pry the sash away from the frame.
Pry Off the Jamb Liners
Pry off the sash stops and remove the parting beads so you can take out the broken weights. This is important, especially if the window frame was fitted with vinyl or aluminum jamb liners. Use a pry bar to pull out the nails holding these in place, then cut away any wood.
Prep the Window Frame
Use a putty knife to scrape off all loose and blistered paint and patch any holes or cracks with exterior-grade wood putty. After that, sand the jambs smooth and wipe them down to remove the excess dust. You can make this better by having a look at how to frame a window.
Remove the Old Sash Weights
The sash should be loose enough so you can take out the old weights by hand. Most will come off easily but use a flat pry bar to remove them if they are stubborn. Remember that these are heavy objects, so wear gloves and keep track of where you put them.
Prep for Insulation
If you have already purchased insulation, cut it to fit inside the sash on each side of the window. In most cases, new windows come with a plastic vapor barrier or moisture barrier on top of them, which should protect them from damage while handling and from moisture when being installed.
Make sure you use only low pressure, minimally expanding foam intended for windows and doors. Anything else will bow the frames and keep the sash from working. Begin by pulling out any existing fiberglass in the weight pockets. Then bore 3/8-inch diameter holes, one near each end and one in the center, down through the sill and up through the head jamb.
Spray in the Foam
Next, use a can of expanding foam insulation to fill the weight pockets. Insert 1/4-inch diameter tubes through the holes, so they extend down into the cavity between the sash and jamb. This will help expand the foam beneath each corner of the window sash. After spraying the foam, allow the excess to harden for at least six hours, then break or cut it off flush before replacing the sash weight pocket panels.
Caulk the Opening
Use a tube of foam caulk to seal the lower part of the weight pocket opening between the jamb and sash. This will help prevent air and insects from entering and keep out water and rot that can cause decay and weakening of the window frame.
Install the Window Sash
Make sure the J-channel is upside down, and slide it over the window sash. If your sashes weigh more than 10 lbs., use all four corners; for lighter-weight sashes, using only two or three will do fine. Make sure to seal each corner of the J-channel with foam as you go. Press the window tight against the exterior casings or blind stops.
Fasten it Loosely
Take the #10 screws and screw them back up through the top of the J-channel, leaving about ¼" to ⅜" of the screw exposed. Do not tighten them yet because your sash may be heavier than you thought and you need to allow for some "give." Better too loose at this point than too tight.
Shim as Necessary
If you have a gap between the top of the sash and the interior window casing, take a shim that's about 1″ wide by 3″ long and insert it between the sash and the J-channel. If you have a gap at one or both ends of the panel that meets with exterior stops, insert two shims between the sash and J-channel to fill the gap. Then, trim the shims flush with a utility knife.
Caulk, Prime, and Paint
Finally, caulk where you removed the sash and reinstall the window stops. Prime and paint as necessary to match the existing paint. If you want, you can install weatherstripping along the bottom of your window frame before replacing the exterior stops.
If you accidentally break a tab on your interior stop, take a straightedge razor and cut away any overlapping painted area to the bare metal. Then, bend the stop back into position and snap off any extra length toward the bottom of the sash with pliers.
FAQs on Window Sash Replacement Basics
How do you identify a window sash?
Identifying a window can be difficult. However, to find the sash on a standard double hung or single hung window, look at the wooden, aluminum or vinyl casing around the glass. The casing will be stuck in the window frame and cling to the window frame on tracks.
Which part of the window is the sash?
The sash is the movable part of a window made up of the vertical and horizontal frame that holds the glass. On a double hung window, the check rail is where the bottom part of the upper sash and the lower part of the lower sash come in contact.
What are the benefits of window sash replacement?
Apart from being cost effective, window sash replacement leaves you with a clean and clear window, allowing natural light in.
Final Thought on Window sash Replacement Basics
As you can see, replacing a window sash is quite easy, especially if you have the knowledge. But if you lack the DIY skills, it's important to hire a professional to replace your window sash. It may even be covered by the home warranty you have in some cases. This is especially true if you have a vinyl or composite window that requires replacement parts.